Tastes of Lizzy T participates in affiliate advertising programs. We may earn a commission when you make a purchase through links on our site.
Use leftover shredded chicken in this easy chicken salad recipe flavored with parmesan cheese, dill weed, parsley, onion and garlic. Don't forget that touch of curry powder for the best chicken salad sandwich ever.
One of our favorite homemade sandwiches is a tuna melt. They are warm and full of flavor…so good! We took the filling to that tuna melt sandwich and turned it into a chicken salad like no other. This chicken salad recipe is full of flavor and is great for lunches on the go.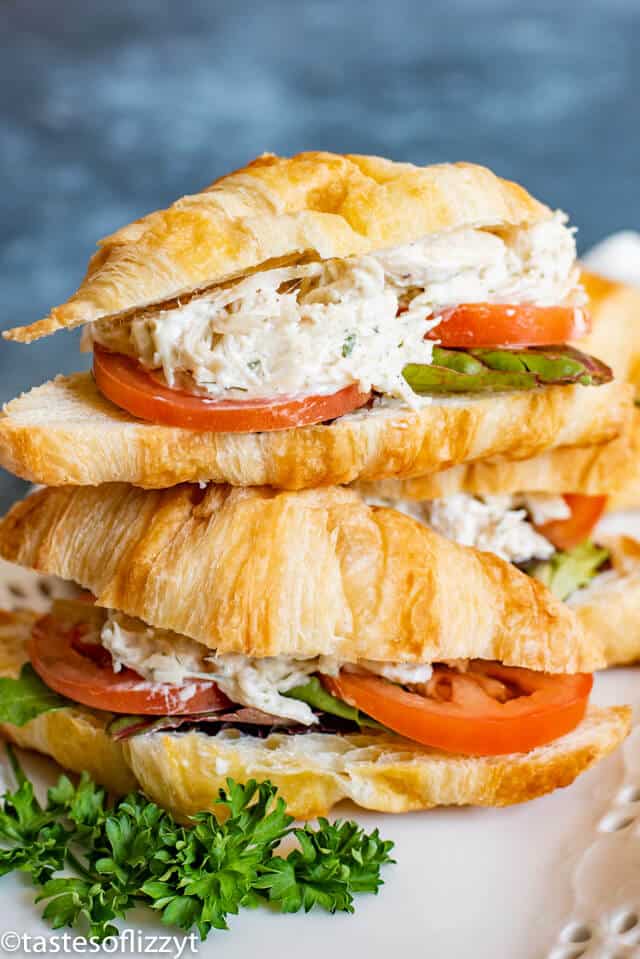 Chicken salad isn't something I make often, but the kids are finally starting to enjoy it, so I think it is going to be in our regular rotations. It's so easy to make at the beginning of the week and pull out for school lunches, or for snacking later in the evening with some crackers. Let's talk about how easy it is to make a chicken salad recipe that your family will love.
Best Chicken for Chicken Salad
We like to use white chicken (chicken breasts) for chicken salad. I buy chicken breasts that are already trimmed and ready to go. You could cook a whole chicken until it is fork tender and use that if you'd like some dark meat in your chicken salad.
Many people will use canned chicken for a chicken salad recipe(as you would for tuna salad) and that is totally fine to do if you'd like. My kids prefer cooked chicken breasts over canned, but canned is definitely easier.
How to Cook Chicken for Chicken Salad
If you choose fresh chicken instead of canned, you can poach the chicken breasts in a pot on the stove top, use the slow cooker or even the Instant Pot to quickly cook the chicken breasts. We used the Instant Pot this time and it worked beautifully. Quick and easy!
For the Instant Pot, if the chicken is fresh, cook for 6 minutes on high pressure. If the chicken is frozen, cook 10 minutes on high pressure. Either way you choose to do it, allow the pot to naturally depressurize and that is what helps the chicken be fork-tender. It will take at least 5 minutes for it to depressurize naturally.
NEED AN INSTANT POT? WE OFTEN FIND GREAT DEALS ON THEM AT KOHLS! CHECK OUT THE IP DUO HERE.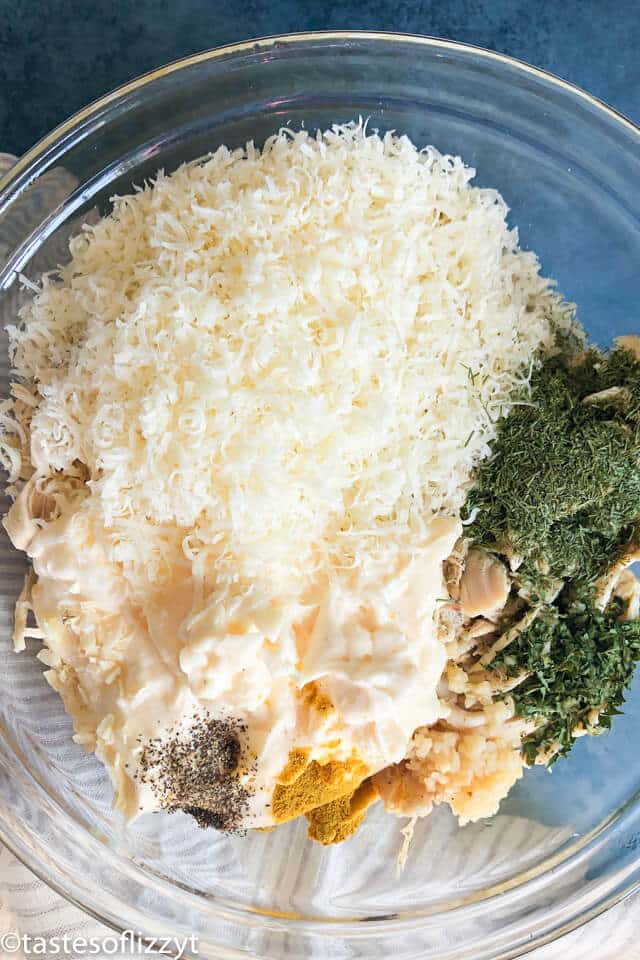 What makes THE BEST Chicken Salad
Some simply add chicken, mayonnaise and maybe a little onion to their chicken salad. But we had a few ingredients and spices that make ours the best.
What are they?
Parmesan cheese. Doesn't cheese make everything better? Just try it. Trust me.
Parsley, Onion and Garlic. These spices are staples for making just about any recipe better.
Salt and pepper. Add this to taste!
Dill weed. Dill weed has a warm, earthy flavor that really adds a unique touch to our chicken salad.
Curry powder. Curry is actually a blend of several different spices. It doesn't take much curry to add a bit of flair to recipes.
How to Make Chicken Salad
Chicken salad is easier than ever to make. Once you've got the shredded chicken (and it is cooled), simply add the other ingredients and mix well.
What to Add to Chicken Salad
I've found some crazy things in my chicken salad…we don't like to combine textures too much, but if you like a little crunchy or sweet in your chicken salad, try one of these:
sliced grapes
raisins
celery
onion
sliced almonds
craisins
chopped nuts
mandarin oranges
apple
peppers
bacon (now THIS idea we can get behind)
All of these ingredients will change the flavor of the chicken salad, so you may want to back off on some of the seasonings that I show below as they may not pair well.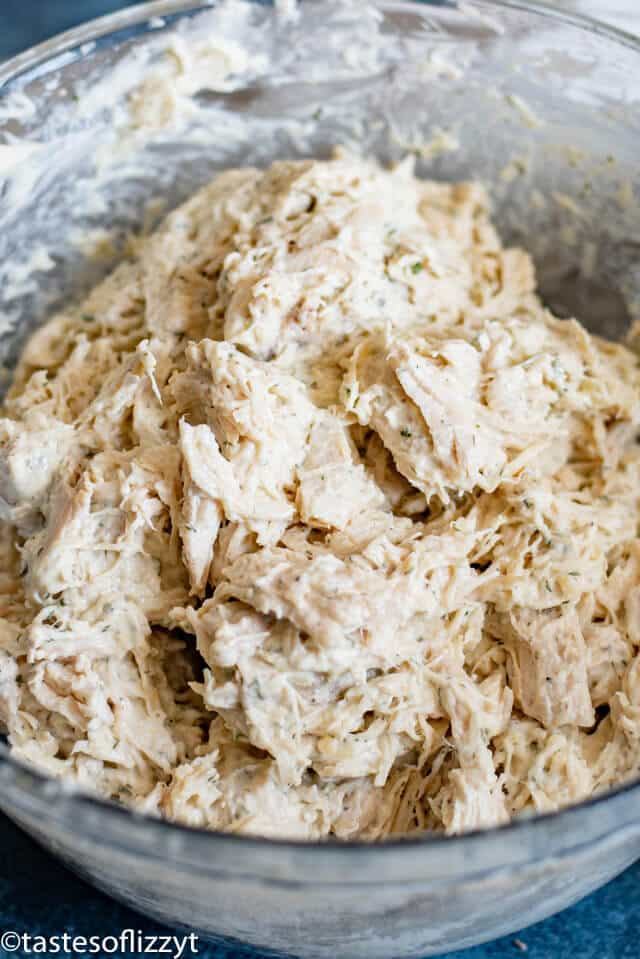 Best Bread for Chicken Salad Sandwiches
There are so many choices when it comes to what to serve chicken salad on. If you want a fancier look, use buttery, flaky croissants. To add flavor, try rye bread or sourdough bread. My kids love chicken salad on either traditional white bread or rolled up in a tortilla (and try homemade tortillas for something special!).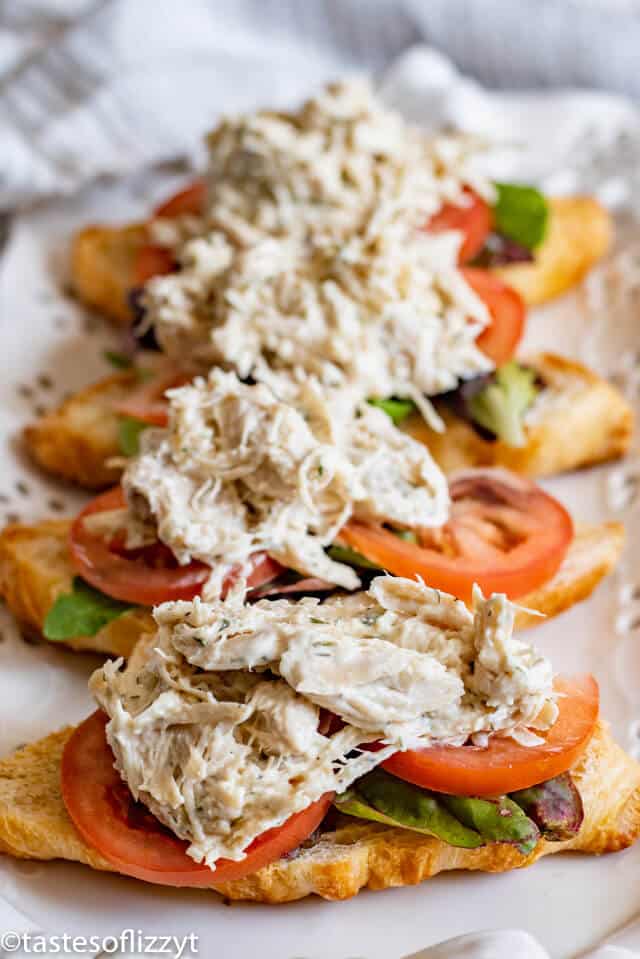 How long does chicken salad last?
Chicken salad will last in the refrigerator for 3-5 days. Make sure you refrigerate it immediately after serving. Store the chicken salad in an airtight container.
Can you freeze chicken salad?
Not really. Mayonnaise does not freeze well. It tends to separate when you defrost it. So therefore, because this chicken salad has mayo in it, it is best if you don't freeze it.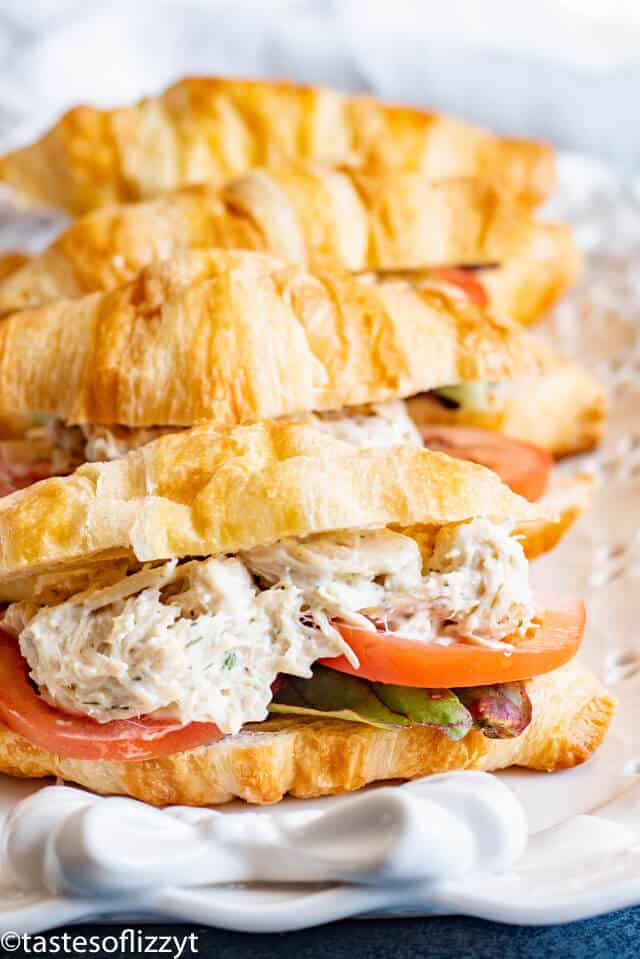 What should I serve with chicken salad?
How about some potato salad, homemade fries, fruit salad and sherbet punch? This sounds like a fantastic spring lunch!
Some other options are: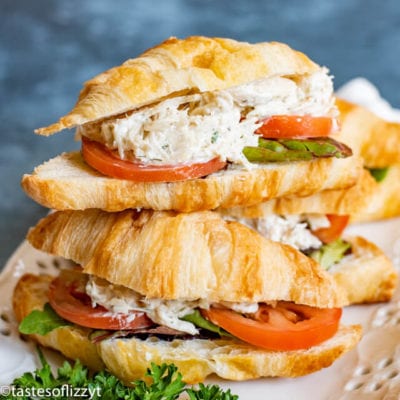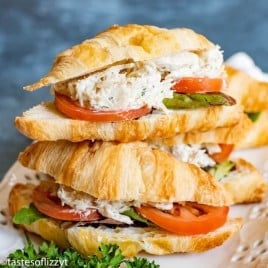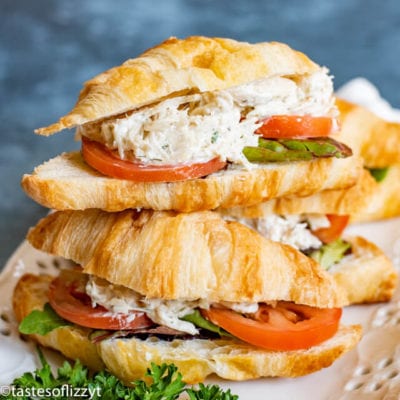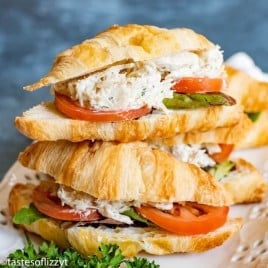 Chicken Salad Recipe
Use leftover shredded chicken in this easy chicken salad recipe flavored with parmesan cheese, dill weed, parsley, onion and garlic. Don't forget that touch of curry powder for the best chicken salad sandwich ever.
---
Ingredients
4

cups

shredded chicken

1 ½

cups

mayonnaise

1

cup

shredded Parmesan cheese

(freshly shredded)

2

teaspoons

dried dill weed

1

teaspoon

dried parsley

1

teaspoon

dried onion

1

teaspoon

minced garlic

1/2

teaspoon

curry

¼

teaspoon

salt

¼

teaspoon

pepper
Instructions
In a bowl, combine all of the ingredients for the chicken salad and mix well.

Cover and refrigerate until you are ready to make the sandwiches.
Nutrition
Calories:
364
kcal
|
Carbohydrates:
1
g
|
Protein:
18
g
|
Fat:
31
g
|
Saturated Fat:
6
g
|
Cholesterol:
62
mg
|
Sodium:
474
mg
|
Potassium:
158
mg
|
Vitamin A:
175
IU
|
Vitamin C:
0.6
mg
|
Calcium:
133
mg
|
Iron:
0.9
mg