The BEST broccoli salad recipe with different additional options such as bacon, cauliflower, raisins and sunflower seeds. The perfect summer picnic side dish. You may also like our broccoli slaw recipe.

Broccoli Salad Recipe
The first time I ever had broccoli salad was on the salad bar at a Ruby Tuesday's restaurant. I can't speak to it now because I haven't been to one of those restaurants in those years, but I used to be CRAZY for their salad bar. Their pumpernickel croutons were amazing, but I also loved their broccoli salad. I'd load my plate up, then load it up again. So, so good! Since then, I've enjoyed making this easy salad side dish for picnics and family get togethers. It also makes a great portable lunch.
Do you have to cook the broccoli for broccoli salad?
I 100% say no. I prefer the broccoli uncooked. (I actually don't like cooked broccoli at all although I'm a big girl and eat it every now and then because it is good for me.). Raw broccoli works beautifully. You can use cooked broccoli if you'd like, but please know that cooking the broccoli will change the flavor and texture slightly.
How to Make Broccoli Salad
This salad is easier than ever, but does take some time to chop the fresh veggies and cook the bacon. I like to cook the bacon in the oven (400 degrees Fahrenheit for about 15-20 minutes gets it crispy) and while it is cooking, I chop the veggies.
In a small bowl, combine the dressing ingredients and pour it over the salad. Mix well!
You'll want to plan ahead to allow this salad to sit for at least 2 hours before serving. It can also be made a day in advance. As the salad it sits, the veggies soak up the sauce and the flavors of the salad blend beautifully.
Broccoli Salad with Bacon
If you'd like to lower the calories in this salad, you can leave out the bacon or only use about half of the bacon that we use. You can also use precooked and crumbled bacon found in the refrigerator section of the store.
Broccoli Cauliflower Salad
If I want to add more color to the salad, I throw in some chopped cauliflower. I've made this salad with half broccoli and half cauliflower…and even all cauliflower before. It really is versatile!
Broccoli Raisin Salad
In recent years, I started adding raisins to my broccoli salad. I never would've liked that years ago, but I like the sweetness that the raisins add now. During the holidays you could add cranberries to have a broccoli cranberry salad!
Broccoli Salad Dressing
The broccoli salad dressing has just 3 ingredients: mayonnaise, sugar and apple cider vinegar. Add more sugar if you'd like it a little more sweet, but we think ¼ cup is perfect. You can use Miracle Whip if you 100% don't like mayo. And if you'd like to try something really healthy, use non-fat plain yogurt instead of mayonnaise. It does change the flavor a bit and makes the dressing a little more tangy, but it really cuts down on the fat.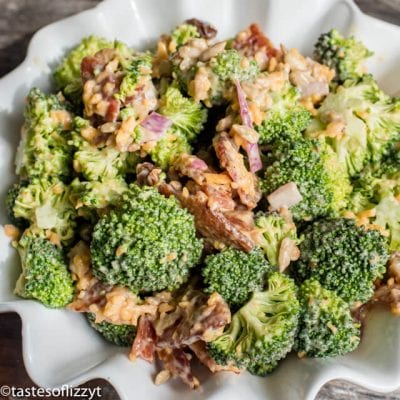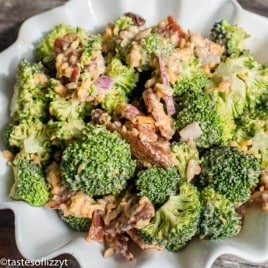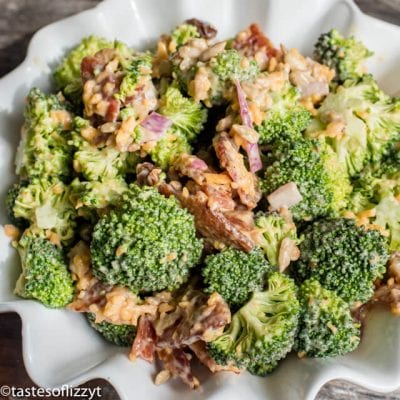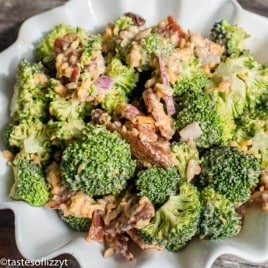 Broccoli Salad Recipe
The BEST broccoli salad recipe with different additional options such as bacon, cauliflower, raisins and sunflower seeds. The perfect summer picnic side dish
---
Ingredients
For the Salad:
12

ounces

bacon

7

cups

chopped broccoli

1/2

cup

sunflower seeds

1/2

cup

raisins

1/2

cup

red onion

1

cup

shredded cheddar cheese
For the Dressing:
1

cup

mayonnaise

1/4

cup

granulated sugar

2

tablespoons

apple cider vinegar
Instructions
Cook bacon in a skillet or in the oven until browned and crispy. Allow the bacon to cool and crumble into pieces.

In a large bowl, combine the bacon, broccoli, sunflower seeds, raisins, onion and cheese. Mix well.

In a small bowl, whisk together the mayonnaise, sugar and vinegar.

Pour the dressing over the salad and mix well to coat.

Refrigerate for at least 2 hours before serving. This is delicious served the next day also!
Nutrition
Calories:
445
kcal
|
Carbohydrates:
17
g
|
Protein:
10
g
|
Fat:
37
g
|
Saturated Fat:
9
g
|
Cholesterol:
43
mg
|
Sodium:
461
mg
|
Potassium:
398
mg
|
Fiber:
2
g
|
Sugar:
7
g
|
Vitamin A:
535
IU
|
Vitamin C:
57.9
mg
|
Calcium:
124
mg
|
Iron:
1.3
mg
Other Favorite Salad Recipes
Salads are some of our favorite recipes to make! Whether they are loaded with meat, potatoes, veggies or a combination of all three, you're sure to find a new one to love.