Tastes of Lizzy T participates in affiliate advertising programs. We may earn a commission when you make a purchase through links on our site.
Love Italian subs but don't want all the carbs? Try this Low Carb Italian Sub Salad with fresh meats and cheeses plus a homemade vinaigrette dressing.
When the dog days of summer hit we love to serve salad as a main dish for dinner. Whether it is layered Mexican salad or a healthy tuna salad, or this new Italian Sub Salad, you're sure to find a salad that pleases everyone!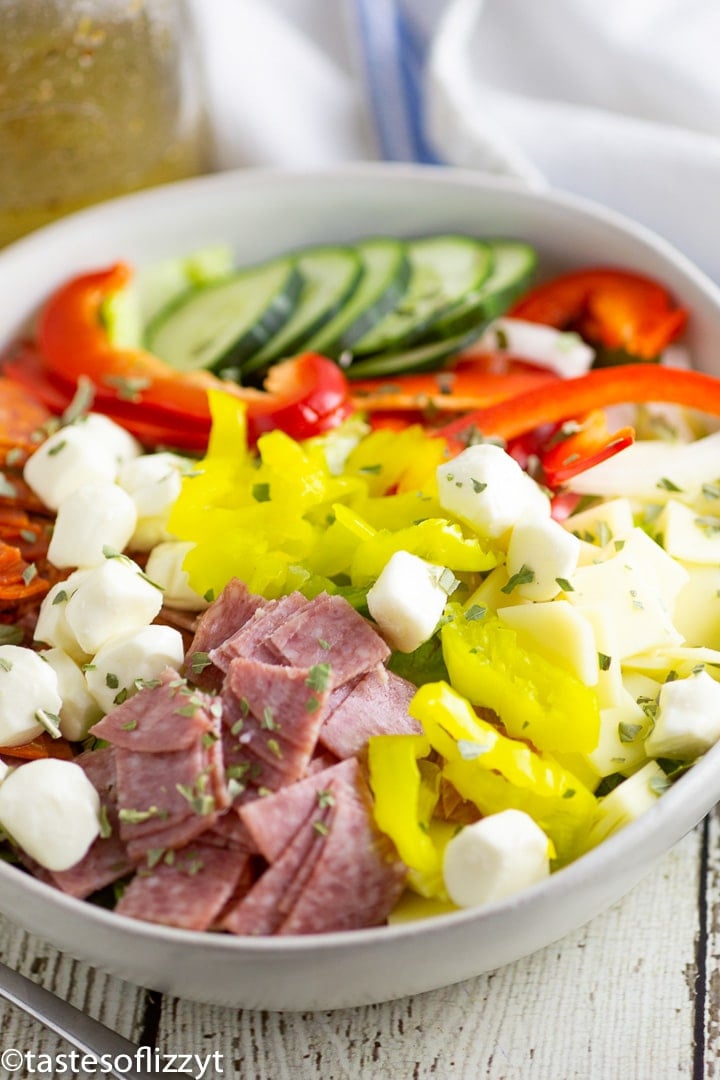 This Italian sub salad takes all the flavors of a classic Italian sub sandwich and turns it into a low carb (and even can be gluten free) main dish salad recipe you'll quickly fall in love with.
Is it healthy to eat salad every day?
Salads can be tricky. Often times you may feel healthy because you're eating a salad, but you have to watch closely what you load it up with. One thing to consider is your eating goals. Do you want to eat low calorie? Watch the meat and cheese you load on. Sugar Free? Take a peek at the dressing ingredients. Low Carb? If it's low carb (hello there keto diet) than this salad is a great option for you.
What is an Italian sub made of?
Italian subs are generally loaded with the following:
Salami
Ham
Pepperoni
Mozzarella
Provolone
Tomatoes
Onions
Peppers
Vinaigrette
We love cucumbers on salad, so we added some in although they are not traditionally on an Italian sub. You can also add olives or pickles if you'd like!
How to Make Italian Sub Salad
The first step to making salad is to gather the ingredients. There's no cooking with this recipe, so all of the time to make it is in preparing the ingredients.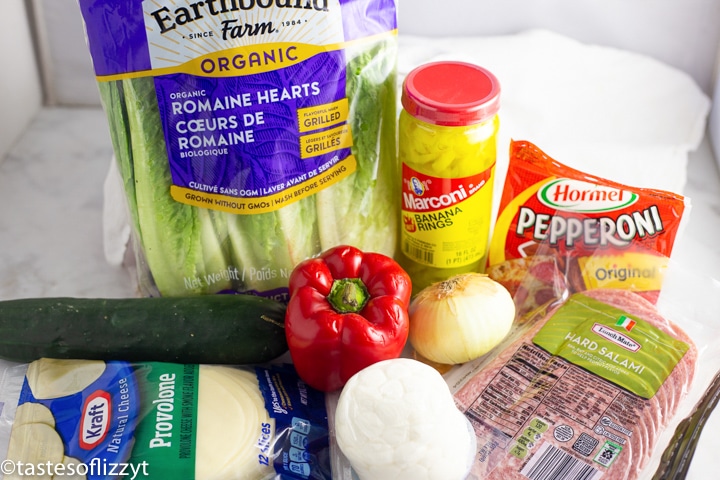 What lettuce is best for salad?
We used romaine lettuce for this salad. We oftentimes like to mix in some iceberg lettuce also. These two lettuces are nice and crisp which hold up well to the meats and cheeses you add to the salad.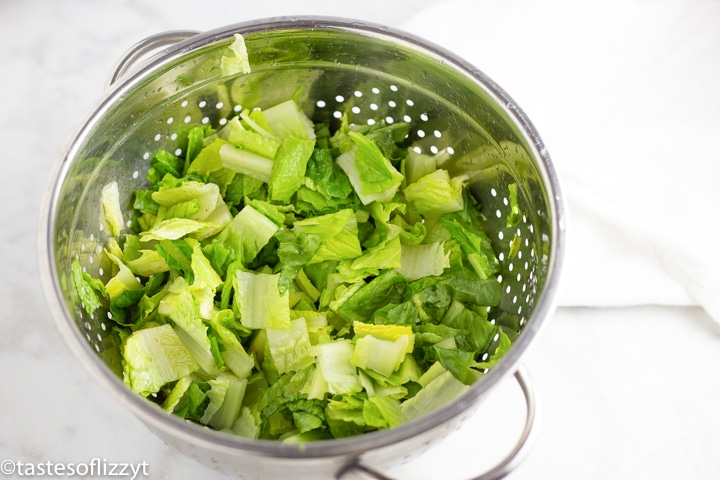 Cut the meats and cheeses into small chunks. If you can find mini pepperoni, you can eliminate cutting the pepperoni and use this instead. Same for the provolone…if you can find shredded provolone, there's not need to cut it.
Note…we didn't use ham because we thought two meats were enough. You can add it in if you'd like.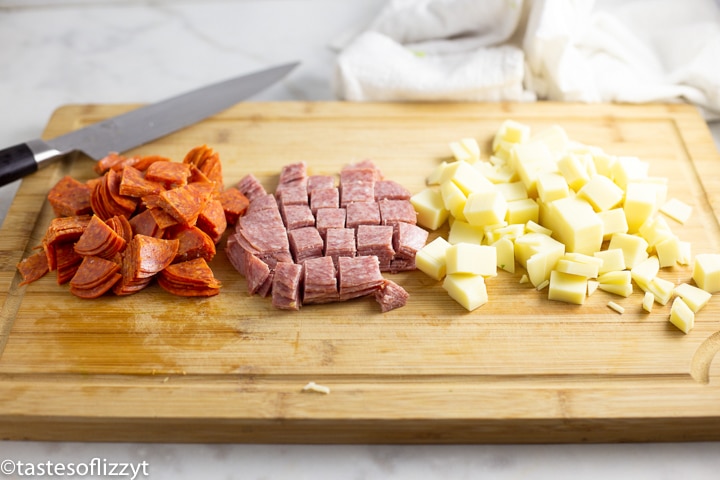 Prep the veggies. My family likes salad veggies best if they are cut small and thin, so we make thin slices. You can use red onion or white onion….it's up to you!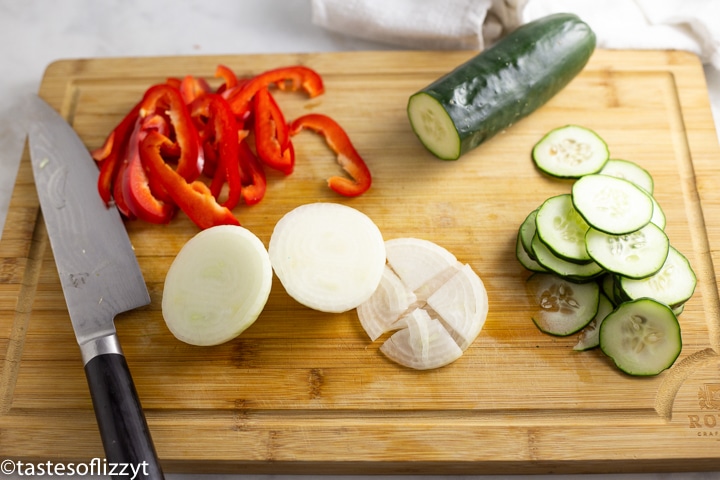 Add in banana peppers, which give amazing flavor to the salad. And then add fresh mozzarella pearls. This adds a creamy, cool texture to the salad. Fresh mozzarella is delicious!
At this point you can load the salad up, cover it and allow it to sit overnight in the fridge. If you choose to do this, it's best not to mix it. Allow the ingredients on top to create a seal for the lettuce beneath. This will help keep the lettuce crisp in the fridge.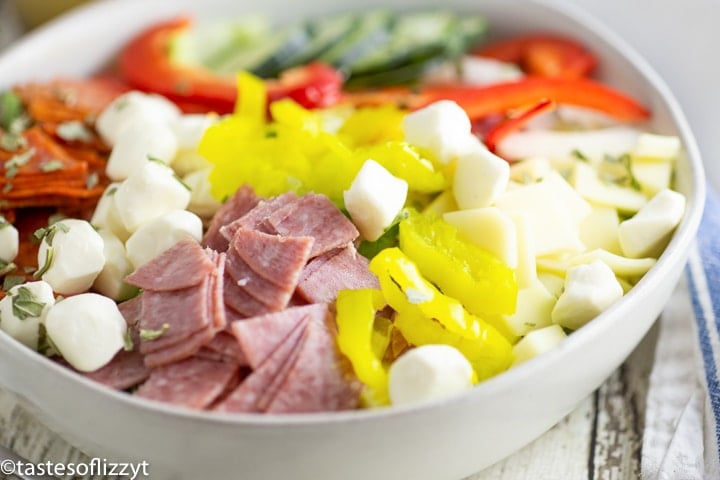 How to Make Italian Sub Salad Dressing
This simple Italian vinaigrette is a mix of olive oil, red wine vinegar, honey, garlic powder, italian seasoning and salt. Add the ingredients to a jar and mix them well.
If you're going for a low carb dressing, leave out the honey and add in some monk fruit sweetener to add a touch of sweetness.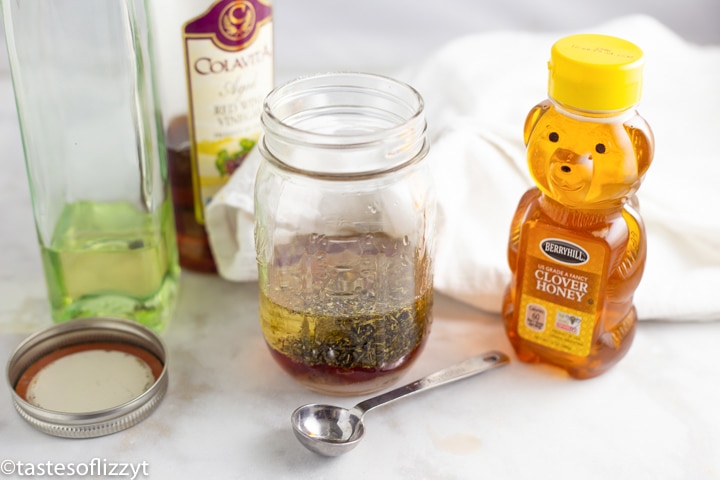 How to Keep Salad Fresh
A salad will stay freshest before you mix it all together. You don't want to add the dressing until right before you serve it. Once you add the dressing, the salad may start to wilt.
We have eaten leftovers of this salad the next day, it may just not be as crisp as the day you mix it together.
What to Serve with Salad
This salad makes a complete meal in one and is great for lunch or as main dish for dinner. However, if you'd like to serve it to guests and would like a few side dishes, we recommend the following:
And don't forget some lemon iced tea to go with it!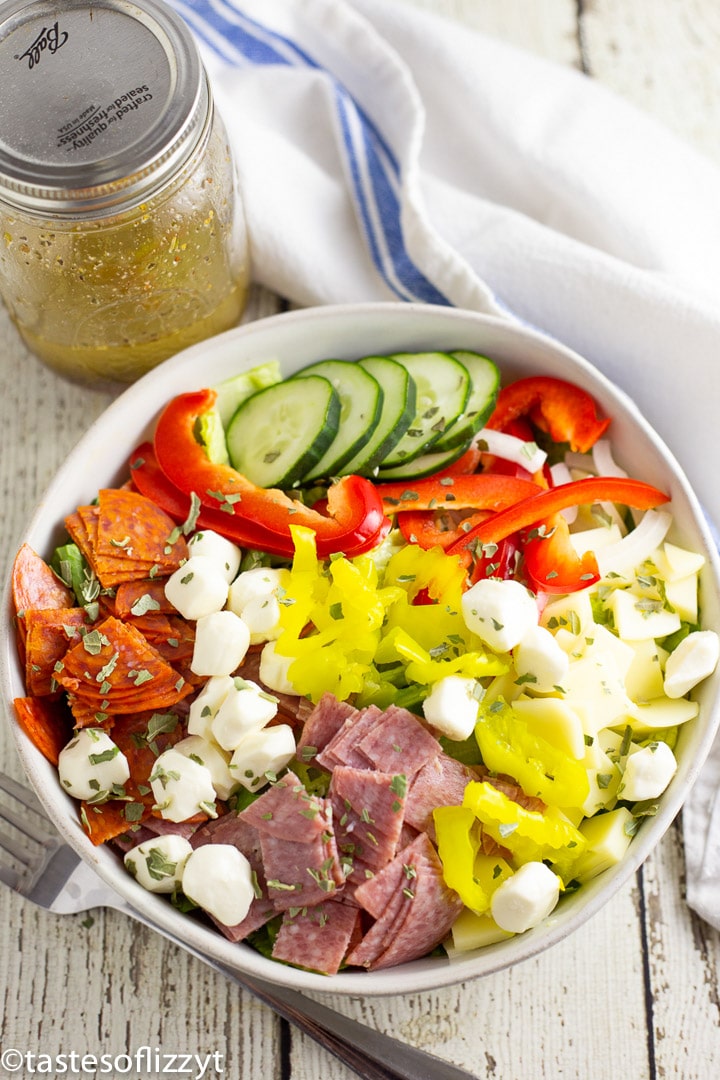 Other Salad Recipes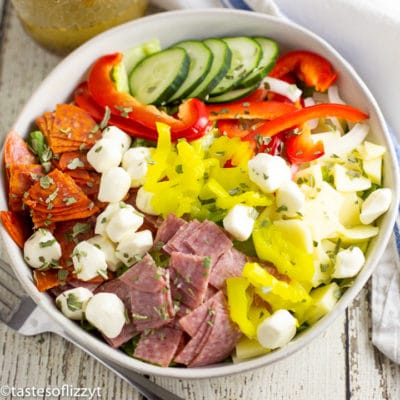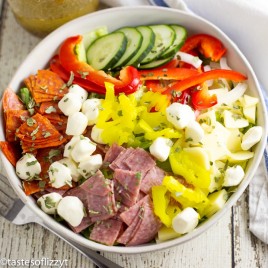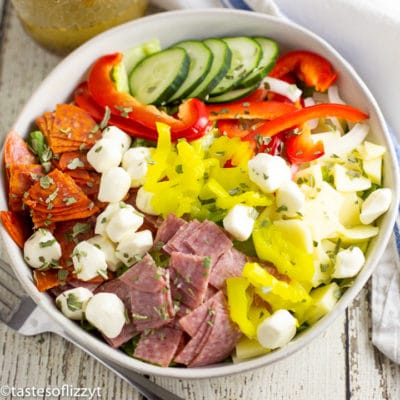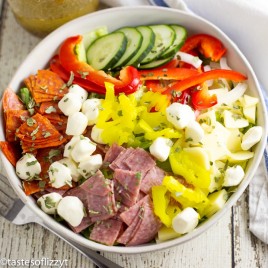 Italian Sub Salad
Love Italian subs but don't want all the carbs? Try this Low Carb Italian Sub Salad with fresh meats and cheeses plus a homemade vinaigrette dressing.
---
Ingredients
Ingredients
2

hearts of romaine

(chopped)

1/2

pound

salami

(chopped)

1/2

pound

provolone

(chopped)

8

ounces

mini fresh mozzarella balls

1

cup

shredded Parmesan

5

ounces

mini pepperoni

1

cucumber

(sliced thin)

1

red pepper

(sliced into strips)

1

cup

mild banana pepper rings

1

white onion

(sliced thinly)

1

tablespoon

black pepper

1

tablespoon

dried basil
DRESSING
1/2

cup

olive oil

1/3

cup

red wine vinegar

1/2

teaspoon

garlic powder

1

tablespoon

Italian seasoning

1

tablespoon

honey

1

teaspoon

salt
Instructions
Whisk together ingredients for salad dressing. Cover and set aside.

In a large bowl. Add romaine lettuce. Top with meats, cheeses, and remaining veggies. Sprinkle with pepper and basil.

Cover and refrigerate for 4 hours or overnight (to let flavors meld).

When ready to serve, toss, and drizzle with dressing.

Serve cold garnished with fresh basil..
Nutrition
Calories:
595
kcal
|
Carbohydrates:
10
g
|
Protein:
30
g
|
Fat:
48
g
|
Saturated Fat:
19
g
|
Cholesterol:
91
mg
|
Sodium:
1878
mg
|
Potassium:
472
mg
|
Fiber:
3
g
|
Sugar:
5
g
|
Vitamin A:
3555
IU
|
Vitamin C:
35.3
mg
|
Calcium:
557
mg
|
Iron:
2.4
mg