Tastes of Lizzy T participates in affiliate advertising programs. We may earn a commission when you make a purchase through links on our site.
Everything you need to know about asparagus! Roasted asparagus with Parmesan makes an easy vegetable side dish that the whole family will enjoy.
I remember the days that my kids didn't want to venture away from any veggie other than canned green beans. Soon they tried our Italian green beans and then our Christmas green beans…and lately they haven't minded when I serve up roasted asparagus.
The kids are growing up…and it shows in the veggies they eat. 🙂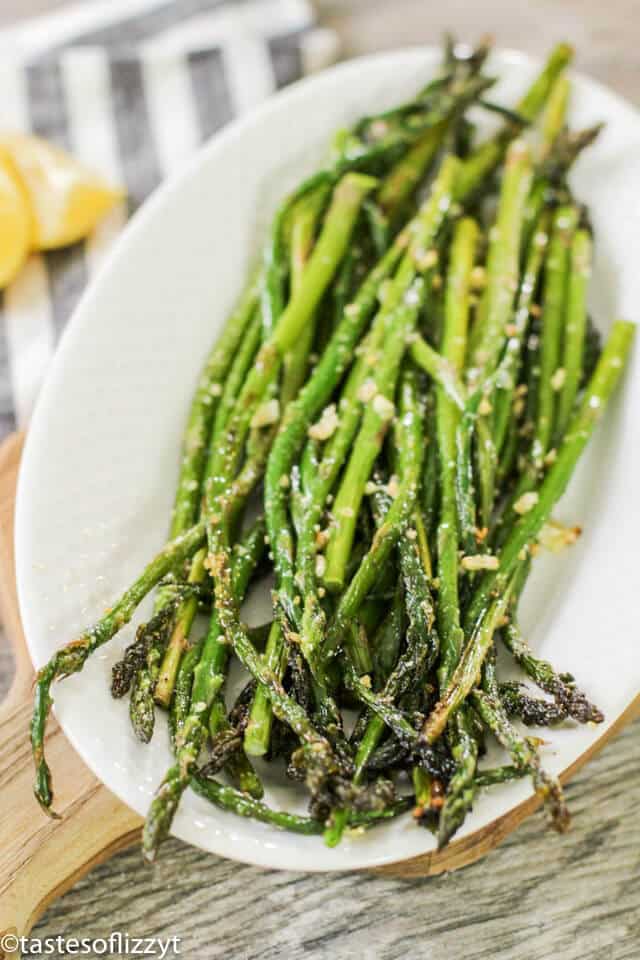 If you aren't used to working with fresh asparagus, today we're showing you just how easy it is. Whether you are pulling fresh asparagus from your garden or you're buying a bundle at the store, we'll share how to get the BEST flavor that will go with just about any main dish.
What are the benefits of asparagus?
Asparagus is low in calorie and low in carbs, making it a great choice when you have goals to eat a healthy, clean diet. Asparagus is high in Vitamins A, C and K, and also high in Fiber.
Do you have to wash asparagus before cooking?
Yes! You should always, always wash vegetables before you cook them. Rinse under cool water.
Is asparagus better thick or thin?
You might assume that thinner asparagus spears would be more tender and therefore better to eat. According to Cook's Illustrated (who does a lot of testing on different types of foods), thinner isn't necessarily better! Thicker asparagus tend to be more tender because the vegetable's fiber is more spread out. Thicker spears hold up to roasting and grilling better than thinner spears.
If you are stir-frying or steaming, choose thinner spears so that they cook faster.
Can you eat the whole asparagus spear?
You can eat the whole spear except for the woody stem towards the bottom. Hold the asparagus spear on each end firmly. Gently bend the asparagus so that it bows out away from you. Keep bending until the asparagus snaps. It will naturally snap so that the woody stem breaks off. Discard that part and eat the top part with the head on it.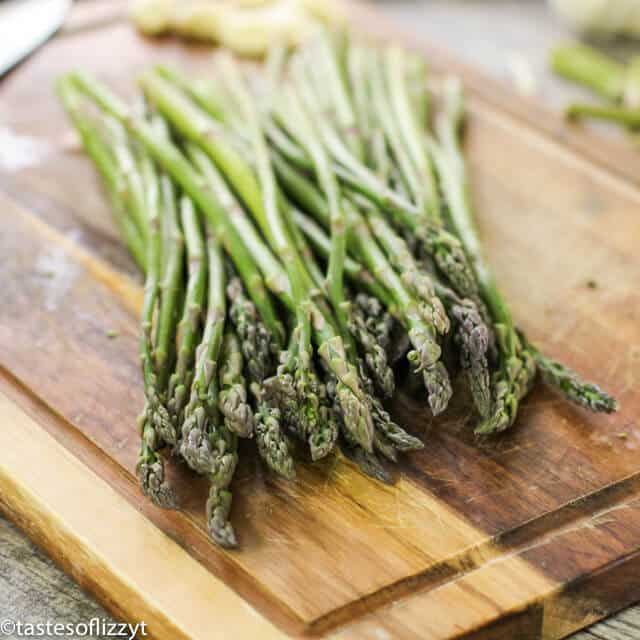 How to Make Baked Asparagus
There are 3 steps to baking asparagus.
Prepare the asparagus and place it on a pan.
Mix together the seasoning.
Brush the seasoning on the asparagus (or toss the asparagus with the oil and seasoning mix).
Bake until the asparagus is tender…about 10-12 minutes.
It's important not to overbake the asparagus. You do not want the asparagus soft and floppy. It should still be slightly crisp after roasting so watch it carefully! The exact timing will depend on the thickness of the asparagus spears.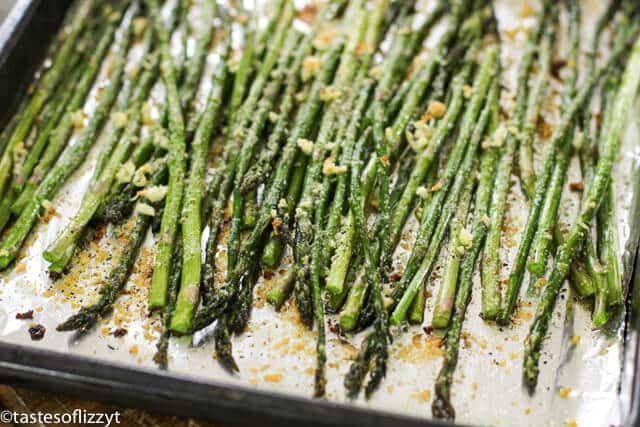 What to Serve with Baked Asparagus
Baked asparagus makes a great side dish to just about any main dish. We love it at Easter with honey baked ham. It's excellent with grilled pork chops or grilled chicken. And it's fantastic with roast beef!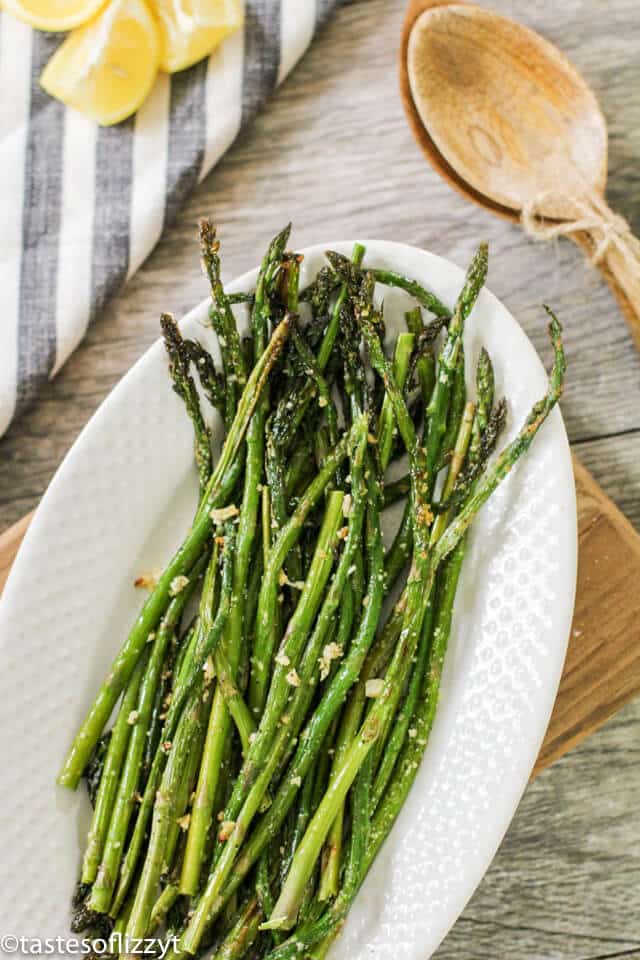 Other Vegetable Recipes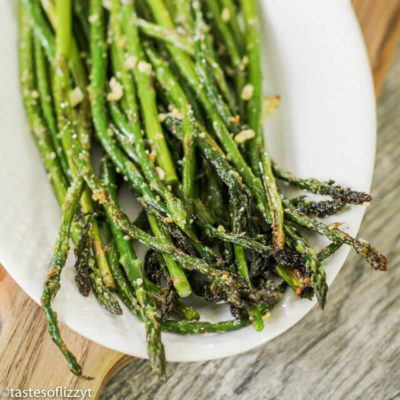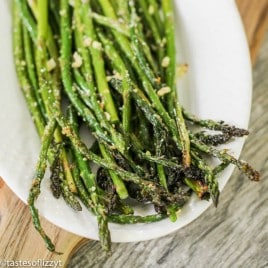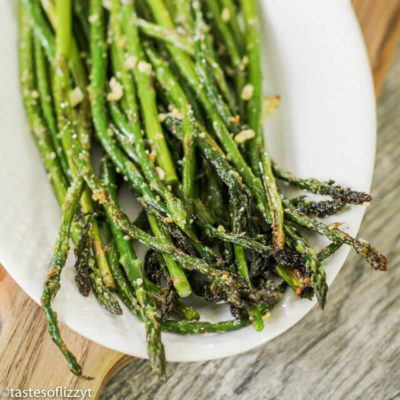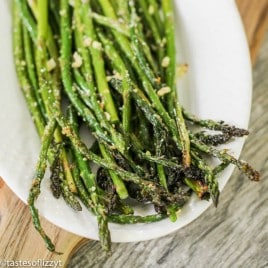 Roasted Asparagus
Everything you need to know about asparagus! Roasted asparagus with Parmesan makes an easy vegetable side dish that the whole family will enjoy.
---
Ingredients
½

pound

asparagus

(rinsed and ends cut off and removed)

2

tablespoons

olive oil

1

teaspoon

kosher salt

½

teaspoon

ground black pepper

2

tablespoons

grated Parmesan cheese

2

teaspoons

minced garlic
Instructions
Preheat oven to 400 degrees.

Place the asparagus in a single layer on a baking sheet lined with foil.

In small bowl, add the oil, salt, pepper parmesan and garlic. Mix well.

Brush the seasoned oil onto the asparagus spears.

Serve.