If you've fallen in love with honey baked ham, try making it at home! We'll teach you how to get that famous sugary crunch on your spiral honey ham.
Last year we shared with you one of our favorite ways to bake a ham…with a simple sugary glaze (and our don't forget our Christmas cranberry ham).
This year we tackled something new…a honey baked ham. This meant lots of recipe testing (which included buying the real deal…rough job….I know!) but we've tweaked a recipe to our liking and are excited to share this homemade honey baked ham with you today, just in time for Easter dinner.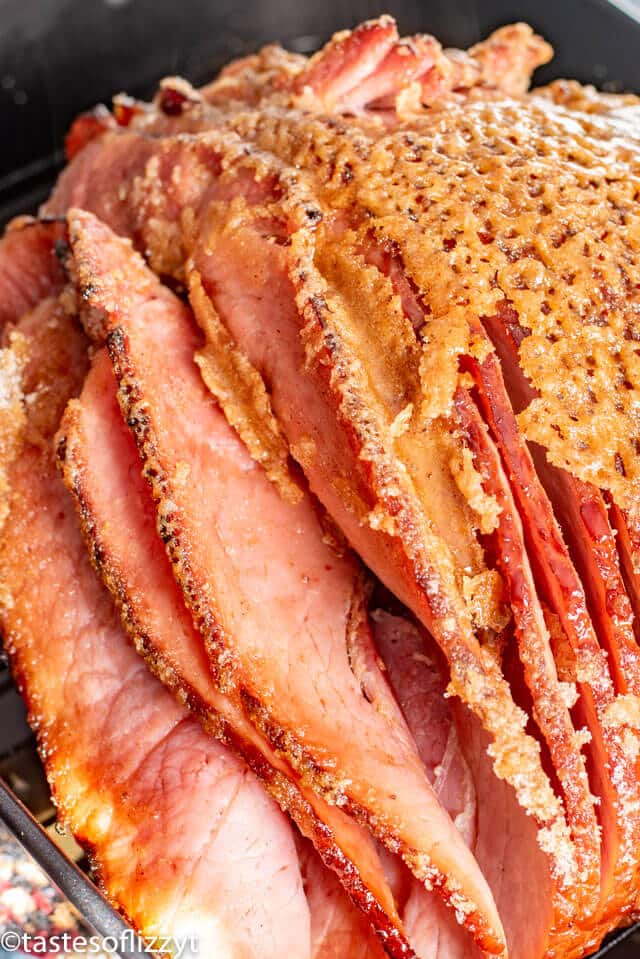 Thanks to the Ohio Pork Council for sponsoring this post. As always, all opinions are my own.
There are a lot of recipes for copycat honey baked hams, but the best comes from a book full of "secret" recipes by Todd Wilbur. If you love trying to recreate restaurant classics at home, you should definitely take a look at his book. We tweaked his recipe slightly and are sharing how to get that crispy sugary crust on your homemade hams.
What does spiral cut ham mean?
Although some hams come unsliced, many hams you can buy at the store will say "spiral cut". So what does this mean? It means there is one continuous cut around the bone of the ham. The slices are generally thin and even, making it really easy to serve to guests.
How do you make honey baked ham?
There are 3 steps to remaking a honey baked ham.
Heat/Bake a spiral sliced ham.
Coat it with it with a sugary topping.
Heat that sugar topping until it melts and becomes "crusted" on the ham.
Now we'll explain each step.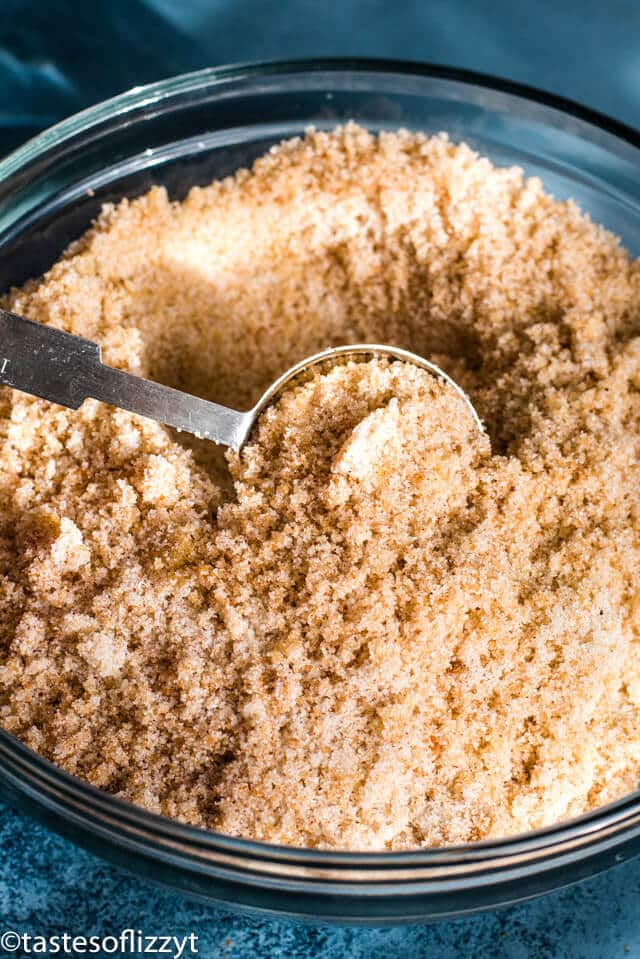 How long does it take to bake a fully cooked ham?
Many hams come fully cooked, which means all you have to do is heat the ham through. The amount of time it takes to heat them ham will depend on how large the ham is, but in general, it will take about 10-15 minutes per pound to heat the spiral sliced ham to 140 degrees Fahrenheit.
We set our oven to 350 degrees and plan for it to take about 1 ½ to 2 hours for the nearly 10 pound hams we buy.
It's important to pour a cup or two of water in the bottom of the baking pan and then cover the ham with foil while it is reheating. This keeps the ham from drying out. Don't forget to drizzle the honey over the ham while it is baking for a little extra flavor!
You can also heat the ham through in the slow cooker, which is the method we prefer. We'll explain that below.
Cook Ham in the Slow Cooker
Our favorite way to heat ham is in the slow cooker. It frees up the oven and helps to keep that ham moist and juicy.
To heat the ham in the slow cooker, place the unwrapped ham in the slow cooker, then pour a cup or two of water in the bottom of the slow cooker. Drizzle the honey over the ham, cover and cook on low for 2-3 hours or until the ham is heated through.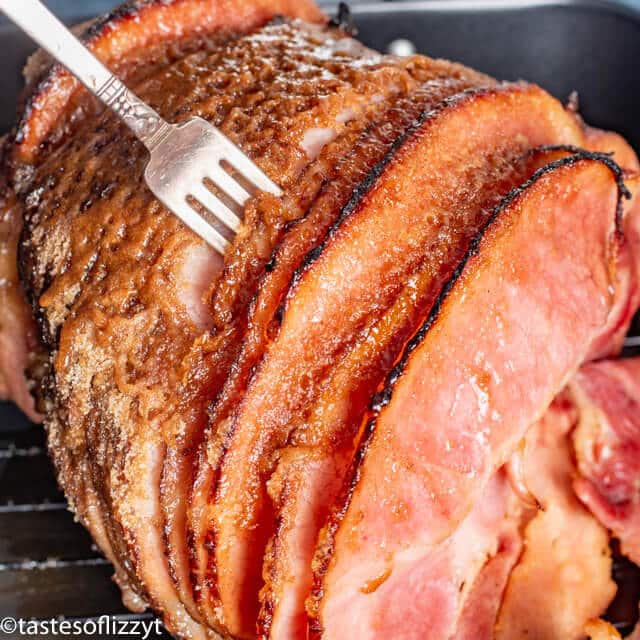 Sugar Topping for Ham
The main ingredient in sugar topping for ham is…well…sugar! You can do any ratio of white sugar to brown sugar that you'd like, but we prefer a little more brown sugar. That molasses flavor in brown sugar is unbeatable.
To the sugar you'll add a touch of different spices such as cinnamon, nutmeg, cloves, paprika, ginger and onion powder. You won't need much of these spices at all. Just a touch will give you the flavor you're looking for.
Pat the sugar mixture all over the outside of the ham. You can separate the slice slightly and allow some of the sugar to fall down between the slices.
How to Glaze Ham with Sugar
There are two ways to glaze the ham and get that crunchy sugar on your baked ham.
Butane kitchen torch. From our research, this is what Honey Baked Ham uses to caramelize the sugar on their ham. Not many people have kitchen torches…and they can honestly be a little scary to work with. We highly recommend the broiler method to get that caramelized texture.
Broiler. The important thing to remember when putting the sugared ham under the broiler is that the sugar can burn quickly if you don't keep your eye on it. Set the broiler to "High" and make sure the oven rack is lowered (especially if the ham is big). Place the ham, uncovered, in the oven and set the timer for about 4 minutes. You'll want to watch it closely and check it every minute or so. You're watching for the sugar to start melting and get "bubbly". Rotate the pan several times during the few minutes it is in the oven for even heating. If you find that the sugar on top is melting more quickly than the sugar on the sides, you can turn the broiler down to low to continue cooking.
I can't stress enough how important it is to keep close watch on the ham while it is under the broiler. Don't leave it. Check it often. Take it out of the oven once the sugar is bubbly and caramelized.
It's also important to know that the sugar topping is going to be VERY HOT when it comes out of the oven. Don't be tempted to touch it or you'll burn your finger. It won't take long to cool down, so just be patient.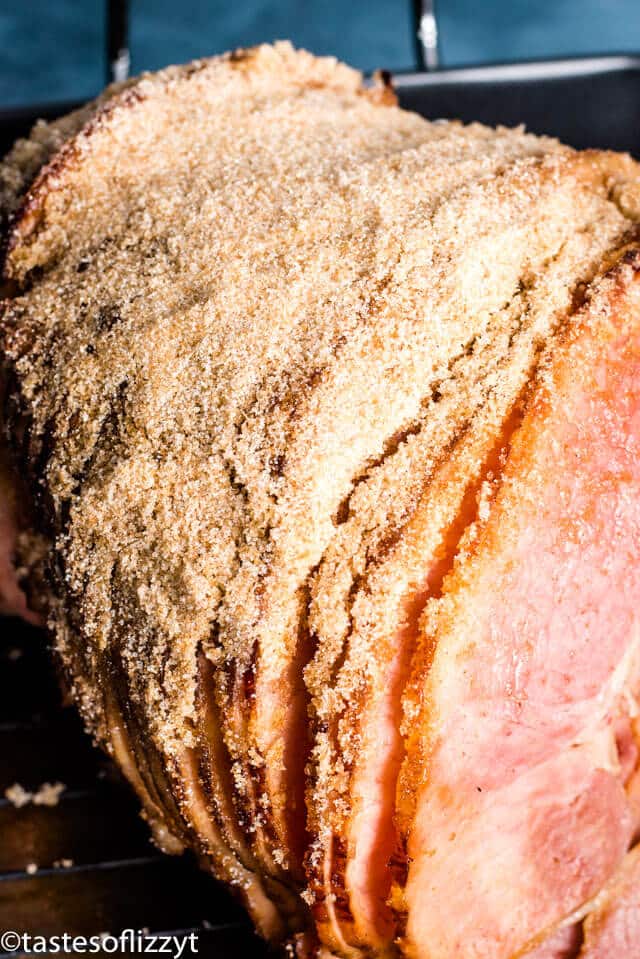 Should honey baked ham be served at room temperature?
If you buy a honey baked ham, you'll find that they recommend serving the ham cold. I find it is really a matter of preference. With a ham dinner of mashed potatoes and green beans, we prefer our ham warm. But for leftovers? It's perfectly delicious cold.
You can serve the ham whichever way you'd like!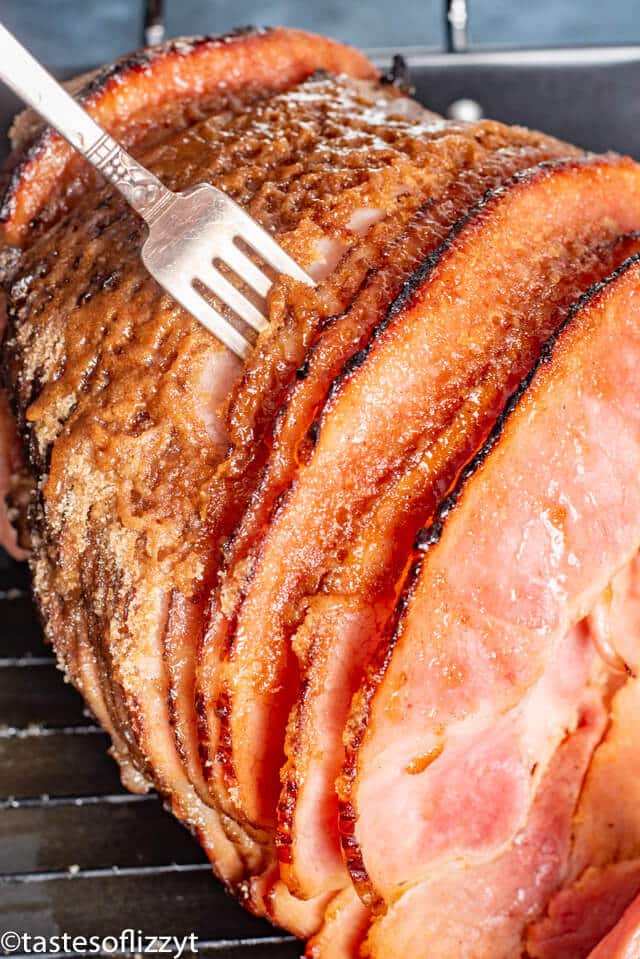 What are the best side dishes for a ham dinner?
A few of our favorite sides dishes to go with ham are green beans, baked sweet potatoes, pineapple casserole, corn pudding or corn casserole, roasted carrots or easy oven roasted potatoes.
And don't forget homemade rolls!
How long is leftover ham good in the fridge?
Store ham in an airtight container in the refrigerator for 3-5 days. It's great for sandwiches, casseroles, omelettes and just for snacking.
Can I freeze leftover ham?
Yes! We freeze both the ham bone (perfect for ham bone soup or 15 bean soup) and also freeze the ham. Make sure it is packaged well in a freezer bag. We often double bag it.
It's best to use the ham within 2 months of freezing.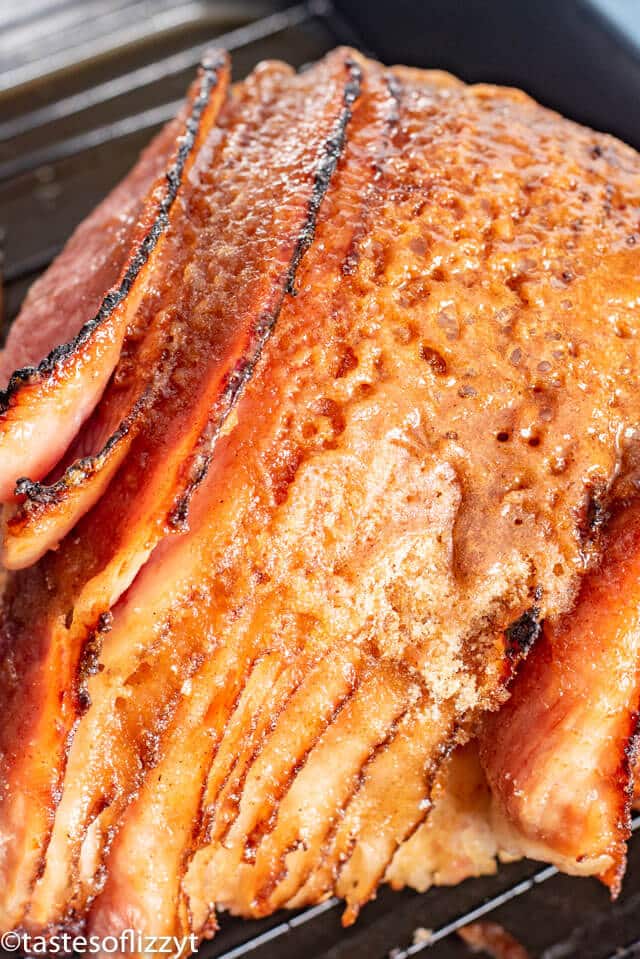 Ideas for Leftover Ham
If you have a lot of leftover ham and are looking for ways to use it up, try one of these favorite recipes: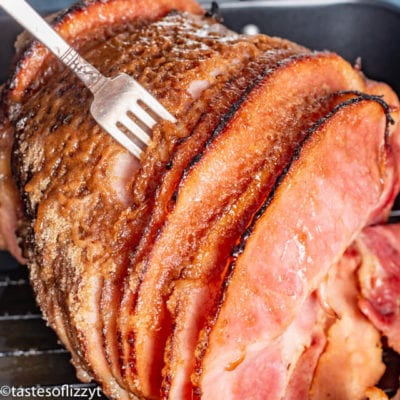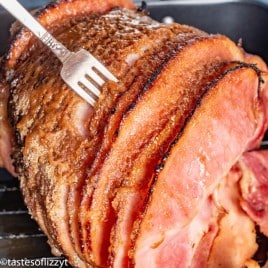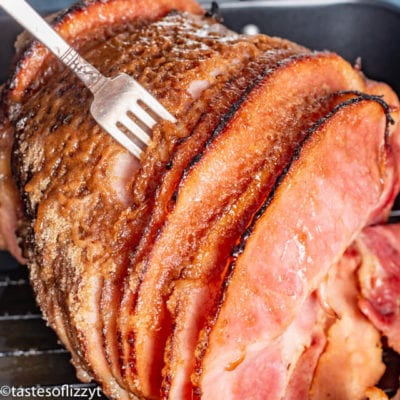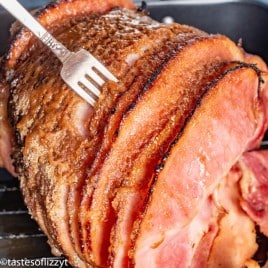 Honey Baked Ham
If you've fallen in love with honey baked ham, try making it at home! We'll teach you how to get that famous sugary crunch on your spiral honey ham.
Total Time
3

hours
10

minutes
---
Ingredients
Spiral Baked Ham

½

cup

honey
Sugar Topping:
¾

cup

white sugar

¼

cup

brown sugar

¼

teaspoon

cinnamon

¼

teaspoon

nutmeg

¼

teaspoon

cloves

¼

teaspoon

paprika

Dash of ginger

Dash of onion powder
Instructions
Place ham in the slow cooker.

Pour the honey all over the ham.

Heat through on low (about 3 hours).

Remove the ham and place on a baking sheet.

In a small bowl, mix together the sugar and spices.

Pat the sugar mixture all over the outside of the ham.

Place the ham under the broiler (make sure it is not too close to the top broiler. If it is, move it to a lower oven rack).

Set the oven to broil on high for 4-5 minutes. Watch the ham closely! When food is cooking under the broiler it can start to burn very quickly. You're looking for the sugar to start bubbling and caramelizing.

The sugar will be VERY HOT so let the ham rest for a few minutes so that the sugar cools.

Honey Baked Ham is traditionally served cold, but you can serve this ham warm if you'd like.
Nutrition
Calories:
374
kcal
|
Carbohydrates:
11
g
|
Protein:
29
g
|
Fat:
22
g
|
Saturated Fat:
8
g
|
Cholesterol:
84
mg
|
Sodium:
1616
mg
|
Potassium:
394
mg
|
Sugar:
11
g
|
Vitamin A:
10
IU
|
Calcium:
11
mg
|
Iron:
1.2
mg