This ham loaf recipe is one of the best ways to use up leftover ham. Baste with a sweet pineapple glaze during baking for a delicious caramelized flavor. You may also love our easy ham recipe!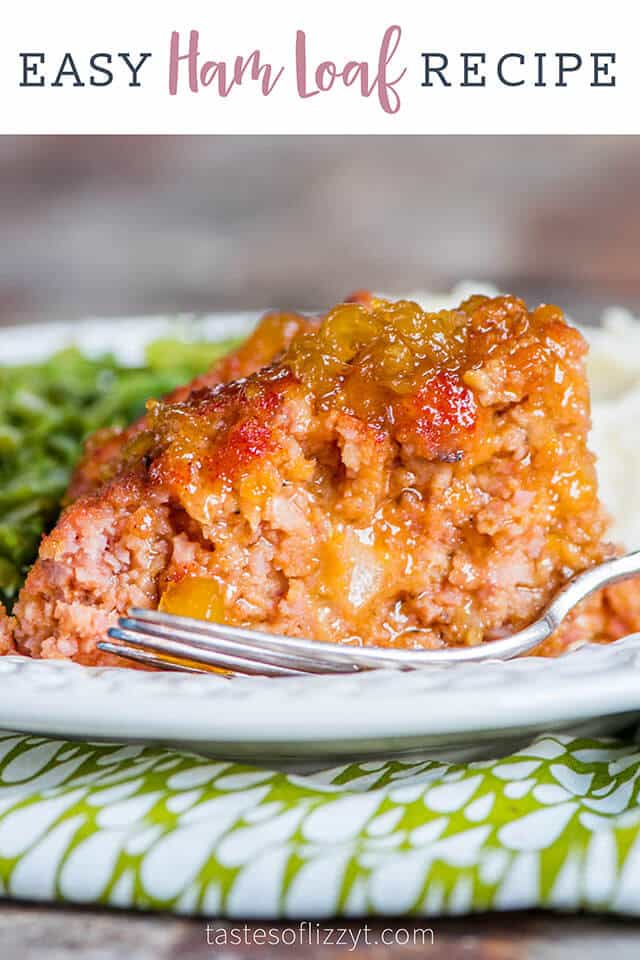 Ham Loaf Recipe
Thanks to the Ohio Pork Council for sponsoring this post. As always, all opinions are my own.
Two weeks ago I had the opportunity to visit Premiere Solutions in Sabina, Ohio. This is a company whose motto is "helping farmers feed the world" and that is exactly they do! I met Rebecca Surber there and she was kind enough to take me out to one the Surber Family hog farms so I could experience first hand what raising pigs on a pig farm looks like.
If you're anything like me, someone who was not raised around farming, I'm sure you may have a lot of questions about what it is like. Blogging has given me many opportunities, but getting to know local farmers and their families and experiencing what they do each and every day has been one of the most enjoyable things I've done. Let me tell you why.
Farming families are passionate about what they do. This is the second time I've visited the Surber family and they are lovely. They are very knowledgeable about what they do and are more than happy to answer any questions to share their knowledge. Much of the Surber family, although now they are grown and married, still work for the family farm business which shows they love what they do.
Farming families love their animals. Rebecca shared many stories with me of different pigs and their personalities, even giving some names. I saw first hand Rebecca pick up and love on one of the littlest pigs to give them extra attention. They really do care for their animals and want to see them healthy and happy.
Farming families care about health. And that's not just of the animals but also the importance of maintaining health standards to keep quality at its highest.
Farming families in want to see farmers thrive in Ohio and do what they can to help and support them! I was so impressed with the history of Premiere Solutions. John Surber is an amazing businessman but isn't afraid to get his hands dirty. He started in the feed business but about 20 years ago built his own hog barn which was the start of showing Ohio farmers that they can be successful. He paved the way for much of pig farming coming back to Ohio.
I've been blessed to get to know the Surber family and they were kind enough to share their favorite ham loaf recipe with you! Oh…and this was an awesome day because we got to have dessert BEFORE dinner. We stopped by Batter Up Bakery in Leesburg, Ohio. It was their prep day and we sampled fresh from the oven blueberry donuts and lemon blueberry cookies. Mouthwatering!! If you're ever in Southwest Ohio, stop by this bakery and sample some of their donuts or other baked goods, many made with locally sourced fresh fruits!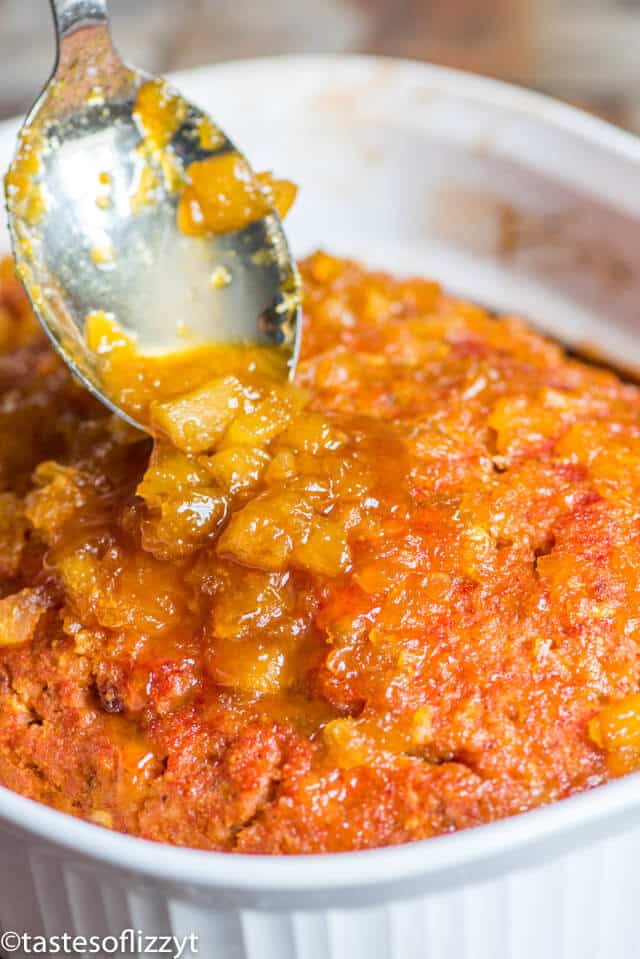 How to Make Ham Loaf
Ham loaf is an easy recipe to make. If you've ever made meatloaf, it is very similar. You start by running 2.25 pounds of ham through a food processor to chop it up. If you have a meat grinder, you could do that too. Add ground pork, mustard, ketchup, chopped onions, milk and …..graham crackers! Unique, right? Graham crackers really add to the flavor of this ham loaf.
This ham loaf will take about an hour and a half to bake. You'll want to baste it 3-4 times during cooking. The glaze will caramelize on the outside of the ham loaf. It's amazing! Save any leftover sauce to drizzle over the ham loaf slices while serving.
Ham Loaf Glaze
This ham loaf is basted with an easy 4-ingredient glaze. Crushed pineapple (with the juice!), brown sugar, vinegar and a touch of mustard. Cook it together on the stovetop and allow it to boil for 1 minute. The sweet flavor pairs so well with ham.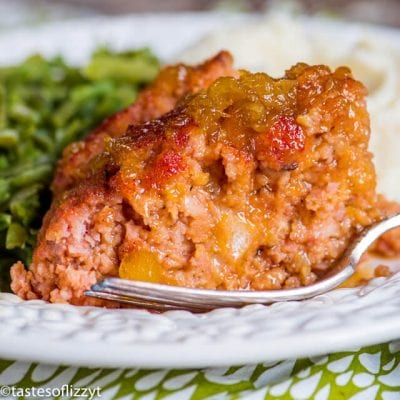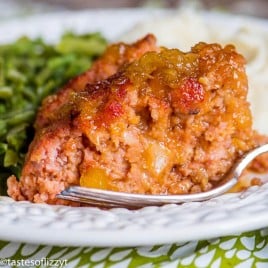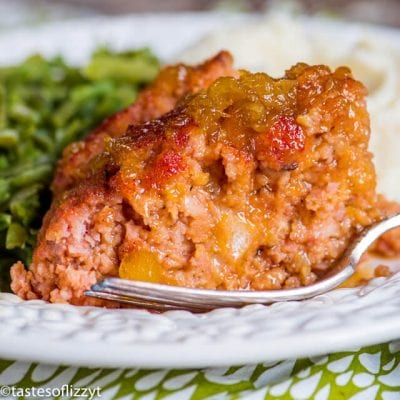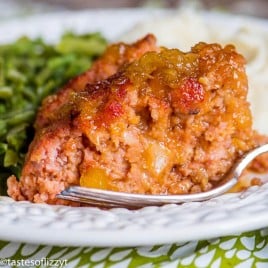 Ham Loaf Recipe
This ham loaf recipe is one of the best ways to use up leftover ham. Baste with a sweet pineapple glaze during baking for a delicious caramelized flavor.
Cook Time
1

hour
30

minutes
Total Time
1

hour
50

minutes
---
Ingredients
For the Ham Loaf:
2 ¼

pounds

ground ham

(precooked ham)

3/4

pound

ground pork

2

large

eggs

2

tablespoons

yellow mustard

1/2

cup

ketchup

1

medium

onion

(chopped)

1 1/2

cups

graham crackers

(crushed)

3/4

cup

milk

1/2

tablespoon

paprika
For the Glaze:
1 1/2

cups

brown sugar

1/2

cup

white vinegar

1

teaspoon

yellow mustard

8

ounces

crushed pineapple

(with juice)
Instructions
Make the Ham Loaf:
Preheat the oven to 350 degrees Fahrenheit.

In a large bowl, mix together the ground ham, pork, eggs, mustard, ketchup, onion, graham crackers and milk. Mix well.

Spray a 9×13 baking pan with cooking spray.

Shape the ham mixture into a loaf, packing the meat firmly.

Sprinkle the top of the ham loaf with paprika.

Bake the ham loaf for 20 minutes. During this 20 minutes, make the pineapple glaze.
Pineapple Glaze:
Combine the glaze ingredients together in a small saucepan over medium heat. Cook and stir until the sauce comes to a boil, then boil for 1 minute.

Remove from the heat and set aside until the ham loaf is ready to glaze.
Finish Baking the Ham Loaf:
After the initial 20 minutes of baking, brush the top of the loaf with the pineapple glaze.

Bake again for 70 minutes, basting the ham loaf 2 or 3 more times during baking.

Serve warm with any leftover pineapple glaze drizzled on top.
Notes
The calories shown are based on the loaf being cut into 12 pieces, with 1 serving being 1 slice. Since different brands of ingredients have different nutritional information, the calories shown are just an estimate.
Nutrition
Calories:
482
kcal
|
Carbohydrates:
43
g
|
Protein:
21
g
|
Fat:
24
g
|
Saturated Fat:
9
g
|
Cholesterol:
82
mg
|
Sodium:
286
mg
|
Potassium:
466
mg
|
Sugar:
35
g
|
Vitamin A:
230
IU
|
Vitamin C:
3.1
mg
|
Calcium:
76
mg
|
Iron:
2.8
mg