We're sharing leftover ham recipes that you can make with your holiday leftovers. Plus, get our tips on how to freeze ham and how to reheat ham without it drying out.
Table of Contents
Serving ham for holiday meals and family gatherings is a tradition that dates back for many centuries. Ham makes for a hearty, filling dinner but one of the best things about a ham dinner is that there are always leftovers.
Can you freeze ham? Yes! We almost always have ham in our freezer. After we enjoy a ham dinner, whether it is cranberry ham or honey glazed ham, the fun comes of making all of the leftover ham recipes.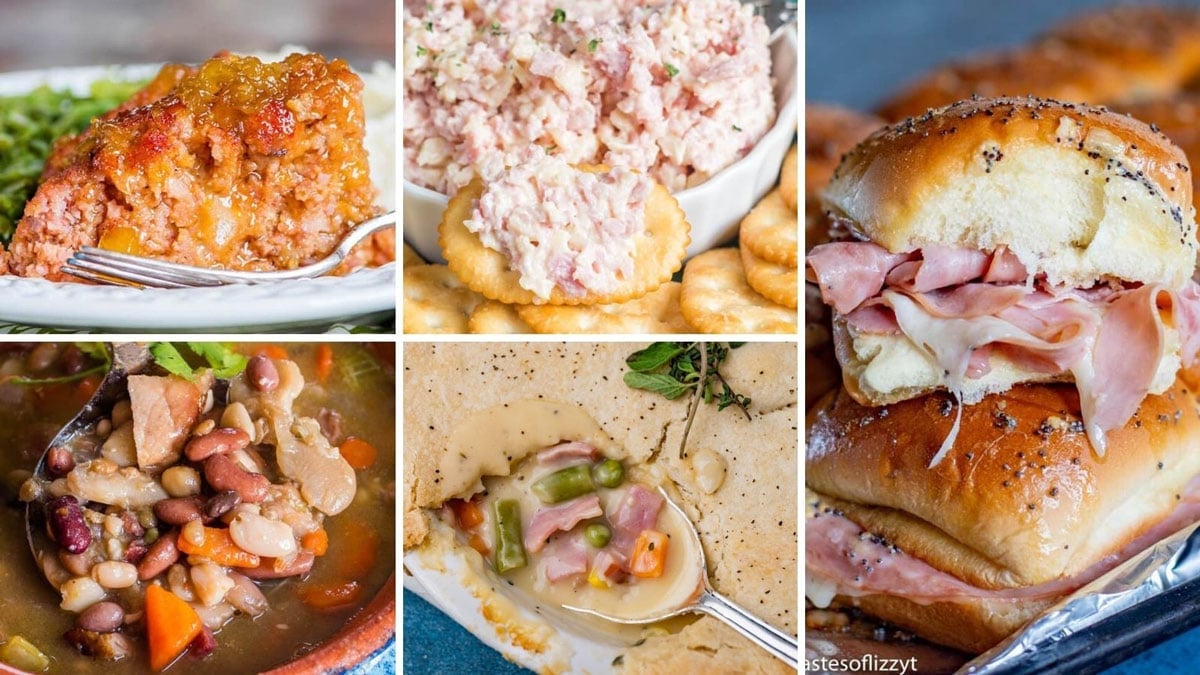 There are so many delicious ways to use leftover ham:
Soups – Making a pot of homemade soup is one of my favorite ways to use leftover ham.
Casseroles – Combine leftover ham with fresh, frozen, or cooked leftover veggies for an easy weeknight dinner.
Sandwiches – Nothing is quite as delicious on a Sunday afternoon than warm ham sliders on dinner rolls!
Ham Salad – Finely mince some leftover ham, add a few simple ingredients, and you'll have the makings for an incredibly delicious ham salad.
What is the best way to freeze ham?
Ham is only good in the fridge for about 5 days, so it's important to learn how to freeze ham. Here are some tips:
You can freeze a whole ham for up to 12 months, but we're mostly talking about ham leftovers here, so you may not need that tip. 😉
Since refreezing ham is not a good idea, freeze ham slices or ham portions in smaller portions so that you can eat it all within 5 days after thawing.
Wrap the ham in plastic wrap, then store in another airtight container which will prevent freezer burn.
Get as much air as possible out of the container before freezing. If you can vacuum seal the slices of ham, that would be ideal.
Label the ham use within a couple of months.
How to Thaw Ham
Plan ahead to thaw the ham in the fridge rather than at room temperature. If it is a small amount of ham, you may just need overnight in the fridge to thaw it. But if it is a whole frozen ham, it will need several days in the refrigerator.
Although the taste of the ham will be the same, the texture of the ham may seem watery when it is thawed. You can use a paper towel on the surface of the ham to absorb any excess moisture. This is especially important if you are making ham sandwiches.
Frequently Asked Questions
How long is leftover ham good in the fridge?
If your leftover ham has been cooked, it will keep well in the fridge for 3-4 days. This applies to both cured and uncured (fresh) cooked hams. To freeze leftover ham, wrap it well in a layer of plastic wrap, then wrap that package in aluminum foil or place it into plastic freezer bags.
Can you freeze ham?
Yes! When properly wrapped and frozen, your leftover ham will stay good in the freezer for 1-2 months. (source)
How do you reheat leftover ham and keep it moist?
One of the reasons that leftover ham can be dry is by reheating it too long, or at too high of a temperature. For the best results, reheat leftover ham in a pan covered with foil. Set your oven to 275 degrees F. and cook for 10 minutes per pound.
How long is ham bone good for?
Don't just throw the bone from your spiral sliced ham away. It's great for soup and ham broth. You can keep the ham bone in the fridge for 5 days.
Can I freeze ham bone for soup later?
Yes! Ham bone can easily be frozen and used later for soup. It's nice to be able to throw it in the freezer after hosting family and friends for a nice dinner or holiday. You can freeze the ham bone for 1-2 months.
Best Leftover Ham Recipes
Here are some of our favorite ways to use leftover ham.
Important note
If you'll be using leftover ham to make any of these leftover ham recipes, the USDA Food Safety Administration recommendation is to enjoy the dish the day it is made. Promptly toss out any leftovers to avoid the risk of food poisoning. In other words, leftovers are only good one time.
Slow Cooker Ham Recipes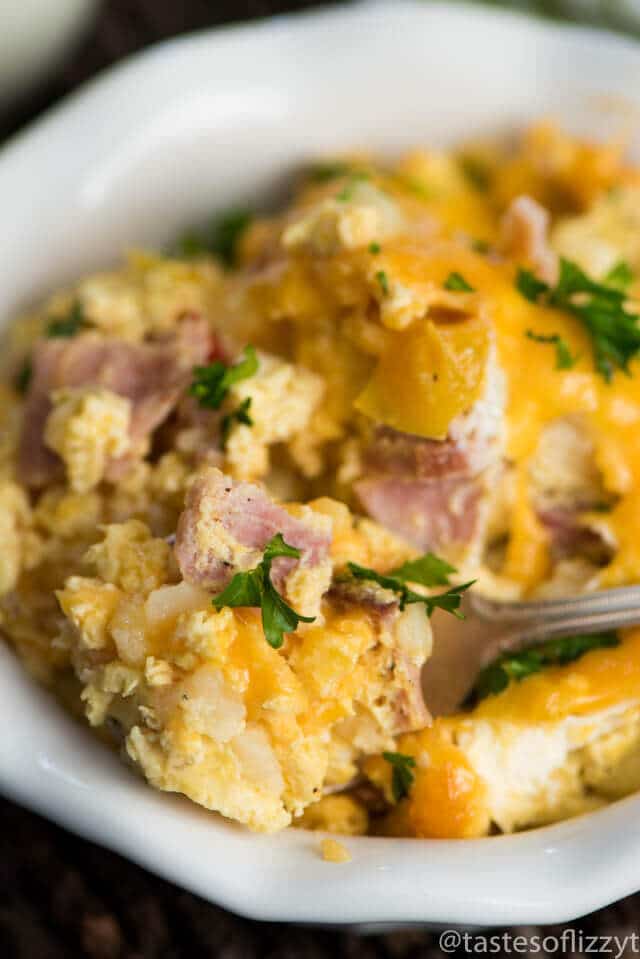 Slow Cooker Breakfast Casserole with Ham – A high-protein breakfast, this Slow Cooker Breakfast Casserole is full of cheesy potatoes, eggs, ham, and peppers. Let it cook overnight!
Slow Cooker Scalloped Potatoes with Ham – This is another one of those "set it and forget it" meals. Add your leftover ham and some sliced potatoes to the crock pot with a few simple ingredients and come home to a rich, satisfying dinner.
Instant Pot Split Pea Soup with Ham – This easy soup recipe has bacon, leftover ham, carrots, and onions. It's warm and comforting for the winter months.
Soup Recipes using Leftover Ham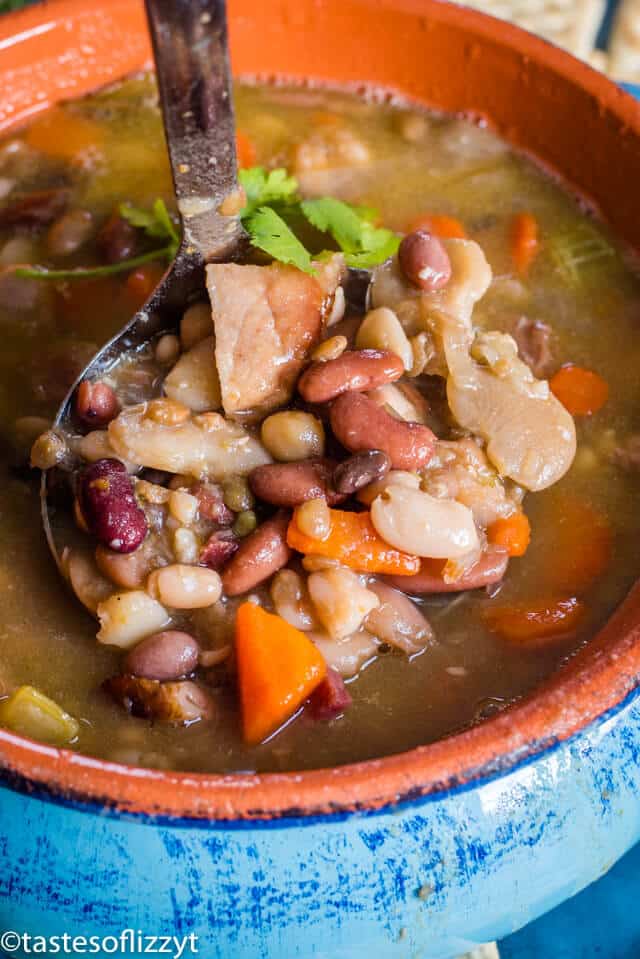 Easy Lunches and Dinners Using Leftover Ham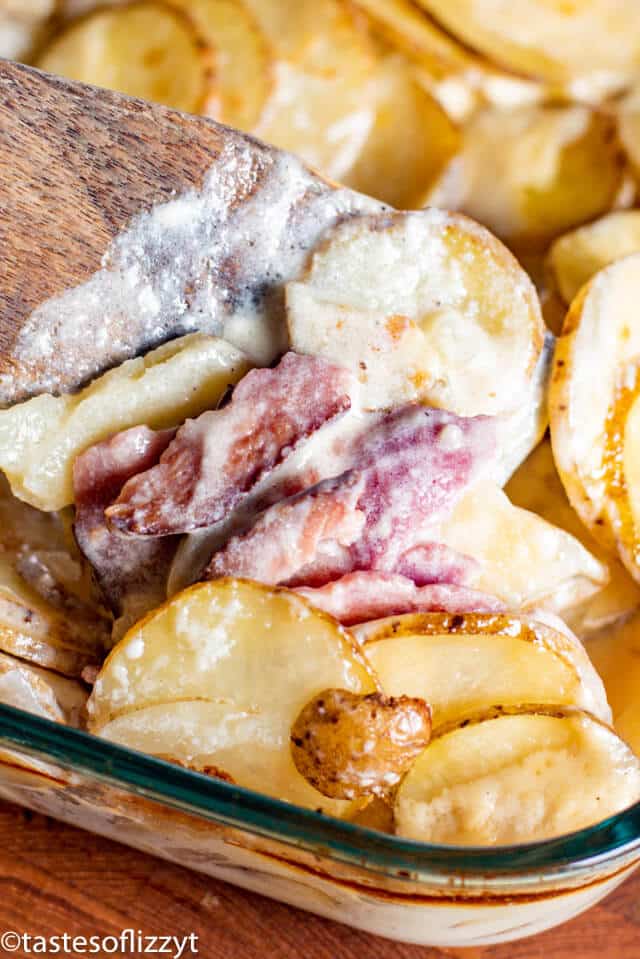 How to Make Ham Salad
One of my favorite recipes to make with leftover ham is ham salad. It's honestly so weird…but I can't stop eating it when I make it. All you need is a handful of ingredients and a food processor to make a meat spread for sandwiches and crackers.
Use our ham salad recipe which has just 4 ingredients, two of which are swiss cheese and dijon mustard. Watch us make it here:
Ham Loaf Recipe
Our most unique way to use up leftover ham is in this ham loaf. I'm the #1 fan of meatloaf, so when friends that were hog farmers gave me this recipe for ham loaf, I was pretty sure I'd love it. And I wasn't wrong.
It has ground ham and ground pork, but also has graham crackers that help give the loaf structure. And the pineapple glaze on top will melt in your mouth.