Make Mexican meatloaf, then use the leftovers to create Mexican meatloaf sandwiches that will give you a protein-packed lunch.
Did you know we're crazy for Mexican food? Chimichangas, potato nachos, and salsas of all varieties. I'm sure we could eat Mexican cuisine 5 days a week and my family would not complain.

Mexican Meatloaf Sandwiches Recipe
There are two kinds of people in the world. Meatloaf haters and meatloaf lovers. I fall into the first category. And thankfully my family does too. If you fall into the second category, my goal is to convince you that you do in fact need meatloaf in your life.
This is not your grandma's meatloaf (although my grandma's meatloaf was delicious). It's a Mexican meatloaf made with lean ground beef, Colby cheese, red onions, green peppers and spicy seasonings.
What is the best meat for meatloaf?
If you're looking to use beef for meatloaf, use ground chuck (about 85/15). Ground chuck has great flavor but is not quite as fatty as ground beef. It's great for meatloaf!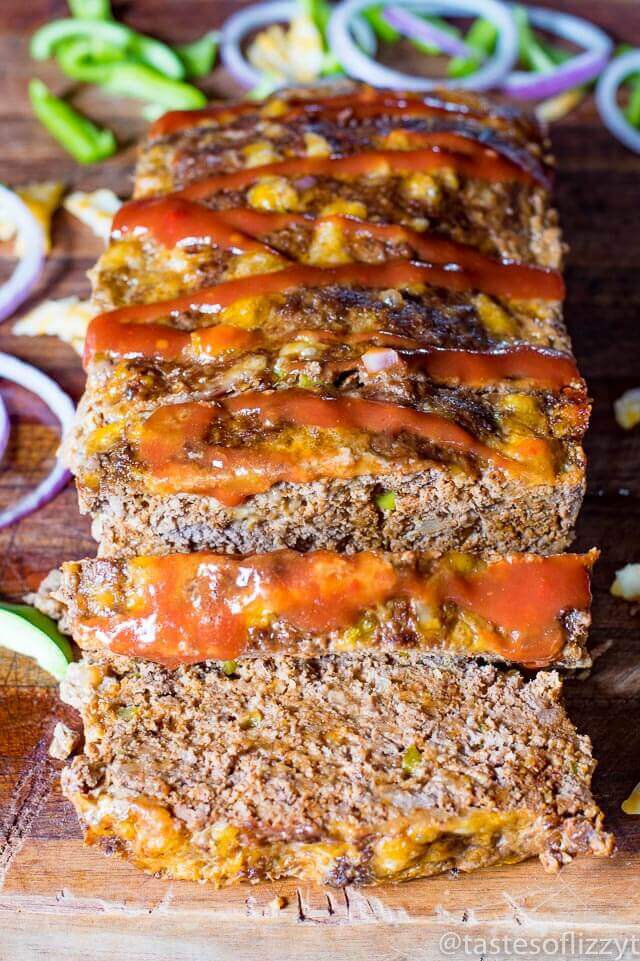 How do you make Mexican meatloaf?
This recipe starts just as about any other meatloaf. The difference comes in the spices and veggies that you use. We used paprika, chili powder and cumin to flavor the meatloaf with a little spice, plus the addition of oregano, dry mustard, salt and pepper just to make it extra savory.
Just a touch of green peppers and onions really adds to the texture of the meatloaf. Dice them very small so they can fully cook and not be "crunchy" in your meatloaf. Plus if they are finely chopped then maybe the kids won't notice (maybe???).
Handle the meat as little as possible. Make sure the ingredients are mixed well, but don't overmix or the meatloaf may be tough.
We baked our meatloaf in a loaf pan for 55-60 minutes. You can use a baking dish instead if you'd like. Just make sure the meatloaf measures 165º Fahrenheit in the thickest part to be certain it is cooked through.
Why does my meatloaf always fall apart?
Meatloaf needs a binder to hold it together. Our recipe calls for oatmeal and eggs which well help it hold and not fall apart. You can also use bread crumbs. If your meatloaf is falling apart, it is a sign there may be too much moisture.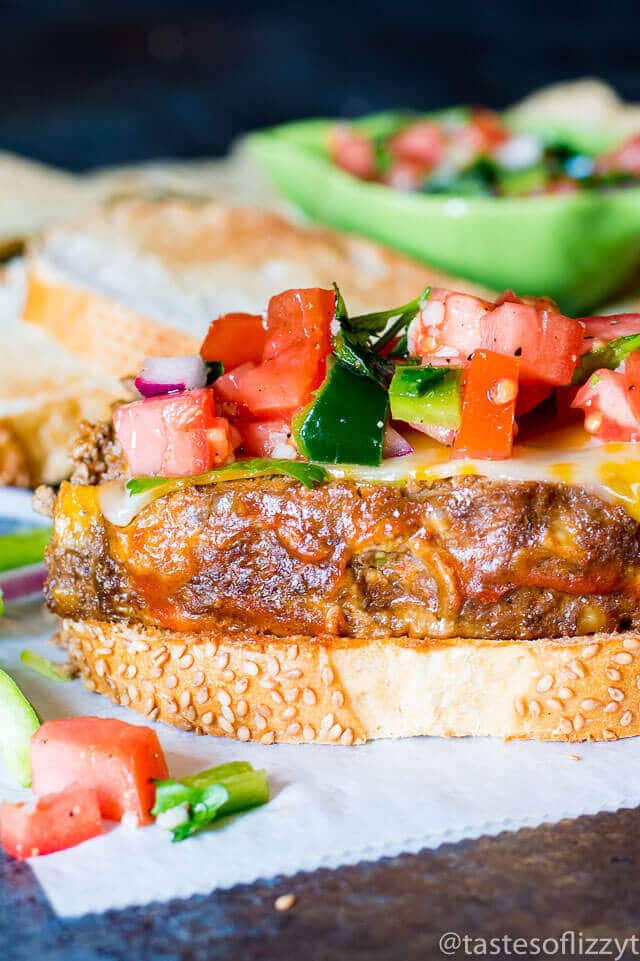 What to Serve with Meatloaf
This Mexican meatloaf serves as a perfect dinner alongside potatoes, corn and rolls, but what we love to do with it?
Make it into Mexican meatloaf sandwiches.
I mean really, who wouldn't like to see this in their lunch bag? Thickly sliced rustic bread, topped with a generous portion of meatloaf. I cut our meatloaf into 8 slices to get 8 sandwiches, but you can cut them thicker or thinner depending on the size of bread and appetite you have.
Add a slice of Colby cheese and a sprinkling of fresh salsa, then place the second piece of bread on top for a protein-filled, healthy lunch solution!
Can you prepare meatloaf the night before?
Yes! Mix up the meatloaf mixture the night before and put it in the pan. Cover the pan well and refrigerate it, then bake right before you want to serve it.
Can I make meatloaf in the slow cooker?
Yes! Cook this recipe for about 4 hours on high or 6-7 hours on low.
How long does meatloaf last?
Meatloaf will last 3-4 days in the refrigerator if sealed in an airtight container.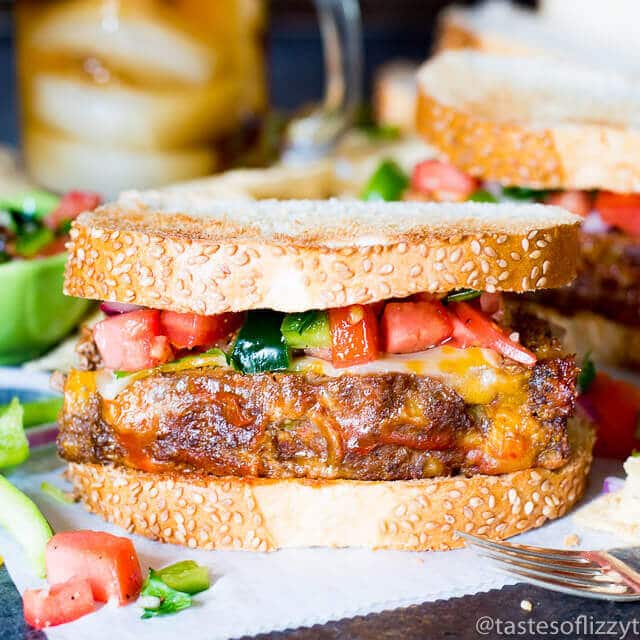 Other Mexican Recipes
We love serving this Mexican meatloaf with easy cilantro lime rice!
Thanks to the Ohio Beef Council for sponsoring this recipe and reminding us of the health benefits of beef. As always, all opinions are my own.
Mexican Meatloaf Sandwiches
Make Mexican meatloaf, then use the leftovers to create meatloaf sandwiches that will give you a protein-packed lunch. Serve with cheese and fresh salsa.
Ingredients
For the Meatloaf
2

pounds

ground chuck

(85% lean)

2

large

eggs

1/2

cup

quick cooking oats

1/3

cup

chopped green pepper

1/4

cup

chopped red onion

1

tablespoon

paprika

1

tablespoon

chili powder

1/2

tablespoon

cumin

1/2

tablespoon

oregano

1/2

teaspoon

dry mustard

1/4

teaspoon

black pepper

1/4

teaspoon

salt

1 1/2

`cups

shredded cheddar cheese
Sandwich Ingredients
16

slices

bread

8

slices

sliced colby cheese

2

cups

fresh salsa
Instructions
Preheat the oven to 350 degrees.

Combine all of the meatloaf ingredients in a large bowl. Mix well.

Spray a 9x5 loaf baking pan with cooking spray.

Press the beef mixture into the loaf pan.

Bake for 55-60 minutes, or until the internal temperature reads 160 degrees.

Once the meatloaf has cooled, slice the meatloaf.

To make the sandwiches, place a slice of meatloaf on a piece of bread. Top with cheese and fresh salsa. Place a second piece of bread on the top.

Serve immediately.
Notes
*If you'd like, you can drizzle taco sauce on the meatloaf for a dressing.
Nutrition
Calories:
633
kcal
|
Carbohydrates:
38
g
|
Protein:
49
g
|
Fat:
31
g
|
Saturated Fat:
17
g
|
Cholesterol:
183
mg
|
Sodium:
1336
mg
|
Potassium:
842
mg
|
Fiber:
4
g
|
Sugar:
6
g
|
Vitamin A:
1785
IU
|
Vitamin C:
6.4
mg
|
Calcium:
596
mg
|
Iron:
6.6
mg