Tastes of Lizzy T participates in affiliate advertising programs. We may earn a commission when you make a purchase through links on our site.
Tips on the basic recipe for how to make old fashioned scalloped potatoes from scratch. Add onions, ham, cheese, mushrooms, or whatever you'd like to this versatile potato side dish.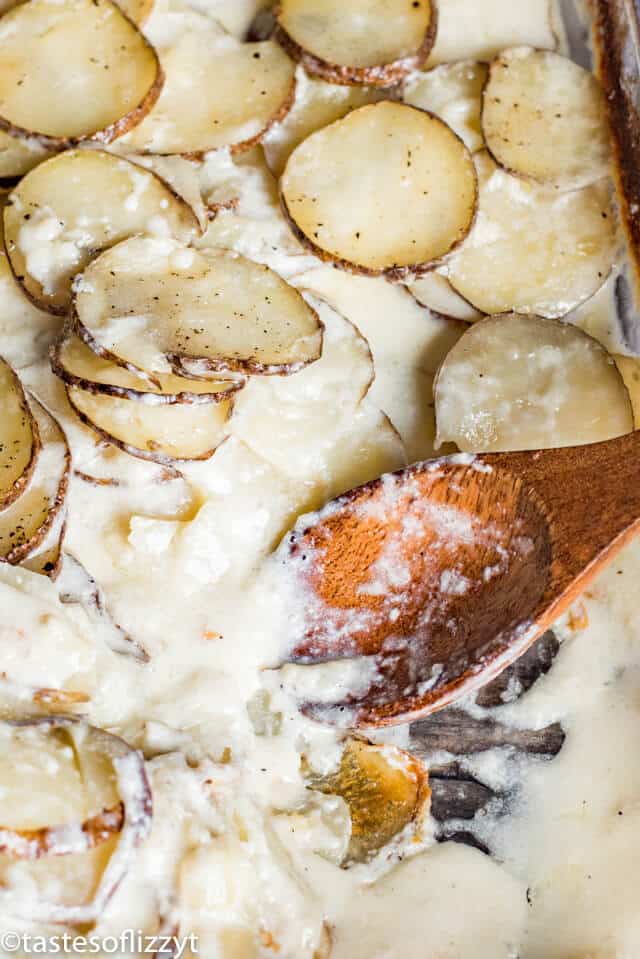 Scalloped Potatoes Recipe
Scalloped potatoes are a classic side dish that are often served at everything from holiday dinners alongside ham or around the family dinner table on busy weeknights. This recipe boasts a homemade white cream sauce that you can season to taste exactly how your family prefers.
Scalloped Potatoes vs Potatoes au Gratin
I've had friends ask what the difference is between scalloped potatoes and potatoes au gratin. The basic difference is cheese. Traditional scalloped potato recipes generally don't have cheese. "Au Gratin" is a French term that means "sprinkled with bread crumbs and cheese and then browned". The two recipes overlap quite often, so don't get hung up on the name. Just make your potatoes how you like them!
What Potatoes to Use for Homemade Scalloped Potatoes
Russet potatoes or Yukon Gold potatoes work best for making a creamy sauce and holding their shape in scalloped potato recipes. (Read how to choose the best potatoes here.)
How to Make Scalloped Potatoes
Slicing Potatoes. I like to make our potato slices about ⅛ inch thick using a mandolin slicer. If I'm being lazy, I just pull out a cutting board and don't worry too much about the sizing of the potatoes. In order for your casserole to cook evenly, the potatoes should be about the same size. You can peel the potatoes or leave the skins on.
Making the white sauce is easier than you think. You want to be sure to melt the butter and whisk in the flour over medium low heat. The milk could easily scorch if the pan is too hot. Slowly drizzle in 1 cup of milk (or cream), whisking constantly until the mixture is smooth. Then add the rest of the milk and cook for 3-5 minutes until the mixture is slightly thickened.
At this point you have basic white sauce. Add the seasonings you'd like. Salt, pepper, garlic powder, paprika…this all depends on what flavor you love best.
Spray a 9×13 pan with cooking spray, then layer the potatoes and cream sauce in the prepared dish.
We like to add a sprinkling of finely diced onions over the first layer of potatoes. The kids don't like big onion pieces. but small onions add flavor and soften nicely as the potatoes cook. The kids don't notice the difference!
You'll want to leave about an hour for baking the scalloped potatoes. Check the potatoes part way through. If they are sliced very thinly, they may not take as long to bake.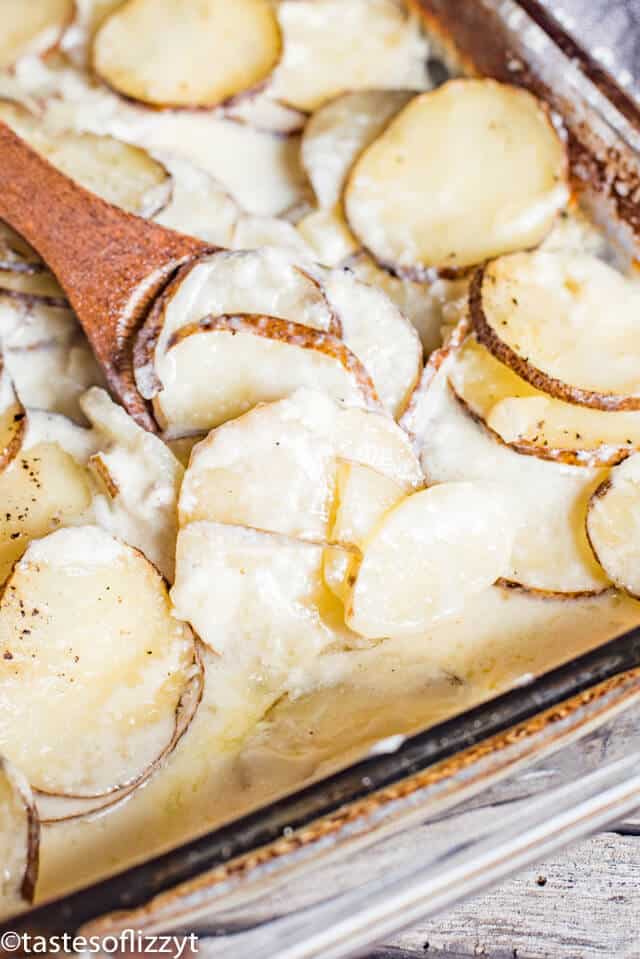 Crockpot Scalloped Potatoes
Can you make scalloped potatoes in the slow cooker? Yes! I like to spray the slow cooker with cooking spray, then layer in the ingredients as the recipe below mentions. Cook on low for 6 hours or until the potatoes are soft. Remember that the exact cooking time will depend on how big the potato pieces are.
Scalloped Potatoes and Ham
What about adding ham to homemade scalloped potatoes? The answer is YES. You'll want to try this. This is a perfect recipe to use up leftover ham. Simply cut the ham in bite-size pieces and add it to the casserole after the first half of the sauce. The amount of ham you add is up to you, but I generally add 1 1/2-2 cups of chopped ham. Looking for a shortcut scalloped potatoes and ham recipe? Click here for our shortcut recipe!
Cheesy Scalloped Potatoes
We talked above that scalloped potatoes with cheese is generally called potatoes au gratin. But we definitely add shredded cheese to this recipe anyway. Because…cheese! Mix 1-2 cups of cheese (depending on how cheesy you'd like the potatoes) into the white sauce. You don't have to wait for the cheese to melt completely. It will melt as the potatoes cook.
Tools to Make Easy Scalloped Potatoes
Mandolin Slicer

: Make potato chips, scalloped potatoes, julienned vegetables and more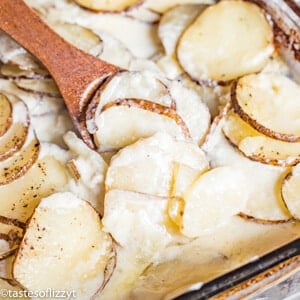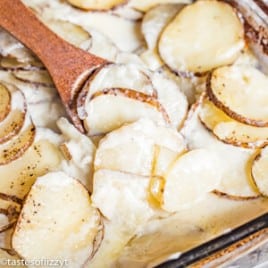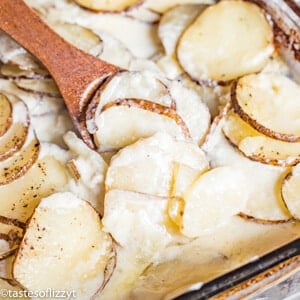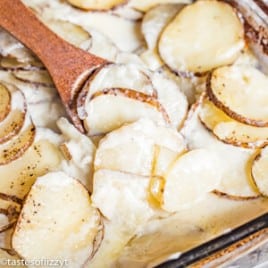 Scalloped Potatoes Recipe
Tips on the basic recipe for how to make old fashioned scalloped potatoes from scratch. Add onions, ham, cheese, mushrooms, or whatever you'd like to this versatile potato side dish.
Total Time
1
hour
20
minutes
---
Ingredients
3

tablespoons

butter

2

tablespoons

all-purpose flour

3

cups

half and half creamer

(or whole milk)

1

teaspoon

salt

1/2

teaspoon

ground black pepper

6

cups

thinly sliced potatoes

(about 2 ½ pounds)

1/4

cup

diced onion

1

tablespoon

freshly snipped parsley
Instructions
Melt the butter in a saucepan over medium heat.

Add the flour and whisk until combined.

Slowly stir in 1 cup of cream (or milk) and whisk until smooth.

Stir in the remaining cream, salt and pepper. Whisk constantly until the mixture starts to thicken. This will take 3-5 minutes.

Remove the white sauce from the stove.

Preheat the oven to 400 degrees Fahrenheit.

Spray a 9x13 pan with cooking spray.

Place half of the potatoes in the greased pan. Cover them with the onions and half of the sauce.

Place the remaining potatoes in the pan and then pour the remaining sauce overtop.

Cover the pan with foil and bake for 40 minutes.

Uncover the pan and bake for an additional 15-20 minutes or until the top of the potatoes are lightly browned and the potatoes are tender. The exact timing will depend on how thick you have cut the potatoes.

Top with fresh parsley, if desired. Serve warm.
Nutrition
Calories:
256
kcal
|
Carbohydrates:
25
g
|
Protein:
7
g
|
Fat:
14
g
|
Saturated Fat:
9
g
|
Cholesterol:
44
mg
|
Sodium:
381
mg
|
Potassium:
775
mg
|
Fiber:
4
g
|
Vitamin A:
450
IU
|
Vitamin C:
19.1
mg
|
Calcium:
144
mg
|
Iron:
5.3
mg