How to make how to make the best homemade flour tortillas. Tips and Tricks for the best flavor and how to keep the tortillas soft and pliable. These flour tortillas work perfectly for our easy chimichangas and beef barbacoa!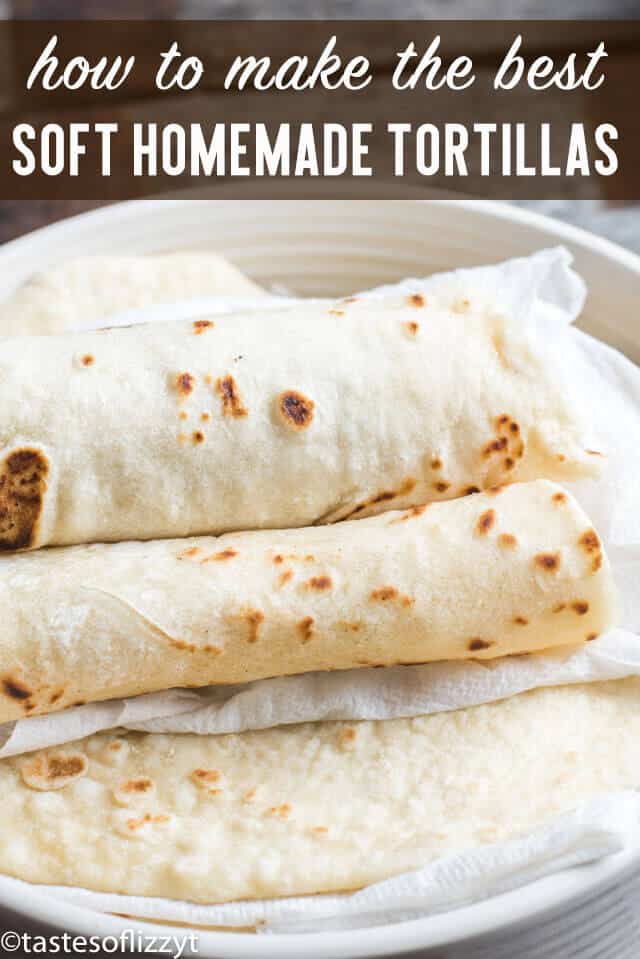 Homemade Flour Tortillas Recipe
We go through tortillas in our house like they are made of water. Maddie's favorite breakfast is tortillas spread with peanut butter, then rolled up with a drizzle of maple syrup. She has this every day for breakfast unless I've run out of tortillas! I only recently started trying to make flour tortillas at home. I didn't realize how easy they were! They take a little bit of time to roll out, but otherwise are an easy recipe to try. And the taste? SO much better than store bought!
What are flour tortillas made of?
Flour tortillas are made of all-purpose flour, baking powder, salt, lard and water. Basic ingredients for a simple flavor. That simple flavor allows the meats that you fill them with to shine through!
Can you substitute butter for lard in tortillas?
Lard works best in this homemade flour tortilla recipe. If I don't have lard on hand, I use shortening. And if all else fails, I use butter. Butter will work, but we find lard is what works best for us.
How do you make homemade tortillas?
We use a food processor to put the dough together quickly. If you don't have a food processor you can use a stand mixer or hand mixer. Just be careful not to over knead the dough.
The dough will be sticky when you are done mixing it. Add just enough flour to be able to handle the dough. It should still be tacky while you knead it.
You won't need to knead the dough long. Just work it a minute or two so that the dough is smooth and elastic.
Divide the dough into dough balls…smaller balls for tacos and larger balls for burritos. Cover the dough balls with a damp towel for about 15 minutes. This allows the dough to rest and will give the tortillas a delicious texture!
Lastly, cook the tortillas. Traditionally tortillas are made in a comal which is a flat cast iron skillet. (Find them here.) Cast iron works great but you can also use any skillet. They only take a total of 30-40 seconds in a hot skillet. Be sure the skillet is preheated so the tortillas don't stick. About 15-20 seconds on each side is all you'll need!
Wrap the tortillas in damp paper towels as soon as they are done cooking. This is so the tortillas don't dry out. If you want soft tortillas, don't skip that step!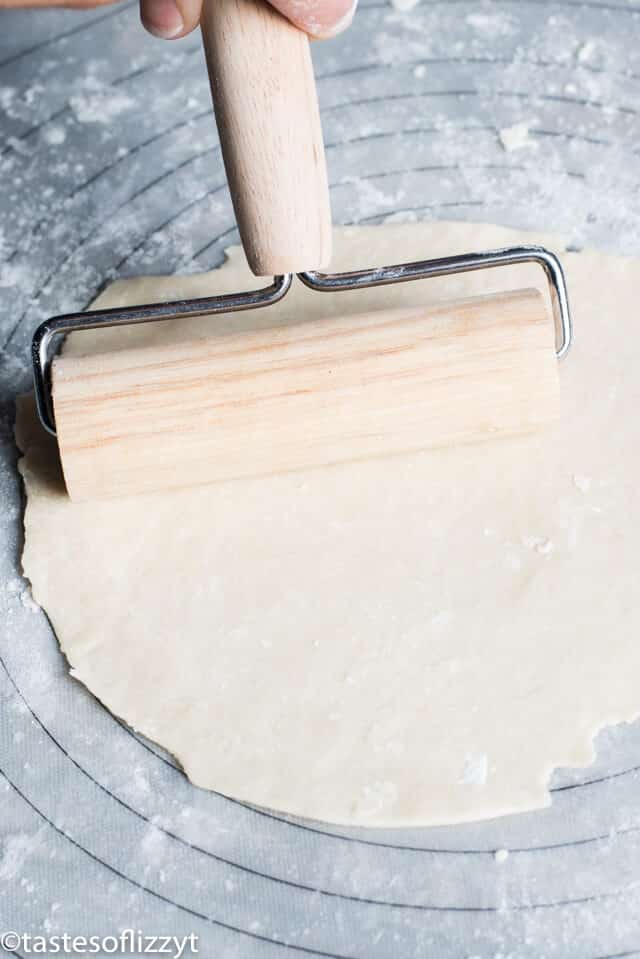 Whole Wheat Tortillas
We have successfully switched out half of the flour for whole wheat flour in this recipe as it is. If you want to make 100% whole wheat tortillas, you may need to adjust the water and lard slightly. We'll come back and update if we try that!
How to Store Tortillas
These tortillas are ok at room temperature for about 12 hours. After that, store them in an airtight container in the refrigerator. They will get moldy quickly if you leave them out!
How to Reheat Tortillas
To reheat the tortillas, allow the oven to heat to 350 degrees Fahrenheit. Wrap the tortillas in aluminum foil and heat for 5-7 minutes or until the tortillas are as warm as you'd like.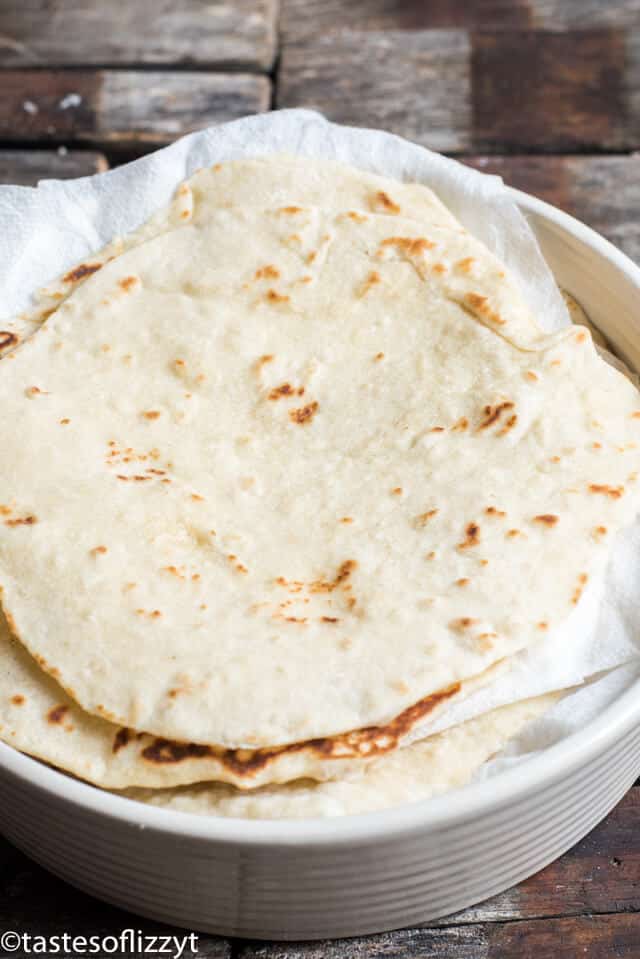 Serve up these fresh flour tortillas with your favorite meat filling and some pico de gallo or salsa verde!
Other Mexican Recipes
Tools to Make This Recipe
Ninja Food Processor

: This blender/food processor system can do it all! We use ours for everything from smoothies to milkshakes to crushing ice to chopping veggies.

Tortilla Warmer

: Simple white color for a pretty display.

Pastry Roller: I like using this small roller for tortillas and other pastries.

Pastry Mat:

This silicone mat keeps your cupboard clean and makes rolling out pastries so easy.

Comal Cast Iron Pan: Perfect for making tortillas!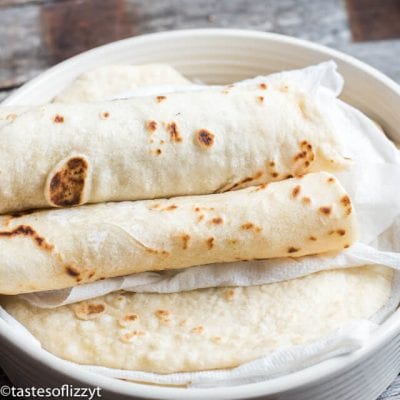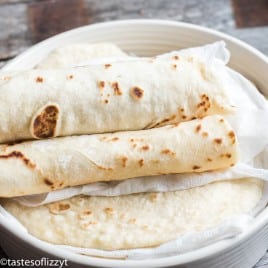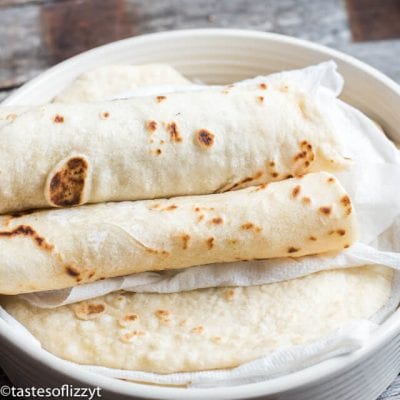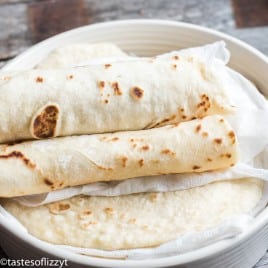 Homemade Flour Tortillas
How to make how to make the best homemade flour tortillas. Tips and Tricks for the best flavor and how to keep the tortillas soft and pliable.
---
Ingredients
3 3/4

cups

all-purpose flour

2

teaspoons

baking powder

1

teaspoon

salt

1/3

cup

lard

(or shortening)

1 1/3

cup

hot water
Instructions
Add the flour, baking powder salt and lard to a food processor.

Pulse several times until the mixture becomes coarse crumbs.

Add the hot water. Yes, be sure the water is hot!

Pulse again until a sticky dough forms.

Remove the dough from the food processor and knead on a flour dusted pastry mat several times. The dough will be sticky so add a little flour on your hands while kneading. Don't add too much flour. The dough should not become hard. It should remain slightly tacky to the touch. Knead just until the dough is smooth and elastic.

Divide the dough into 15-20 dough balls, depending on the size you'd like the tortillas.

Dampen a cloth towel and cover the dough balls. Let them rest for about 15 minutes.

Allow a skillet to get hot over medium-high heat.

Use a floured pastry mat and roller to roll out each dough ball. The dough should be about the thickness of a dime. Turn the dough 90 degrees often while rolling to get a circle.

Once the skillet is hot, place the rolled dough into the skillet and let it cook for 15-20 seconds. Flip the tortilla and allow it to cook for the same amount on the other side.

Line a plate or tortilla warmer with damp paper towels. Place the cooked tortilla on the warmer or plate and cover with another damp paper towel. This ensures that your tortillas stay soft and pliable.

Store the tortillas in the refrigerator.

To reheat, wrap the tortillas in foil and warm them in a 350 degree oven until they are heated through to your liking.
Notes
The calories shown are based on the recipe making 15, with 1 serving being 1 tortilla. Since different brands of ingredients have different nutritional information, the calories shown are just an estimate.
Nutrition
Calories:
114
kcal
|
Carbohydrates:
24
g
|
Protein:
3
g
|
Sodium:
156
mg
|
Potassium:
87
mg
|
Vitamin A:
40
IU
|
Vitamin C:
0.2
mg
|
Calcium:
30
mg
|
Iron:
1.5
mg