Tastes of Lizzy T participates in affiliate advertising programs. We may earn a commission when you make a purchase through links on our site.
We're teaching you how to make the best homemade salsa verde recipe with fresh tomatillos, roasted garlic and just the right seasonings. This is the perfect fresh salsa!
We LOVE Mexican food, and with Cinco de Mayo in the month of May, it gives us a reason to eat all things enchiladas, Mexican street corn and Mexican soup.
We've shared so many salsa recipes in the past, but this salsa verde recipe is one of the best…and easiest…when you need something just a little different, maybe on your chicken tacos!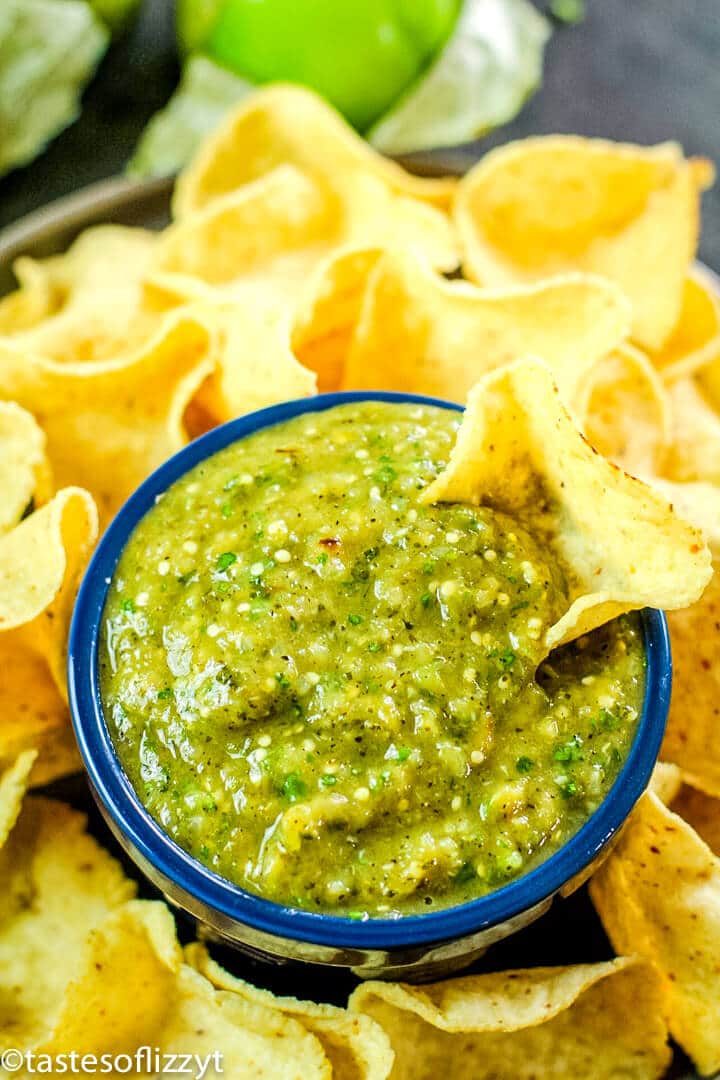 What is the difference between salsa and salsa verde?
Traditional salsa is red and salsa verde is green. What makes the difference? Salsa verde is made with tomatillos which are small green Mexican "tomatoes" with a husk. Salsa verde is more tangy, while red salsas have more of a tomato flavor.
What is salsa verde made of?
Salsa verde is made from roasted tomatillos and garlic, Spanish onion, fresh cilantro, salt and pepper, lime juice, cumin and Dominican oregano.
What is Dominican oregano?
Dominican oregano is not the same as Italian oregano and has a distinct flavor. It is also called Cuban or Spanish oregano. For the most authentic flavor, use Dominican oregano. You can pick it up in most grocery stores, or order it on Amazon.
What is a Spanish onion?
A spanish onion is a large yellow onion with a mild, slightly sweet flavor.
**Pro Tip: If you can't find Spanish onions, simply buy yellow onions. Spanish onions are often titled yellow onions in the store.**
Are tomatillos toxic?
You may have heard that tomatillos were toxic. You can read varying articles about this online and I am not one to say which are correct and/or incorrect. What is safe to say is that a tomatillo should be ripe before you eat it. According to LiveStrong, you can eat raw, ripened tomatillos if you prepare them and wash them correctly.
In this recipe, you'll cook the tomatillos which will take away some of the sour flavor and help make them safer to eat.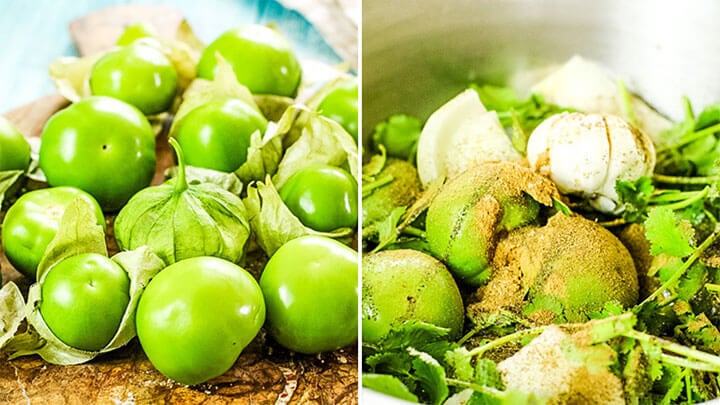 How to Make Salsa Verde
The first step in making the recipe is to prepare the vegetables.
Remove the husks off the tomatillos.
Leave the garlic in the head. This will prevent the garlic from burning.
Roast only half of the cilantro. It might get kind of crispy but that's ok. Leave the other half of the cilantro to be blended in fresh.
Toss the vegetables with the spices and oil, then spread them on a baking sheet. Roast for 25 minutes or until the tomato is soft.

Blender Salsa
Take all of these freshly roasted vegetables and add them to a blender or food processor. Pulse the processor until the sauce is as smooth as you'd like it. We don't like it to be totally liquidy, but that is just our preference.
It will liquify quickly, so pulse quickly and just a few times to start. Then check it and pulse more if needed.

What is hotter, red or green salsa?
This is a question not easily answered without a list of ingredients. Both red and green salsa can be mild or hot depending on the type and amount of peppers you add. This is a mild salsa verde, but you could add jalapeno pepper to keep the green color, but add heat.
How long does salsa verde last in the fridge?
This salsa should last in an airtight container in the refrigerator for about a week.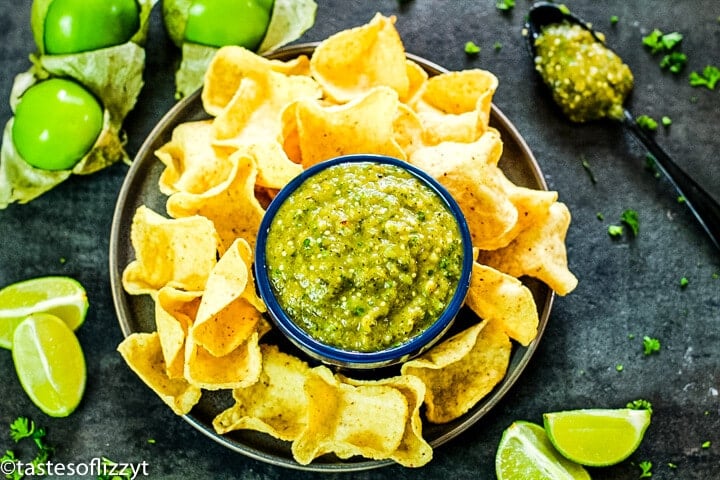 How to Serve Salsa Verde
Aside from a pile of warm tortilla chips, here are some of our favorite dishes to serve with salsa verde, but one of our favorites is chicken quesadillas:
Other Salsa Recipes
TOOLS TO MAKE THIS SALSA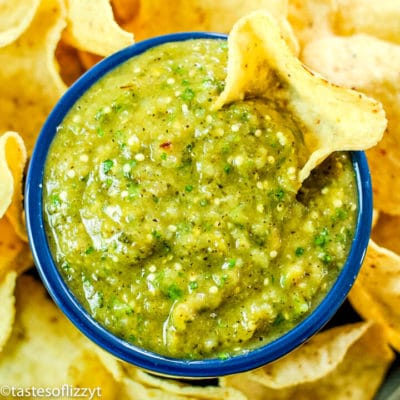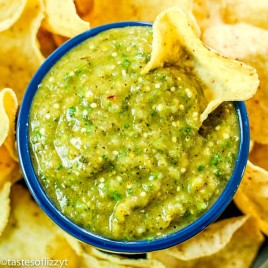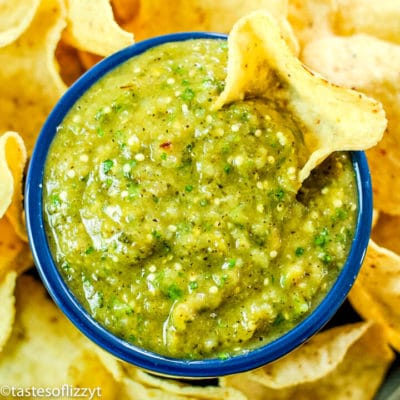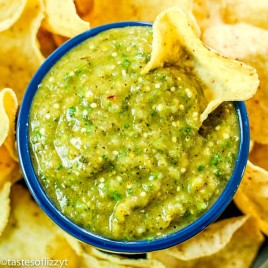 Salsa Verde Recipe
We're teaching you how to make the best homemade salsa verde recipe with fresh tomatillos, roasted garlic and just the right seasonings. This is the perfect fresh salsa!
---
Ingredients
12

tomatillos

(husk removed)

½

Spanish onion

1

head of garlic

(or 6 cloves)

1

cup

cilantro

(divided)

3

tablespoons

olive oil

1

teaspoon

cumin

1

teaspoon

ground Dominican oregano

salt and pepper

(to taste)

juice of 1 lime
Instructions
Preheat oven to 375 degrees Fahrenheit.

In a large bowl, toss all ingredients except for the lime juice and ½ cup of cilantro together. Set the lime juice and ½ cup cilantro aside.

Spread the tomatillo mixture on a baking pan and bake for 20-25 minutes, or until tomatillos have roasted.

Remove from the oven. Remove garlic from the skin.

Add all ingredients, plus the lime juice and remaining cilantro into a food processor and pulse.

Place into a container and store in the refrigerator until you are ready to serve it.
Notes
Notes: It is best to roast the garlic still in it's skin to keep it from burning. Also, the cilantro may be a little crisp while cooking, and that is fine.
The calories shown are based on the recipe making 2 cups of salsa, with 1 serving being ¼ of a cup. Since different brands of ingredients have different nutritional information, the calories shown are just an estimate. **We are not dietitians and recommend you seek a nutritionist for exact nutritional information.**
Nutrition
Calories:
67
kcal
|
Carbohydrates:
3
g
|
Fat:
5
g
|
Sodium:
2
mg
|
Potassium:
161
mg
|
Fiber:
1
g
|
Sugar:
2
g
|
Vitamin A:
195
IU
|
Vitamin C:
7.1
mg
|
Calcium:
9
mg
|
Iron:
0.5
mg