Looking for a quick lunch recipe? Try these 15 minute Three Cheese Tuna Melt Sandwiches. An easy tuna salad recipe with cheese on rye bread.

Lunchtime is always one of the craziest times in our house.
If you've been following along with our website for awhile now, you know that we homeschool our three kids. I'm sure some of you who have kids in school think that lunch-packing is one of the hardest parts of the day. I know I remember not enjoying it when my kids were younger and heading off to school each morning. Searching for food that the kids will eat. Food that will give them protein to face their day and revive them mid-day. Packable lunches. With maybe, just maybe a few veggies that will hopefully end up in their tummies and not in the lunchroom trashcan. I remember that well. I never was very organized about it.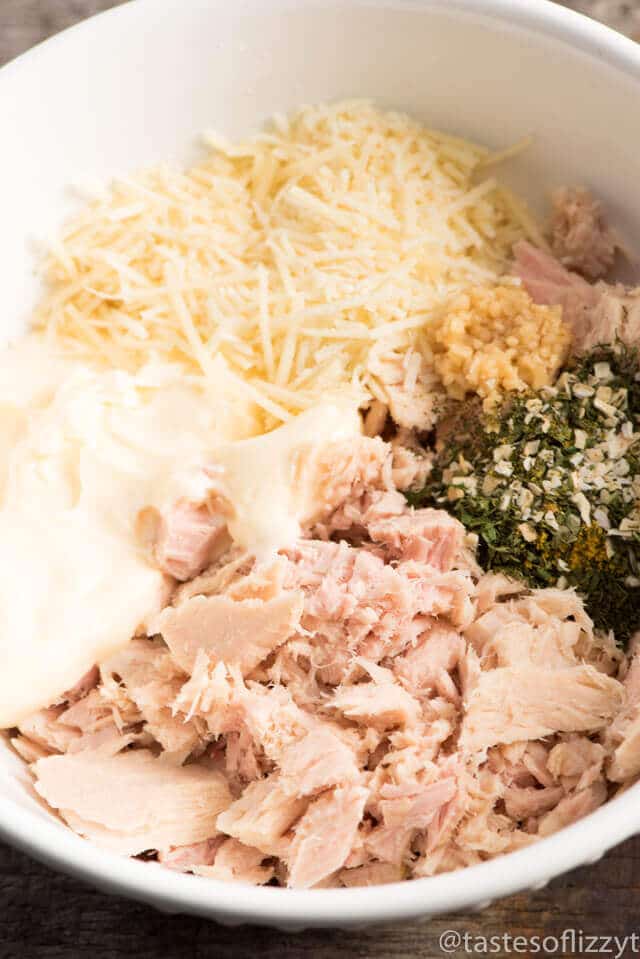 One of the benefits of homeschooling is that the kids get to be creative in what they fix for lunch. That hour is also their mid-day break. Their time to let loose a little. The kitchen can tend to get a tad crazy. Ingredients passing from here to there. Freshly shredded cheese all over the counter. A frying pan (sometimes two) that needs scrubbed out from a quick stir-fry my son whipped up. I love the frenzy of the chef-wannabes creating. But there are days when I need a calmer lunch experience. Those are the days when I call out, "Hey kids…how about tuna melts for lunch?" I'm sneaky, you see, because I know they can't resist the tuna melts. Especially the Three Cheese Tuna Melts.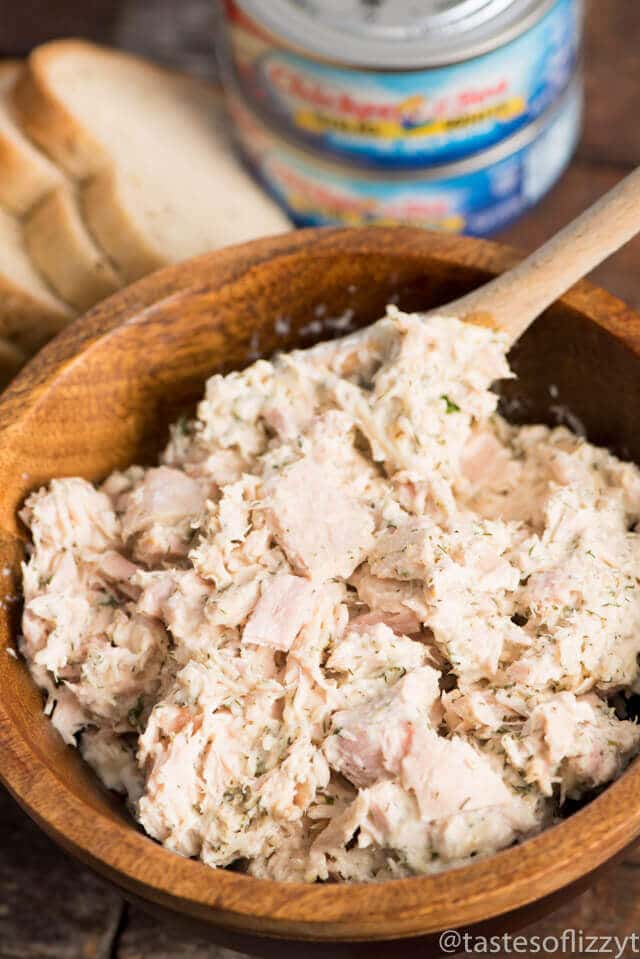 These Three Cheese Tuna Melt Sandwiches are filled with a tuna salad made with the special addition of shredded Parmesan cheese and unique spices. They're topped with swiss cheese and sharp cheddar cheese. And the kids don't even mind if I sneak in a slice of tomato and a few lettuce leaves. Our favorite bread to serve the Three Cheese Tuna Melts on? Rye. The thought of the savory rye, swiss, tuna and spice combination is unbeatable. It's a taste-bud-dancing experience. The sandwich is good enough to eat cold, which would make it perfect for school or work lunches.
But all it takes is about 5 minutes in the oven to get a three cheese tuna melt that will have your running to the kitchen for a protein-packed lunch.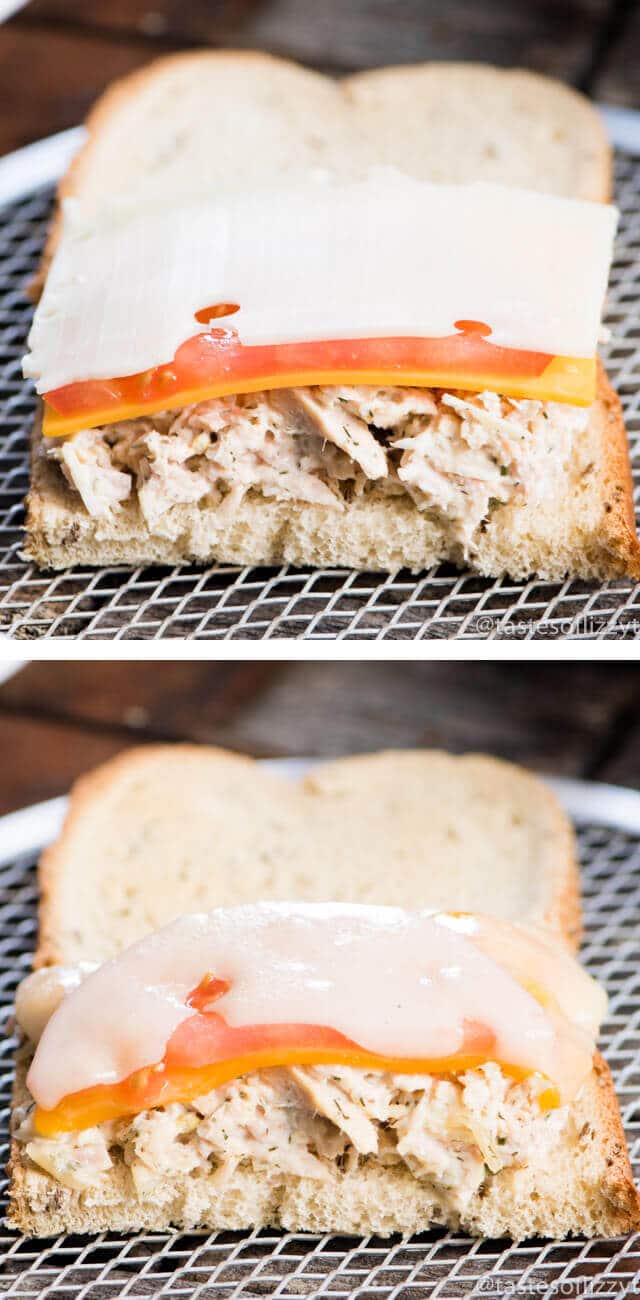 Chicken of the Sea has come to your rescue! They now have EZ-Open cans that make serving their flaky tuna to your family quick and easy. Pop that top off, drain, and you're ready to whip up a quick tuna salad to serve on crackers, sandwiches, or to serve with veggies.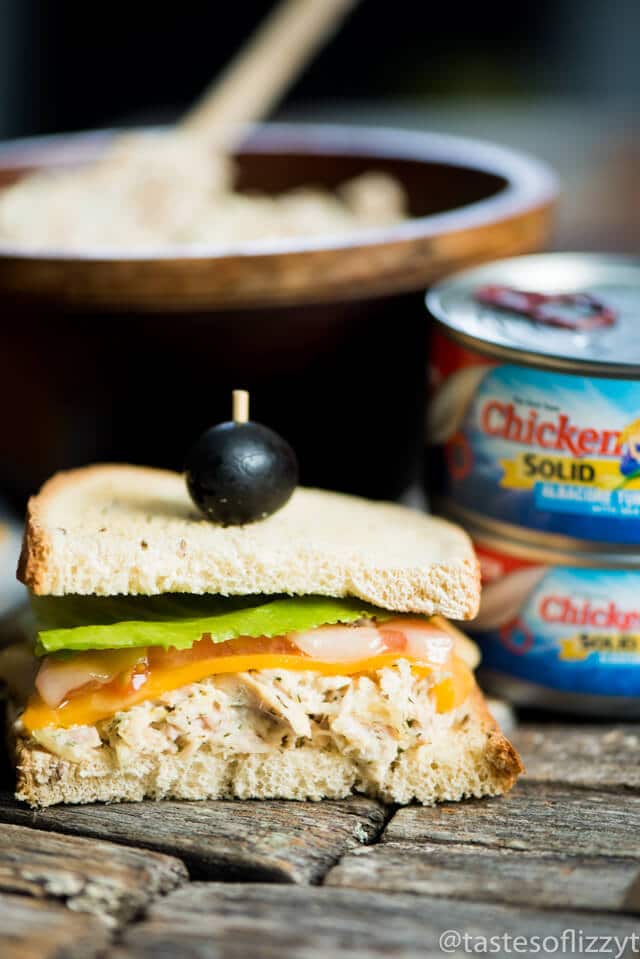 We'll be making these Three Cheese Tuna Melt Sandwiches often. What are some of your favorite tuna recipes?
Three Cheese Tuna Melt
Looking for a quick lunch recipe? Try these 15 minute Three Cheese Tuna Melts. An easy tuna salad recipe with cheese on rye bread.
Ingredients
For the Tuna Salad:
12

ounces

Chicken of the Sea Solid White Albacore in EZ-Open Cans

drained

½

cup

mayonnaise

½

cup

shredded Parmesan cheese

1

teaspoon

dried dill weed

½

teaspoon

dried parsley

½

teaspoon

dried onion

½

teaspoon

minced garlic

¼

teaspoon

curry

pinch of salt & pepper

to taste
To Make the Sandwiches:
14

slices

rye bread

7

slices

swiss cheese

7

tomato slices

7

slices

sharp cheddar cheese

Lettuce pieces
Instructions
In a bowl, combine all of the ingredients for the tuna salad and mix well. Cover and refrigerate until you are ready to make the sandwiches.

Set the oven on low broil.

Place 7 slices of rye bread on a baking sheet.

Spoon the tuna salad evenly on the slices of bread.

Top with a slice of swiss cheese, a tomato slice and a slice of cheddar cheese.

Leave the sandwiches open-face, but place the remaining bread slices on the baking sheet to allow them to lightly toast.

Place the baking sheet in the hot oven and heat for 3-5 minutes or until the cheese is melted.

Remove the baking pan from the oven.

Add lettuce slices if desired and top with the toasted bread slices.

Serve immediately.
Notes
*To toast both sides of the bread, use a baking screen. This will allow air to circulate under the bread and toast it lightly. If you'd like toasted bread and don't have a baking screen, simply toast the bread in a toaster before putting the sandwiches together. Then warm in the oven as described above.
*The exact number of sandwiches will depend on how big your bread slices are. If the bread is large, we recommend 7 slices and cutting them in half.
Nutrition
Calories:
624
kcal
|
Carbohydrates:
34
g
|
Protein:
37
g
|
Fat:
37
g
|
Saturated Fat:
15
g
|
Cholesterol:
75
mg
|
Sodium:
1003
mg
|
Potassium:
332
mg
|
Fiber:
4
g
|
Sugar:
4
g
|
Vitamin A:
880
IU
|
Vitamin C:
4.2
mg
|
Calcium:
566
mg
|
Iron:
3
mg