Bite into chocolate covered cherry cookies and find a cherry surprise inside.  Simple from-scratch chocolate cookies with a dollop of melted chocolate on top.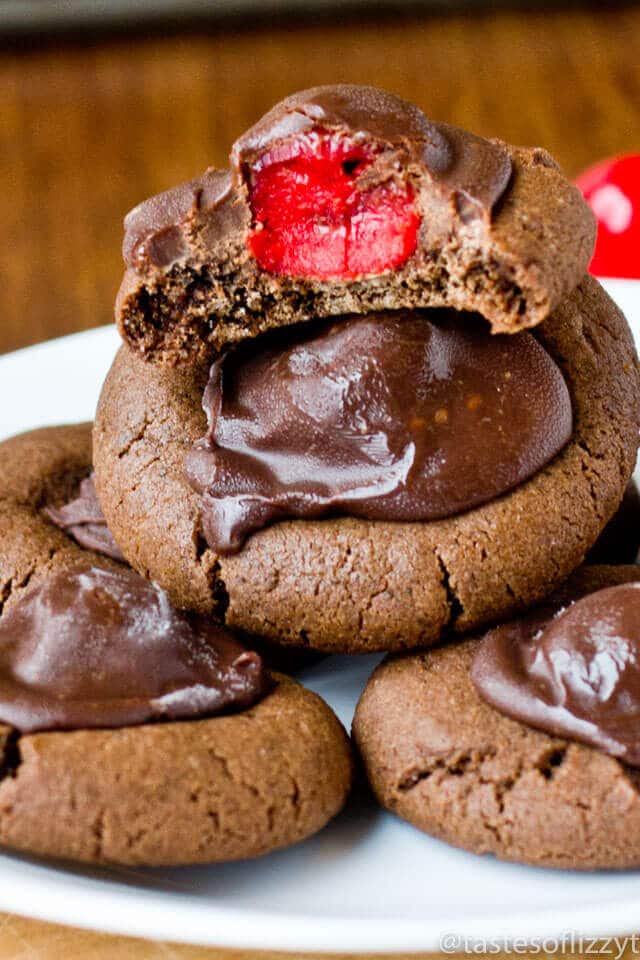 Today I'm going to start this post with a confession. Because we all need to do that sometimes, right? Some things are hard to confess, but this one isn't really. The fact is, I've never actually eaten a chocolate covered cherry. And rarely do I eat cherries.
I got pretty excited about making these chocolate covered cherry cookies because what could go wrong with a little chocolate and cherry during this cold time of year?
My dad got even more excited than me when he saw the chocolate covered cherry cookies as he walked in the door that evening. He usually comes home looking for something little to eat before dinner and had a good surprise when he saw them sitting, still warm, on the oven top. I don't even have to say anything else, do I? Two cookies vanished from the cookie tray. Chocolate covered cherries are his favorite treats.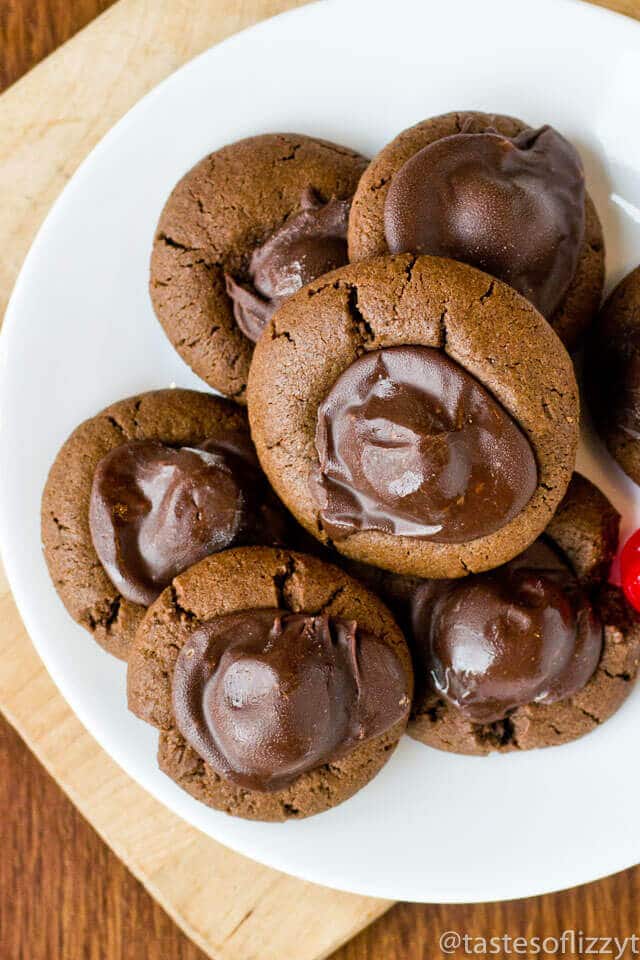 I wasn't as excited as Dad when we made them, but I did think they were pretty amazing…..I was even surprised at myself for liking them so much. But enough talking about the cookies-you want to know how to make them, right?
It's really simple. When you roll the refrigerated cookie dough into balls and put them on a cookie sheet, make a thumbprint in the cookie dough. Place a maraschino cherry in the thumbprint, making sure that the cherry is dry. How do you you dry a cherry? We strained the cherries and let them sit on a napkin for a bit. Then use another napkin to dab off any excess juice. This helps them not be so slippery and less of a mess when they come out of the oven. Make sure you save the cherry juice from the jar…you will need it!!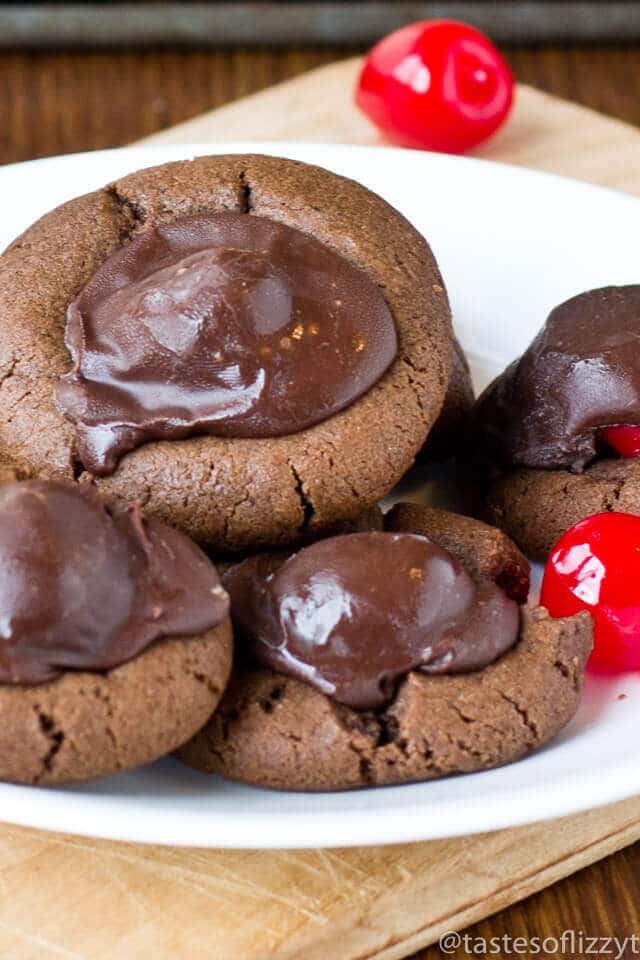 While the cookies are baking, melt chocolate chips and condensed milk in a saucepan. Be sure to keep the heat on very low. If chocolate gets too hot too, it will seize up and become unusable. Stir constantly until the chocolate is completely melted. Then add 2 to 3 teaspoons of maraschino cherry juice to the melted chocolate. After this is all mixed up and the cookies are cooled off a bit, spoon the melted chocolate on the cookie, just enough to cover the cherry. Or more if you like your cookies messy. 🙂
So I found another cookie I like- Chocolate Covered Cherry Cookies. Try saying that 5 times fast…and then try making these for a special Valentine's treat!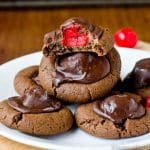 Chocolate Covered Cherry Cookies
Bite into chocolate covered cherry cookies and find a cherry surprise inside. Simple from-scratch chocolate cookies with a dollop of melted chocolate on top.
Ingredients
Chocolate Frosting:
1

cup

semisweet chocolate chips

1/2

cup

sweetened condensed milk

2-3

teaspoons

maraschino cherry juice
Instructions
In a stand mixer bowl, cream together butter and sugar until fluffy. Beat in the egg and vanilla.

In a separate bowl, combine the dry ingredients. Gradually add the dry ingredients to the creamed mixture and mix thoroughly. Refrigerate the cookie dough for 30 minutes.

Preheat the oven to 350 degrees.

Shape the dough into 48 balls, about 1 in. round. Place them on an ungreased baking sheet.

Use your thumb or finger to make a well in the the center of each dough ball. Place one cherry on each cookie in the imprint that you made. Bake the cookies for 10 minutes at 350 degrees.

While the cookies are baking, melt the chocolate chips in the sweetened condensed milk in a small saucepan over very low heat, stirring constantly. Remove the pan from the heat.

Add the cherry juice and stir until it is smooth. As soon as the cookies come out of the oven, spoon a teaspoon of chocolate over the cherry on each cookie, covering the cherry completely.

Allow the cookies to cool completely and the chocolate to set before storing them in an airtight container.
Nutrition Facts
Chocolate Covered Cherry Cookies
Amount Per Serving
Calories 89
* Percent Daily Values are based on a 2000 calorie diet.
Recipe adapted from
Taste of Home