Amish Chocolate Covered Cherries
Tastes of Lizzy T participates in affiliate advertising programs. We may earn a commission when you make a purchase through links on our site.
If you love Chocolate Covered Cherries, you'll love this Amish recipe. My husband, a long-time lover of chocolate covered cherries, says these are the best!
Calling all cherry lovers! We're crazy for cherries, whether they are in sweet bread, 2 layer cakes or in jello salads, we're all in.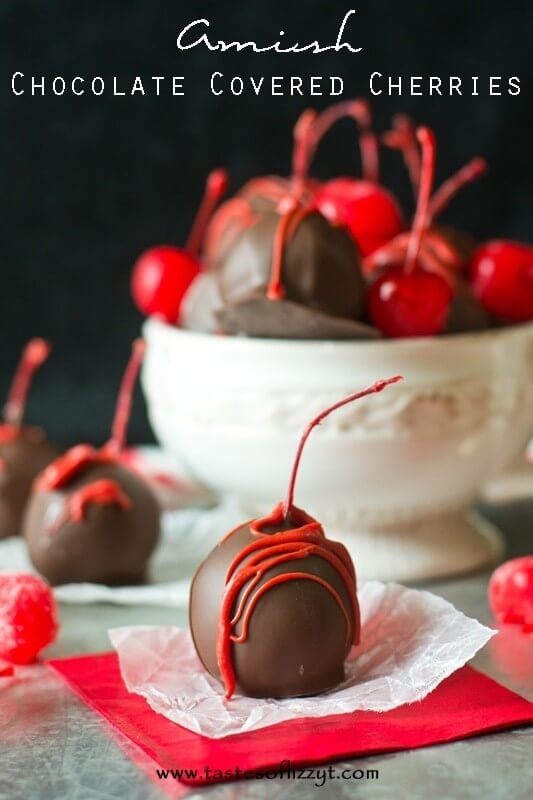 Amish Chocolate Covered Cherries Recipe
As much as I love baking, I love making chocolate dipped candies just as much, if not more.  If I had the choice between a cookie or a chocolate covered buckeye, you can bet that I'd be choosing the buckeye candy 90% of the time. Unfortunately, that doesn't mean I can pass up a freshly baked cookie.  You see, I'm horribly addicted to sweets.  Any sweets.
It was just in the past two months that I attempted to make chocolate covered cherries on my own.  I found a recipe for these Amish Chocolate Covered Cherries and was hoping that this would be to my hubby's approval since cherries are his favorite.
Are chocolate covered cherries and cherry cordials the same thing?
Yes! Chocolate covered cherries are often called cherry cordials. It's the same candy.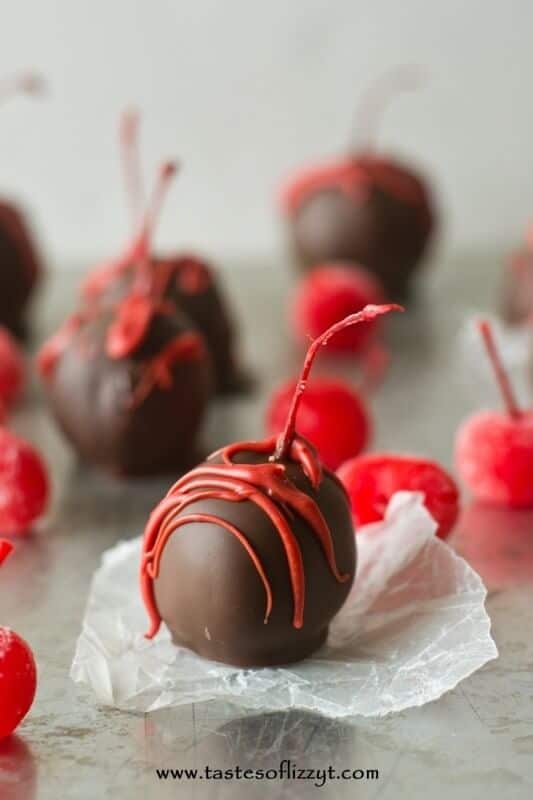 What do you need to make chocolate covered cherries?
For chocolate covered cherries, all you need is maraschino cherries, powdered sugar, salted butter and chocolate for dipping.
We show maraschino cherries with stems, which make it easy for dipping, but cherries without stems work just fine too.
This can be a messy process! Embrace the mess.
We recommend using salted butter. The salt cuts down on the sweetness just slightly. If you don't have salted butter you can use unsalted butter and add a dash of salt.
Use whatever type of chocolate you'd like: semi-sweet, milk or dark chocolate. We love a combination of semi-sweet and dark chocolate. Just be sure to use a high quality chocolate so that it melts smoothly. Buy chocolate chips, chocolate melting wafers or large chocolate bars. Don't use mini chocolate chips. They won't melt.
How do you make chocolate covered cherries?
Drain the cherry juice, making sure you reserve ¼ a cup of juice for the sugar mixture.  Then place the drained cherries on an absorbent paper towel so the juice gets soaked up.  You'll want your cherries dry before you cover them in sugar.
Below you can see pictures of how exactly we shaped the filling.  You're going to want a little pile of powdered sugar on the counter or in a bowl because the sugar mixture might be a little sticky. Roll a 1-inch ball of sugar mixture.  If the ball is too sticky, roll it lightly in the powdered sugar, then flatten the ball between the palms of your hands. Take a cherry that has been drained and dried and place it in the center of the disc.  Wrap the sugar mixture around the cherry mixture and roll it into a ball.  Refrigerate the cherries for 20 minutes and then they're ready to dip in that melty chocolate!
I love dipping candies in chocolate.  I have regularly used chocolate chips for this process, melting them in a double boiler or very carefully in the microwave. Feel free to use your favorite type of chocolate…chocolate bars, chocolate chips, or even Candiquik. You can use milk chocolate, semi-sweet or even dark chocolate.
Dip these cherries in melted chocolate within two hours of rolling them in the sugar mixture. The centers will start getting soft and be hard to dip if you wait too long.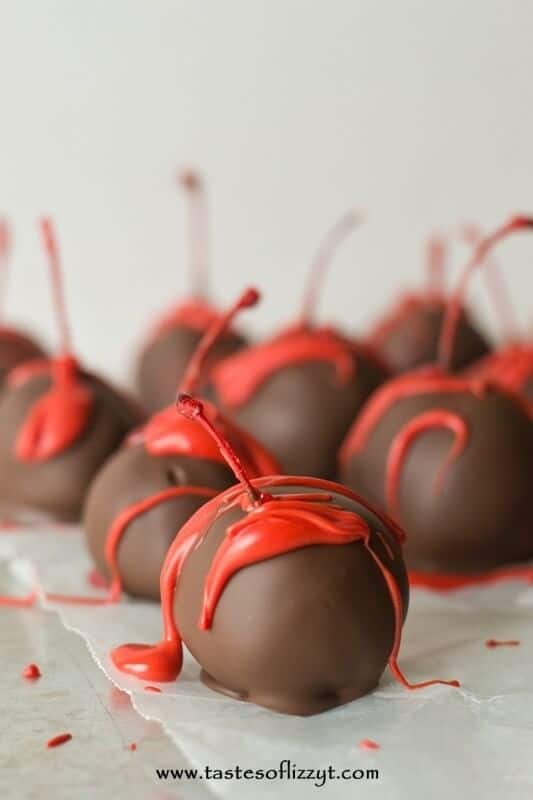 How do you store chocolate covered cherries?
If you like a liquid center to your candy, let these sit in an airtight container for 3-6 days before eating.  As they sit, the centers will liquify into gooey goodness. Chocolate covered cherries store well at room temperature. Just make sure they are covered. We've stored the cherries in a cool, dry place for up to 8 weeks and they are still delicious.
Can chocolate covered cherries be frozen?
We don't recommend freezing chocolate covered cherries because they can expand and break the chocolate. This will give you a sweet mess once they are defrosted. They may not always break (and honestly Matt LOVES frozen chocolate covered cherries), but for the best look and the best results, we don't recommend freezing them.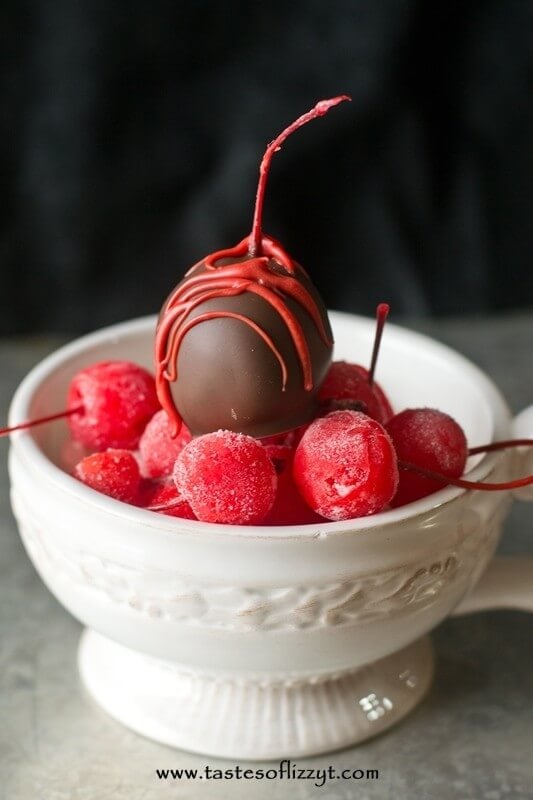 Other Cherry Dessert Recipes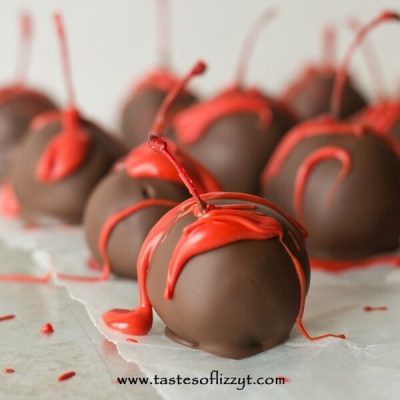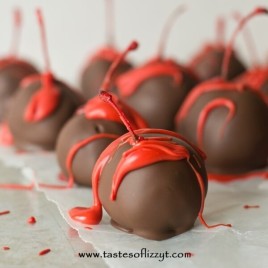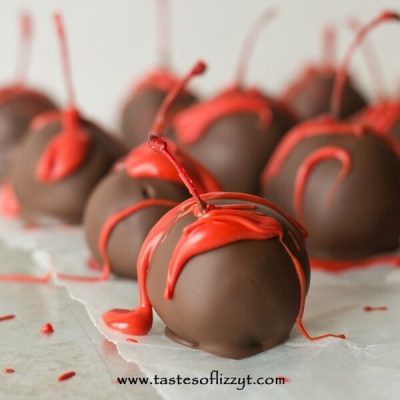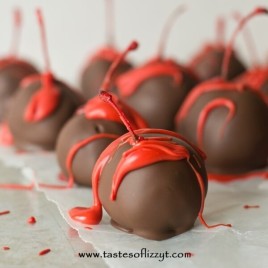 Amish Chocolate Covered Cherries
A simple amish recipe for chocolate covered cherries. Just 4 ingredients!
---
Ingredients
1

jar

maraschino cherries with stems

(10 ounces, with the juice reserved)

4

cups

powdered sugar

4

tablespoons

salted butter

(softened)

16

ounces

semi-sweet chocolate chips
Instructions
Drain the cherries, reserving the juice. Let dab the cherries gently with a paper towel so that they are as dry as possible. Set them aside on paper towels to continue to dry while you prepare the sugar filling.

In a medium size bowl, mix 3 cups powdered sugar, butter and ¼ cup cherry juice together. Add in the last cup of powdered sugar, ¼ of a cup at a time, until the mixture forms a soft dough. Refrigerate the dough for 20 minutes.

Roll the dough into 1 inch balls. Make small balls, about 1 inch in diameter. Flatten the dough balls between the palms of your hands, dusting your hands with powdered sugar if necessary. Fold the dough over the cherry to completely cover it, then roll it into smooth ball again.

Refrigerate the covered cherries for 20 minutes. Melt the chocolate in a double boiler or in the microwave.* Holding the cherry by the stem, dip it in the melted chocolate and allow the excess to drip off. Place the chocolate covered cherry on a baking pan that has been covered with wax paper. Repeat with the remaining cherries.

Allow the chocolate to set completely before storing the cherries in an airtight container.
Notes
You can use maraschino cherries without stems if you'd like. Use a fork to dip them in the chocolate, tapping off the excess chocolate.
*Be sure to melt the chocolate slowly or over low heat. If chocolate gets too hot, it will seize up and become unusable. If using a double boiler, allow the water in the bottom pan to steam, but not come to a full boil. If you're melting the chocolate in the microwave, melt in about 20-3o second increments, stirring between each interval.
**If the chocolate is too thick for dipping, add a tablespoon or two of shortening to the warm chocolate and stir until it is melted. This will thin the chocolate. 
Nutrition
Serving:
51
g
|
Calories:
197
kcal
|
Carbohydrates:
32
g
|
Protein:
1
g
|
Fat:
7
g
Recipe from: www.amishshop.com