Tastes of Lizzy T participates in affiliate advertising programs. We may earn a commission when you make a purchase through links on our site.
Your kids will love this easy, green, Grinch Cherry Bread! With candied green cherries, maraschino cherry "hearts" and a powdered sugar frosting, this will look so festive on your holiday dessert table.
Our basic sweet bread recipe gets a Christmas makeover! This easy bread recipe has been the base for peaches, apples, strawberries, cherries and blueberries. And we've got more ideas where those came from so stay tuned!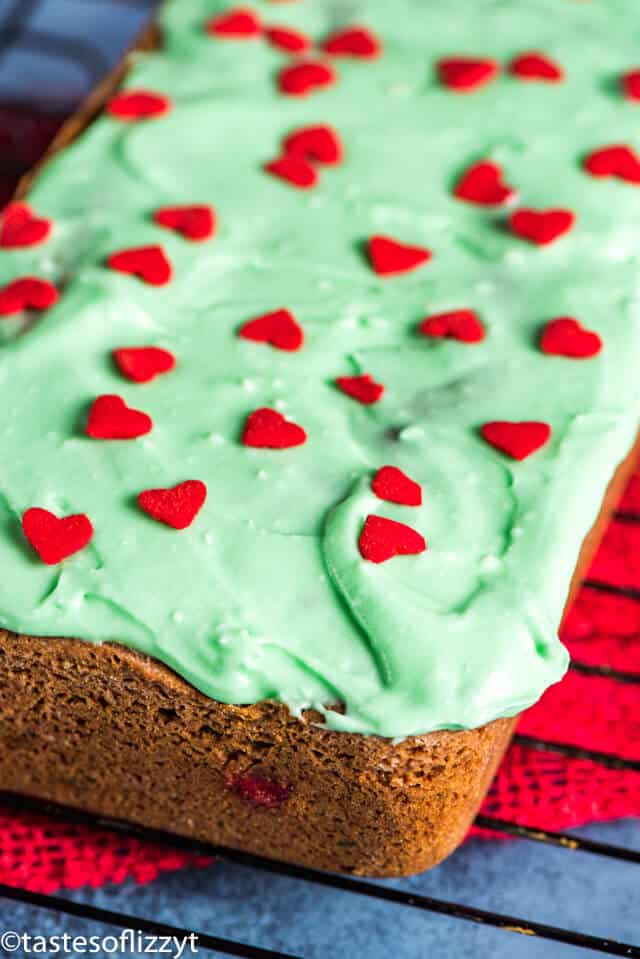 Grinch Cherry Bread Recipe
This idea for Grinch Cherry Bread has been in my mind for about 2 Christmases. It wasn't until this year that I started testing some different ways we could turn our much loved cherry bread into a fun Christmas quick bread. Several loaves later we got a Grinch bread that we could be excited about! Let's talk through how to make it.
Green Cherry Bread
I knew the base of this bread had to be green for the Grinch. Every now and then in the grocery store you can find green maraschino cherries. Of course when I went to make this bread I couldn't find them at all, so I picked up a package of green candied cherries. These are popular during the Christmas season for fruit cakes and bars. You can often find them in the middle aisles of the grocery store with all the holiday themed baking supplies. We used an 8 ounce container of candied cherries. Because the candied cherries won't turn your batter green, add just a drop or two of green food coloring to get that grinchy color. Be careful not to add too much!
*Remember not to overmix your bread batter. Barely mix up the wet and dry ingredients, then add the cherries and fold the ingredients together the rest of the way. Stop mixing as soon as the bread batter is combined.*
Maraschino Cherry Hearts
To give each slice of Grinch bread a "heart", I placed a line of maraschino cherries on the left side of the pan. They slice easily so make sure they are touching each other with no space in between. Push them down slightly into the bread batter, then use a knife to brush a little green batter of the cherries as shown below.
*It's important to allow the maraschino cherries to drain and dry off. If they are wet they may add a red color to the batter as they bake. Place the cherries on several layers of paper towels while you are mixing the batter so the liquid can be absorbed.*
*Side Note: Some maraschino cherries do not have red color in them anymore. If you want your cherry heart to be bright red, choose cherries that do have that red color. Otherwise the cherries will lose their color during baking.*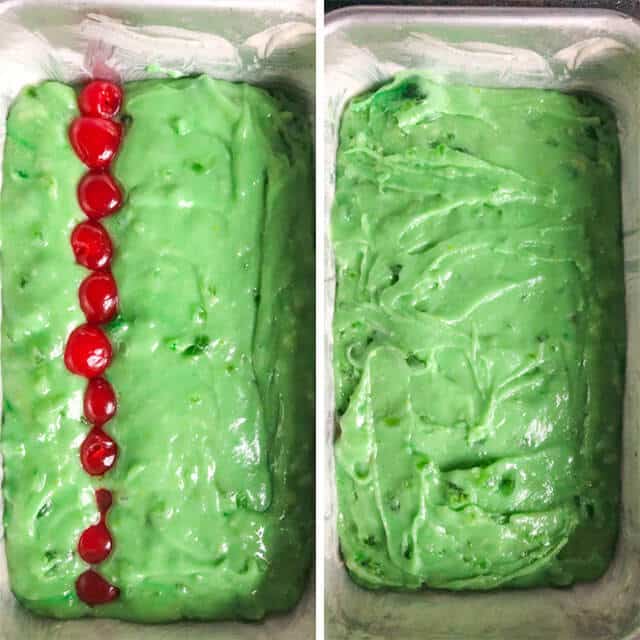 Green Glaze Frosting
This powdered sugar glaze is super easy to whip up and makes just enough to make a thin layer of glaze on this bread. We also like to sprinkle the top of the bread with red sprinkle hearts. You can get these on Amazon here.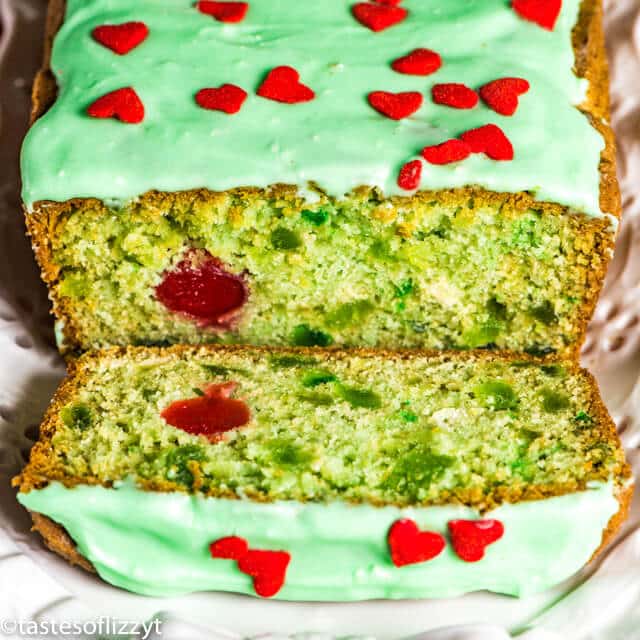 How to Slice and Store the Bread
Allow the bread to cool completely before you frost it and slice it. The maraschino cherries inside will cut the cleanest if you use a sharp knife when the bread is cool. If you packed the cherries in a line tightly, there should be a cherry heart for each slice of bread.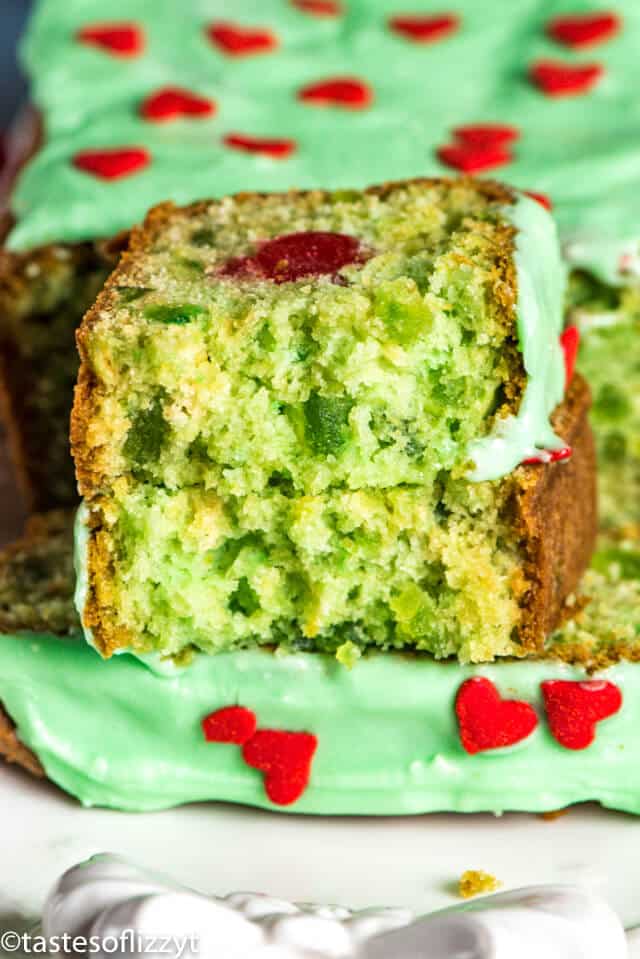 Other Christmas Recipes
Tools to Make This Bread
Ninja Express Chop

: Mini food processor…this is one of my most-used kitchen tools and perfect for giving a quick chop to these cherries.

Wire Cooling Racks:

This will help your breads cool more quickly.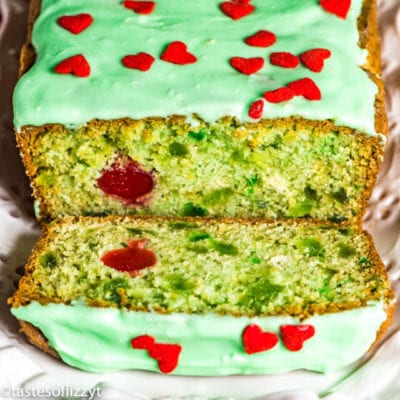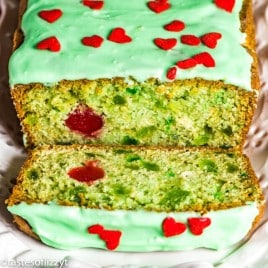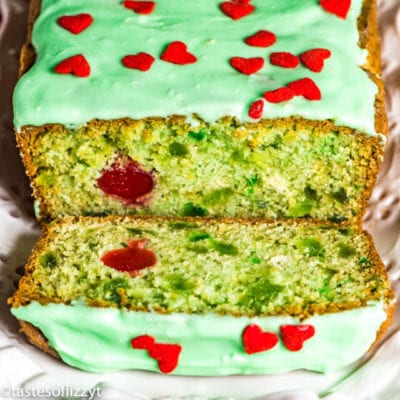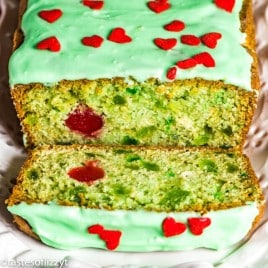 Grinch Cherry Bread
Your kids will love this easy, green, Grinch Cherry Bread! With candied green cherries, maraschino cherry "hearts" and a powdered sugar frosting, this will look so festive on your holiday dessert table.
Total Time
1

hour
5

minutes
---
Ingredients
3/4

cup

granulated sugar

3/4

cup

milk

1/2

cup

oil

2

large

eggs

1

teaspoon

vanilla extract

(or almond extract)

few drops of green food coloring

2

cups

all-purpose flour

2

teaspoons

baking powder

1/4

teaspoon

salt

8

ounces

green candied cherries

12

maraschino cherries

(drained and dried)
Glaze:
1

cup

powdered sugar

1

tablespoon

melted butter

2-3

tablespoons

heavy cream

(or milk)

1/2

teaspoon

almond extract

Drop of green food coloring
Instructions
Preheat the oven to 350 degrees.

In a medium bowl, stir together the sugar, milk, oil, egg, vanilla and food coloring. In a separate bowl, combine the flour, baking powder and salt. Add the dry ingredients to the wet ingredients and stir until just combined.

Coarsely chop the green cherries in a food processor or with a knife. Gently fold the cherries into the batter.

Pour the bread batter into a well greased 9"x5" bread pan.

Push the drained and dried maraschino cherries into the batter in a line about 1.5" from the left side of the pan. Use a knife to spread the batter over the cherries.

Bake at 350 degrees for 50-55 minutes. A toothpick inserted in the center of the bread should come out clean. Allow the bread to cool for 10 minutes, then remove the bread to a wire rack to cool completely.

To make the glaze, combine the powdered sugar, melted butter, cream, almond extract and food color in a small bowl. Mix until it is smooth.

Once the bread is cool, spread the glaze on top of the bread. Sprinkle with red candy hearts or red sprinkles. Slice and serve. Freezes well!
Notes
*I often add an extra teaspoon of vanilla or almond extract to the bread batter (along with the wet ingredients) for an extra boost of flavor. I do this especially if I'm not putting the glaze on top. The bread has the most flavor when you add the glaze!
*Many maraschino cherry brands come without red dye in the cherries. If you pick up a jar like this, your hearts will not be red. If you want red hearts, be sure that the cherries you use actually have red coloring in it.
**The calories shown are based on the bread being cut into 10 pieces (and all of the frosting used), with 1 serving being 1 slice of bread. Since different brands of ingredients have different nutritional information, the calories shown are just an estimate.
Nutrition
Calories:
412
kcal
|
Carbohydrates:
66
g
|
Protein:
3
g
|
Fat:
14
g
|
Saturated Fat:
2
g
|
Cholesterol:
26
mg
|
Sodium:
83
mg
|
Potassium:
130
mg
|
Fiber:
1
g
|
Sugar:
40
g
|
Vitamin A:
125
IU
|
Calcium:
60
mg
|
Iron:
1.3
mg