Thank you to FINI Cutlery for sponsoring this post and giveaway. As always, all opinions are my own.
A simple tangy and spicy marinade covers these Christmas kebabs with top sirloin steak, peppers and pearl onions.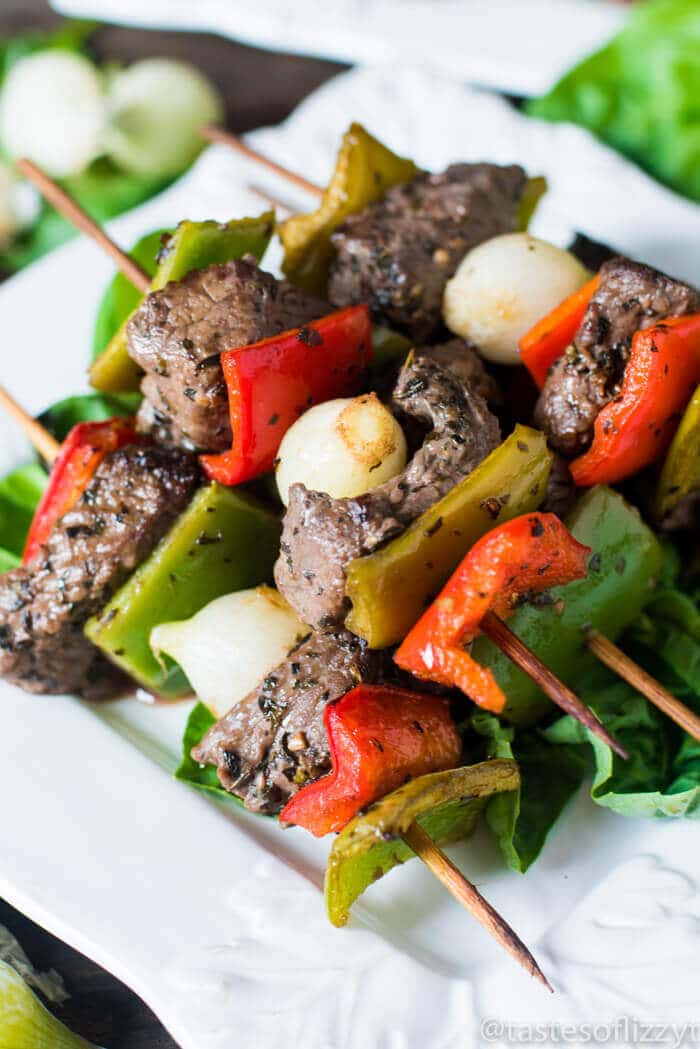 Scroll down for your chance to win knives from FINI Cutlery!
Two exciting things on tap for you today, friends!
 A Christmas kebabs recipe that does not involve sugar, chocolate or peppermint. We're leaning towards the healthy side of the holidays today!
 A giveaway hosted by FINI Cutlery. If you are like me and have a terrible time choosing knives, FINI Cutlery will come to your rescue!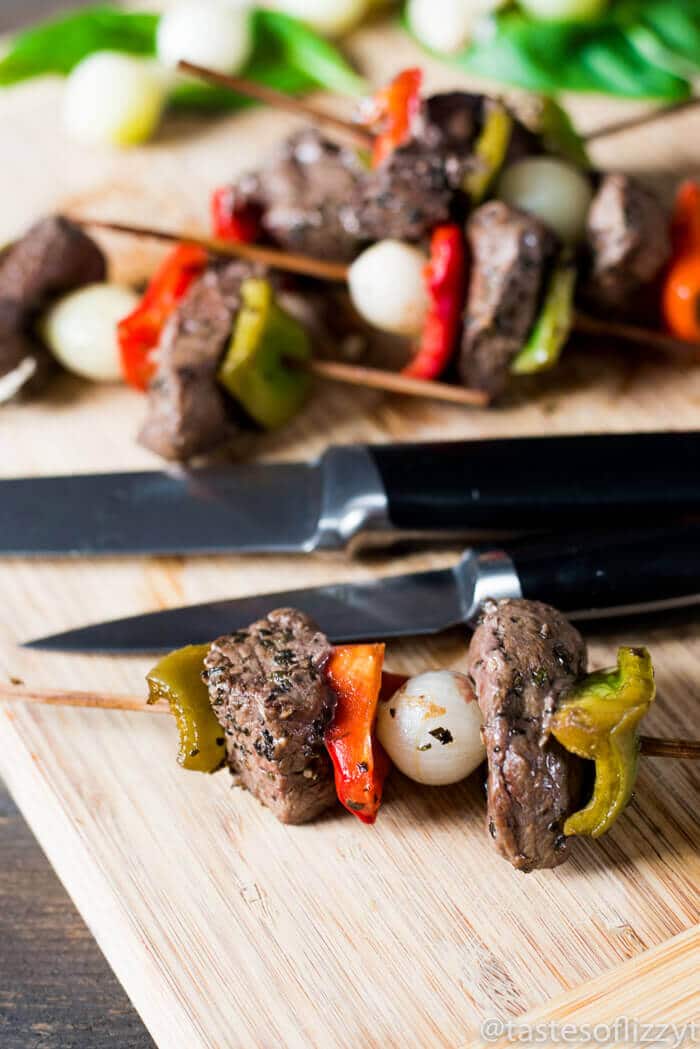 First, Christmas kebabs. A necessary recipe because we've still got two weeks until Christmas and I'm already in a sugar coma. These are the holiday-filled afternoons of baking cookies. The days when I arrive at dinnertime completely full because I've eaten all.the.dough.
These easy-to-make Christmas kebabs are fun because the red and green peppers make them festive, but they are good for you. Just simple ingredients that all fit into a Paleo diet. And if you're crazy enough to be doing a Whole30 the month of December? These may just be your lifesaver.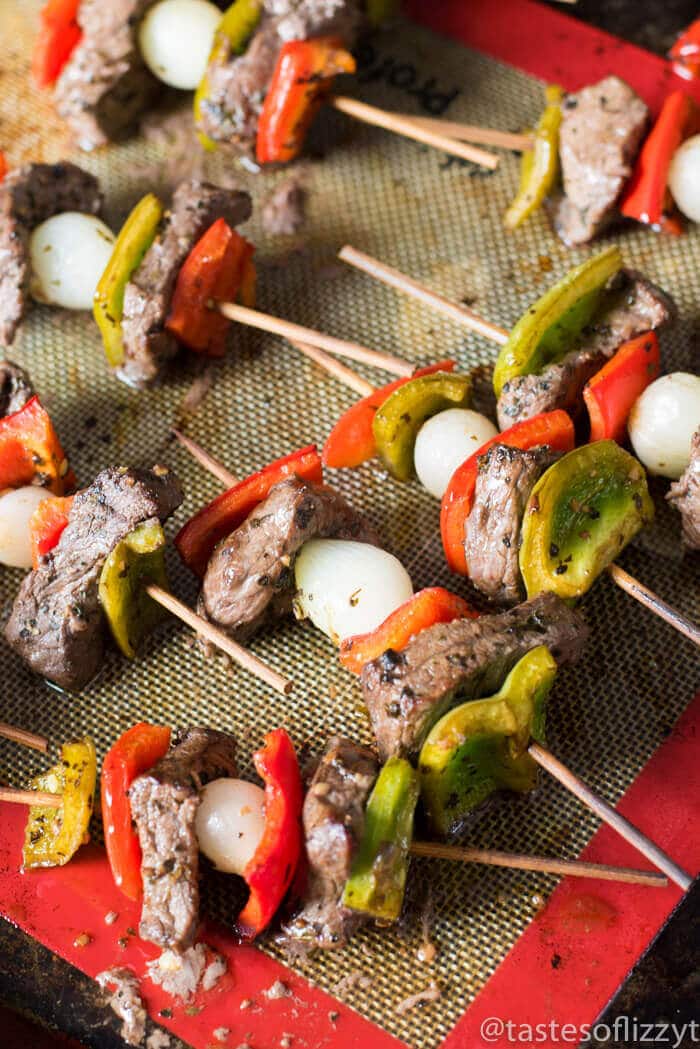 To keep this recipe quick and easy, I like to prepare the veggies and beef the day before. I make the marinade, slice the beef, peel the pearl onions and cut the peppers. Then I allow the beef and peppers to marinate (in separate bowls) overnight. The day that I want to serve these Christmas kebabs, I simply skewer them in a festive pattern and broil them for about 3 minutes on each side. Depending on how quickly you can skewer kebabs, that makes this about a 10 minute recipe.
Delicious and quick. That's what I need this hectic time of year!
And now for the FUN part of this recipe….we're giving away sets of FINI Cutlery!
I was in desperate need of a new knife set. I had never actually had a complete knife set since I'd been married. FINI Cutlery came to my rescue! Their knife design has a short handle, which makes it easy to have the proper "pinch grip" on the knife. The knife design allows you to chop more quickly, more comfortably and more safely than before. And you'll impress your holiday guests by looking like a professional chef as you chop away!
I'll have to say that now I've had quality, sharp knives, I'll never go back to my old knives. Cutting thick steaks to make these Christmas kebabs? The FINI knives cut through it like butter. Seriously. I've never knew I could cut meat so easily.
You can read about how FINI Cutlery chose German steel and see the 8-piece block set in action here.  One grand-prize winner will win this awesome block knife set. 3 runner-up winners will receive their holiday knife set, which includes the 8″ chef knife and the 3.5″ paring knife (the two most used knives in the kitchen!). Give it as a gift this Christmas, or keep it as a little present to yourself!
Follow FINI Cutlery on Instagram, Facebook, Twitter, Pinterest and Youtube!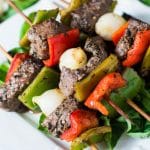 Christmas Kebabs
A tangy and spicy marinade covers these Christmas kebabs with beef, peppers and pearl onions. Colorful for Christmas but delicious any time of the year!
Ingredients
20

fresh

pearl onions

(about 5 ounces)

1/3

cup

olive oil

2

tablespoons

balsamic vinegar

1

tablespoon

Tabasco pepper sauce

1

tablespoon

dried basil leaves

1

teaspoon

minced garlic

1

teaspoon

salt

24

ounces

top sirloin steak

2

red bell peppers

2

green bell peppers

16-20

5" wooden skewers
Instructions
Soak the wooden skewers in water for at least 12 hours before baking the kebabs.

Heat water and pearl onions in a small saucepan. Bring the water to a boil and then reduce heat to low. Cover the saucepan and simmer 3 minutes or until the onions are just tender. Drain the onions. Once the onions are cool enough to handle, peel away the outer layer of skin from the onions. Cover the onions and refrigerate them until you are ready to assemble the kebabs.

In a small bowl, combine the oil, vinegar, pepper sauce, basil, garlic and salt. Mix well.

Cut the steak into 1" chunks. Place the steak cubes in a bowl.

Cut the red and green peppers into 1" chunks. Place the papers in another bowl.

Pour half of the marinade over the beef and stir well. Pour the other half of the marinade over the vegetables and mix well. Cover the bowls and allow them to marinate in the refrigerator for at least 2 hours.*

To assemble the kebabs, alternate skewering the beef, peppers, and onions until you've made 16-20 kebabs. The exact amount will depend on how big you've cut the meat and the length of the skewers.

Place the oven rack on the third level down from the top. Set the oven to broil on high.

Broil the kebabs for 3 minutes, then turn them and broil for an additional 3-4 minutes, or until the beef is done to your liking.
Recipe Notes
*I like to marinate my steak and veggies overnight.
Nutrition Facts
Christmas Kebabs
Amount Per Serving (213 g)
Calories 180
Calories from Fat 63
% Daily Value*
Total Fat 7g 11%
Protein 14g 28%
* Percent Daily Values are based on a 2000 calorie diet.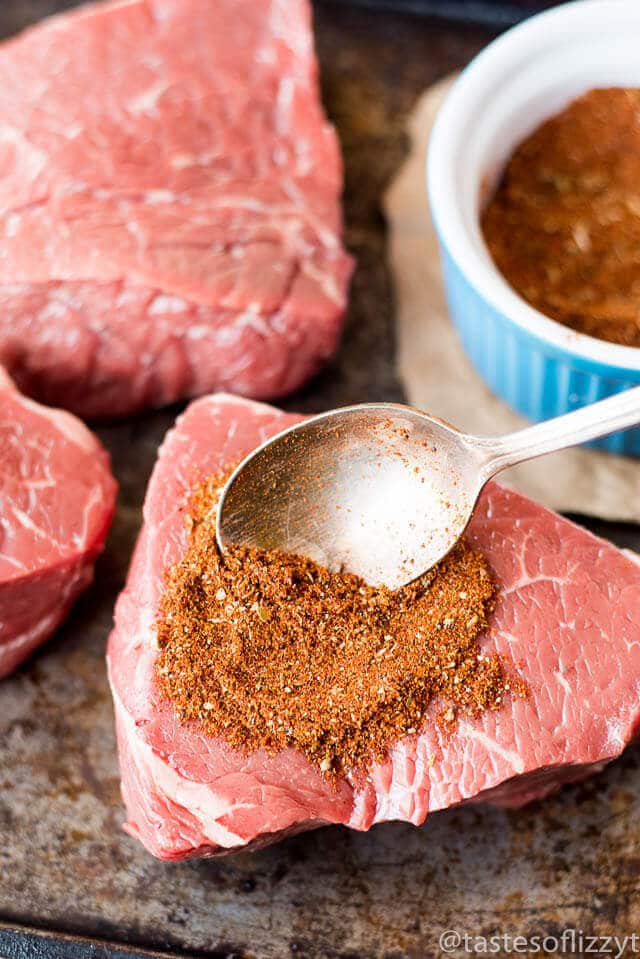 4 Ingredient Pork Loin Marinade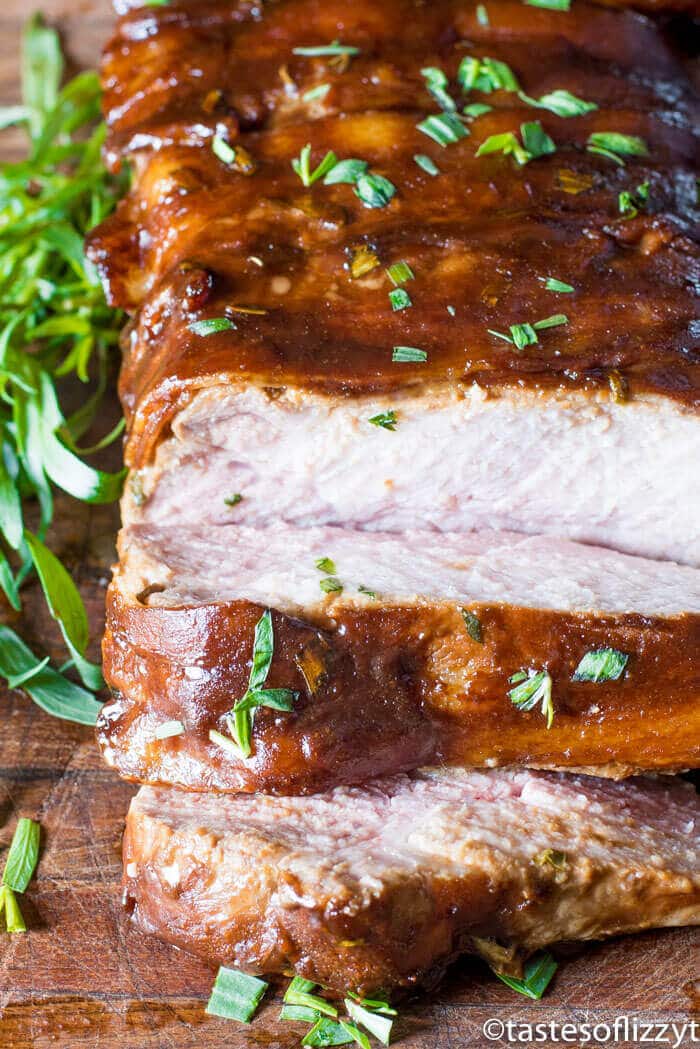 Slow Cooker Beefy Vegetable Soup