Tastes of Lizzy T participates in affiliate advertising programs. We may earn a commission when you make a purchase through links on our site.
Hints on how to make buckeyes, the classic chocolate and peanut butter homemade candy that is perfect for football season and gift giving.
Table of Contents
If there is one homemade candy that everyone loves, it's homemade buckeyes. Even if you aren't from Ohio or an Ohio State Buckeyes fan, there's so much to love about these simple candies. (We get it…my family is from Michigan!)
Buckeye candies are made to look like the nut of a Buckeye tree, which is the state tree of Ohio.
They taste so similar to Reese's peanut butter cups. You don't have to turn on your oven. These treats with a peanut butter center are bite size and melt in your mouth. What's not to love? Today we're sharing our hints on how to make buckeyes.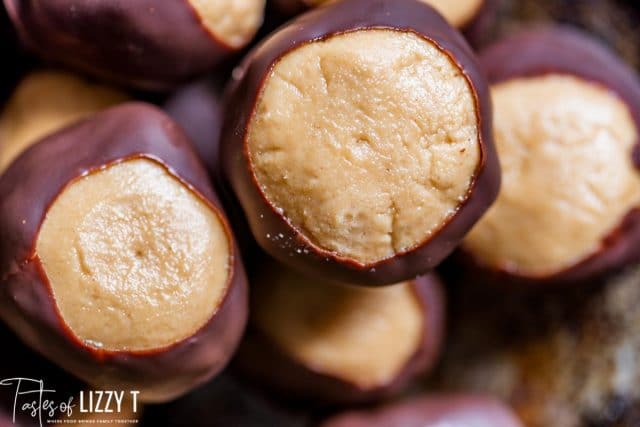 The Best Buckeye Recipe
We've always used the classic Jif buckeye recipe. It's easy to mix up and has an incredibly silky smooth texture. The ingredients are simply creamy peanut butter, salted butter (unsalted butter works as well), pure vanilla extract and salt. Don't forget the vanilla. It gives the homemade peanut butter candy just a little hint of extra flavor.
Rolling the Peanut Butter Balls
Getting the right texture to the buckeyes is important for easy rolling. Most of the time the Jif recipe ratios are spot on. However at times, you may need to add additional powdered sugar (if the dough is too sticky) or peanut butter (if the dough is too crumbly).
Every type of peanut butter is just a little bit different in oil and sugar content. Depending on the type of peanut butter you use, you may have to adjust the recipe ever so slightly. After you have the peanut butter mixture ready, try rolling a ball. The batter should not stick to your hands and you should have no problem rolling a ball with a smooth surface.
Just remember…if the batter is crumbly, add more peanut butter. If it is too sticky, add powdered sugar.
The next step is dipping the peanut butter balls in chocolate. I like to freeze the peanut butter balls for about 30 minutes so they are easier to dip. While the peanut butter balls are in the freezer, it's time to melt chocolate!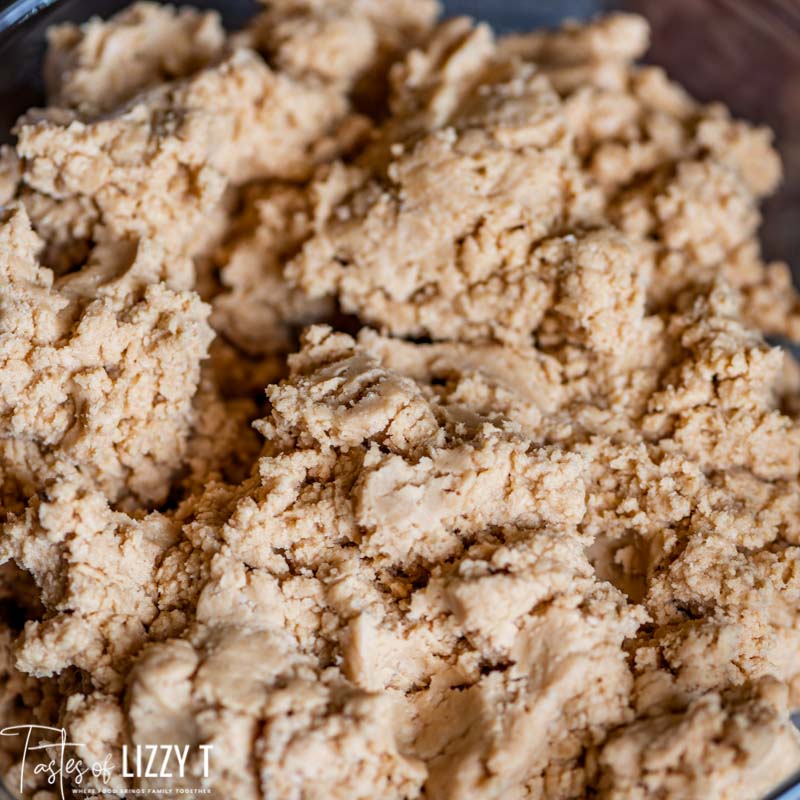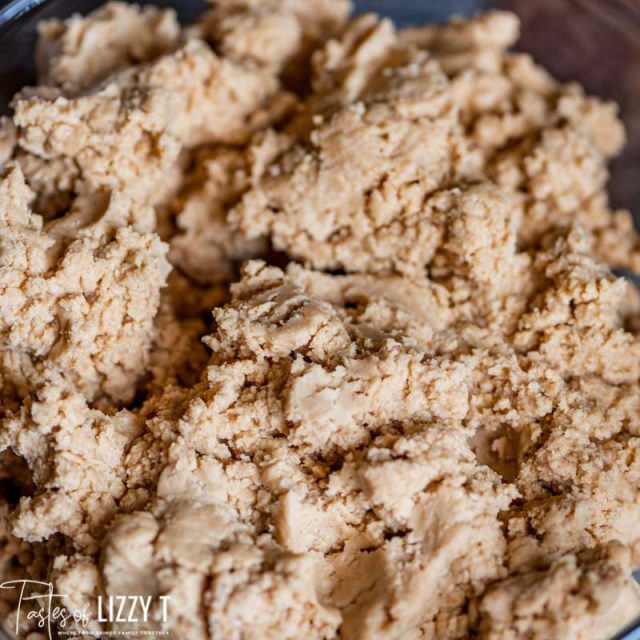 What Kind of Chocolate is Best for Homemade Candy?
I find that high-quality dark chocolate is best for dipping. Dark chocolate melts more smoothly and more quickly than milk chocolate because it is closer to its natural state. The milk and sugars added to milk chocolate all have different melting points, which makes melting take a little longer.
Because I have family that likes milk chocolate also, I often combine both milk and dark chocolate for dipping buckeyes. Ghirardelli is often my go-to chocolate. They have melting wafers that are easy to use for homemade candy.
You can use chocolate chips if you'd like, but make sure they are high quality semi-sweet chocolate chips.
Many people add paraffin wax to their chocolate to thin it out. I find that when using high quality dark chocolate, you don't have to use paraffin wax. You can also add a teaspoon or two of vegetable shortening or coconut oil in order to thin the chocolate to the desired consistency if absolutely necessary. I highly recommend pure chocolate, though!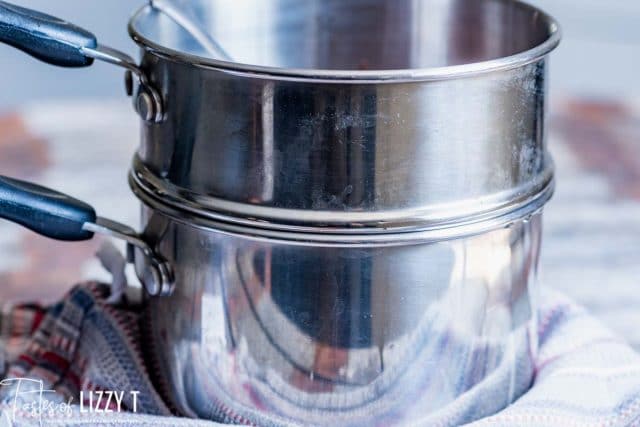 What is the Best Way to Melt Chocolate?
Although melting chocolate in the microwave might seem the easiest, a double boiler gives the best results. This is a pan that sits inside another pan. Water simmers in the bottom pan and chocolate melts in the top pan from the heat of the water boiling. Using a double boiler helps with even melting, allows the chocolate to stay hot, and helps prevent burning. Yes, you can burn chocolate and it is not pleasant when you do!
Be sure to keep the water in the bottom pot on a low simmer. If the water boils too strongly it could seize up the chocolate. Once the chocolate is mostly melted, take the double boiler off the stove and allow the warmth of the water to keep the chocolate smooth and melted while you are dipping peanut butter balls.
Dipping Buckeye Balls in Chocolate
One way to dip candies in chocolate is to use a candy dipping fork. It's an angled, pronged "spatula" that allows the chocolate to drip off the bottom of the buckeyes before placing them on wax paper. The benefit of these tools is that you don't have holes in the top of the peanut butter ball from toothpicks or forks.
Although I have one of those tools, I often find myself using a wooden skewer or toothpick stuck in the top of each ball instead. It makes a hole in the top of the buckeye, but you can easily use your fingertip to cover over that hole. Buckeye candies shouldn't have holes…although in my laziness I've often left the hole. The candies tastes just as good with or without it.
Once the buckeye ball is dipped ¾ of the way in the melted chocolate, allow the chocolate to drip off for a few seconds. You can use a spoon or knife to swipe the bottom of the ball to get the excess chocolate back in the pan.
Another way to keep excess chocolate from pooling under the buckeye ball is to dab the bottom on a sheet of wax or parchment paper before transferring it to clean paper to set completely. Much of the excess chocolate will pool on the paper when you dab it there, keeping the bottom of the buckeyes cleaner.
The last step before storing or giving the buckeye candies away are to use your fingertip to smooth over any holes in the top. Allow the candies to set completely before packaging them so they don't stick together.
How to Store Buckeyes
Buckeyes can be easily frozen, stored in the refrigerator, or at room temperature if you'll be eating them within a day or two. Simply store them in an airtight container wherever you choose to store them.
Love peanut butter and cookie dough? You have to try these candies!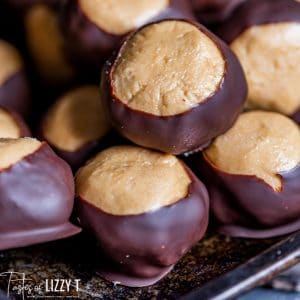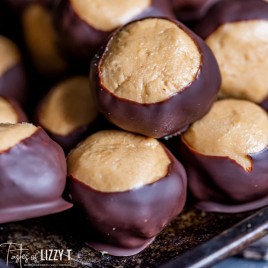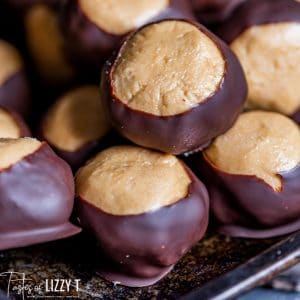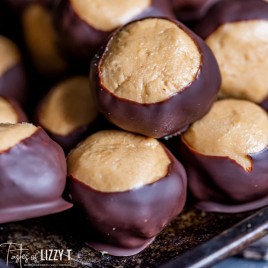 Homemade Buckeye Recipe
Hints on how to make buckeyes, the classic chocolate and peanut butter homemade candy that is perfect for football season and gift giving.

---
Ingredients
1 1/2

cups

creamy peanut butter*

1/2

cup

salted butter

softened

1

teaspoon

vanilla extract

1/2

teaspoon

salt

3

cups

powdered sugar

12

ounces

dark chocolate*
Instructions
In the bowl of a stand mixer with the paddle attachment, combine peanut butter, butter, vanilla and salt.

Beat with the beater blade on low until well blended.

Add 3 cups powdered sugar, beating until blended.

Shape a scoop of peanut butter into a 1-inch or slightly larger ball. The mixture should come together smoothly. If it is too crumbly, add a touch more peanut butter. If it is too sticky, add a bit more powdered sugar.

Place the peanut butter balls on a cookie sheet lined with wax paper. Freeze for 30 minutes.

Place chocolate in the top of a double boiler. Pour 1 cup of water in the bottom pan of the doubler boiler and simmer the water on low. As the chocolate starts melting over the heat of the hot water, stir until the chocolate is smooth. Remove the double boiler from the stove.

Insert toothpick in peanut butter ball. Dip ¾ of ball into chocolate, leaving top uncovered to resemble a buckeye. Allow excess chocolate to drip from the buckeye.

Dab the bottom of the buckeye on a piece of wax paper to remove excess chocolate, then place the buckeye on a wax paper-lined baking sheet.


Remove toothpick. Smooth over holes. Chill in the fridge until firm.
Notes
Our favorite peanut butter is either creamy Jif or Skippy.
*Feel free to use milk chocolate, or a mix of the two chocolates. Use high-quality chocolate so that it melts smoothly and easily. If the chocolate is too thick, you can add a tablespoon of shortening to thin it.
*The exact number of buckeyes you will get depends on how big you roll the peanut butter balls. We roll our buckeyes about 1″ to 1 1/4″ in diameter.
Refer to the article above for more tips and tricks.
The calories shown are based on the recipe making 45 buckeyes, with 1 serving being 1 buckeye. Since different brands of ingredients have different nutritional information, the calories shown are just an estimate. **We are not dietitians and recommend you seek a nutritionist for exact nutritional information. The information in the nutrition box are calculated through a program and there is room for error. If you need an accurate count, I recommend running the ingredients through your favorite nutrition calculator.**
Nutrition
Calories:
144
kcal
|
Carbohydrates:
13
g
|
Protein:
2
g
|
Fat:
9
g
|
Saturated Fat:
4
g
|
Cholesterol:
5
mg
|
Sodium:
84
mg
|
Potassium:
109
mg
|
Fiber:
1
g
|
Sugar:
10
g
|
Vitamin A:
65
IU
|
Calcium:
10
mg
|
Iron:
1.1
mg