Peanut Butter Buckeye Cheesecake
Tastes of Lizzy T participates in affiliate advertising programs. We may earn a commission when you make a purchase through links on our site.
Rich, creamy,  peanut butter buckeye cheesecake topped with sweet chocolate ganache and an Oreo cookie crust.

Peanut Butter Buckeye Cheesecake
You guys. This cheesecake. I like my desserts rich and sweet, but this Peanut Butter Buckeye Cheesecake is over-the-top amazing.
This cheesecake has been in my dreams for quite a few months now, but this is one of those decadent desserts that I can't fix for just my family to eat.  Because among the five of us, we could definitely put this whole cheesecake pie down in a day or so.  Which would be like a slice of heaven. But then we'd have a cheesecake hangover and feel miserable for indulging (OK….overindulging). We made that mistake when making the dessert you'll find over here. Cheesecake hangovers are not a fun place to be.
Last week it was our turn to bring desserts to our small group that meets on Sunday night. I knew this would be the ideal time break out the springform pan and make this special chocolate and peanut butter dessert. Sharing this among 20-some friends is much better than me eating the majority of the cheesecake myself.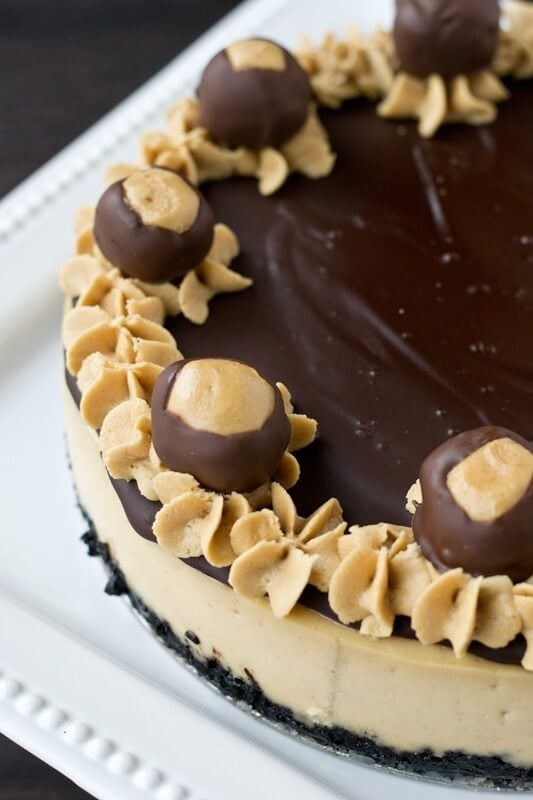 We live in the great state of Ohio, which means OSU Buckeye football. I don't consider myself a huge fan of football, but if there was any state to live in for football, Ohio would be it. After all, celebrating the Buckeyes means getting to eat the famous chocolate and peanut butter buckeye treats. Football season is the perfect time to create this cheesecake.  Wouldn't this make a great addition to your football party?
Don't be scared off by making cheesecakes. If you follow the directions carefully,  you shouldn't have any problems. I love making cheesecakes because they really are easy to mix up.  The Oreo crust takes about 5 minutes to throw together and press in the bottom of a springform pan. The peanut butter cheesecake takes another 5 minutes or so.  Even the chocolate ganache frosting on top is quick.
I bake our cheesecakes in a hot water bath. Head over to our red velvet cheesecake recipe to read exactly how and why I do this. Again, it sounds intimidating, but if you can follow directions, you shouldn't have any problems.
The hardest part of making a cheesecake is waiting while it bakes. This needs to be in the oven for about an hour . A long time to bake, yes, but so worth it.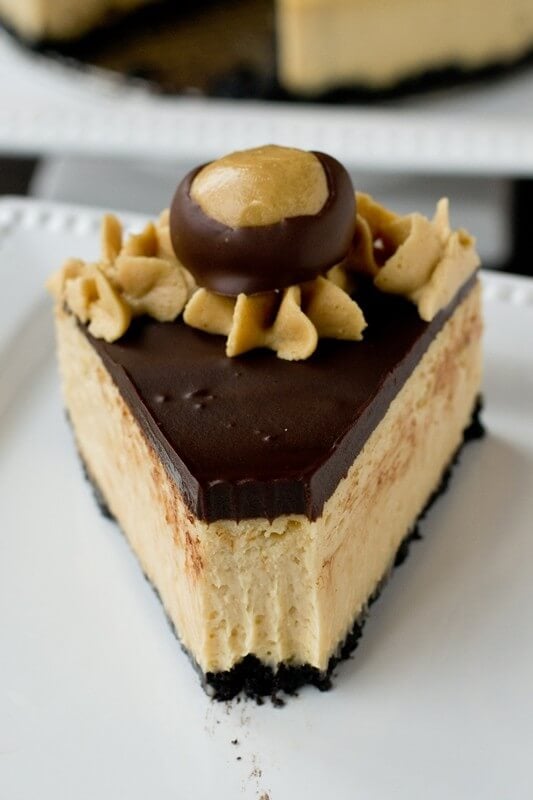 Cheesecake Toppings
Now this cheesecake has a complete wow-factor in taste.  Unfortunately technology hasn't advanced far enough for you to taste through the screen.  I wanted your eyes to widen and to hear you say "wow" when you looked at this dessert. Decorating the top with our homemade peanut butter frosting and some homemade buckeyes (recipe here) totally made this cheesecake, don't you think? If you don't want to add the extra peanut butter frosting and candies on top, just let the chocolate ganache drip down the sides a bit for a very classy, simple, yet gorgeous cheesecake.
 Tools Needed to Make Cheesecake
Springform Pan

: Always watch for what size springform pan to use in each recipe. This recipe calls for a 10" pan.

Large Cake Pan

: Water baths are important for the perfect cheesecake texture. This large pan will fit a 10" springform pan.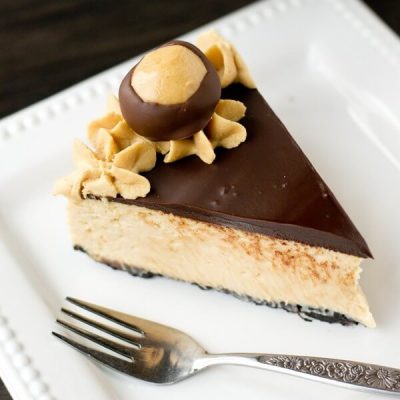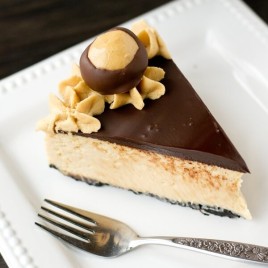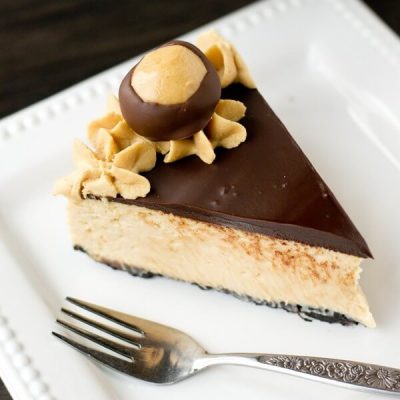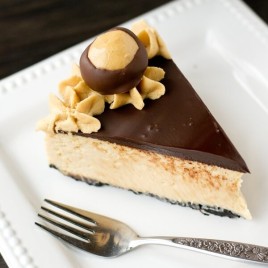 Peanut Butter Buckeye Cheesecake
Rich, creamy peanut butter buckeye cheesecake topped with sweet chocolate ganache and and an Oreo cookie crust.
Cook Time
1

hour
5

minutes
Total Time
1

hour
40

minutes
---
Ingredients
22

chocolate Oreo cookies

crushed

3

tablespoons

butter

melted
Cheesecake:
16

ounces

cream cheese, softened

1 1/2

cups

granulated sugar

1

cup

creamy peanut butter

5

large

eggs

room temperature

1/2

cup

sour cream

2

tablespoons

lemon juice
Chocolate Ganache:
1 1/2

cups

semi-sweet chocolate chips

1/2

cup

heavy cream
Peanut Butter Frosting:
1/2

cup

butter

softened

1

cup

creamy peanut butter

3

Tbsp.

milk

2

cups

powdered sugar

Buckeyes for decorating

optional
Instructions
Spray a 10" springform pan with cooking spray. Wrap the outside sides and bottom of the pan in two layers of aluminum foil.

In a small bowl, combine the crushed Oreos and melted butter. Press this mixture into the bottom of the prepared springform pan. Set aside.

Preheat the oven to 350 degrees.

In a large bowl, combine cream cheese, sugar, and peanut butter. Add the eggs, one at a time, beating after each addition. Be careful not to overbeat the mixture. Just mix until each egg is combined.

Add the sour cream and lemon juice. Mix just until everything is blended. Pour the cheesecake mixture into the Oreo crust. Use the back of a spoon to smooth and spread the filling. This will help release any air bubbles.

To prepare the hot water bath, place the springform pan into a larger cake or roasting pan. Boil 1-2 quarts of water. Pour the boiling water into the larger pan until the water comes about halfway up the side of the foil covered springform pan.

Place the pans of cheesecake in the center of middle oven rack. Bake 15 minutes, then lower the oven temperature to 300 degrees and bake another 50 minutes or until set. The edges should be light brown. There shouldn't be any liquidy spots in the center of the cheesecake. Be careful not to bake too long. The cheesecake will continue to cook after it is removed from the oven. Remove the springform pan from the hot water bath. Place it on a wire rack with a towel underneath to soak up any extra drips of water. Allow the cheesecake to cool completely.

While the cheesecake is cooling, prepare the ganache. Place the chocolate chips and heavy cream in a microwave safe bowl. Melt the chocolate chips in 20-30 second intervals, stirring between each interval. Do this until the chocolate is completely melted and smooth, being careful to not let the chocolate get too hot. Allow the ganache to sit for 3-4 minutes, then spoon it on top of the cheesecake. Spread the chocolate just to the edges of the cheesecake.

Once the cheesecake has cooled to room temperature, place it in the refrigerator. Allow the cheesecake to set overnight in the fridge before serving.

If desired, you can decorate the top with peanut butter frosting and buttercream.

For the peanut butter frosting: In a bowl, blend together peanut butter, powdered sugar, butter, and milk 3-4 minutes or until light and fluffy. Use an icing bag and tip 1M to pipe starts around the edges of the cheesecake. Place buckeye on each slice of cheesecake.
Nutrition
Calories:
694
kcal
|
Carbohydrates:
58
g
|
Protein:
13
g
|
Fat:
47
g
|
Saturated Fat:
21
g
|
Cholesterol:
146
mg
|
Sodium:
389
mg
|
Potassium:
416
mg
|
Fiber:
3
g
|
Sugar:
45
g
|
Vitamin A:
925
IU
|
Vitamin C:
1.1
mg
|
Calcium:
95
mg
|
Iron:
4.3
mg
Recipe Source: What's Cooking America