These Cookie Dough Buckeyes look like your traditional chocolate coated buckeye, but have a cookie dough surprise in the middle!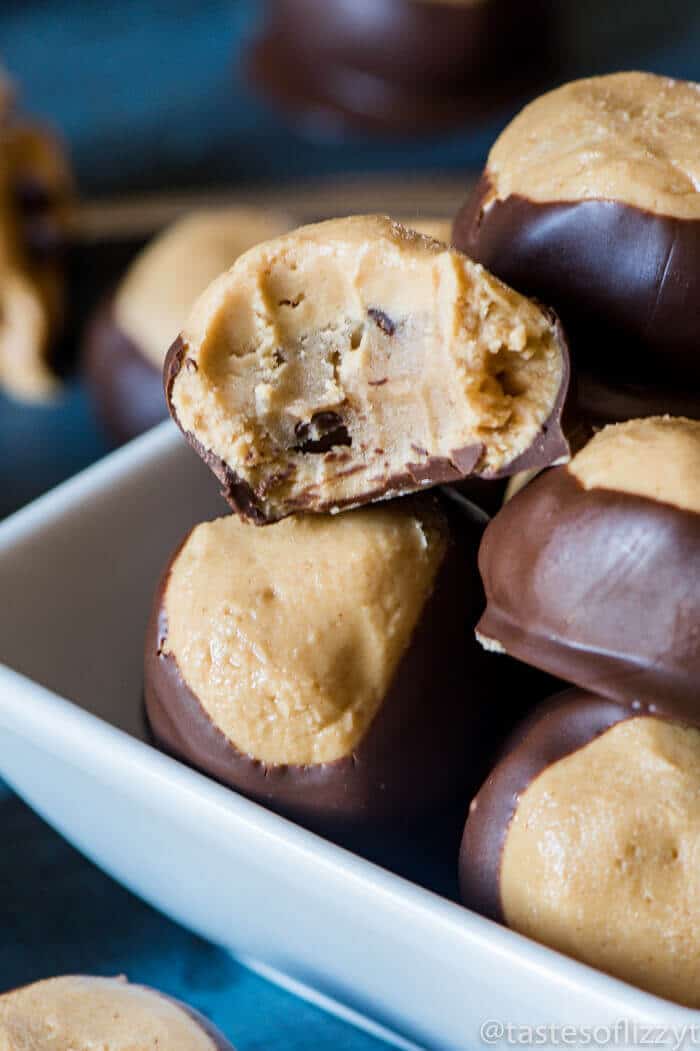 Cookie Dough Buckeyes
Cookie dough buckeyes…What is better than a ball of edible cookie dough wrapped with a peanut butter dough covered in chocolate? I really can't think of anything. These cookie dough buckeyes great version of those peanut butter balls you might see around this time of year. Around where we live, they're called Buckeyes. I just can't seem to get enough of the chocolate peanut butter balls, but with cookie dough in the middle? Amazing.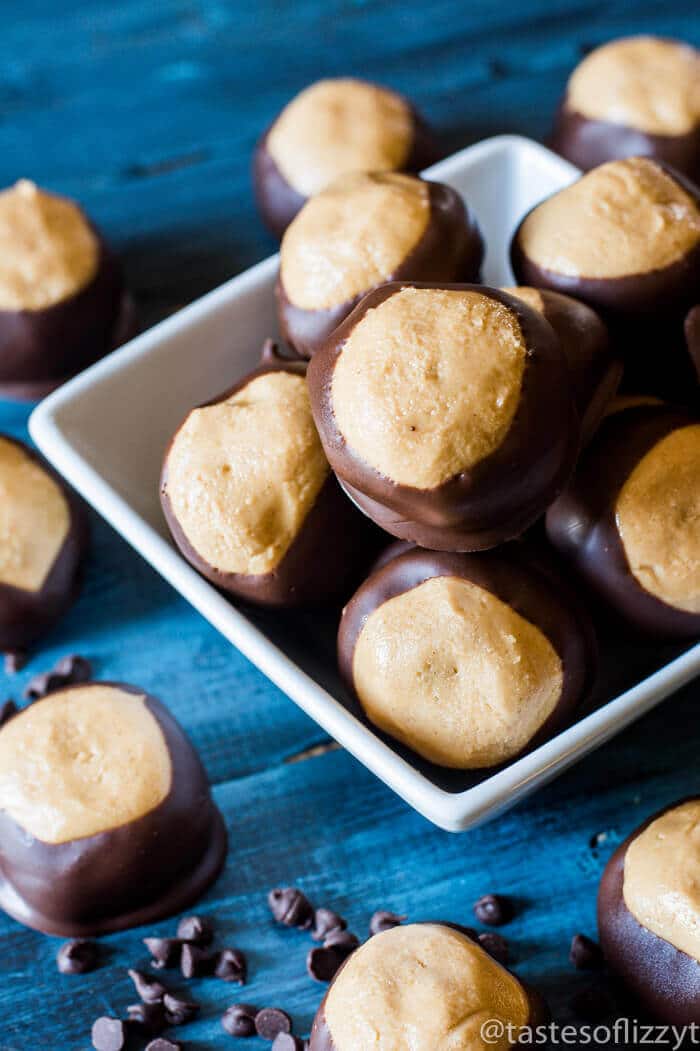 If you've ever made peanut butter balls before, you know that even though they are easy to make, they can sometimes be time consuming. Especially if you're making a bunch. As a kid, though, I think making them is fun. What's better than dipping peanut butter balls into chocolate? Especially when you know you get to eat them afterwards?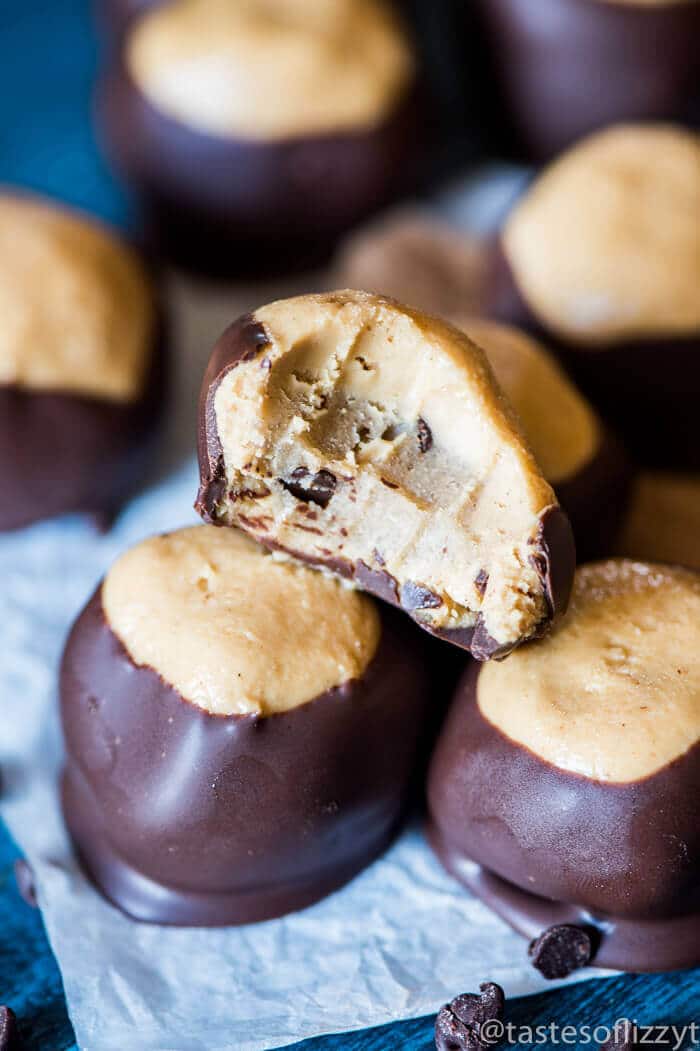 Here are a couple tips on making these Cookie Dough Buckeyes:
Make the cookie dough first. After you make the cookie dough, roll it into 1/2 inch balls and freeze the dough balls for about 30 minutes. This will allow them to harden and make them easier to cover and dip later on.
While the cookie dough balls are in the freezer, you can whip up your peanut butter mixture.
Remove the cookie dough balls out of the freezer. Take about 2 tablespoons of peanut butter filling and flatten it in your palms, then place a cookie dough ball in the middle. Wrap the peanut butter mixture around the ball, creating a 1 to 1 1/2 inch ball . Freeze them again. I know…so much waiting. Trust me. You will thank me later.
We use a double boiler for melting the chocolate. If you don't have a one, you can heat it up in the microwave. If your chocolate is too thick, use a touch of Gulf Wax or shortening to thin it out. Start with just a little chunk (1/2 inch cube) of wax or a tablespoon of shortening and add more as needed until the chocolate is thin enough to easily coat the peanut butter balls.
When you are ready to start dipping, stab a peanut butter ball with your fork into the very top (not all the way through!!!) and dip it in the chocolate until the bottom and sides are covered. You can cover the whole thing, but it might look prettier if you leave the top plain. Let the chocolate drip off the peanut butter ball, then set it on a cookie sheet covered in tin foil, wax paper, or parchment paper. Take the fork out of the buckeye and hide the fork marks by smoothing the peanut butter with your finger.
Allow the chocolate to set completely and your cookie dough buckeyes are ready to eat!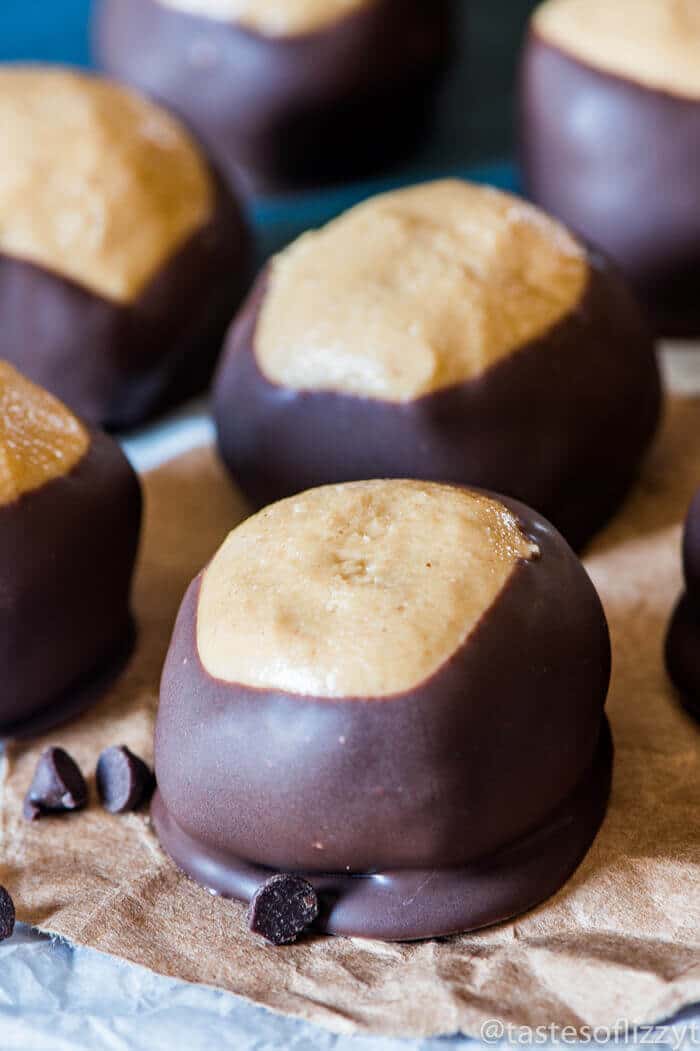 In our cookie dough mixture, we put mini chocolate chips inside. Get creative with this! You can add in whatever you want- mini Reese's pieces, mini M&M's, whatever you'd like!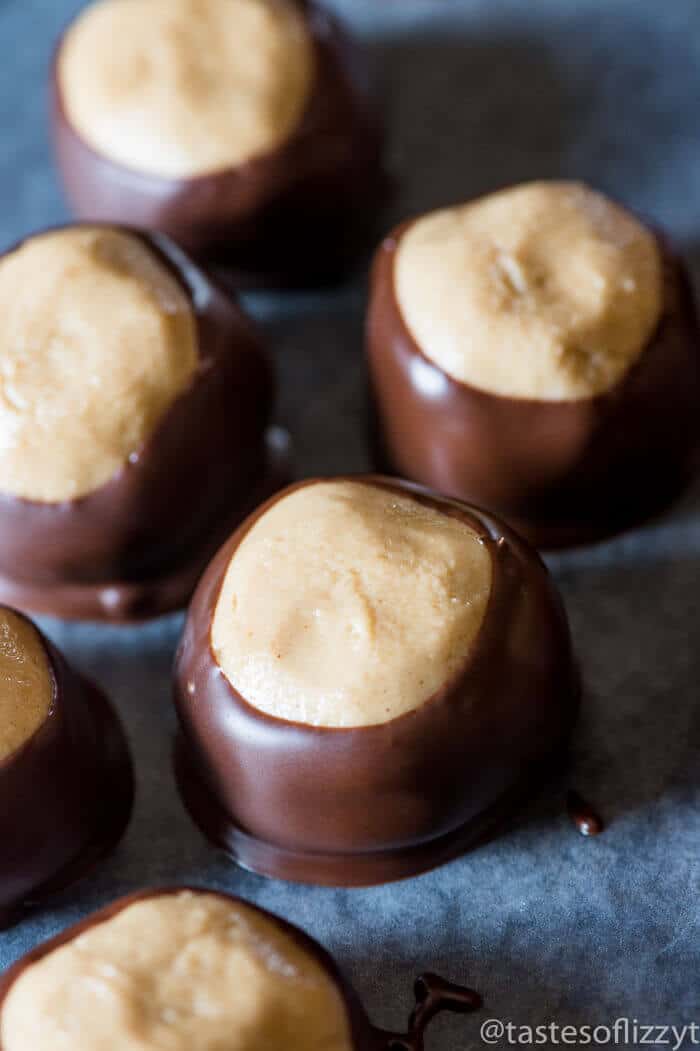 Cookie Dough Buckeyes
There's a cookie dough surprise inside these chocolate and peanut butter Buckeyes!
Ingredients
Cookie dough:
1/4

cup

butter

softened

2

tablespoons

white sugar

1/4

cup

brown sugar

1/4

teaspoon

vanilla

2

tablespoons

milk

3/4

cup

flour

1/4

cup

mini Reese's Pieces

or mini chocolate chips, mini M&M's, etc
Peanut Butter Filling:
1 1/2

cups

creamy peanut butter

1/2

cup

butter

softened

1

teaspoon

vanilla extract

1/2

teaspoon

salt

3

cups

powdered sugar

12

ounces

semi-sweet chocolate chips
Instructions
In a small bowl, mix the ingredients for the cookie dough together until well combined. Roll into 20-25 balls about 1/2 inch in diameter. Place them on a pan covered with wax paper and place them in the freezer.

In a stand mixer bowl, combine the peanut butter, butter, vanilla and salt. Mix until well combined. Add in 2 1/2 to 3 cups of powdered sugar and beat well.

Take about 2 tablespoons of peanut butter filling in your hand and flatten it in your palms.

Place one of the frozen cookie dough balls in the center of the peanut butter and then cover the cookie dough with peanut butter, shaping it into a ball. Do this for the rest of the cookie dough balls.

Place the peanut butter covered balls (buckeyes) on a cookie sheet covered in wax paper and freeze them for 30 minutes.

In a double boiler, melt the chocolate chips over medium-low heat. If the chocolate is too thick, add a tablespoon of shortening or a small 1/2-inch chunk of Gulf Wax to smooth and thin the chocolate.

Once the chocolate chips are melted, stick a fork into the top of the frozen buckeye. Dip it into the chocolate, covering about 2/3 of the buckeye. Let the excess chocolate drip off and then place the ball back on the wax paper to allow the chocolate to set.

Repeat with the remaining buckeyes.

Once the chocolate on the buckeyes is set, use your finger to smooth the peanut butter on the top of the buckeye to "erase" the fork holes.

Store in the refrigerator in an airtight container.
Nutrition
Calories:
311
kcal
|
Carbohydrates:
31
g
|
Protein:
5
g
|
Fat:
19
g
|
Saturated Fat:
8
g
|
Cholesterol:
15
mg
|
Sodium:
172
mg
|
Potassium:
192
mg
|
Fiber:
2
g
|
Sugar:
24
g
|
Vitamin A:
175
IU
|
Calcium:
22
mg
|
Iron:
1.4
mg