Tastes of Lizzy T participates in affiliate advertising programs. We may earn a commission when you make a purchase through links on our site.
These Cookie Dough Buckeyes look like your traditional chocolate coated buckeye, but have a cookie dough surprise in the middle!
What is better than a ball of edible cookie dough wrapped with a peanut butter dough covered in chocolate? These cookie dough buckeyes great version of those peanut butter balls you might see around this time of year.
Around where we live, they're called Buckeyes. I just can't seem to get enough of the chocolate peanut butter balls, but with cookie dough in the middle? Amazing.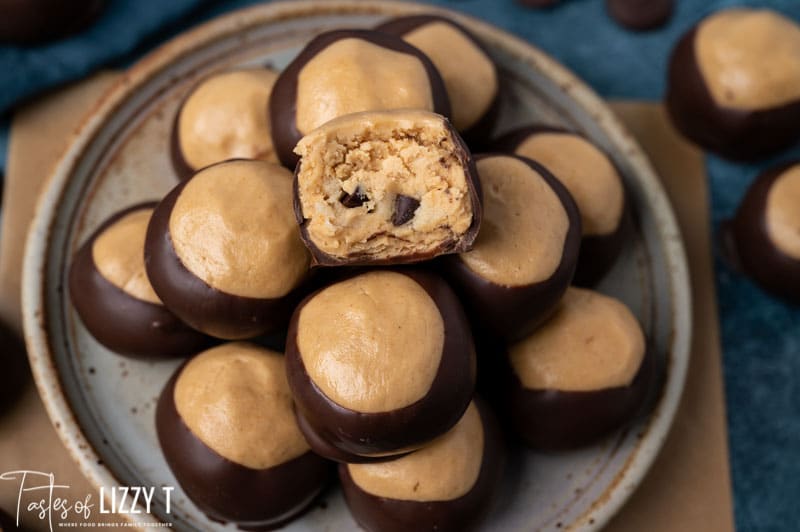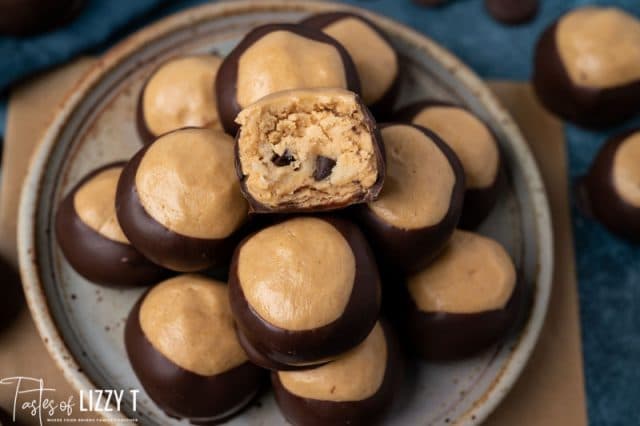 Why you'll love this recipe:
cookie dough…and peanut butter!
no bake recipe
perfect for gift giving…
and holiday cookie exchanges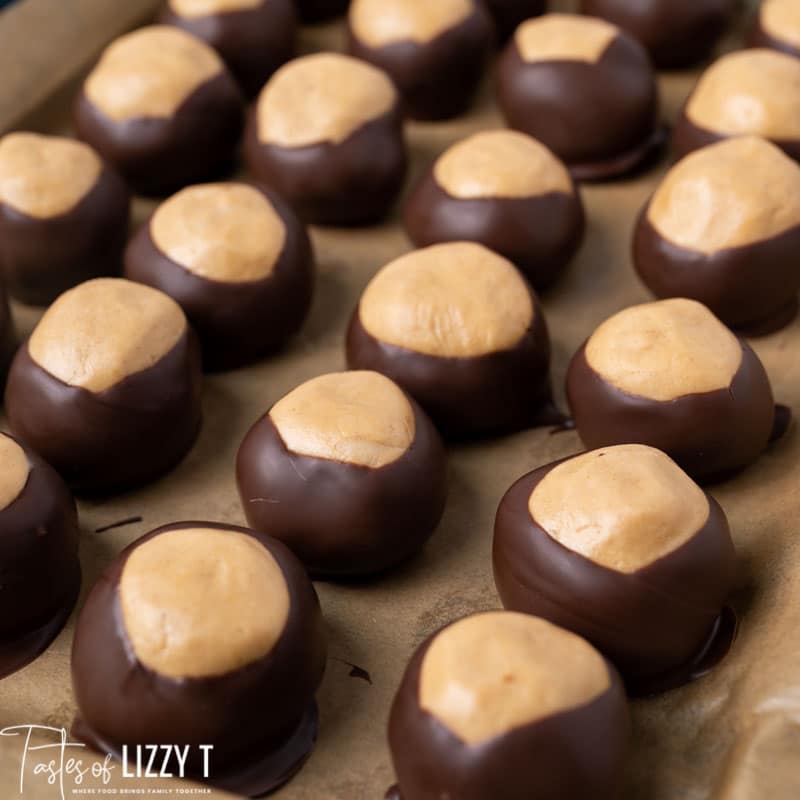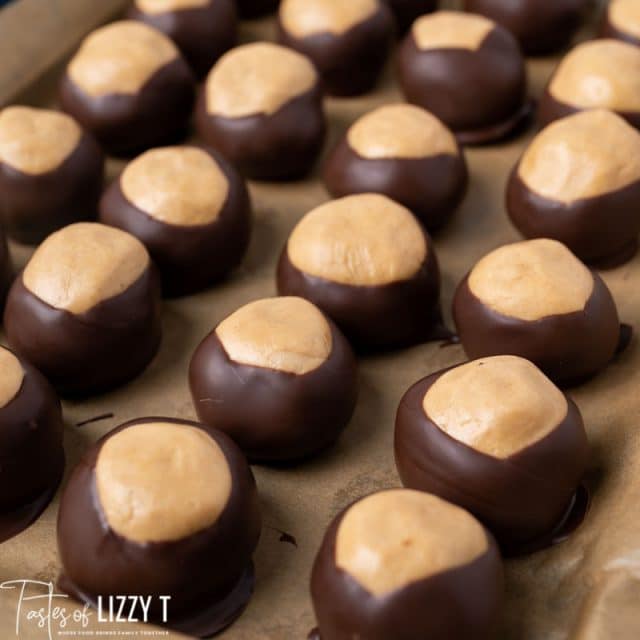 What are buckeyes?
I am a lifelong Ohioan. And although many people may call these chocolate peanut butter balls, to us, they are Buckeyes! Buckeye candies are peanut butter balls partially dipped in chocolate so that they look like buckeyes. And this one has a cookie dough surprise.
Tips for making Cookie Dough Buckeyes:
Before you start, you should bake the flour for five minutes at 350º Fahrenheit. Spread it out on a parchment paper lined baking sheet and watch to make sure it doesn't burn.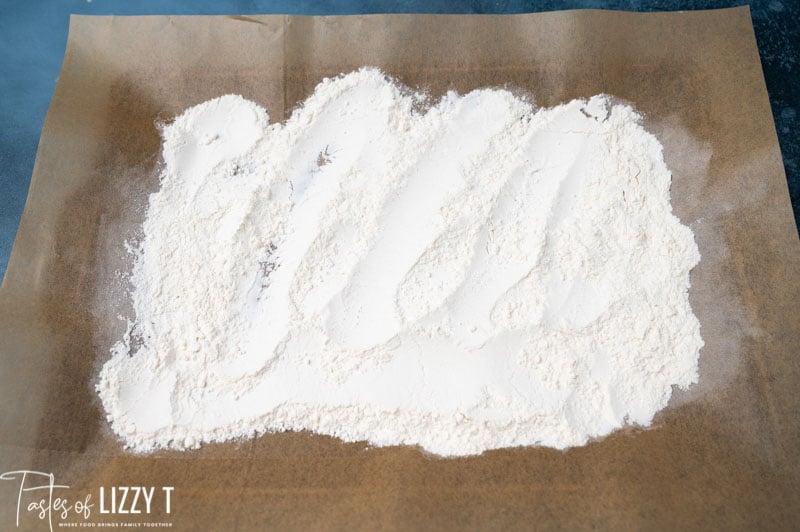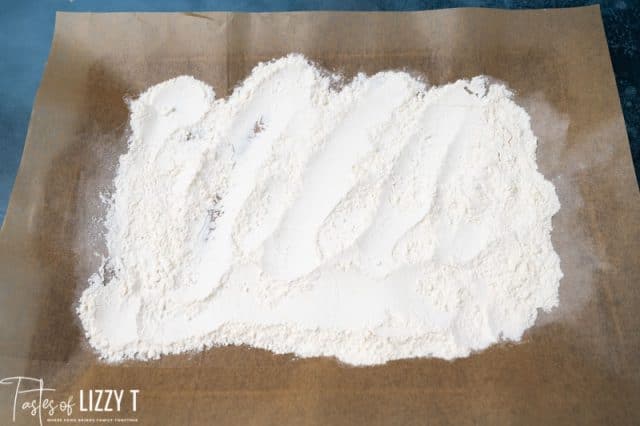 Make the cookie dough first. After you make the cookie dough, roll it into ½ inch balls and freeze the dough balls for about 30 minutes. This will allow them to harden and make them easier to cover and dip later on.
While the cookie dough balls are in the freezer, you can whip up your peanut butter mixture. If the batter is too sticky, add more powdered sugar. If it is too dry, add a touch more peanut butter.
Remove the cookie dough balls out of the freezer. Take about 2 tablespoons of peanut butter filling and flatten it in your palms, then place a cookie dough ball in the middle. Wrap the peanut butter mixture around the cookie dough ball, creating a 1 to 1 ½ inch ball . Freeze them again. I know…so much waiting.  Trust me. You will thank me later. 
Next is melting the chocolate. We buy Ghirardelli chocolate melting wafers that melt beautifully and easily in the microwave in a glass bowl. Melt it very slowly so that the chocolate doesn't scorch. You can use chocolate chips, but they don't melt as easily and may be very thick. If your chocolate is too thick, use a touch of shortening to thin it out.  Start with just a tablespoon of shortening and add more as needed until the chocolate is thin enough to easily coat the peanut butter balls.
When you are ready to start dipping, stab a peanut butter ball with a fork, toothpick or a dipping tool into the very top (not all the way through!!!) and dip it in the chocolate until the bottom and sides are covered. Let the chocolate drip off the peanut butter ball, then set it on a cookie sheet covered in parchment paper. Take the fork out of the buckeye and hide the fork marks by smoothing the peanut butter with your finger.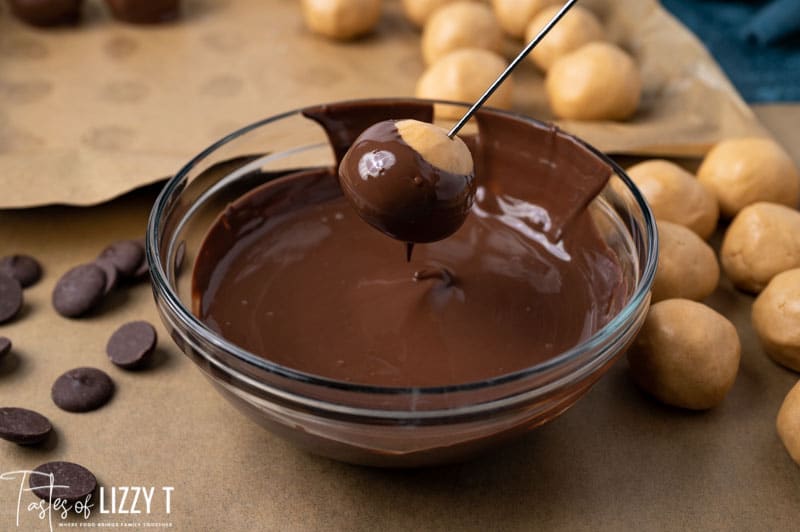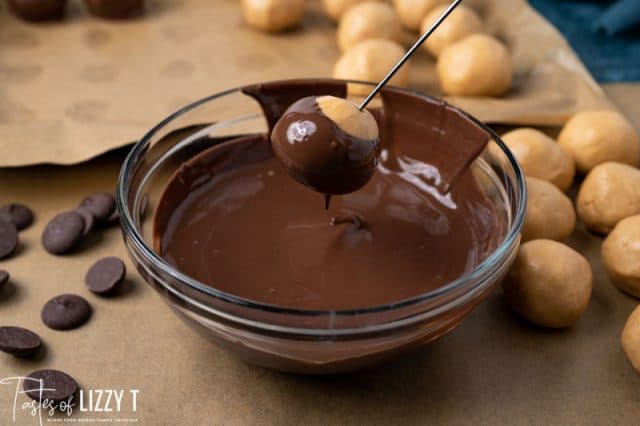 Allow the chocolate to set completely and your cookie dough buckeyes are ready to eat!
In our cookie dough mixture, we put mini chocolate chips inside. Get creative with this! You can add in whatever you want- mini Reese's pieces, mini M&M's, whatever you'd like!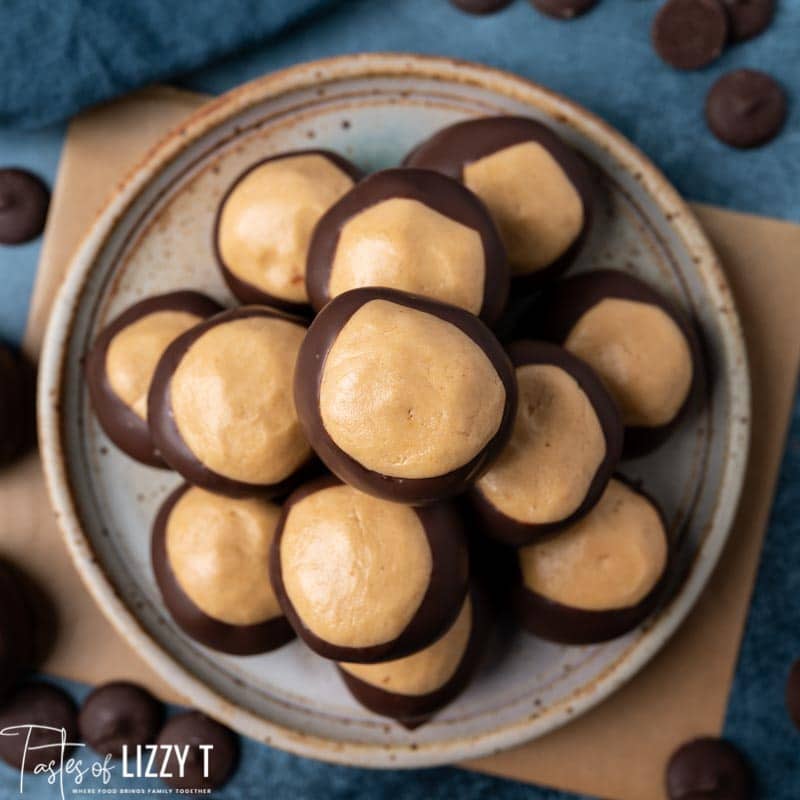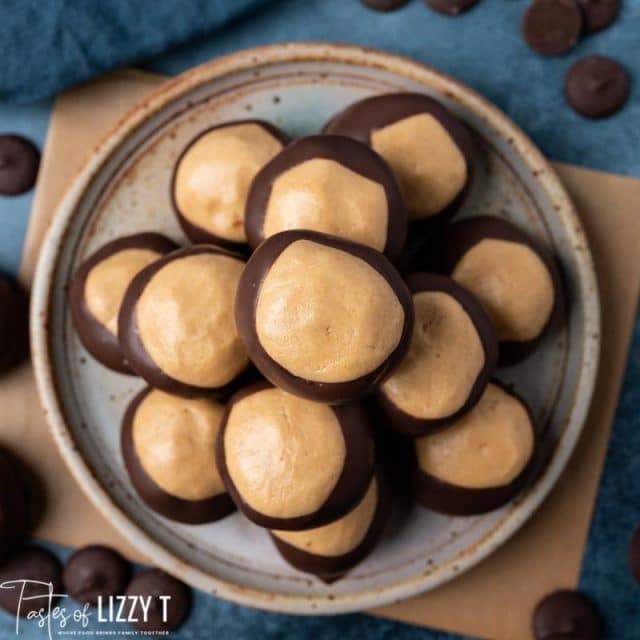 How to Store Buckeyes
These candies are safe to store at room temperature for up to a week in an airtight container. You can also store them in the refrigerator. If you freeze them, the chocolate may crack.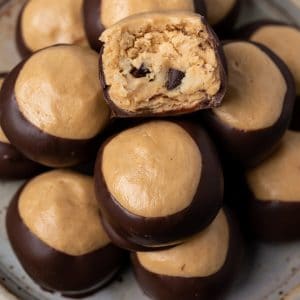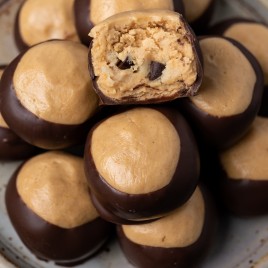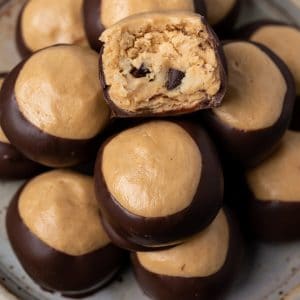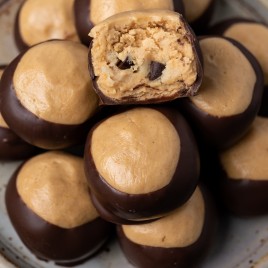 Cookie Dough Buckeyes
There's a cookie dough surprise inside these chocolate and peanut butter Buckeyes!
---
Ingredients
Cookie dough:
1/4

cup

butter

softened

2

tablespoons

white sugar

1/4

cup

brown sugar

1/4

teaspoon

vanilla

2

tablespoons

milk

3/4

cup

all-purpose flour**

1/4

cup

mini chocolate chips
Peanut Butter Filling:
1 1/2

cups

creamy peanut butter

1/2

cup

salted butter

softened

1

teaspoon

vanilla extract

1/2

teaspoon

salt

3

cups

powdered sugar

16

ounces

Ghirardelli Chocolate Melting Wafers
Instructions
**Before you start, you should bake the flour for five minutes at 350º Fahrenheit to kill any bacteria. Line a baking sheet with parchment paper and spread out the flour. Bake, making sure the flour doesn't brown.

In a small bowl, mix the ingredients for the cookie dough together until well combined. Roll into 20-25 balls about ½ inch in diameter. Place them on a pan covered with parchment paper and place them in the freezer.

In a stand mixer bowl, combine the peanut butter, butter, vanilla and salt. Mix until well combined. Add in 2 ½ to 3 cups of powdered sugar and beat well.

Take about 2 tablespoons of peanut butter filling in your hand and flatten it in your palms.

Place one of the frozen cookie dough balls in the center of the peanut butter and then cover the cookie dough with peanut butter, shaping it into a ball. Do this for the rest of the cookie dough balls.

Place the peanut butter covered balls (buckeyes) on a cookie sheet covered in parchment paper and freeze them for 30 minutes.

Place the melting wafers in a glass bowl and microwave for one minute. Stir, then microwave again in 20 second intervals, stirring between each interval until the chocolate is smooth.

Stick a fork, toothpick or dipping tool into the top of the frozen buckeye. Dip it into the chocolate, covering about 2/3 of the buckeye. Let the excess chocolate drip off and then place the ball back on the parchment paper to allow the chocolate to set.

Repeat with the remaining buckeyes.

Once the chocolate on the buckeyes is set, use your finger to smooth the peanut butter on the top of the buckeye to "erase" the fork holes.

Store at room temperature or in the refrigerator in an airtight container.
Notes
The calories shown are based on the recipe making 25 candies, with 1 serving being 1 buckeye. Since different brands of ingredients have different nutritional information, the calories shown are just an estimate. **We are not dietitians and recommend you seek a nutritionist for exact nutritional information.**
Nutrition
Calories:
311
kcal
|
Carbohydrates:
31
g
|
Protein:
5
g
|
Fat:
19
g
|
Saturated Fat:
8
g
|
Cholesterol:
15
mg
|
Sodium:
172
mg
|
Potassium:
192
mg
|
Fiber:
2
g
|
Sugar:
24
g
|
Vitamin A:
175
IU
|
Calcium:
22
mg
|
Iron:
1.4
mg