This chocolate dipped gingerbread cookies recipe is our go-to favorite for gingerbread cut-out cookies and gingerbread houses.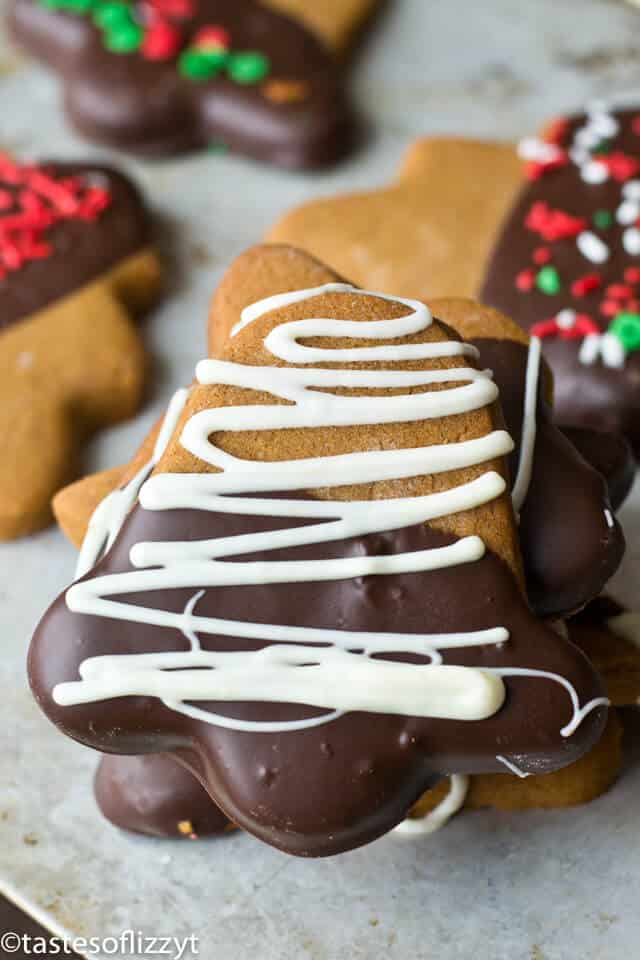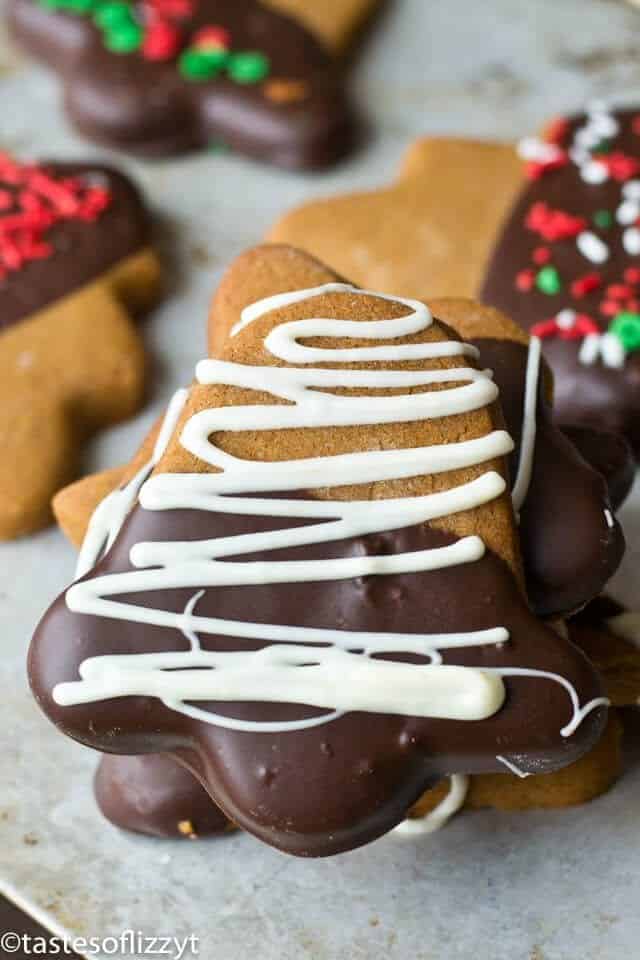 Chocolate Dipped Gingerbread Cookies
Chocolate goes with anything.
Isn't that statement true? You can pretty much put chocolate in anything and it won't taste that bad. Chocolate just makes everything better.
Well, I'm not here to talk about chocolate today, but you will notice that chocolate is a big part of what I like about gingerbread cookies.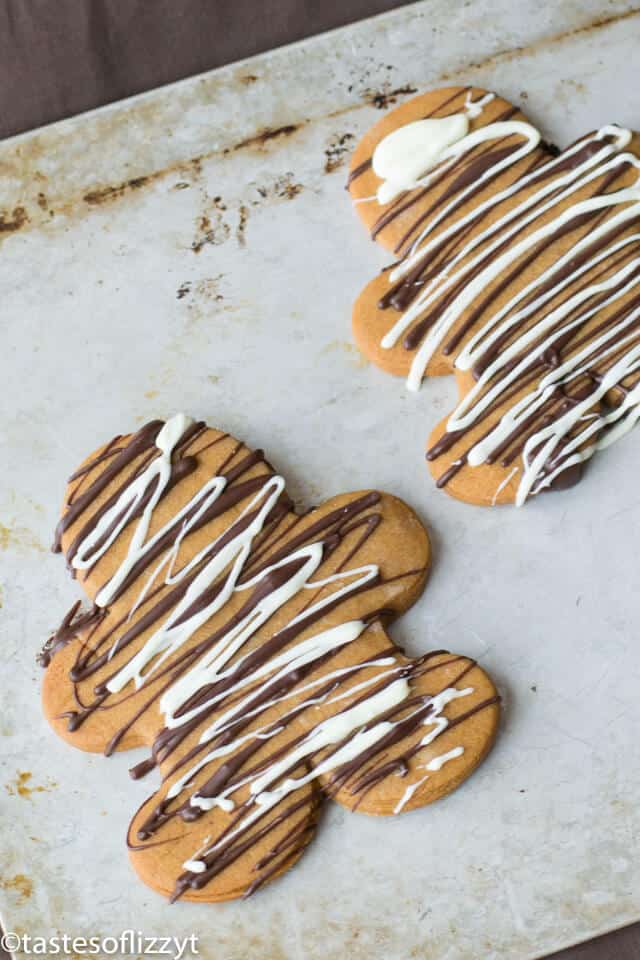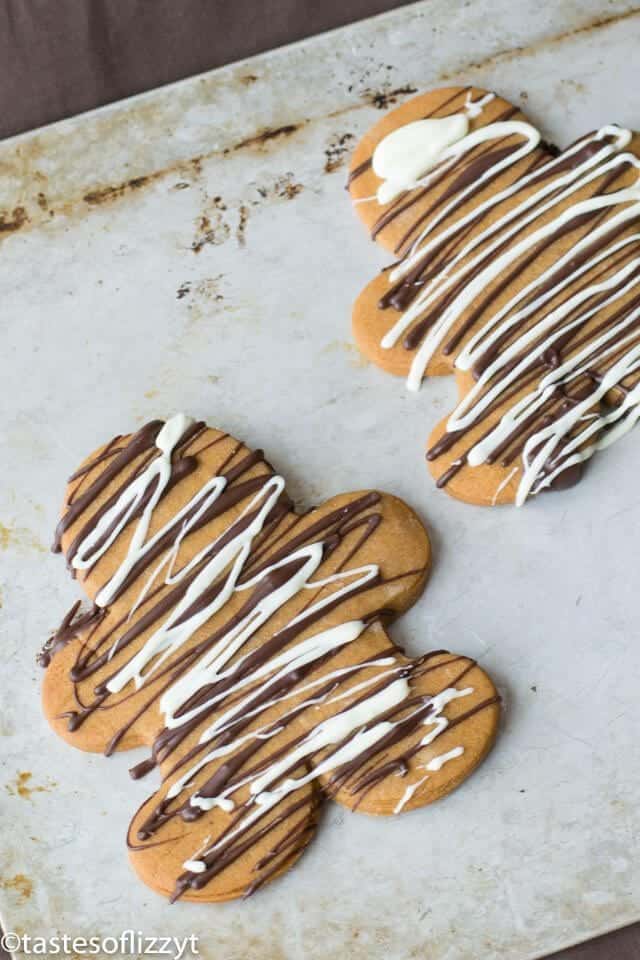 Lots of people have trouble putting their gingerbread houses together, and even more trouble keeping their houses together for more than 2 hours. Some people have resorted to lots of things-melted sugar, really gooey icing, and maybe even hot glue (yuck!).
My family and our friends have done gingerbread houses for 7-ish years and have tried all these things. Who would have known that chocolate was good for keeping collapsing houses together? Like I told you, chocolate is good for everything. And your gingerbread is still really good to eat-maybe even better! That's where we got the idea of chocolate dipped gingerbread cookies.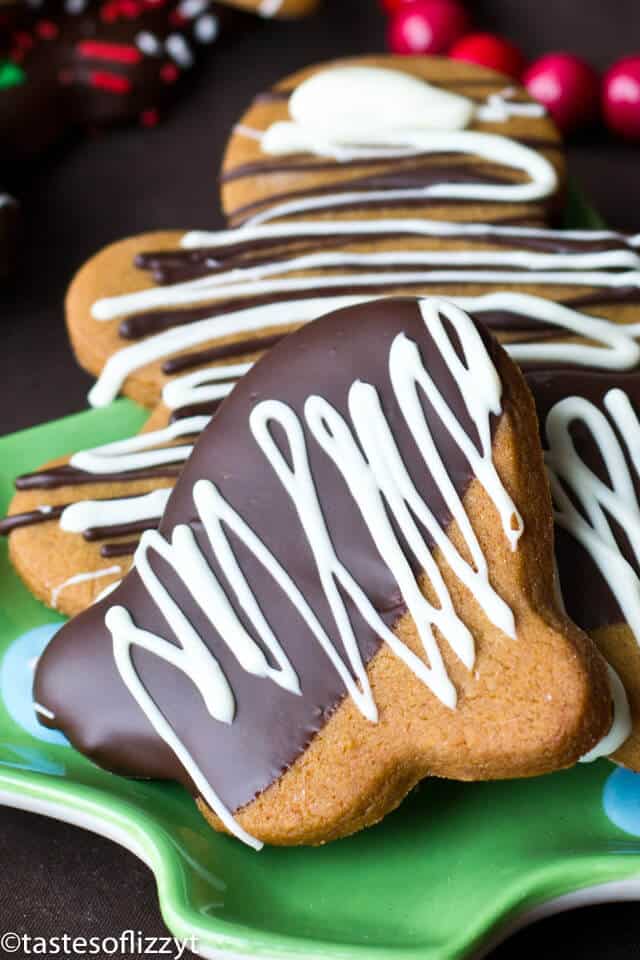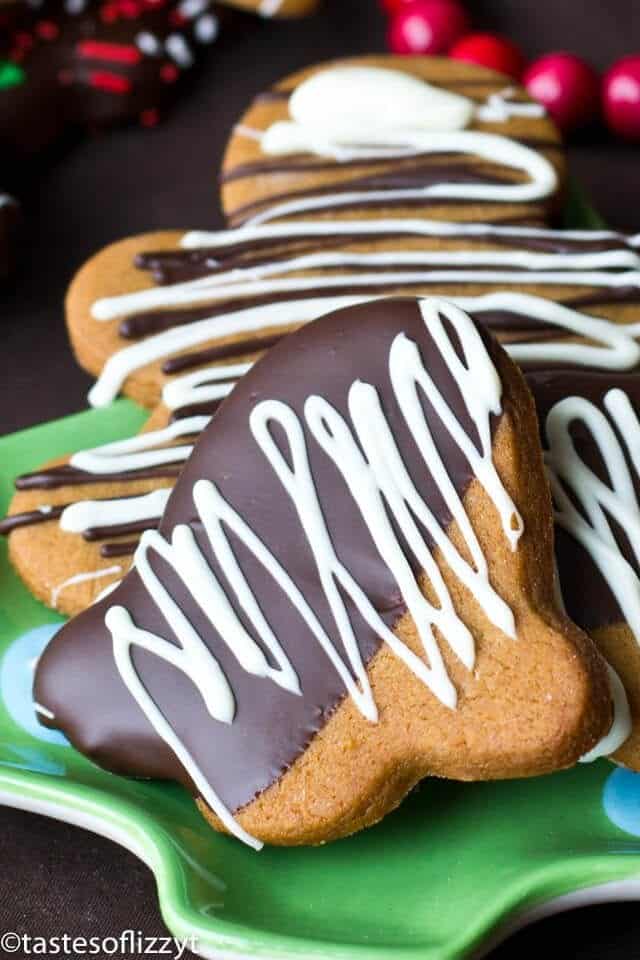 At first, I thought it was a little weird putting chocolate and gingerbread together. Of course, I always think that new things are a little strange. I'm just not very brave with my foods. When I tried it, though, of course I loved it!
Gingerbread is so fun to make. I love every part of it-mixing the molasses and sugar over the stove, pouring it into the other ingredients, and mixing it up into the dough. I love rolling out the dough, and my sister and I think of the most strategic ways to save room on the board to cut one more cookie before popping in the oven. Then when they come out and off the pan, the warm, gingery smell flows throughout the whole house. You end up with the whole house smelling like Christmas.
You can dip these treats in chocolate, or you can decorate all of them with your favorite icing, and throw a few M&Ms on there. Once our dog Josie ate part of our newly decorated gingerbread house- I've never seen her stomach so big before! I love making memories during Christmas time, but not that type of memory!
This recipe makes one gingerbread house, or several dozen gingerbread cookies, depending on the size of your cookie cutters.
Chocolate Dipped Gingerbread Cookies
This gingerbread cookie recipe is our go-to favorite for gingerbread cut-out cookies and gingerbread houses. And it fantastic dipped in chocolate!
Ingredients
5

cups

all-purpose flour

1

teaspoon

baking soda

1

teaspoon

nutmeg

1

teaspoon

salt

3

teaspoons

powdered ginger

1

cup

granulated sugar

1

cup

shortening

1

cup

unsulphured molasses

1

bag

semi-sweet chocolate chips

if desired

1/2

cup

white chocolate chips

if desired
Instructions
Melt the shortening in the saucepan.

Add the sugar and molasses and mix well. Make sure the sugar is fully dissolved.

Sift the flour, baking soda, nutmeg, salt and ginger together in a large mixing bowl.

Slowly pour the melted shortening mixture into the flour mixture, stirring constantly using a large spoon. Mix thoroughly. Use your hands to mix the last bit of flour in if necessary.

After it is thoroughly mixed, roll out the dough to about a 1/4 inch thickness directly on an ungreased cookie sheet. Use cookie cutters to cut gingerbread men, Christmas shapes, or make a gingerbread house. Remove the excess cookie dough and put it back in the bowl. Do not move the shapes after you cut them or it will cause them to be misshapen.

If the dough gets too hard to reroll, place the bowl in the microwave for 15-30 seconds, or until the dough becomes soft and warm again.

Bake at 375 degrees for 12-13 minutes. Allow the cookies to cool on the baking sheet for 5 minutes, then move them to a flat surface to cool completely.


If desired, melt the semi-sweet chocolate in a double boiler or in the microwave. Dip each cooled cookie partially into the melted chocolate and place it on a piece of waxed paper. Sprinkle immediately with Christmas themed sprinkles, if desired.

Allow the chocolate to set, then store the cookies in an airtight container.
Notes
The calories shown are based on the recipe making 36 cookies, with 1 serving being 1 cookie. Since different brands of ingredients have different nutritional information, the calories shown are just an estimate.
Nutrition
Serving:
38
g
|
Calories:
231
kcal
|
Carbohydrates:
32
g
|
Protein:
2
g
|
Fat:
10
g
|
Saturated Fat:
4
g
|
Cholesterol:
1
mg
|
Sodium:
102
mg
|
Potassium:
218
mg
|
Fiber:
1
g
|
Sugar:
17
g
|
Vitamin A:
5
IU
|
Calcium:
33
mg
|
Iron:
1.9
mg