A lightly sweetened coconut cup holds a deliciously tropical Banana cheesecake. These Mini Banana Coconut Cheesecakes will feel like a vacation!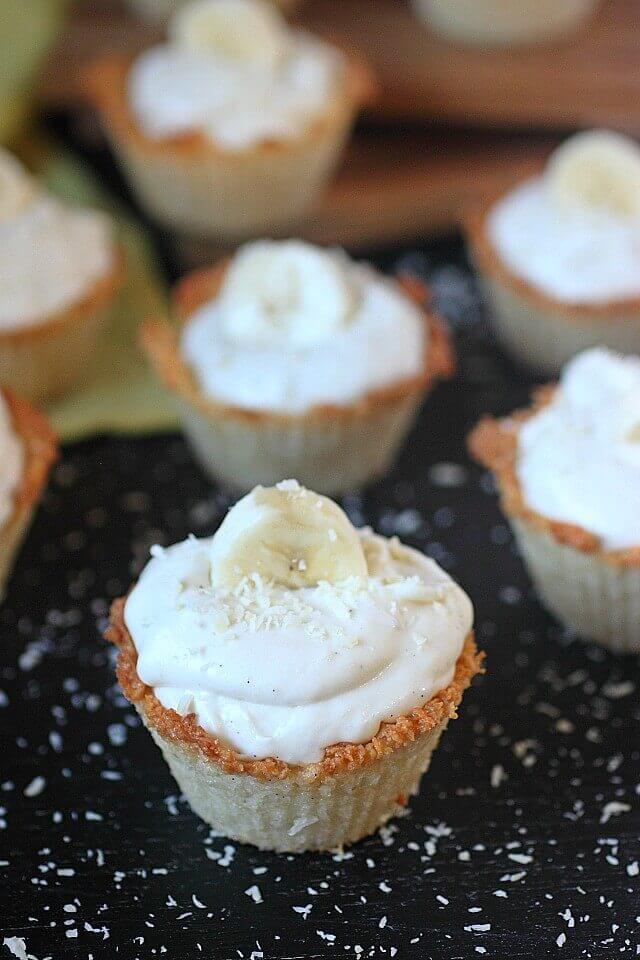 I get antsy right around the middle of March. Somewhere between Daylight Savings time when the days are longer and before the trees begun to bud, I start to dream of warmer days. Warm summer days. I begin to day dream of tropical faraway places. Places with palm trees and a cool ocean breeze. I daydream of frozen frothy drinks and calypso music for some reason.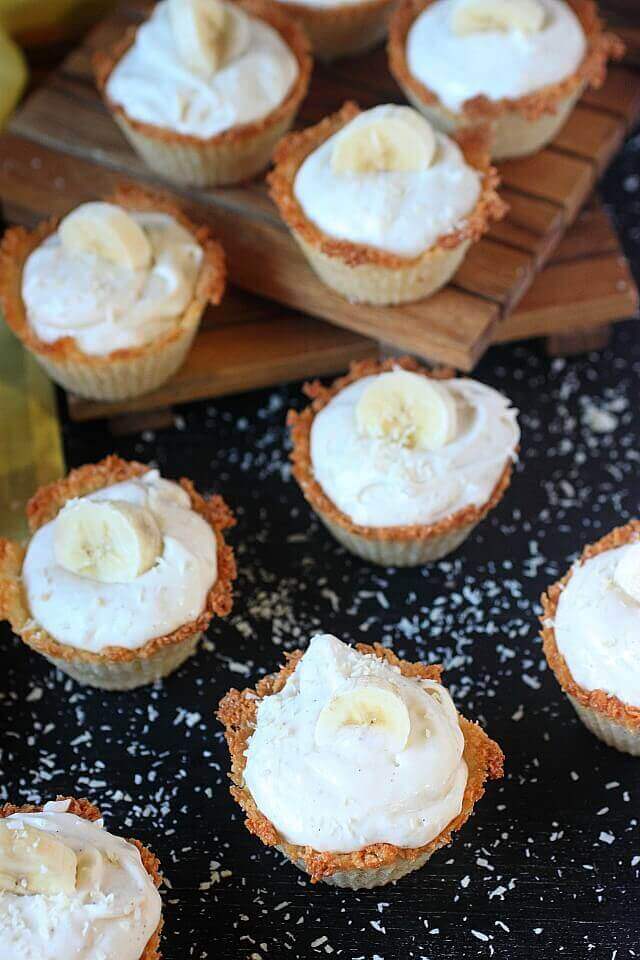 My brain is on vacation. At least until we can agree on a vacation spot this year. A spot with cool ocean breeze and slow moving palm trees. In the meantime, I'll just enjoy these Mini Banana Coconut Cheesecakes.
Now flow with me, let's talk about these tropical beauties.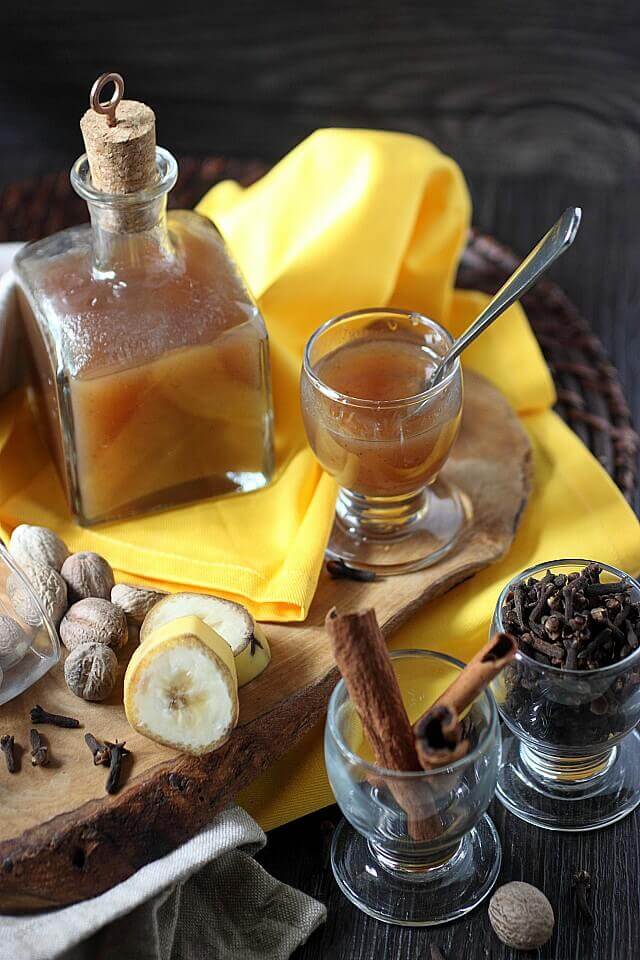 You start with a lightly sweetened coconut cup. Unsweetened coconut, sugar, and vanilla bean paste are mixed and bound with egg whites. The coconut mixture is then pressed into silicone cupcake molds and baked until they achieve a nice golden color. The coconut cools and easily pops out of the silicone molds.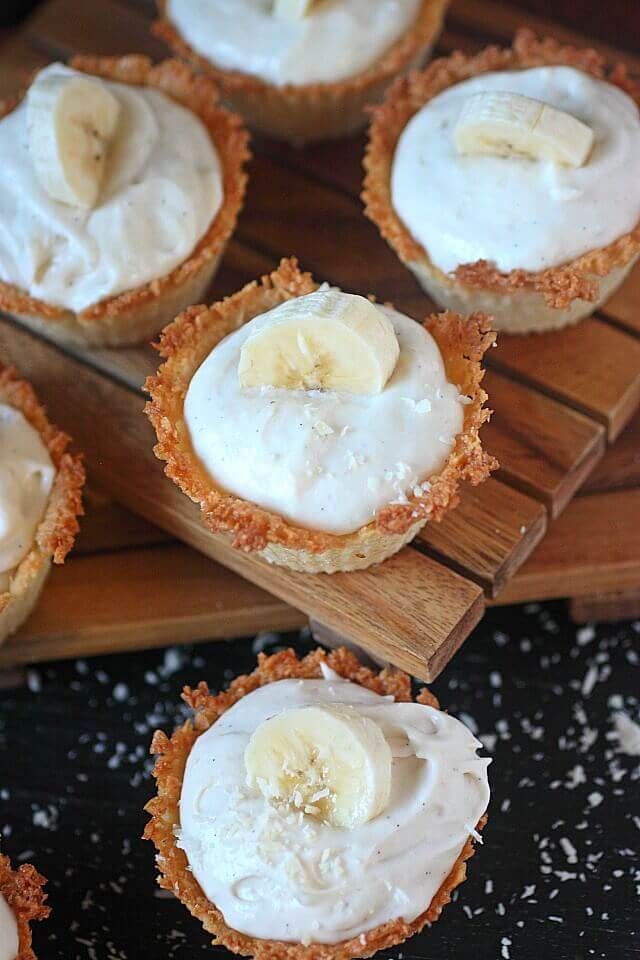 Then we get started on the banana cheesecake. This cheesecake comes together in less than 5 minutes. Cream cheese, a ripe banana, and confectioners' sugar are mixed together. I make a homemade crème de banana liqueur which I use to flavor my banana desserts. It's easy to make, as easy as making vanilla extract.
The banana cheesecake is spooned into the baked coconut cups. There's loads of banana cheesecake to go around, so you can be super generous with it. Top it with banana slices. These Mini Banana Coconut Cheesecakes are more than enough to enjoy solo. Now, if you're working on that bikini body, feel free to share. I will be honest with you – You will not want to share. These cheesecakes are bursting with a super tropical banana coconut flavor. It's a vacation without leaving home. I don't know about you, but I could sure use a vacation!
Love these little cheesecakes? Try these recipes, too!
Mini Banana Coconut Cheesecakes
A lightly sweetened coconut cup holds a deliciously tropical Banana cheesecake. These Mini Banana Coconut Cheesecakes will feel like a vacation!
Ingredients
For the coconut cups:
2

cups

Unsweetened shredded coconut

1/4

cup

Granulated sugar

1/2

teaspoon

Vanilla extract

2

large

Egg whites
For the banana cheesecake:
8

ounces

Full fat cream cheese

1

Ripe banana

mashed

1 ¾

cups

Confectioners sugar

2

tablespoons

Banana Liqueur

1

Tablespoon

Vanilla extract

1

cup

Heavy cream

cold
Instructions
Make the coconut cups:
Preheat the oven to 300 degrees F and have 12 silicon cupcake molds ready.

What you're looking for is a ground coconut consistency, so if you have large coconut shreds place the shreds in a food processor and pulse until your coconut is sufficiently ground. Measure out 2 cups.

Place the ground coconut in a medium bowl and add the sugar. Mix to combine the sugar and coconut.

Add the vanilla extract, followed by the egg whites.

Mix until the coconut is well moistened. Press the coconut into the silicon molds evenly. I like to start from the bottom and work my way to the sides.

Don't coat the silicon cups too thickly; otherwise your cups won't bake through and will break when you try to pop them out of the molds.

Bake the cups for 25-30 minutes or until the coconut, especially the top is lightly golden. Remove from the oven and allow to cool.

Pop the coconut cups out of the molds and place on top of a sheet of parchment to cool completely.

Makes 12 coconut cups.
Make the Banana Cheesecake:
Add the cream cheese to a bowl of an electric mixer fitted with a whisk attachment. Mix over medium speed for one minute or so until softened. Add the mashed ripe banana and mix until combined.

Stop and scrape the mixer.

Add the confectioners' sugar. Turn the speed to the lowest setting and whisk until the confectioners' sugar is completely incorporated.

Add the banana liqueur, followed by the vanilla extract. Increase the speed to high and whip until light and fluffy, about 3 minutes.

Add the heavy cream in three parts, allowing the mixture to thicken between each addition. Mix for about 20 more seconds. Stop and remove bowl from mixer. Place in the refrigerator to chill until ready to use.

Spoon or pipe the banana cheesecake in the cooled coconut cups. Place in the refrigerator until ready to serve.
Nutrition
Calories:
211
kcal
|
Carbohydrates:
11
g
|
Protein:
2
g
|
Fat:
17
g
|
Saturated Fat:
13
g
|
Cholesterol:
27
mg
|
Sodium:
22
mg
|
Potassium:
142
mg
|
Fiber:
2
g
|
Sugar:
7
g
|
Vitamin A:
300
IU
|
Vitamin C:
1.2
mg
|
Calcium:
17
mg
|
Iron:
0.5
mg