Whole Wheat Hamburger Buns
Homemade Whole Wheat Hamburger Buns are perfect for the grilling season. They are so much better and healthier than store bought!

The weather is hot and grilling is everyone's favorite activity these days. We actually bought a new grill last week and I am so excited to use it. Earlier we had this super small grill which we used for exactly 2 days last year. I guess it was just too small to even work on, so now we got a bigger one. Even this one isn't huge, but good enough for 2 of us. I am thinking about a lot of grilled desserts and of course some grilled vegetarian burgers. But before I can make the burger, I obviously need burger buns and nothing better than making your own burger buns at home. Bonus if they are healthier like these Whole Wheat Hamburger Buns. They are made with 100% white whole wheat flour, are easy to make and will be great for all your grilling recipes.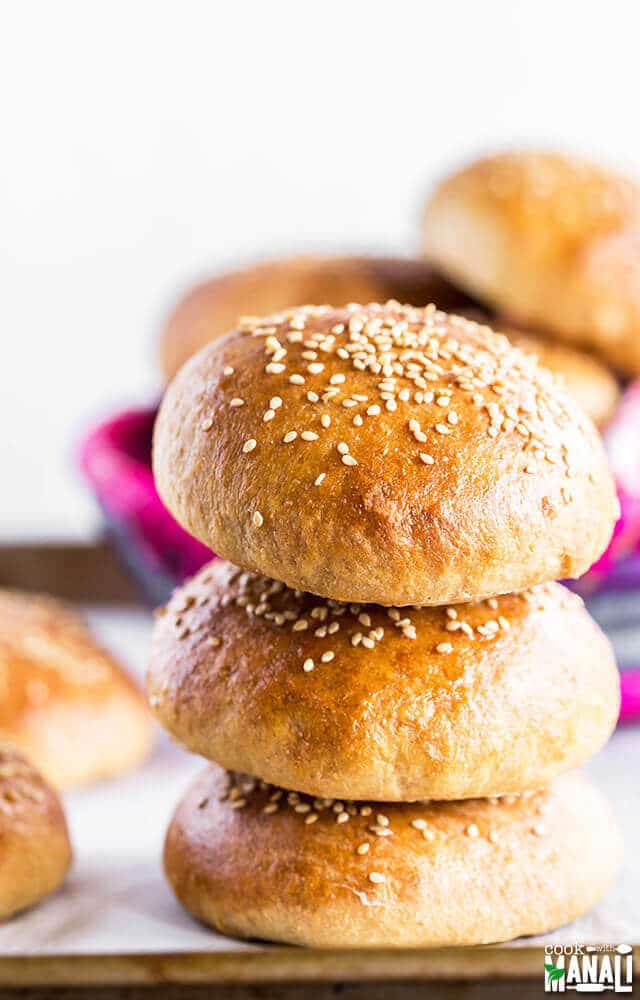 I have been making my own bread for almost 3 years now but still I feel the same butterflies in my stomach when the bread is in the oven as I did when I baked my 1st ever bread. You know there's something magical about the art of bread making, it's amazing how the yeast works and every time I work with it, I cannot help but be amazed by the whole process. Baking whole wheat hamburger buns or any bread at home is easy if you know how to work with yeast. My experience tells me that 2 things are super important when you are working with yeast – 1. a good quality yeast, this is a must. More often than not the recipe doesn't work because you didn't use a good quality yeast and 2. the right temperature for the yeast to activate. The yeast will not activate/work if the temperature of the liquid is too hot or too cold. It should be warm, around 115 F degrees. Obviously, the best way to do this is through a kitchen thermometer but it's fine if you don't have that. Just touch the water/milk with your finger tips, if you have to remove it immediately, the temperature is too high. It should be just warm enough.
Trust me, once you make homemade hamburger buns at home you would never want to buy it from the stores. These whole wheat hamburger buns taste amazing with honey or jam and are perfect for all your burger recipes. The buns are obviously not as light as regular buns since this is 100% whole wheat but they have a great nutty taste, which I really liked. Hope you guys give this recipe a try!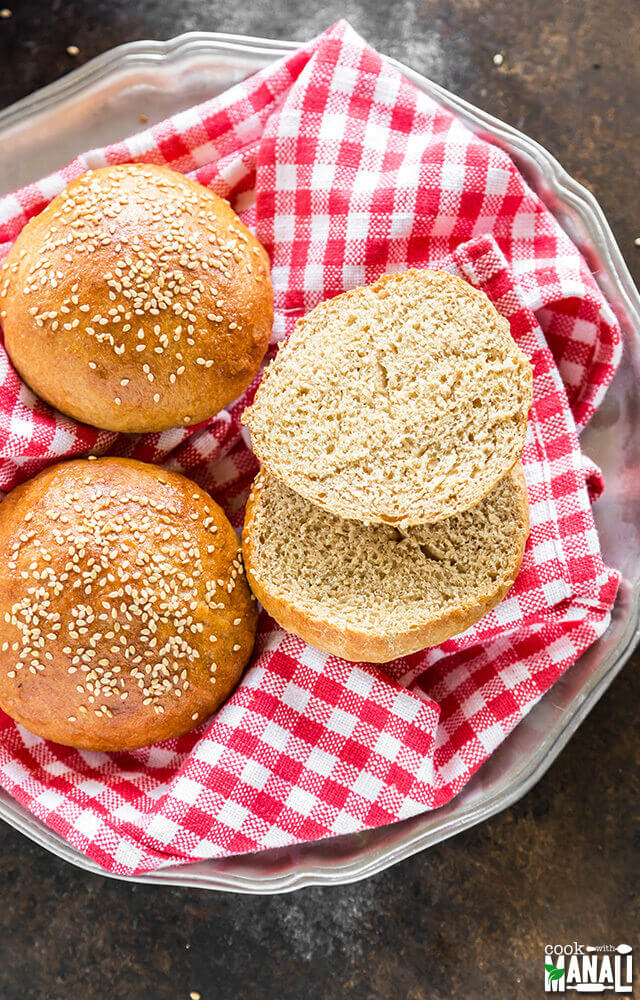 * You may or may not need all the flour. Stop when the dough pulls away from the sides of the bowl. I did not use the entire 3.5 cups.
You may also love our sourdough buns recipe.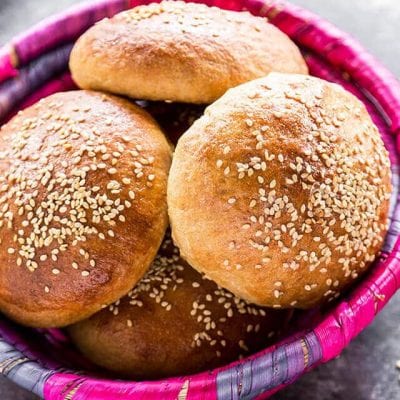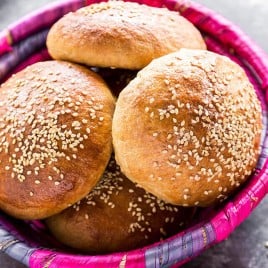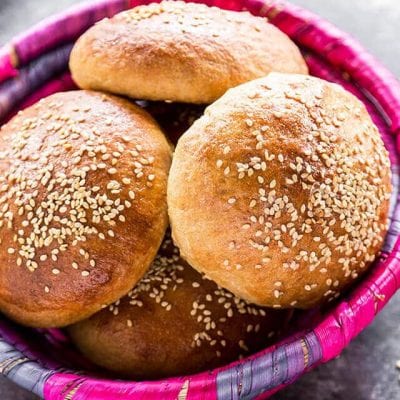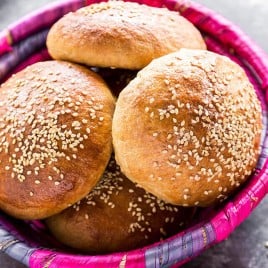 Homemade Whole Wheat Hamburger Buns
Homemade Whole Wheat Hamburger Buns are perfect for the grilling season. They are so much better and healthier than store bought!
Total Time
2

hours
55

minutes
---
Ingredients
3 1/2

cups

white whole wheat flour

I used less than 3.5 cups, around 3.25 cups + 1-2 tablespoon

2 1/2

teaspoons

instant yeast

1 1/2

teaspoon

salt

1 1/4

cup

warm water

3

tablespoons

honey

3

tablespoons

vegetable oil

1

large egg

room temperature
Topping
1

egg

1

tablespoon

water

2

tablespoons

sesame seeds
Instructions
In the steel bowl of your stand mixer , mix together 3 cups white whole wheat flour, salt, and instant yeast. Set aside.

In a pan warm together water and honey.

Let the mixture cool down a bit for 6-7 minutes or till it reaches around 120-125 F degrees.

Add the cooled water-honey mixture now to the flour mixture and mix.

Add the whisked egg, oil and mix.

Start adding the remaining flour little by little, ¼ cup at a time. Stop adding the flour, when the dough just starts coming together from the sides. You may nor may not need all the flour. Do not add more flour than required. The dough will be little sticky and shaggy. That is okay.

Knead on medium-low speed for around 10 minutes using the dough hook attachment of your stand mixer.

The dough will be smooth and little sticky but after you have kneaded it well, it will spring back back if you poke it.

Transfer this dough to a oiled bowl, cover with a kitchen towel and keep at a warm place for 1-2 hours or until double in size. If it's really cold when you are making these buns, preheat oven to 200 F degrees and then switch if off. Place the dough inside the oven (with the oven being off) and let it rise there

After the dough has risen, punch it down to release the air.

Divide it into 8 equal portions. You can use a kitchen scale to make sure all dough balls are equal. Roll each dough portion into a ball and place on baking sheet , around 3 inches apart.

Cover with a kitchen towel and let them rise for an hour or till almost doubled in size. Meanwhile preheat oven to 400 F degrees.

In a small bowl, whisk together the egg and tablespoon water for the topping. Once the dough balls have risen, brush each with egg wash mixture, then sprinkle sesame seeds on top.

Bake at 400 F degrees for 10-12 minutes, rotating once in the middle. The tops of the buns will appear golden brown when done.

Remove from oven, brush them immediately with melted butter. Transfer onto a wire rack to cool completely.
Nutrition
Calories:
283
kcal
|
Carbohydrates:
45
g
|
Protein:
10
g
|
Fat:
8
g
|
Saturated Fat:
4
g
|
Cholesterol:
40
mg
|
Sodium:
454
mg
|
Potassium:
118
mg
|
Fiber:
6
g
|
Sugar:
6
g
|
Vitamin A:
60
IU
|
Calcium:
61
mg
|
Iron:
1.8
mg