No sugar added! Make up a bulk mix of this healthy Homemade Taco Seasoning for an easy mexican dinner and great taco flavor.
If there was a list of things that you should know about me and food, the first thing on the list would be that I REALLY LOVE peanut butter and chocolate.
But right next to it would be that I LOVE tacos. They are one of my favorite meals. I'll take taco flavor any way I can get it, whether in corn casserole, taco pizza or taco dip.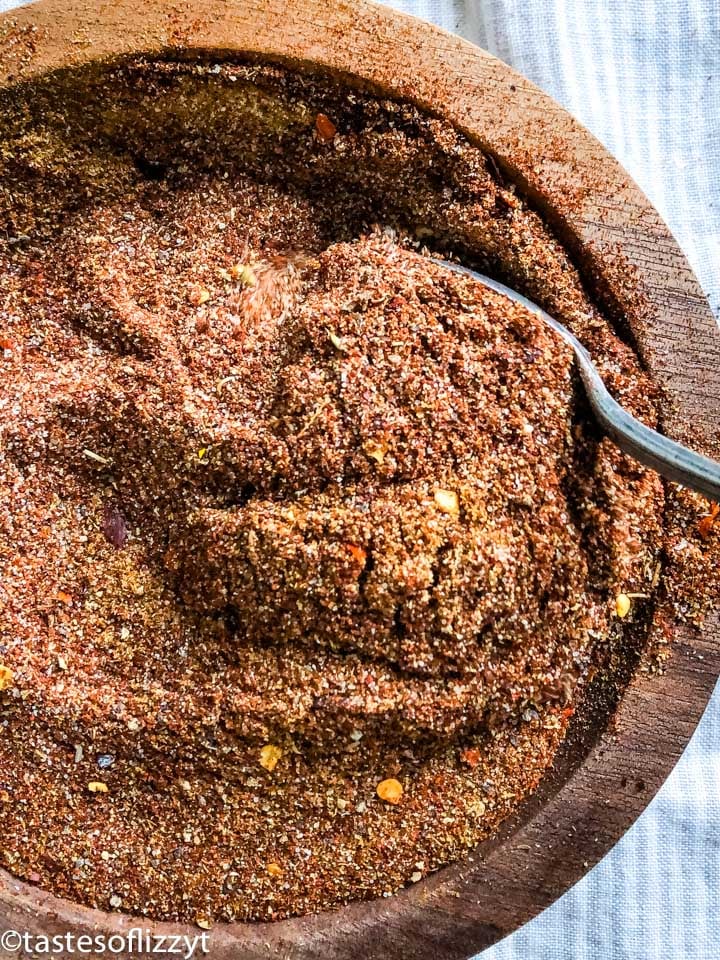 There was actually a time when I didn't love tacos. It was just something about the flavor I didn't like. Then I realized it was the store bought seasoning mixes. They were just too….something. I could not put my finger on it, but I didn't love the flavor.
Homemade Taco Seasoning Recipe
Are you wanting something more than just a little packet from the store, but don't want to waste your time on making taco seasoning for just one meal? You can make this Homemade Taco Seasoning easily and you can make a lot of it.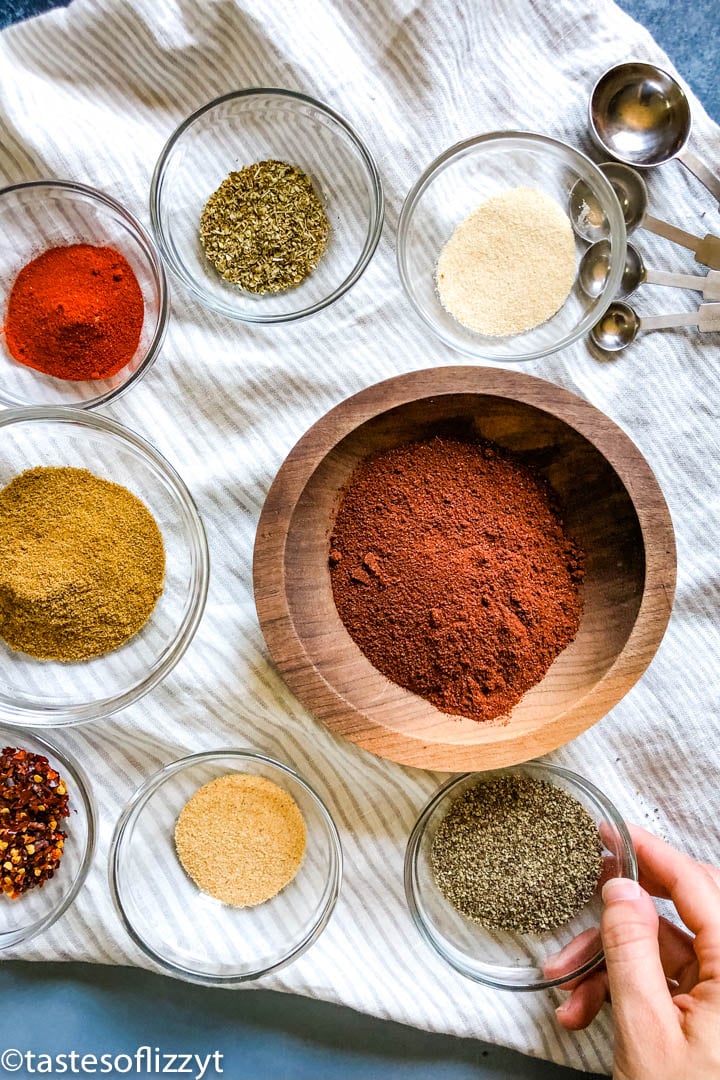 What is taco seasoning made of?
There are nine seasonings in our taco seasoning recipe:
chili powder
ground cumin
sea salt
black pepper
paprika
garlic powder
onion powder
crushed red pepper flakes
dried oregano
Is Taco seasoning sugar free?
Our taco seasoning is sugar free! If you start checking labels, many store bought packets of taco seasoning contain sugar. If you are following a Whole30, Paleo, Keto or Low Carb diet, you'll want to stay away from that added sugar and make your own.
It's easy. Trust me!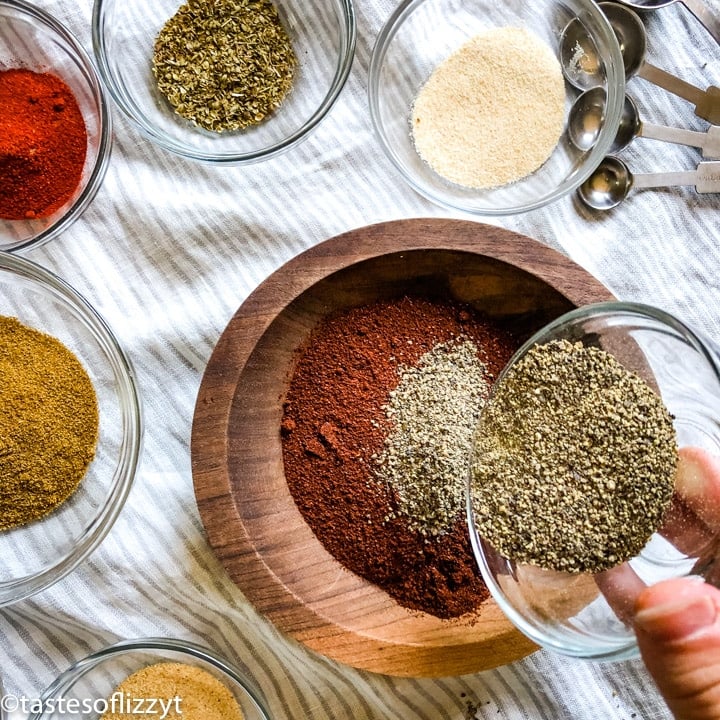 How to Make Taco Seasoning
Simply mix up the ingredients in a bowl and store them in an airtight container.
Really…that's it. Please note that there are a few seasonings that make this spicy such as crushed red pepper flakes, chili powder and black pepper. If you'd like to tone down the spiciness, start with cutting back on the red pepper flakes.
How much taco seasoning do I add to a pound of meat?
Use about 2-3 tablespoons for each pound of ground beef or chicken. Unless you may happen to like really spicy. Then you can add as much seasoning as you want.
Do you add water to taco seasoning?
When we make this recipe, we do not add water to the taco meat. Sometimes store bought packets will call for water. That's because they seasoning packets have a "thickener" in them that makes the taco meat have a thicker sauce. We don't really care for that, so we leave the thickener…and the water…out.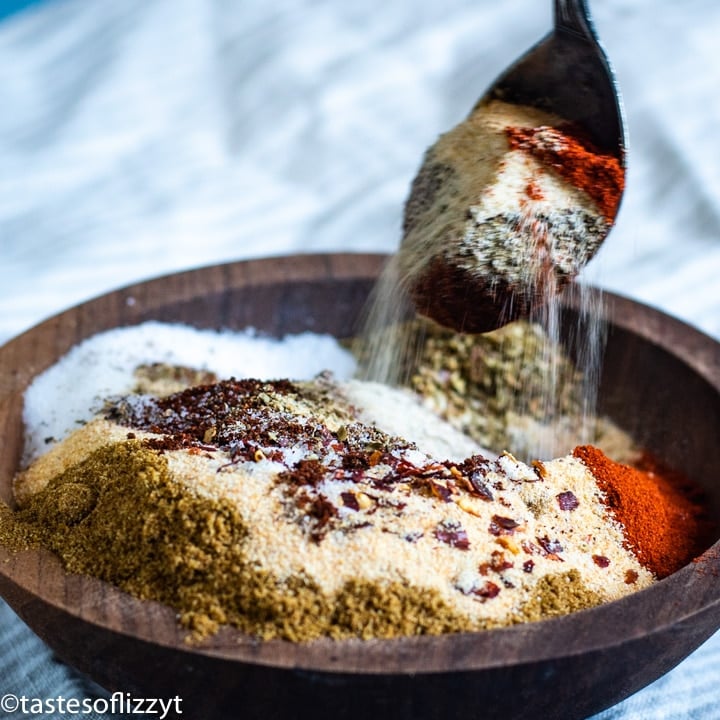 How to Store Taco Seasoning
This recipe makes about 1 ½ cups and can be stored in an airtight container for 6 months.
How to Use Up Leftover Taco Meat
Sometimes when we make tacos, we end up with meat leftover. That's when my family gets creative!
Make Baked Nachos with taco meat and cheese.
Make we make beef, rice and cheese burritos.
If there are no tortillas on hand, throw together some rice, cheese, and taco meat into a bowl and heat it up for lunch.
Make a salad with taco meat and lettuce, then throw some Pico de Gallo on top.
Top pan fried potatoes with taco meat and other taco fixings: Mexican Potatoes!
What is your favorite way to use leftover taco meat?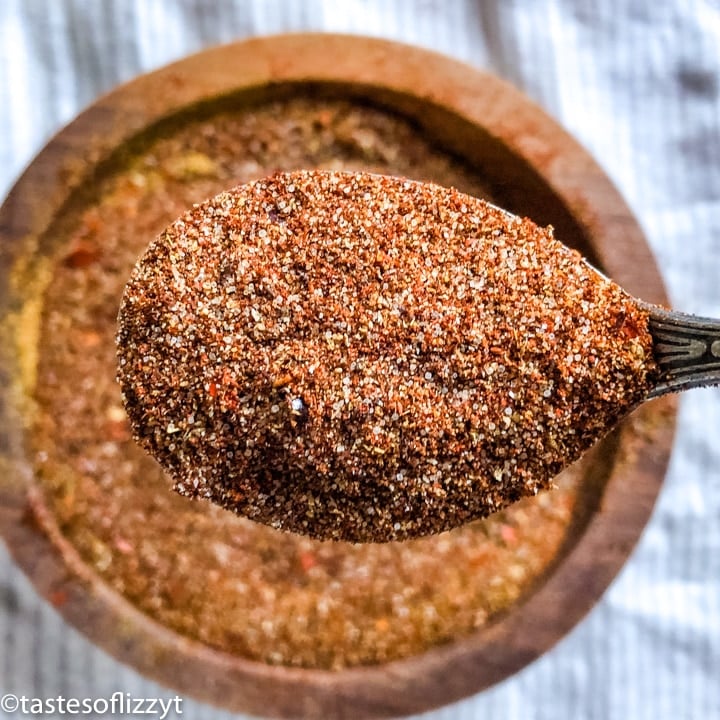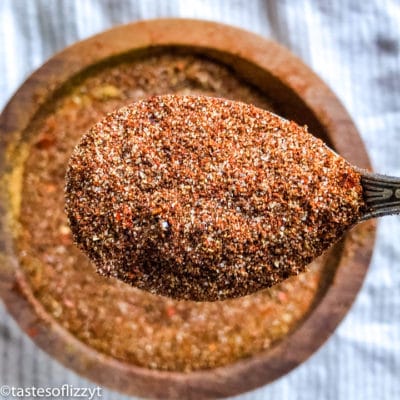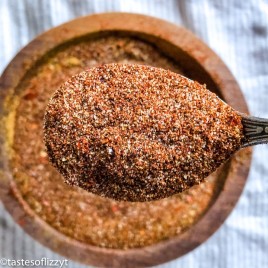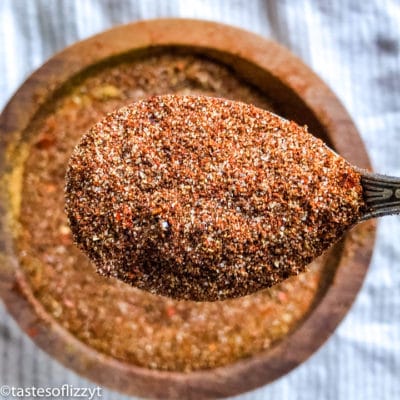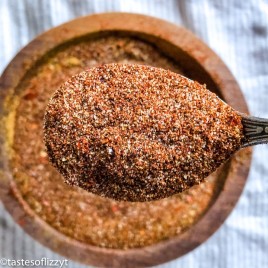 Homemade Taco Seasoning
No sugar added! Make up a bulk mix of this healthy Homemade Taco Seasoning for an easy mexican dinner and great taco flavor.
---
Ingredients
1/2

cup

chili powder

1/4

cup

ground cumin

2 1/2

tablespoons

sea salt

2 1/2

tablespoons

black pepper

1 1/2

tablespoons

paprika

2

teaspoons

garlic powder

2

teaspoons

onion powder

2

teaspoons

crushed red pepper flakes

2

teaspoons

dried oregano
Instructions
Mix all of the ingredients together. Store in an airtight container for up to 6 months.

To make tacos: Brown 1 pound of ground beef in a skillet. Add 3 tablespoons taco seasoning mix to the beef. Simmer for 5 minutes.

Makes a little over 1 cup of seasoning.
Notes
Adjust the red pepper flakes depending on how spicy you like your tacos!
Nutrition
Calories:
16
kcal
|
Carbohydrates:
3
g
|
Sodium:
2909
mg
|
Potassium:
91
mg
|
Fiber:
1
g
|
Vitamin A:
875
IU
|
Vitamin C:
0.2
mg
|
Calcium:
19
mg
|
Iron:
0.7
mg
Adapted from allrecipes.com