Peanut Butter Squares are the classic school lunchroom treat from your childhood. This no-bake dessert has a thick layer of peanut butter topped with a layer of chocolate. 🍫
Table of Contents
Today I have a no-bake recipe for you that was one of my mom's favorite childhood treats. She says Peanut Butter Squares were served in the lunchroom cafeteria several times a week, and she absolutely loved them. Sometimes instead of buying a lunch, she'd use her lunch money to just buy these peanut butter bars instead.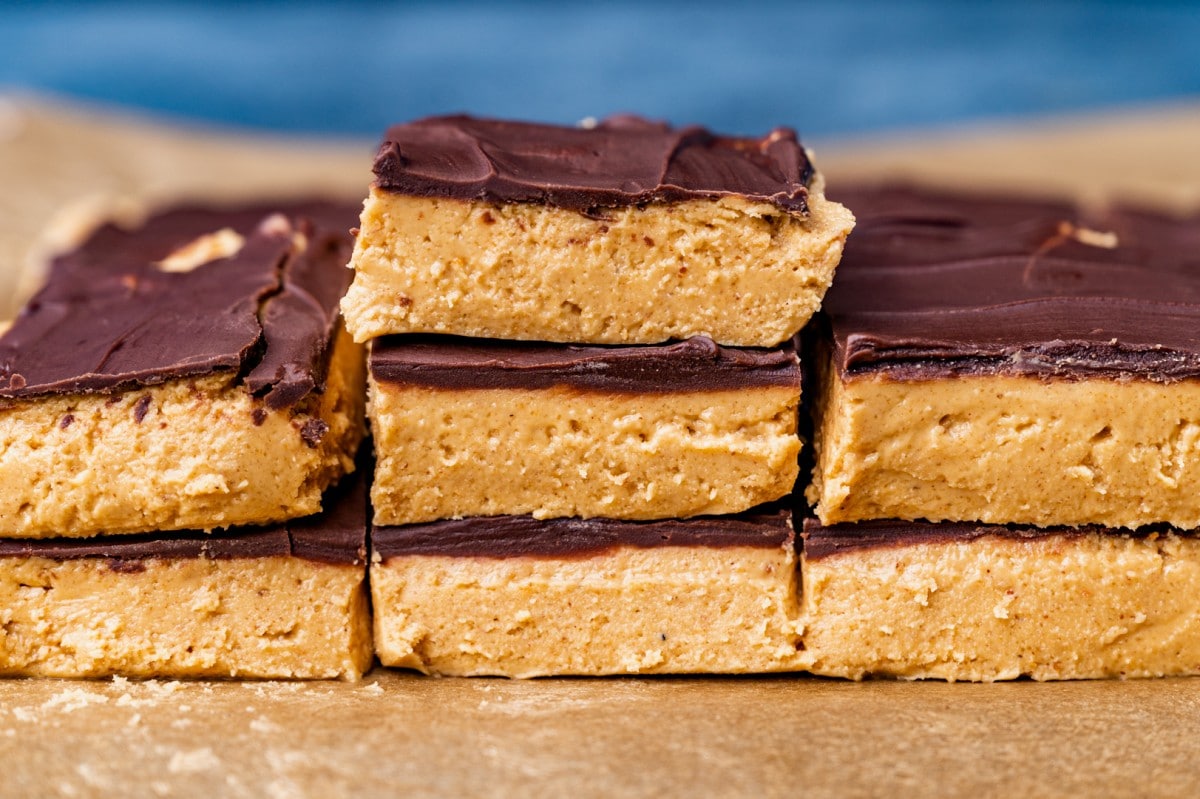 She'd never let me get away with that!
My grandma taught kindergarten at that same school so every now and then she got some to take home to my mom. And then…my grandma got the lunch ladies to give her the recipe. That's what we're sharing with you today.
About Peanut Butter Squares
Flavor: If you love peanut butter balls (AKA Buckeyes), then you'll go crazy for these peanut butter squares. With creamy sweetened peanut butter with chocolate on top, they taste similar to a Reese's peanut butter cup.
Texture: The peanut butter layer is creamy, but not as smooth as buckeye candies. This recipe calls for a touch of brown sugar in the bars which deepens the flavor, but also adds just a little bit of texture to the peanut butter layer. The chocolate on top is just a very light layer, adding a little bit of a light "crust" to the bars.
Are these peanut butter bars easy to make?
When I first tried these no bake bars, they reminded me of the peanut butter balls that my family makes every Christmas season. Peanut butter balls require careful and tedious work, dipping each separate ball into a pool of melted chocolate.
The result is a sugary peanut butter ball coated with milk chocolate that melts in your hand if you hold it too long. It amazed me how easy it was to make these Peanut Butter Squares. They are similar to the peanut butter balls that I love so much and are so much easier to make.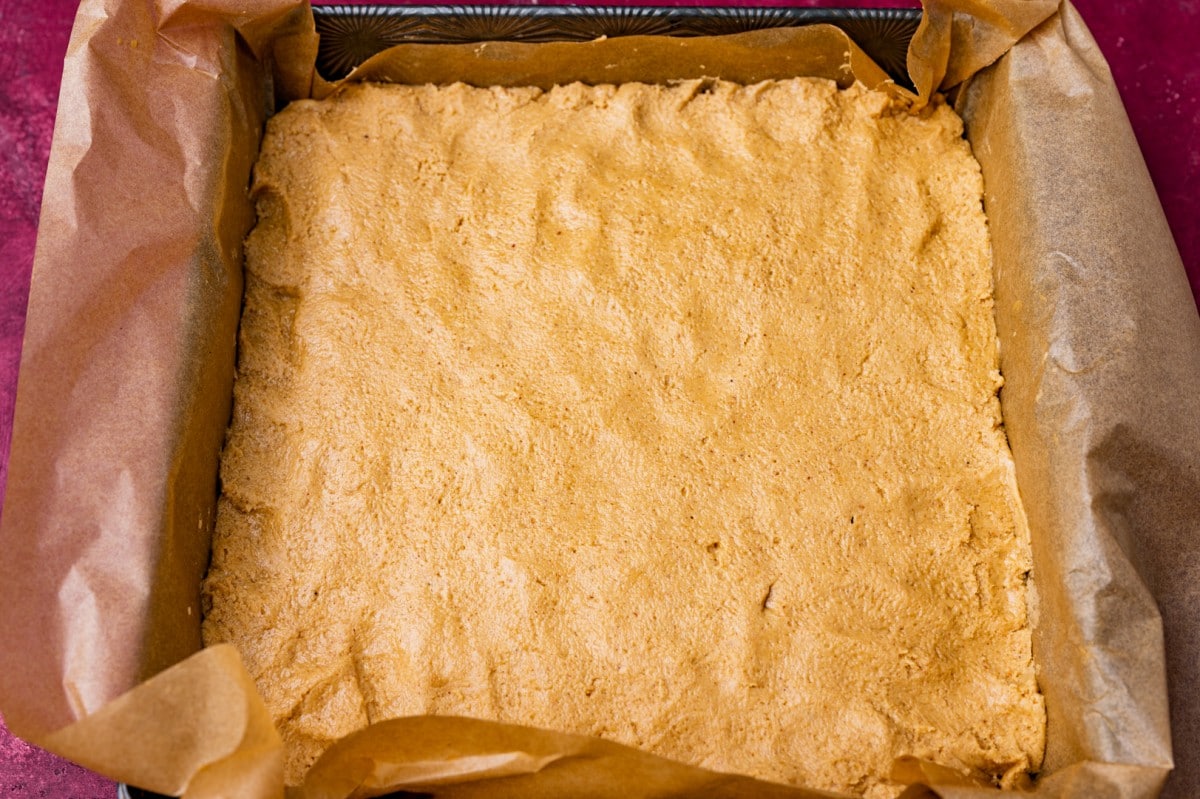 Tips for Making Peanut Butter Squares
This recipe is easy, but let me give you a few hints to help things go smoothly. And I'll warn you…they may be a little messy, but they are 100% worth it.
Mix the peanut butter, butter, sugars and vanilla in a stand mixer until nice and creamy, medium speed for about 2-3 minutes. Scrape the sides of the bowl as needed. A note here that the peanut butter "batter" is very soft. These do not have a firm texture like a brownie bar. The bottom layer is meant to be soft. If you'd like to make the bars firmer, add a little more powdered sugar. (You can see us make these bars on Facebook Live here. Note that we changed the recipe slightly from when we made them live over 5 years ago.)
Put parchment paper in the bottom of an 8×8″ or 9×9″ pan. By using parchment paper, these bars are super easy to remove and cut neatly. Plus, your pan stays clean.
Spread out the peanut butter mixture evenly over the foil. It is perfectly OK to use your hands.
Then you simply spread melted chocolate on the top. I used Ghirardelli melting wafers so that the chocolate would melt easily and smoothly. Semi-sweet chocolate chips or a high quality chocolate bar work well, too. You can put on more chocolate if you'd like a thicker layer, but I only put on enough to hold it together. The peanut butter is the most important part for me.
Let the chocolate set slightly by letting the bars rest for about 20 minutes. Then pull up on the parchment paper to remove the bars. And then spread the chocolate over the top.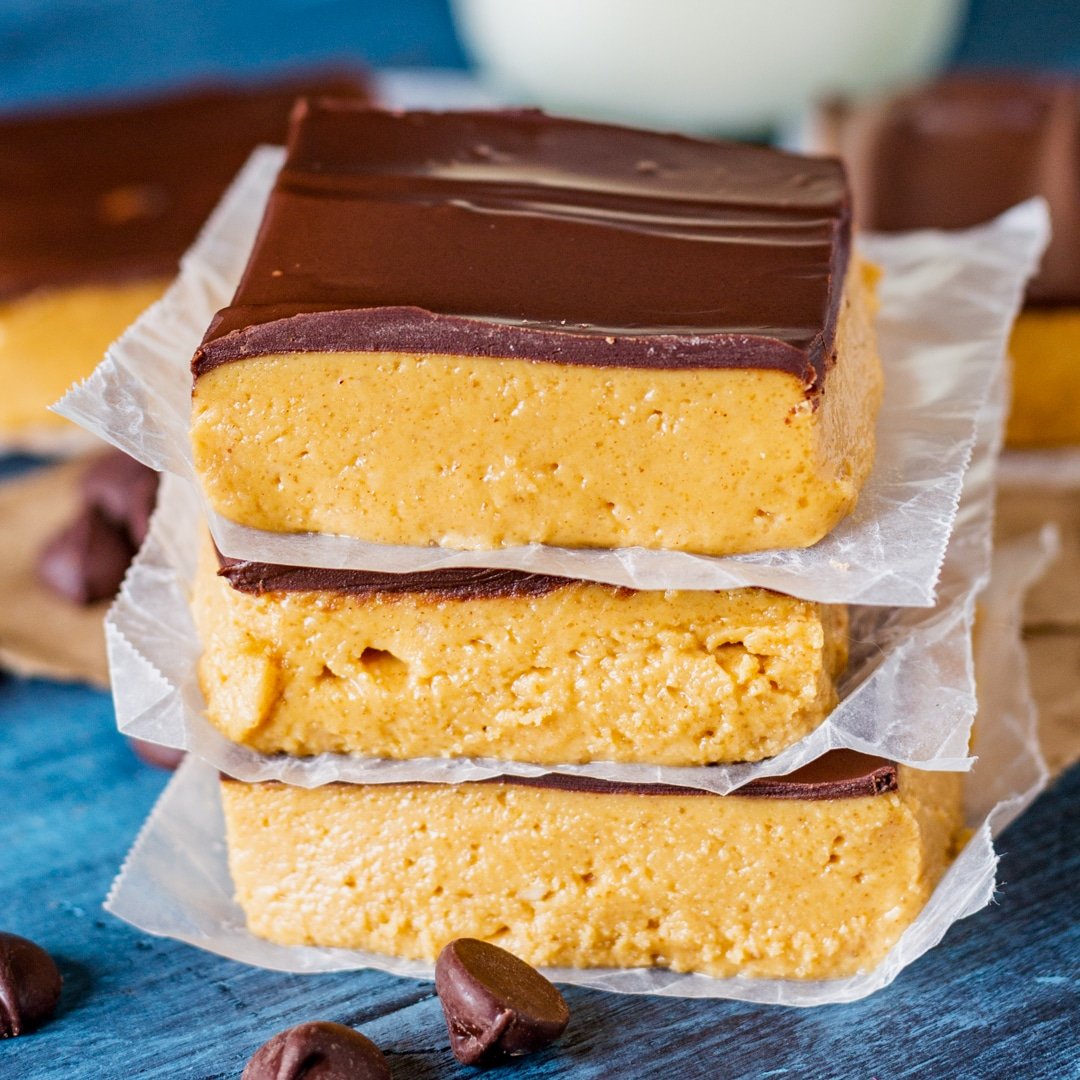 How to easily cut the bars
By letting the chocolate set only for a short time, you'll get a nice clean cut. If the chocolate completely hardens, you might end up with some broken chocolate. This is still completely edible, but just not quite as perfectly pretty.
Lock these bars up somewhere safe. I'm telling you….they're addicting. And I'd love to hear if you have a favorite school lunchroom food that you remember enjoying!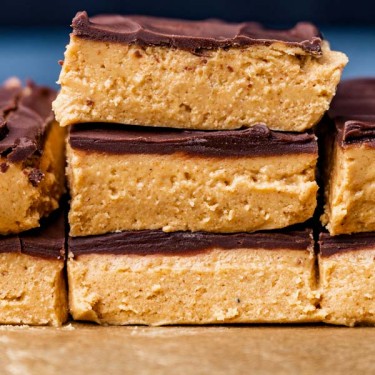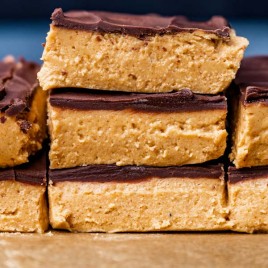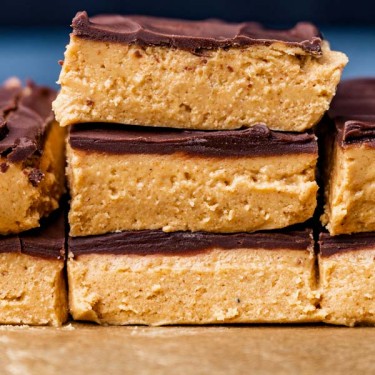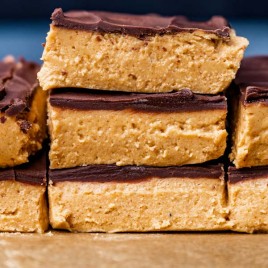 Peanut Butter Squares
Peanut Butter Squares are the classic school lunchroom treat from your childhood. This no-bake dessert has a thick layer of peanut butter topped with a layer of chocolate.

---
Ingredients
2

cups

creamy peanut butter*

520 grams

1/2

cup

salted butter**

room temperature 4 ounces

1

teaspoon

vanilla extract

4 grams

1/3

cup

brown sugar

76 grams

3

cups

powdered sugar

341 grams

4

ounces

semi-sweet chocolate

I use Ghirardelli melting wafers

1

tablespoon

salted butter***

optional
Instructions
Mix peanut butter, butter, sugars and vanilla in a stand mixer using the paddle attachment. Beat on medium speed for about 3 minutes, scraping the sides of the bowl as needed. The peanut butter will be very soft. If you feel it is too sticky, feel free to add a little more powdered sugar for a firmer bar.

Place parchment paper in the bottom and up the sides of an 8×8" or 9×9" baking pan. Press the peanut butter mixture down in the bottom of the pan evenly.

Melt the melting wafers or chocolate chips in a microwave-safe bowl in 20 second increments, stirring between each interval. Be careful to melt the chocolate slowly…chocolate will burn quickly if it gets too hot.

Spread the chocolate evenly over the peanut butter mixture. Allow the bars to set for about 20 minutes. You can place in the fridge if needed, but don't forget about them and don't let the chocolate fully set or they will be hard to cut.

Pull up on the sides of the parchment paper and place the bars on a flat surface.

Cut into 16 bars (or cut smaller) and allow the chocolate to set completely.

Store the bars in an airtight container. They are great stored in the refrigerator and eaten cold.
Notes
*Firmer peanut butters work best for this. I used Meijer store brand peanut butter and it was a newly opened jar. If the peanut butter is oily, it can make the bottom layer softer and hard to cut.
**Don't melt the butter at all. You just want it at room temperature. If the butter is melted, it will give the bars a weird texture.
***Adding a tablespoon of butter or coconut oil to the melted chocolate can keep the chocolate softer, making it easier to cut. I usually don't do this, but it is an option.
Please note: The peanut butter layer is very soft. These do not have a firm texture like a brownie bar. The bottom layer is meant to be soft. If you'd like to make the bars firmer, add a little more powdered sugar. Some peanut butter bars recipes use crushed graham cracker crumbs. Since our school recipe did not have this listed, we do not use them.
You can store these in the fridge, freezer, or just in an airtight container at room temperature. Any way you store them, they are delicious!
Refer to the article above for more tips and tricks.
The calories shown are based on the recipe being cut into 16 pieces, with 1 serving being 1 peanut butter square. Since different brands of ingredients have different nutritional information, the calories shown are just an estimate. **We are not dietitians and recommend you seek a nutritionist for exact nutritional information. The information in the nutrition box are calculated through a program and there is room for error. If you need an accurate count, I recommend running the ingredients through your favorite nutrition calculator.**
Nutrition
Serving:
74
g
|
Calories:
387
kcal
|
Carbohydrates:
37
g
|
Protein:
9
g
|
Fat:
25
g
|
Saturated Fat:
9
g
|
Polyunsaturated Fat:
5
g
|
Monounsaturated Fat:
10
g
|
Trans Fat:
1
g
|
Cholesterol:
16
mg
|
Sodium:
201
mg
|
Potassium:
258
mg
|
Fiber:
3
g
|
Sugar:
32
g
|
Vitamin A:
181
IU
|
Calcium:
24
mg
|
Iron:
1
mg
Other Reese's Recipes to Love
If you love Reese's peanut butter cups as much as we do, try one of these recipes: