Old Fashioned Peanut Butter Cookies
No refrigeration needed, quick and easy old fashioned peanut butter cookies. Just like you remember from childhood.
Table of Contents
I've had several requests over the past few months for a traditional peanut butter cookie like the kind grandma used to make.
We have our fair share of cookies with peanut butter. 4 ingredient peanut butter cookies, my favorite peanut butter sugar cookies, and even peanut butter cut outs.
And I'll be honest. I don't love peanut butter cookies. There. I said it. And that is why I loved our soft sugar cookie style peanut butter cookies so much. They weren't dry. They were soft and not overpowering with peanut butter flavor. But for as many of you who loved those cookies with me, many wanted more peanut butter flavor.
These old fashioned peanut butter cookies are the answer. Peanut butter cookies are the second most popular cookie in America, next to chocolate chip cookies, of course. (And oatmeal cookies are third.) Here's a new peanut butter cookie recipe to love.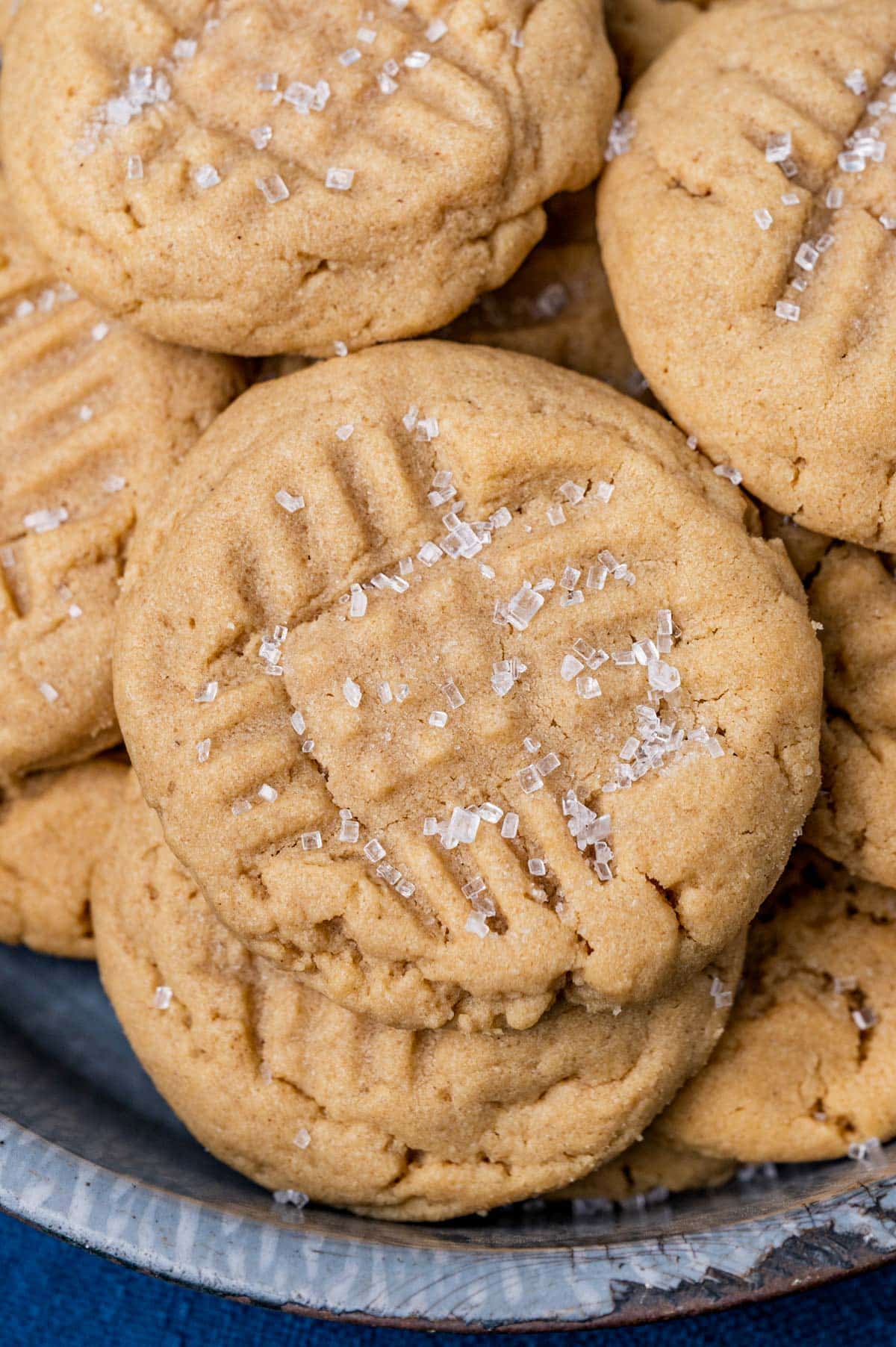 About these cookies:
Flavor: Sweet peanut butter flavor with a hint of vanilla is what these cookies are all about.
Texture: I like soft cookies, so that's what I strive for when baking. If you like a crisper cookie, it all comes in the baking time. Bake them about 2 minutes longer for a crispy cookie.
Method: These bake in the oven and it's not necessary to refrigerate the dough. That makes them quick and easy!
How are these different than our other soft peanut butter cookies? These have more peanut butter and less flour. They also have less eggs and both granulated and brown sugar. This all gives them more peanut butter flavor and more of a traditional peanut butter cookie texture.
Why do you press a fork into peanut butter cookies?
You can almost always decipher which cookies on a cookie plate are peanut butter cookies because of that traditional criss-cross pattern fork press in the top of the cookie. Home bakers have done this for decades. But why?
The simple answer, besides tradition, is that if you don't flatten the peanut butter cookie dough ball, the cookie will not flatten while it bakes and therefore bake a little unevenly. Flattening the cookie dough ball helps level the dough, helping it to bake evenly.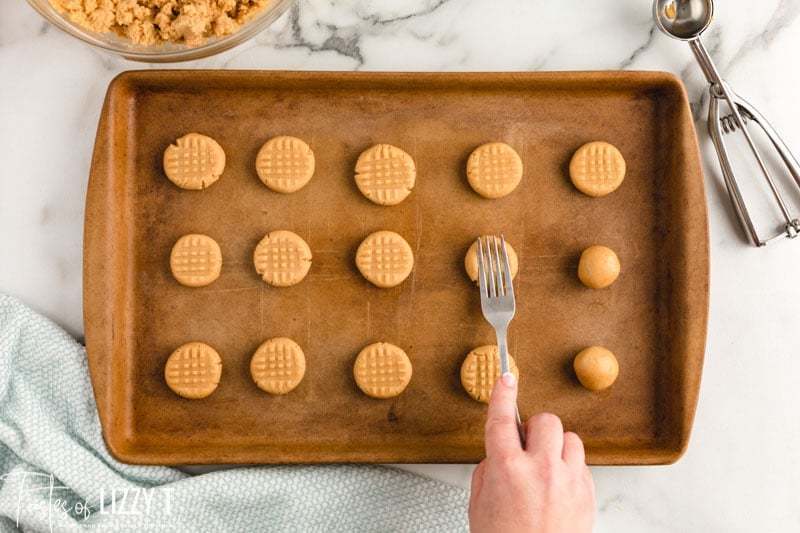 What peanut butter is best?
Creamy peanut butter makes the best peanut butter cookies. I use store brand many times and have bought Aldi as well, but Jif peanut butter is my go-to for brand name.
Can I use natural peanut butter? I don't recommend it, but it may work. Because natural peanut butter often doesn't have sugar or salt, it can affect the flavor of your cookies. It can also be hard to get the oils properly mixed together.
Can I use chunky peanut butter? In theory, yes, but again, I don't recommend it. I love chunky peanut butter, but those peanut pieces may cause your peanut butter cookies to seem dry and crumbly. For the softest cookies, use creamy peanut butter.
How to Keep Peanut Butter Cookies Soft
There are two keys to soft and even chewy peanut butter cookies.
Room temperature butter. Don't melt the butter at all to mix it in. It shouldn't be too soft. This will ensure the butter creams properly leading to a soft cookie.
Measure the flour correctly. I provide the grams in the recipe below for accurate measuring. If you don't have a kitchen scale, spoon the flour into the measuring cup, then level it with a knife. Don't pack the flour into the cup!
Brown sugar. Some cookie recipes only call for granulated white sugar, but brown sugar actually makes cookies softer because it has more moisture content.
Don't overbake. As with just about any cookie, if you want them soft, don't overbake them. In fact, bake them maybe 1 minute under the time. For this cookie, they baked for 9 minutes. If your oven tends to run hot, start them at 8 minutes and see how they look. "Golden brown" is usually a good thing, but not with cookies. 😊
Storage Instructions
Store the cookies in an airtight container for up to 3 days.
The dough freezes well before baking. Allow the dough to fully thaw before baking.
The cookies freeze well after baking. I prefer to double wrap them before placing in the freezer to prevent them from drying out.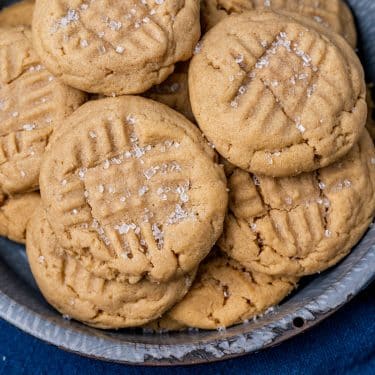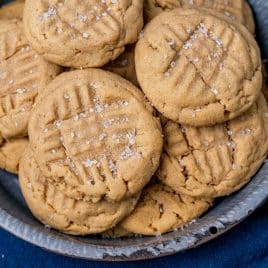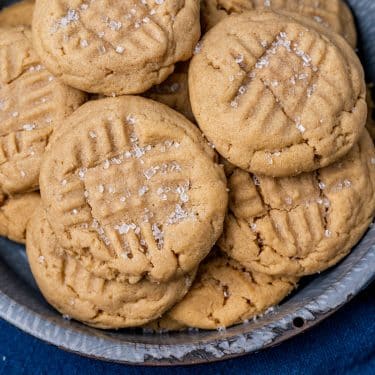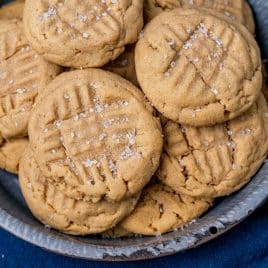 Old Fashioned Peanut Butter Cookies
No refrigeration needed, quick and easy old fashioned peanut butter cookies. Just like you remember from childhood.
---
Ingredients
1

cup

unsalted butter

room temperature, 8 ounces

2

cups

creamy peanut butter

500 grams

1

cup

granulated sugar

200 grams

1

cup

packed brown sugar

220 grams

2

large

eggs

2

teaspoons

vanilla extract

9 grams

2 ½

cups

all-purpose flour

325 grams

1 ½

teaspoons

baking soda

9 grams

1

teaspoon

baking powder

5 grams

½

teaspoon

salt

4 grams
Instructions
Preheat the oven to 375ºF. Line baking sheets with parchment paper.

In the bowl of a stand mixer (with the paddle attachment) or with a hand mixer and large bowl, cream butter and peanut butter for 2-3 minutes until creamy and smooth.

Add in the sugars and mix again until well combined.

Then add in the eggs and vanilla.

Add the dry ingredients and mix just until well combined, scraping the sides of the bowl as needed.

Use a cookie scoop to scoop the cookie dough into 36 dough balls and roll each until smooth.

Place the dough balls on the cookie sheet 2" apart. Use a fork to press a criss cross in the top of the cookie dough ball, pressing down slightly to flatten the balls. Sprinkle the tops with coarse sugar if desired.

Bake for 9-11 minutes. If you like soft cookies, bake for 9 minutes and don't let the cookies get browned. If you like crispy cookies, bake for closer to 11 minutes.

Allow the cookies to cool on a wire rack. Then store in an airtight container at room temperature.
Notes
Refer to the article above for more tips and tricks.
The calories shown are based on the recipe making 36 cookies, with 1 serving being 1 cookie. Since different brands of ingredients have different nutritional information, the calories shown are just an estimate. **We are not dietitians and recommend you seek a nutritionist for exact nutritional information. The information in the nutrition box are calculated through a program and there is room for error. If you need an accurate count, I recommend running the ingredients through your favorite nutrition calculator.**
Nutrition
Calories:
212
kcal
|
Carbohydrates:
21
g
|
Protein:
5
g
|
Fat:
13
g
|
Saturated Fat:
5
g
|
Polyunsaturated Fat:
2
g
|
Monounsaturated Fat:
5
g
|
Trans Fat:
0.2
g
|
Cholesterol:
24
mg
|
Sodium:
146
mg
|
Potassium:
115
mg
|
Fiber:
1
g
|
Sugar:
13
g
|
Vitamin A:
173
IU
|
Calcium:
21
mg
|
Iron:
1
mg