Peanut Butter Cut Out Cookies
Tastes of Lizzy T participates in affiliate advertising programs. We may earn a commission when you make a purchase through links on our site.
You don't have to give up peanut butter if you're baking cut out cookies. These peanut butter cut out cookies are soft and hold their shape perfectly when baked. Decorate with your favorite frosting recipe or a simple chocolate ganache.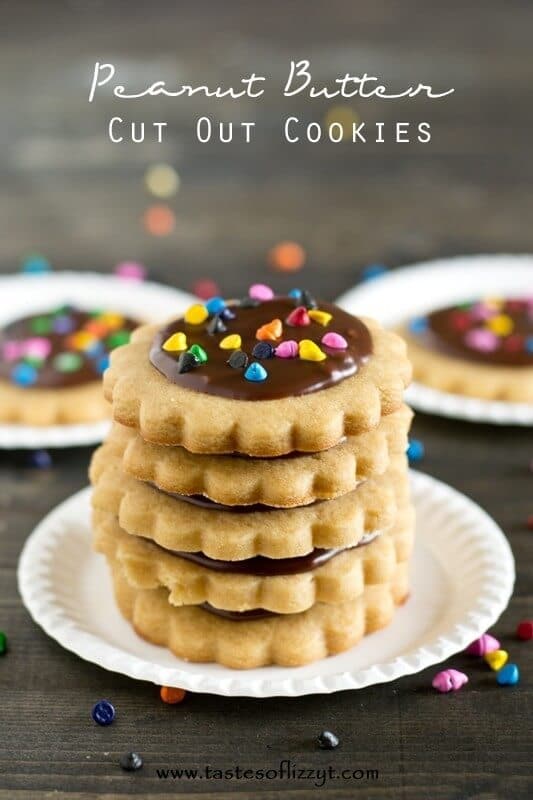 If you've been with us on Instagram lately, you probably know that we're having a lot of fun with cut out cookies lately. We've got puffy cookies, flat cookies, cookies with fancy decorations and details, and cookies with a nice thick layer of buttercream frosting. They're SO much fun to make, even though stressful at times.
These peanut butter cut out cookies, both simple and cute, don't require much talent in cookie decorating. They're soft, slightly chewy, and super addicting. My love of peanut butter and my love of cut out cookies has finally come together in a perfect blend. Plus you have a rich chocolate ganache on top, which makes everything taste better!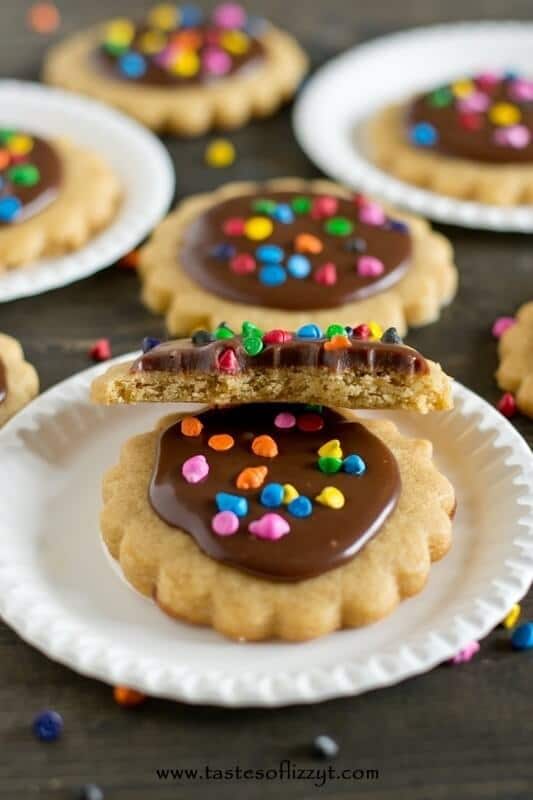 The chocolate ganache makes the cookies the absolute best they can be. Without the chocolate, they're just…peanut butter cookies.  I made these cookies for the first time a while ago, just as plain peanut butter cookies. They were good (good enough for me to finish all the scraps in one night!) but nothing SPECTACULAR. Both mom and I knew something was missing.
Although I'd like to say that it was my idea to put the chocolate ganache on top, I'm not that creative. I was thinking something chocolate, but I was thinking of more of a classic buttercream recipe. Mom convinced me that just a layer of rich chocolate would do the trick. Boy, was she right! I can't say enough about these cookies. They're just full of peanut butter and chocolate goodness.
In fact, they taste a lot like peanut butter cups to me. What is better than a cute spring cookie that tastes like peanut butter cups?! I'm not really sure, but if there is, it's something else peanut butter and chocolate. The point is, peanut butter and chocolate is unbeatable!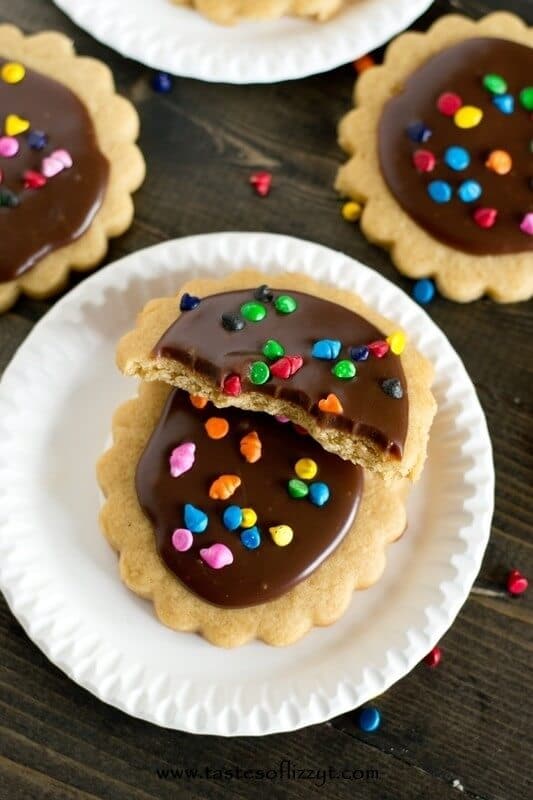 There are a couple hints about making these cookies:
1.  For you crispy cookie lovers, you can bake them to be a little crunchy. To do that, just cook them until they are a little brown on the sides.
2. For those of you who love a soft cookie, you can make them to be a little soft. If you want them soft, DO NOT overbake them. Underbake them a tiny bit if necessary. These cookies will stay soft for quite some time. They are a great freezer cookie.  If you just put them in an airtight container, they should stay soft for a few days.
3. Remember that if you're cutting out a shape that has ends and points, those will bake faster than the middle. An example is like a little Easter bunny. The ears are obviously going to take a shorter time to bake than the middle. So if you're having trouble baking the middle of the cookies but the ends are getting browner than you want, one thing you can do is lower the temperature of the oven (by maybe 25 degrees) and just bake them a little longer. We've had this problem before, because our oven sometimes does not bake evenly and the ends of cookies get brown. I am a sold-out soft cookie fan, so this is a way to prevent hard, crunchy edges.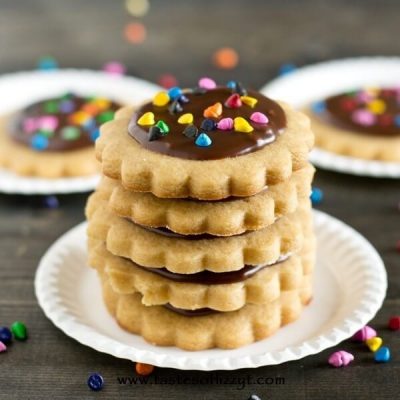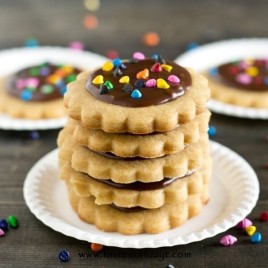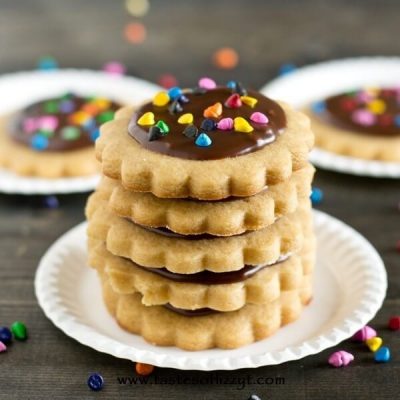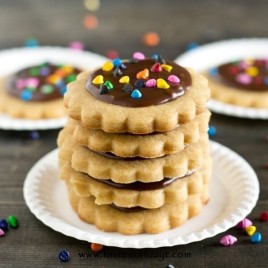 Peanut Butter Cut Out Cookies
You don't have to give up peanut butter if you're baking cut out cookies. These peanut butter cut out cookies are soft and hold their shape perfectly when baked. Decorate with your favorite frosting recipe or a simple chocolate ganache.
---
Ingredients
1/2

cup

creamy peanut butter

6

tablespoons

butter

softened

1/2

cup

brown sugar

packed

1/3

cup

light corn syrup

1

large

egg

2

cups

all-purpose flour

divided

1 1/2

teaspoons

baking powder

1/8

teaspoon

salt
Ganache:
1/2

cup

heavy whipping cream

1 1/4

cups

milk chocolate chips

Sprinkles

if desired
Instructions
In the bowl of a stand mixer, beat the peanut butter, butter, brown sugar, corn syrup and egg until it is smooth.

Beat in 1 cup of flour, baking powder and salt.

Using a spoon, stir in the last cup of flour until combined.

Divide the dough in half. Between two sheets of waxed paper, roll out the cookie dough to 1/4" thick. Place the wax-paper lined cookie dough on a baking sheet and refrigerate for 45 minutes, until the dough is firm and chilled.

Preheat the oven to 350 degrees.

Remove the top piece of waxed paper. Dip the cookie cutters in flour and cut out desired shapes. Place the cookies on ungreased cookie sheets.

Reroll scraps and cut out more shapes.

Bake 9 minutes. For soft cookies, do not overbake. If you'd like your cookies a little crispier, bake for an additional 1-2 minutes.

Let the cookies cool on the cookie sheet for 2 minutes, then remove them to wire racks to cool completely.

While the cookies are cooling, prepare the chocolate ganache. In a microwave save bowl, heat the heavy cream for 45 seconds or until the cream is hot. Stir in the chocolate chips. Continue stirring until the chocolate is melted and the cream is completely mixed in with the chocolate. This will take 1-2 minutes of stirring. If the chocolate is not completely melted, microwave for an additional 10 seconds and stir. The ganache should be completely smooth and shiny.

Allow the ganache to sit for 5 minutes to thicken.

Spoon the ganache onto the cookies and sprinkle with sprinkles, if desired.

Allow the ganache to set completely and store them in an airtight container.
Notes
*This recipe made 27 3" cookies.
*If your cookie cutters are larger or smaller, the baking time may need to be adjusted. Lessen the baking time for smaller cookies, add more time for larger cookies.
Nutrition
Calories:
171
kcal
|
Carbohydrates:
21
g
|
Protein:
2
g
|
Fat:
8
g
|
Saturated Fat:
4
g
|
Cholesterol:
20
mg
|
Sodium:
69
mg
|
Potassium:
74
mg
|
Sugar:
12
g
|
Vitamin A:
170
IU
|
Vitamin C:
0.1
mg
|
Calcium:
31
mg
|
Iron:
0.7
mg
Do you love peanut butter as much as we do? Find more recipes here!
Chocolate Chip Cut Out Cookies