Instant Pot Refried Black Beans
Creamy and flavorful, this Instant Pot refried black beans recipe is easily made in no time! A Mexican side dish your family will love.
Making beans from scratch can seem like a daunting task. Who has time to cook beans all day? In comes the Instant Pot to the rescue. Using an Instant Pot to make beans is enough of a reason to jump on the Instant Pot bandwagon if you haven't already.
Not sold? Check out our Instant Pot baked beans recipe, Instant Pot Italian Meatballs, and our Barbacoa Taco Instant Pot recipe!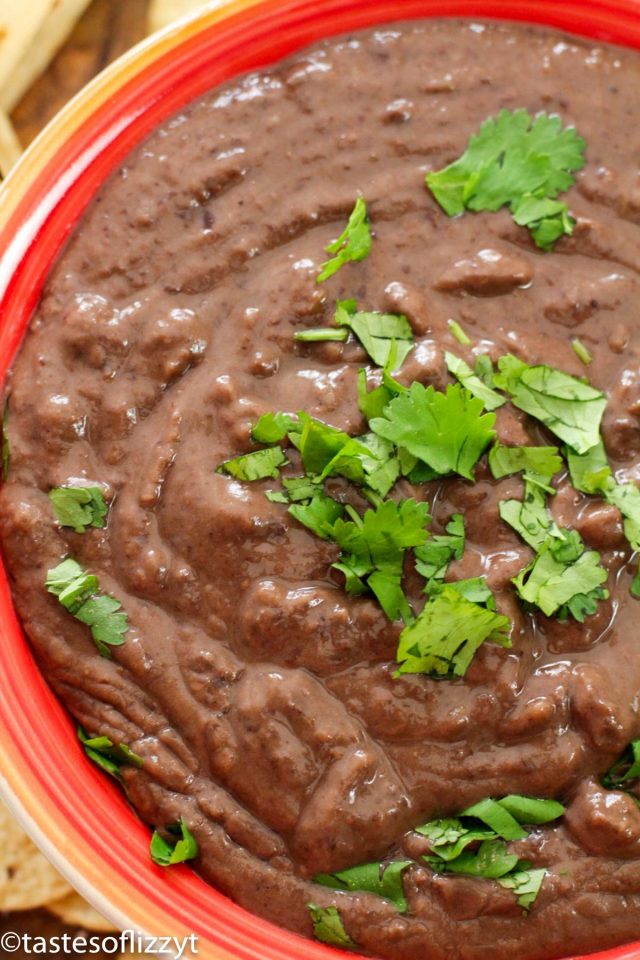 Refried beans from a can is what is convenient and what most home cooks use when making tacos or burritos. Who wouldn't love to just open a can and voila, here goes refried beans!
However, refried beans from a can tastes…bland.
If you didn't know, the traditional refried beans you're used to buying in stores and the Mexican refried beans you're accustomed to is made with pinto beans. Pinto beans refried beans are brown in color.
Today, we're showing how to make refried black beans in the Instant Pot.
What are refried black beans?
Refried black beans is a side dish recipe that is typically served alongside Spanish rice and topped with cheese, or stuffed into a burrito with rice, shredded meat, and other toppings when you eat out at a Mexican restaurant.
Traditionally, to make refried beans, you'll cook your beans, and then fry your beans in a little bit of oil and a homemade sofrito recipe or just onions and jalapeno, or some kind of peppers.
Then you smash down the beans with some of the reserved cooking liquid from the beans.
To save on time on these instant pot refried black beans, we're skipping the actual frying of the beans, and making the sofrito, which is a base of sauteed onions, peppers, and garlic and adding it into the bean mixture once cooked, while the Instant Pot is depressurizing.
Visit Latina Mom Meals for a breakdown on how to make a batch of authentic homemade sofrito to add to your rice or meat dishes.
How To Season Refried Black Beans
If you're using store bought refried black beans, heat the black beans on the stove and add cumin, salt, pepper, oregano, and minced garlic.
How To Make Refried Black Beans
There are a few ways to do this:
Make refried beans in a slow cooker. Follow the same steps, and cook on high for 3-4 hours or on low for 6-8 hours. Remember that beans expand, so add enough water to cover it easily, plus an extra cup!
Cook refried beans on a stove top. Add beans with plenty of water to cover about 2-3 inches over the beans, bring the water to a boil, add in a chunk of onion and a few whole garlic cloves, lower the temp to medium low and cover. Cook for 2-3 hours, checking and stirring occasionally and adding more water if needed.
Cook refried beans in an Instant Pot. This recipe covers it!
Use canned cooked black beans. Just heat and smash the black beans and add a little water or milk to thin, if desired.
The first step in making homemade refried black beans is soaking the black beans in a large bowl of water. This helps make the process of cooking beans easier. Also, this step with using the Instant Pot ONLY is completely optional! (Still advised, just for 2 hours, does not have to be overnight.)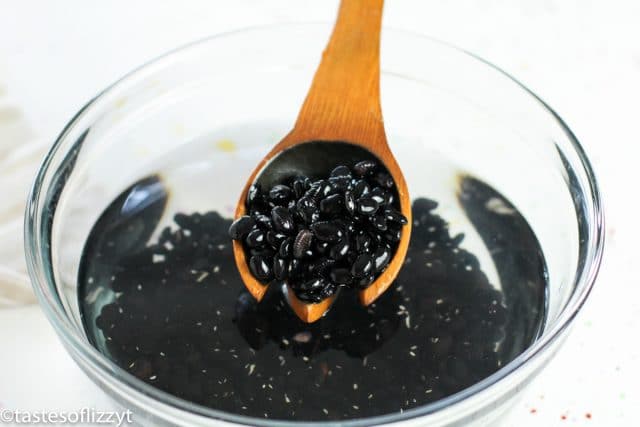 2. Add water, black beans, a chunk of onion, cloves of garlic, and a few sprigs (or a baby handful) of cilantro to the Instant Pot.
Be generous with the water. Beans expand and it's better to have more water than not enough. Remember, you can drain the liquid before smashing the black beans to make refried beans.
At this point, we're not worried about seasoning the beans. The onions, garlic, and cilantro will provide an amazing layer of flavor that will soak into the beans as it pressure cooks.
**Pro Tip: Do NOT add salt to uncooked beans. Salt will harden uncooked beans and your beans will not cook properly.**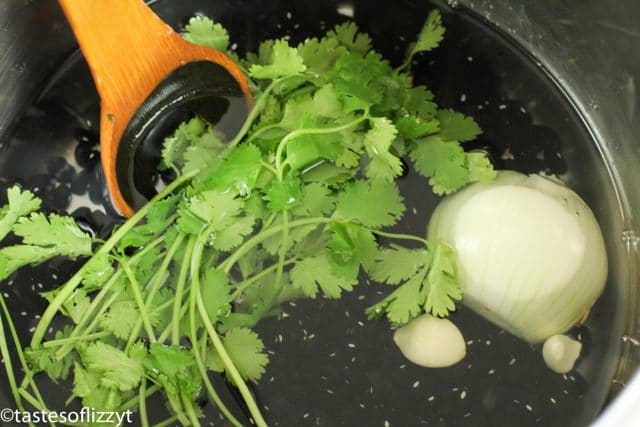 3. Cook on high pressure for 40 minutes.
4. Make the homemade sofrito. This sofrito is based on Cuban flavors that is used in Cuban black bean recipes.
Make the sofrito when the timer goes off and set to the side.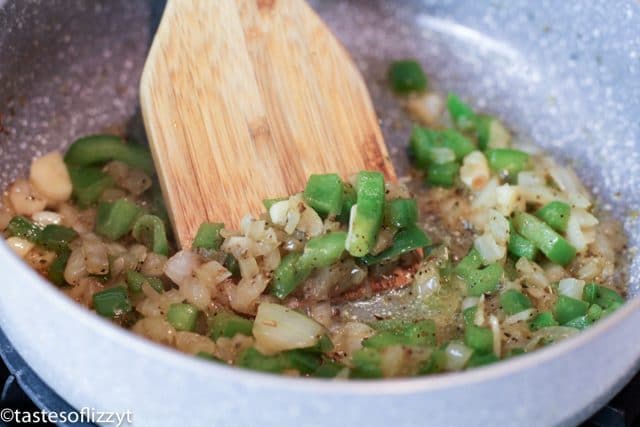 5. Stir the beans once you've removed the lid and gauge the water level. If it seems like there is excess liquid, remove and reserve the excess liquid, leaving just about a cup of liquid with the beans.
6. Remove the large chunk of onion and the whole garlic (if you're an infusion blender, feel free to leave in the garlic and cilantro).
7. Add in the sofrito and cook an additional 20 minutes.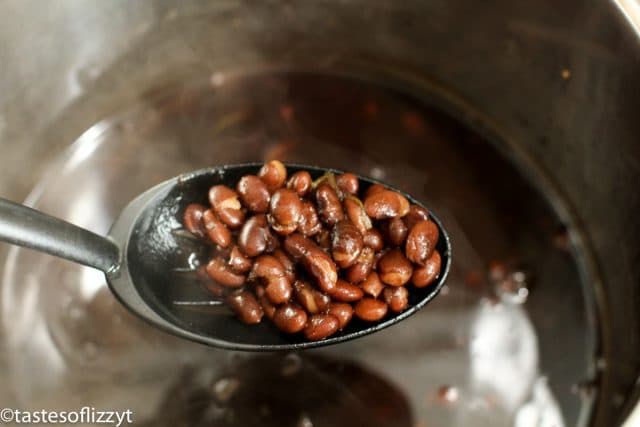 8. Remove the lid and stir. Drain the excess liquid -again, and reserve.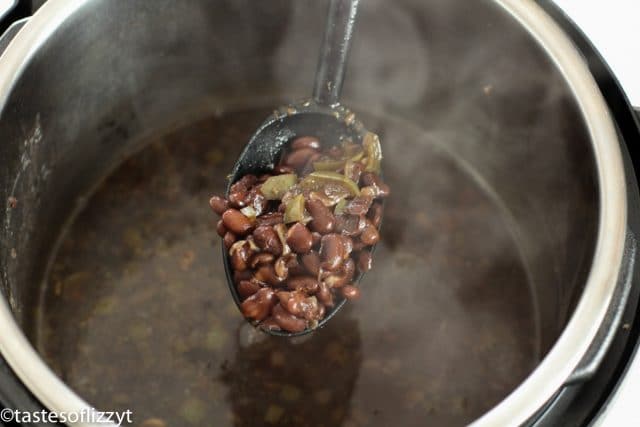 9. Using an immersion blender or potato masher, smash the beans adding a small amount of reserved liquid if you desire a thinner consistency.
10. Taste for seasonings. We added spices when we made the sofrito, but it's always good to taste before you serve and adjust with a small amount of salt and pepper, if needed.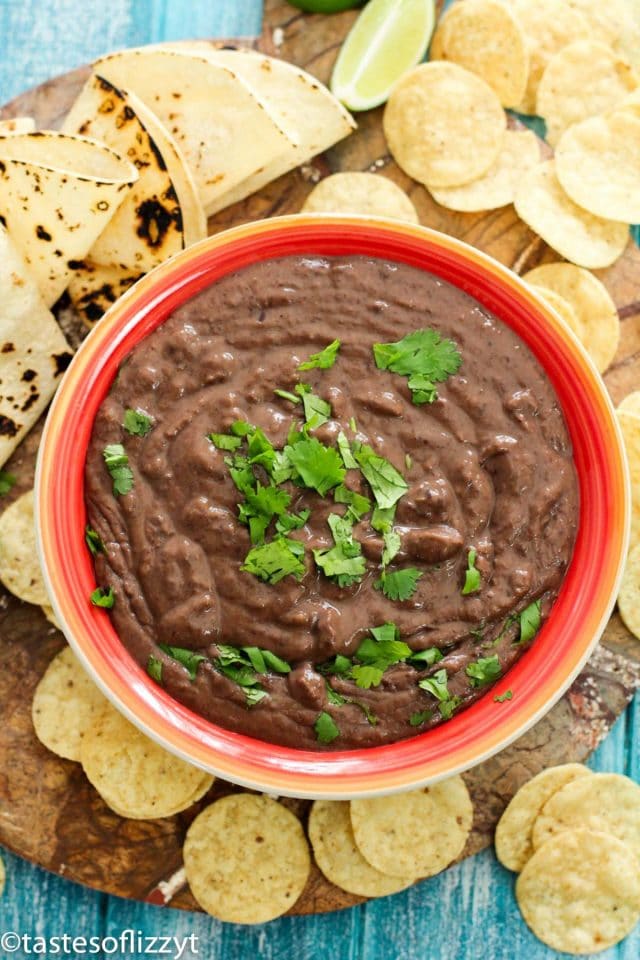 What To Serve With Refried Black Beans
Instant pot refried black beans is great as a side dish for your steak tacos on Taco Tuesdays or to add into a taco dip or seven layer bean dip.
Here are recipes you might like:
Steak Fajitas -Perfect to serve on a bed of fresh made or tortillas, or to keep it low carb, serve it on a salad bed topped with refried black beans and cotija cheese!
Grilled Corn on the Cob -Where there's grilled corn, there's joy! Spanish rice, corn on the cob, refried beans with shredded and melted cheddar cheese is perfection!
Jalapeno Corn Casserole -If you're up for the heat, this jalapeno corn casserole is begging to be made! Turn down the heat with our creamy refried black beans.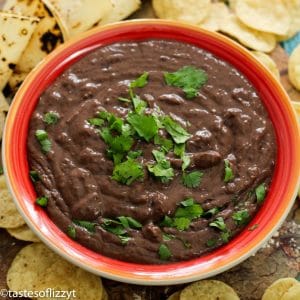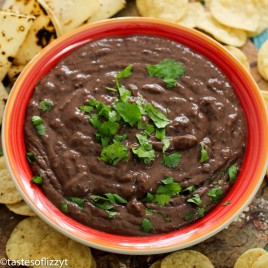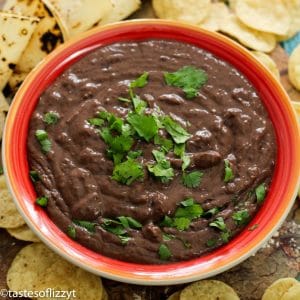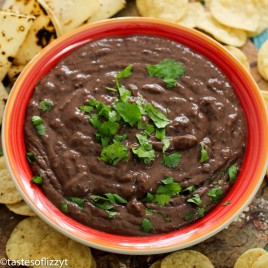 Instant Pot Refried Beans
Creamy and flavorful, this refried black bean recipe is easily made in an Instant Pot in no time! A Mexican side dish your family will love.
Cook Time
1

hour
5

minutes
---
Ingredients
For the beans:
½

pound

black beans

½

medium

onion

2

garlic cloves

¼

cup

cilantro

(whole)

3

cups

water
For the sofrito:
3

tablespoons

olive oil

½

onion

(chopped)

½

green bell pepper

(chopped)

1/2

teaspoon

dried oregano

1/2

teaspoon

cumin

1

teaspoon

salt

½

teaspoon

ground black pepper

1

teaspoon

white vinegar
Instructions
In a large bowl, soak beans in double amount of water for a minimum of two hours.

Drain and rinse beans after they have soaked.

Add beans, onion, garlic, cilantro and water to the Instant Pot and set on high pressure for 40 minutes.

After 40 minutes, set to quick release.

While the Instant Pot is releasing, warm oil in a saucepan on the stovetop over medium high heat. Add in ingredients for the sofrito, except the vinegar. Cook for 2-3 minutes, or until onions begin to soften. Once onions have softened, turn off heat and carefully mix in the vinegar.

Remove lid from the Instant Pot once it has depressurized. Remove the cilantro, onion chunks. (Garlic can stay.)

Drain the beans and it's liquids over a large bowl to reserve the liquids. Return the beans to the Instant Pot and add in the sofrito mix, stir gently and add in about 1 cup of the reserved liquid and set the IP to seal.

Cook on high pressure an additional 20 minutes.

Once the beans have cooked a second time, allow it to release naturally before removing the lid.

Once the lid is removed, stir the beans. Remove most of the extra liquid (leaving about ½ cup) and set it to the side.

Using an immersion blender, blend the beans. If the beans are too thick, you can add in some of the reserved liquid until it reaches desired consistency.

Taste for any additional salt and pepper.

Serve with tortilla chips or alongside your favorite Mexican dish.
Nutrition
Calories:
93
kcal
|
Carbohydrates:
9
g
|
Protein:
3
g
|
Fat:
5
g
|
Saturated Fat:
1
g
|
Sodium:
297
mg
|
Potassium:
134
mg
|
Fiber:
3
g
|
Sugar:
1
g
|
Vitamin A:
61
IU
|
Vitamin C:
7
mg
|
Calcium:
15
mg
|
Iron:
1
mg