Tastes of Lizzy T participates in affiliate advertising programs. We may earn a commission when you make a purchase through links on our site.
Everything you need to know about how to make guacamole! We'll share the basic ingredients for a delicious guacamole along with our BEST guacamole recipe.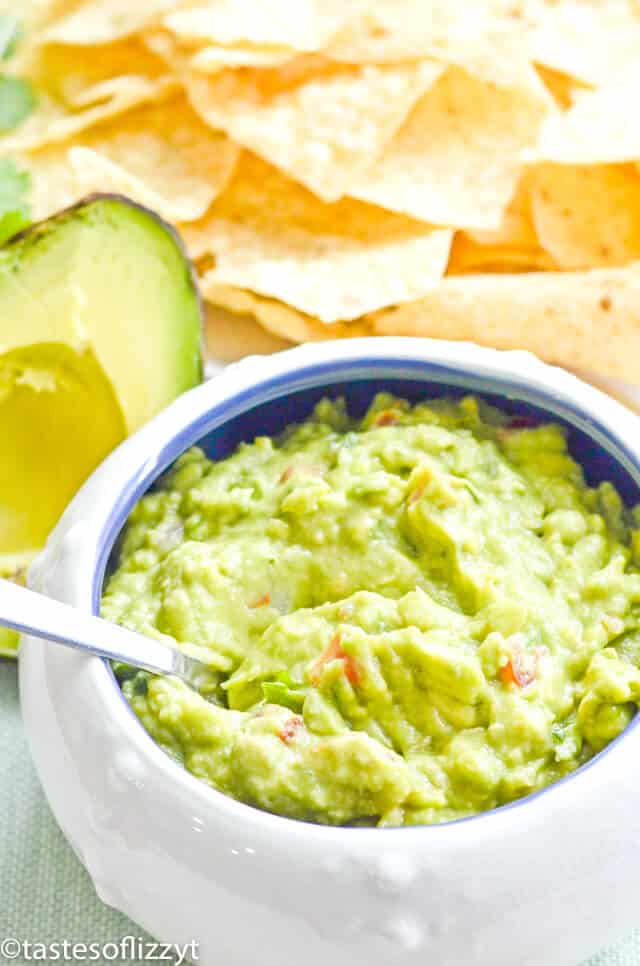 Best Guacamole Recipe
It's only been in the past 5 years that I've really started loving guacamole. It seemed mushy and had a strange texture. But once I scooped some creamy guacamole on a tortilla chip and hesitantly popped it in my mouth, I was hooked. Homemade guacamole is the best. I love how versatile it is!
How to Make Guacamole
Basic guacamole ingredients include avocado, salt and a touch of lime juice. Although we've made it this way in the past and enjoy it, I can't help myself but to jazz it up a little. Feel free to experiment with what you add to guacamole. We add finely chopped tomato, red onion, fresh cilantro and garlic. When we're feeling spicy we add jalapeno pepper. And if my husband has his way we add 2 jalapeno peppers!
How can you tell an avocado is ripe?
There are many different types of avocados and each looks a little different. We generally buy Hass avocados. When this type of avocado is ripe it is a very dark green or dark purple color. Look for an even color and texture…one without bruises. Hold the avocado in the palm of your hand and press gently. A ripe avocado should give slightly when you press it. It shouldn't be soft or mushy, but also should not be hard. Do the squeeze test in several places to be sure of the ripeness. Also, the stem of an avocado should be dry and loosen easily. If the stem is in tightly, the  avocado is underripe. If the stem comes off, look at the flesh under the stem. It should be green as an avocado would look….not brown.
How do you ripen an avocado?
Even with the tricks above It can be hard to choose an avocado from the store to be the perfect ripeness you need for guacamole. I usually buy avocados when they are underripe. So how do you ripen an avocado? The best way to ripen an avocado is to place them in a brown bag with a banana or apple. Roll the top down on the bag to lightly seal it and store it at room temperature for 2-3 days. This should ripen your avocado beautifully and naturally.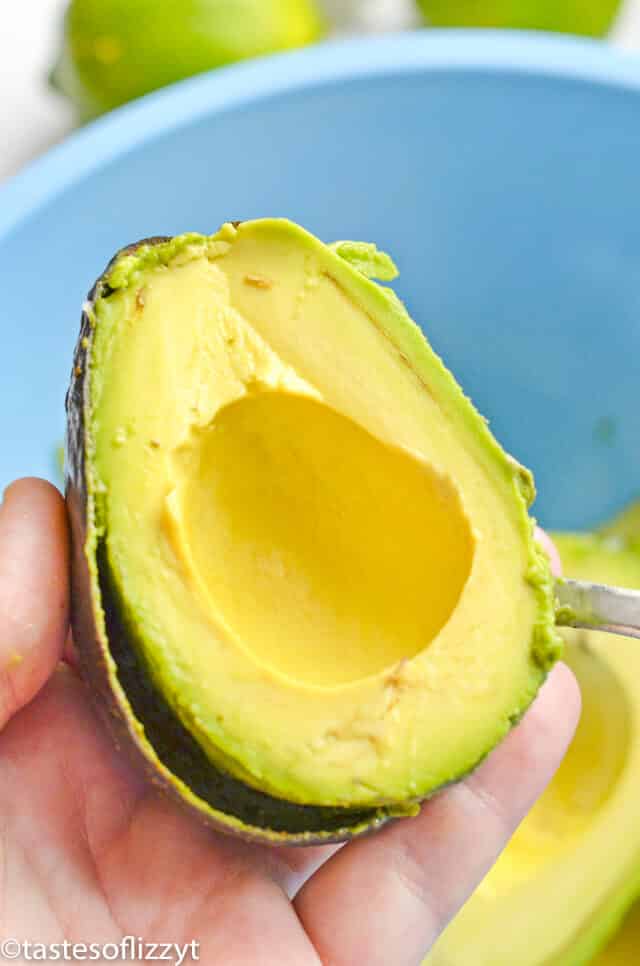 How do you keep guacamole fresh?
Avocado turns brown when an enzyme in the avocado comes into contact with oxygen so the key is to keep air away from the guacamole. You can do this by:
Take a piece of plastic wrap and press it tightly against the guacamole, wrapping the bowl in the plastic wrap.
Spread a little bit of olive oil onto the plastic wrap and place the oiled side down on the guacamole, pressing to seal as above.
Place the guacamole in a bowl and use the back of a spoon to smooth it evenly and pack it down tightly. Pour a little water gently over the top of the guacamole so that the surface is covered. Then cover in plastic wrap and refrigerate. This is how we keep guacamole from turning brown.
Lime juice also helps keep guacamole fresh…and we've also heard that keeping the avocado pit in the guacamole can help. #2 up above works the best for us!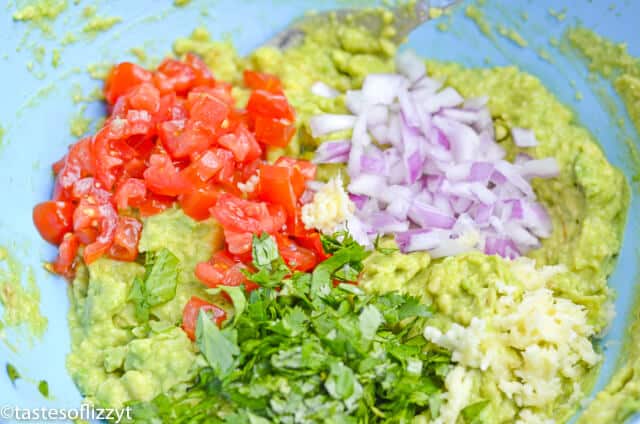 Other Avocado Recipes
Tools to Make This Recipe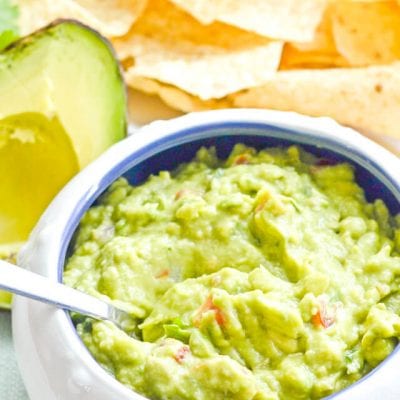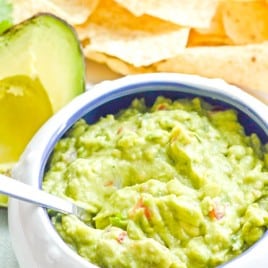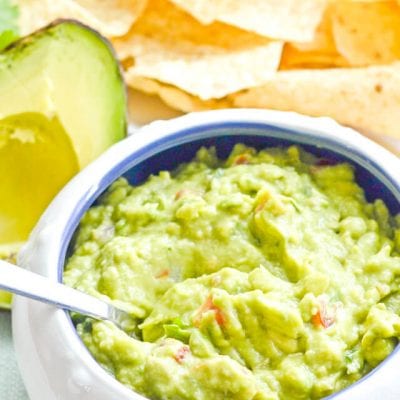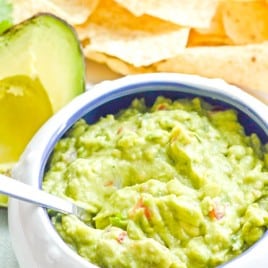 Easy Guacamole Recipe
Everything you need to know about how to make guacamole! We'll share the basic ingredients for a delicious guacamole along with our BEST guacamole recipe.
---
Ingredients
3

ripe avocados

1/2

medium tomato

(diced)

1/2

small red onion

(diced)

2-3

teaspoons

freshly chopped cilantro

2

cloves

garlic

(minced)

1

lime juice

Salt

(to taste)
Instructions
Cut, peel and pit all 3 avocados and place them in a bowl. Using a fork, smash them into a smooth texture.

Add the tomato, onion, cilantro, garlic and lime juice to the bowl. Mix well.

Add salt to taste.
Nutrition
Calories:
85
kcal
|
Carbohydrates:
5
g
|
Protein:
1
g
|
Fat:
7
g
|
Saturated Fat:
1
g
|
Sodium:
4
mg
|
Potassium:
268
mg
|
Fiber:
3
g
|
Vitamin A:
115
IU
|
Vitamin C:
7.8
mg
|
Calcium:
10
mg
|
Iron:
0.3
mg