Instant Pot Blueberry BBQ Ribs
Tastes of Lizzy T participates in affiliate advertising programs. We may earn a commission when you make a purchase through links on our site.
Sweet, savory, and with a splash of fruit, this easy Instant Pot blueberry BBQ ribs is the perfect surprise for Father's Day!
Are you looking for a new recipe to make for Father's Day? If so, you're going to love this blueberry BBQ ribs recipe we're sharing today.
Typically on Father's Day, we like to keep things low key, we tend to make a large lunch that is BBQ inspired. We love making ribs, we tend to serve our classic Instant Pot ribs with a side of easy baked beans and oven roasted corn on the cob. Another household favorite is twice baked potatoes, and sides of fresh veggies. And then we have to serve some kind of pie, like our homemade apple pie to make the meal complete!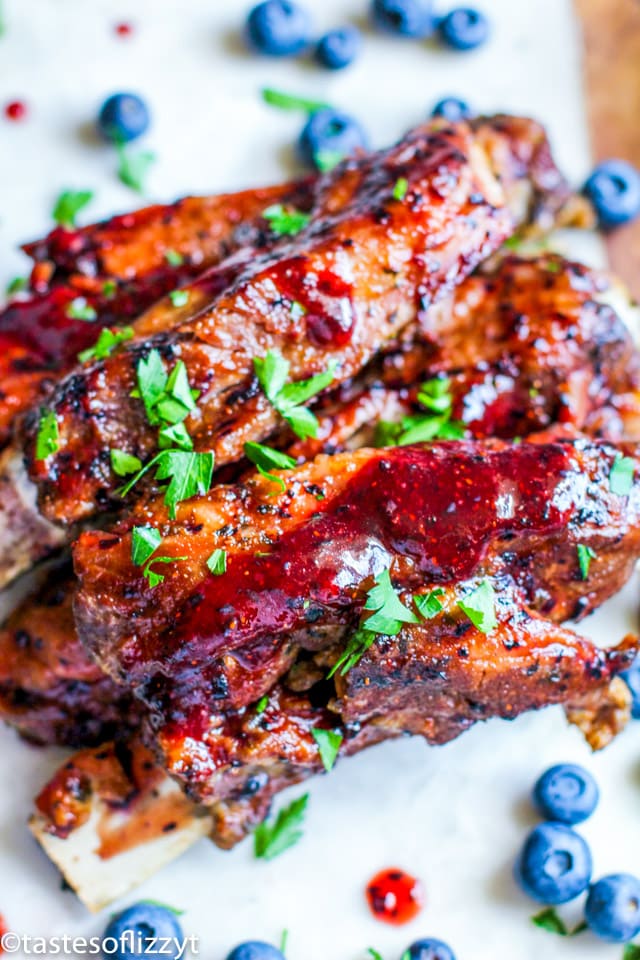 With blueberries being in peak season mid-June through through mid-August, we're always looking for creative ways to jazz up favorite comfort foods with a splash of blueberries.
How To Make Blueberry BBQ Sauce
For this easy blueberry BBQ sauce recipe we're going the easy route! Two ingredients makes the sauce. Add your favorite BBQ sauce and some fresh blueberries to a food processor and pulse a few times or until the blueberries break down into the BBQ sauce. That's it!
We used our homemade barbecue sauce recipe that we always have on hand for this recipe. If you only have bottled BBQ sauce, that's fine to use to make your blueberry BBQ sauce for your Instant Pot ribs!
How long can I store blueberry BBQ sauce?
BBQ sauce has a long shelf life. Adding fresh blueberries will change that a little. As long as you store your blueberry BBQ sauce in a container with a tight fitting lid and keep it refrigerated it should last at least 5-7 days!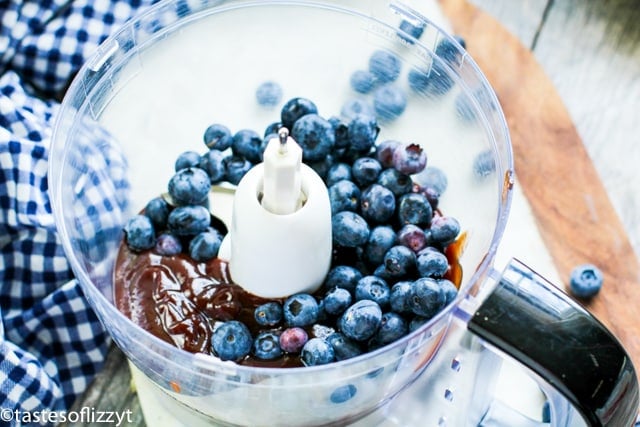 What can I add blueberry BBQ sauce to?
The sky is the limit! Blueberry BBQ sauce would be great as a pulled pork or pulled beef sandwich. It will also be amazing over roasted wings, as an appetizer with meatballs, and of course you can be brave and venture out to new lands and try it on grilled shrimp kebabs!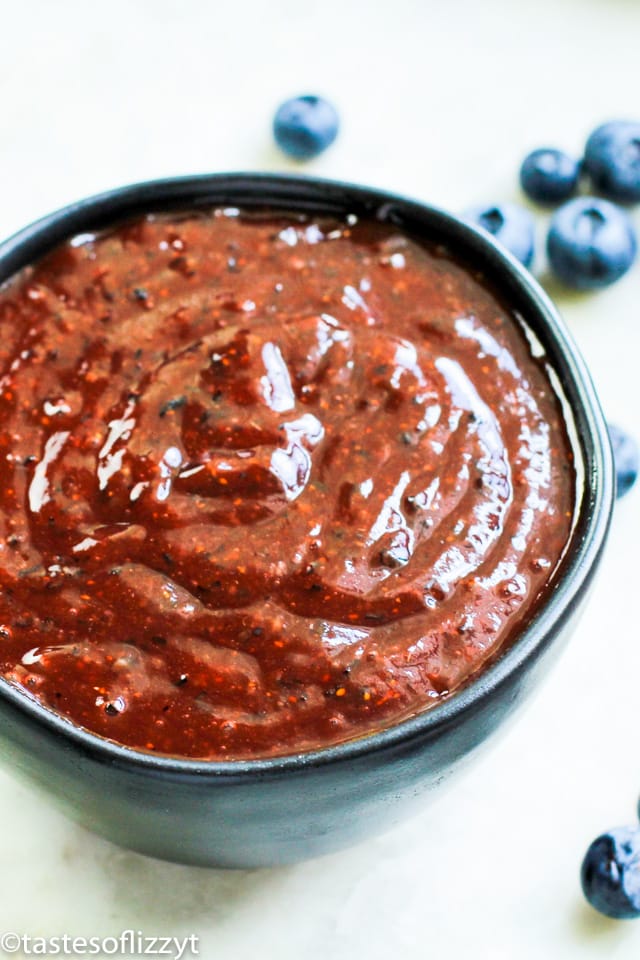 How To Make Instant Pot Ribs
For tender fall off the bone pork ribs, cooking ribs in the Instant Pot is vital! For a thorough explanation on how to make the best and most tender Instant Pot ribs ever, check out my post on it here.
For this recipe, you can choose either baby back or spare ribs. Remove the membrane on the underside of the ribs (as we show in this post). Then cut the ribs before adding them to a bowl. Dry the ribs with a paper towel and season the ribs with seasoned salt, garlic powder, and dried oregano.
Tips for Making Instant Pot Ribs:
Dry your ribs with paper towels so the seasonings adhere to it.
Heavily season your ribs, most of the seasonings fall off from the pressure of the Instant Pot.
Use a basket for ease of removing the tender Instant Pot ribs.
Add water to your Instant Pot! Don't forget this crucial step.
How long do you cook ribs in the Instant Pot for?
We chose to cook our ribs in the Instant Pot for 23 minutes for the most tender fall off the bone experience. If you want it a little tougher, you can go as low as 18 minutes to cook the ribs.

Broil the Ribs
Once your ribs have cooked, it's time to remove them and place them gently on a baking sheet. I highly recommend lining your baking sheet with aluminum foil for an easy cleanup!
Generously brush the ribs with your blueberry BBQ sauce and bake them in your preheated oven for 3-4 minutes under the broiler.
**Pro Tip: Baking the ribs is crucial for the sauce to become sticky on your ribs, do not skip this step!**

Can you freeze cooked ribs?
I suggest you do not freeze cooked ribs. You can place your ribs in a airtight container and refrigerate it up to three days.

What to Serve with Blueberry BBQ Instant Pot Ribs
Blueberry BBQ sauce is such a statement sauce and this blueberry BBQ instant pot ribs recipe deserves to be paired with some incredible sides!
Need an Instant Pot? We often find great deals on them at Kohls! Check out the IP Duo here.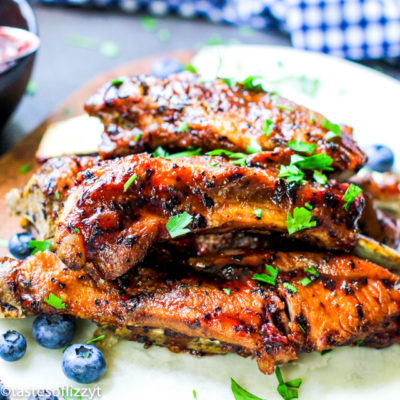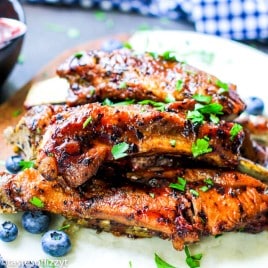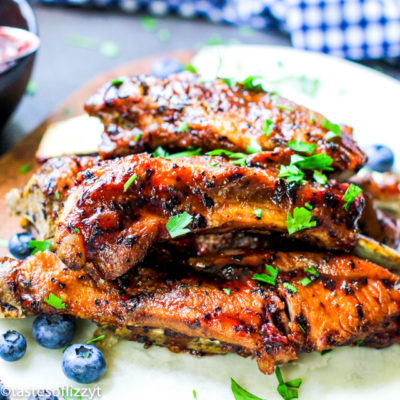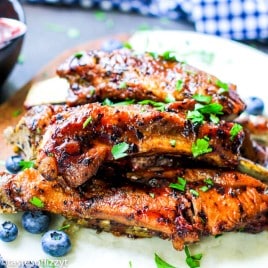 Instant Pot Blueberry BBQ Ribs
Sweet, savory, and with a splash of fruit, this easy Instant Pot blueberry BBQ ribs is the perfect surprise for Father's Day!
Natural Release
10

minutes
---
Ingredients
3

pounds

pork ribs

(membrane removed and sliced)

2

tablespoons

seasoned salt

2

teaspoons

garlic powder

1

tablespoon

dried oregano

1

cup

water

1 1/2

cups

BBQ sauce

(your favorite kind)

1/2

pint

fresh blueberries

parsley to garnish
Instructions
In a large bowl, season ribs with seasoned salt, garlic powder, and oregano.

To your Instant Pot, insert a basket and a cup of water. Add ribs to your basket. Close IP to sealing. Press manual high pressure for 23 minutes.

Allow for natural release for 10 minutes, then do a quick release for 5.

While the ribs are cooking, make your sauce. For the easy blueberry BBQ sauce, add blueberries and BBQ sauce to a small blender and pulse until smooth. Set aside.

Once ribs are done cooking, gently place them on a baking sheet.

Brush ribs with BBQ sauce and let them crisp under the broiler (in the oven) for 3-4 minutes. Watch them closely!

Garnish with parsley if desired. Serve immediately.
Notes
The calories shown are based on the recipe serving 6, with 1 serving being ½ pound of ribs with sauce. Since different brands of ingredients have different nutritional information, the calories shown are just an estimate. **We are not dietitians and recommend you seek a nutritionist for exact nutritional information.**
Nutrition
Calories:
588
kcal
|
Carbohydrates:
35
g
|
Protein:
25
g
|
Fat:
37
g
|
Saturated Fat:
11
g
|
Cholesterol:
127
mg
|
Sodium:
3191
mg
|
Potassium:
592
mg
|
Fiber:
1
g
|
Sugar:
27
g
|
Vitamin A:
180
IU
|
Vitamin C:
4.3
mg
|
Calcium:
50
mg
|
Iron:
2.1
mg