My Grandma's Thanksgiving Turkey Stuffing has stood the test of time. This buttery, savory, melt-in-your-mouth stuffing is the best stuffing recipe around!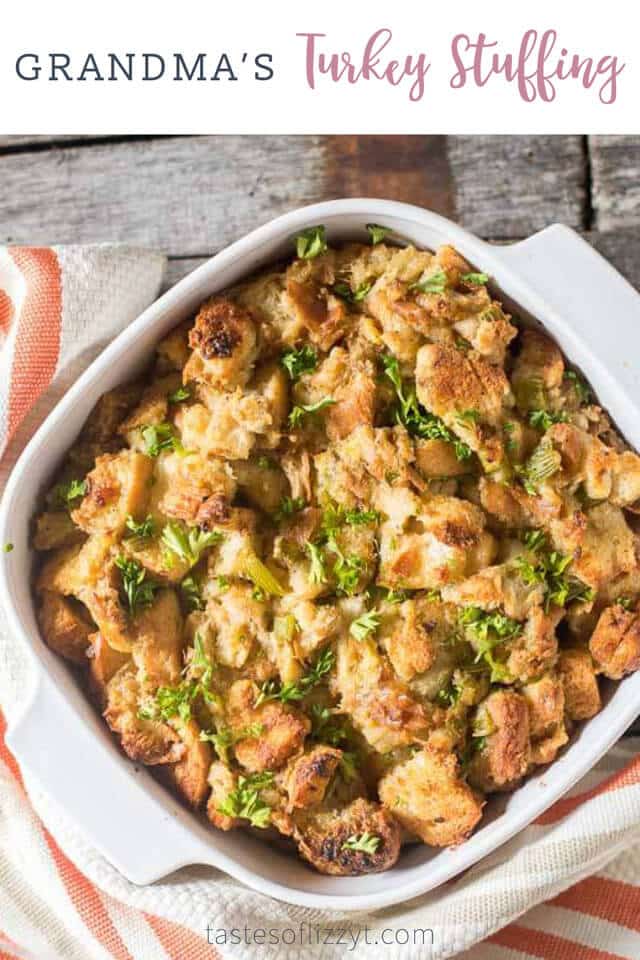 Grandma's Thanksgiving Turkey Stuffing Recipe
Are you all so excited that Thanksgiving is almost here?  I  think I love Thanksgiving more than Christmas. And one reason why? The food, of course!  It's all about the corn casserole, mashed potatoes and pumpkin pie.
Today we are sharing with you one of our classic family recipes that without fail, ends up on our Thanksgiving table: Grandma's Thanksgiving Turkey Stuffing. This recipe was my Grandma's recipe and was passed down to my mom.  I grew up enjoying this savory Thanksgiving turkey stuffing, and now my kids are enjoying the tradition, too!

OUR LATEST RECIPES
How to Make Stuffing
If you've never made Thanksgiving turkey stuffing before, you may think it is difficult.  Our recipe is very simple, though and calls for just a handful ingredients: bread, butter, onion, celery, chicken broth, eggs and spices.
You'll want to start this recipe about two days beforehand. Cut fresh bread into 1″ cubes and put them in a big bowl. I like to use white bread, but sometimes throw in some whole wheat bread. Use whatever kind of bread you prefer!
Leave the bread cubes sitting out for about 48 hours so they dry out. Stir them once or twice a day so all of the bread dries out evenly. My bread cubes aren't ever super crispy when I start making the stuffing. They'll just be a little dry and "stale".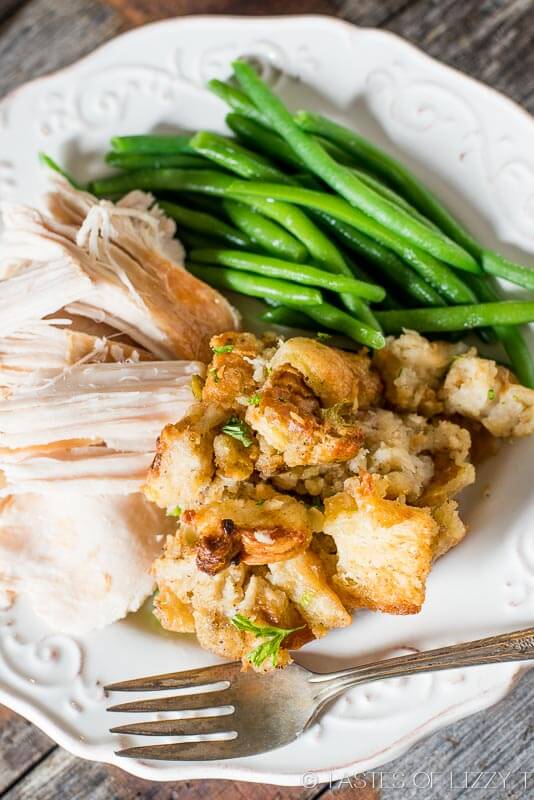 When it comes time to make the stuffing, saute the onions and celery in butter over medium heat until the veggies are tender. This is the best aroma ever. Of all the smells of Thanksgiving dinner cooking, this is the one that always starts it all off. There's just nothing better!
Why Put Eggs in Stuffing?
Pour this mixture over the dry bread cubes, then add the chicken stock, eggs and spices. Why add eggs to bread stuffing? Many of you have asked this question. My main reason is because my grandma did it, my mom continued making stuffing this way, and there is just no better stuffing. 🙂 Simple, right?  I've never not put eggs in stuffing, but my guess is that it makes the stuffing more moist. The eggs also act as a bit of a binder. It's not tightly bound but helps the stuffing not to be crumbly.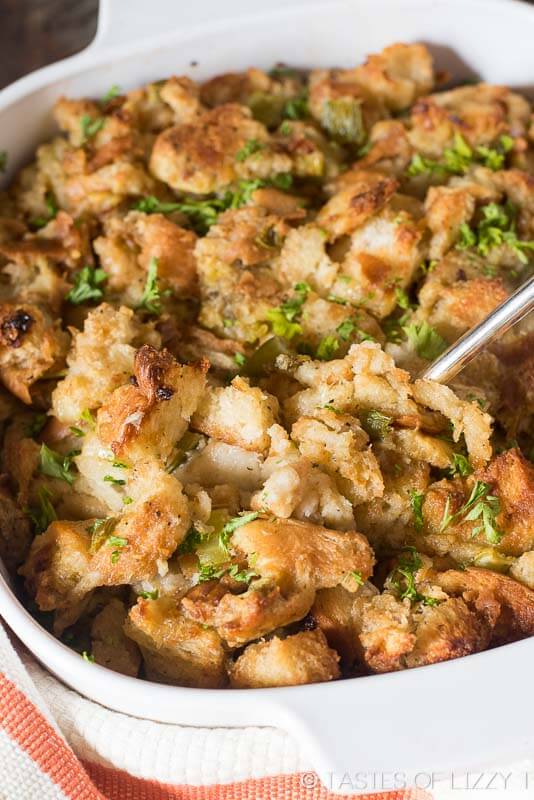 Mix it all up well and you're ready to either stuff the bird or bake the stuffing in a casserole dish. It's a big debate over who likes to stuff the turkey and who doesn't, I realize. Do what you'd like. I like both, but prefer my stuffing just a little crispier, so cooking it in a casserole dish allows the top of the bread to get a little toasty. And who doesn't like herbed, buttered, toasted bread?!
For food safety guidelines as far as stuffing the turkey, you can read some info from the USDA here.
Best Stuffing Recipe
I hope you enjoy this Thanksgiving turkey stuffing recipe as much as my family has over the past decades. Just read the reviews below to see how many people have loved this! It's continually one of our most popular holiday recipes and we thank you for that.
Q: Do you have a recipe that has stood the test of time?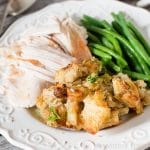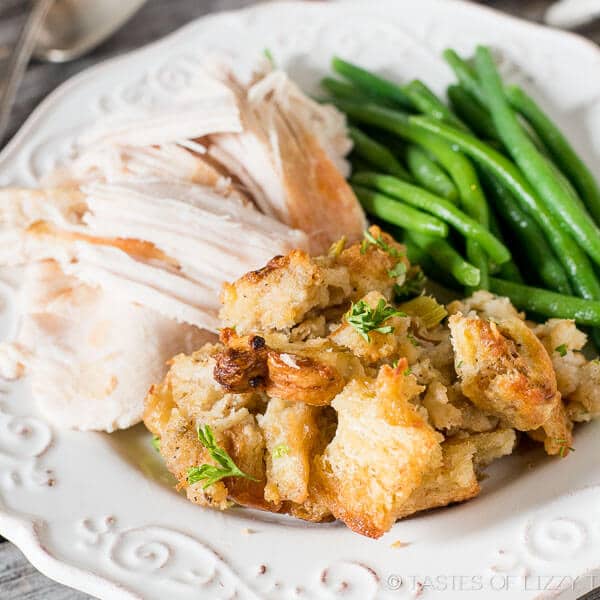 Grandma's Thanksgiving Turkey Stuffing
Grandma's Thanksgiving Turkey Stuffing. This is a long-time family recipe for simple and savory turkey stuffing. Bake it in the oven or in the turkey!
Keyword:
bread stuffing, thanksgiving dinner, thanksgiving side dish, thanksgiving stuffing, turkey dressing, turkey stuffing
Ingredients
13

cups

dry bread cubes*

1

cup

chopped celery

1

cup

diced onion

1 1/2

cups

butter

2 1/4

teaspoons

salt

1

teaspoon

ground black pepper

1 1/2

tablespoons

poultry seasoning

1 1/2

cups

chicken stock

2

large

eggs
Instructions
In a frying pan, saute the onion and celery in the butter for 10-12 minutes, or until the onion and celery are tender.

Place the bread cubes in a large bowl. Pour the butter, onion and celery mixture over the breadcrumbs and mix. Add the remaining ingredients and mix well.

Spray a 2-quart casserole dish with cooking spray. Put the stuffing in the prepared pan. Bake at 350 degrees for 30-35 minutes or until golden brown.
Recipe Notes
*I like to make my own dry bread cubes. Two days before preparing the stuffing, I cut bread into 1" cubes, then allow them to dry in a big bowl for about 48 hours. Stir the bread cubes once or twice a day so they dry out evenly. They shouldn't be "crispy", but slightly dry.
Nutrition Facts
Grandma's Thanksgiving Turkey Stuffing
Amount Per Serving
Calories 380
Calories from Fat 270
% Daily Value*
Total Fat 30g 46%
Cholesterol 111mg 37%
Sodium 1029mg 43%
Potassium 179mg 5%
Total Carbohydrates 21g 7%
Protein 6g 12%
* Percent Daily Values are based on a 2000 calorie diet.