Turkey and Stuffing Casserole
Tastes of Lizzy T participates in affiliate advertising programs. We may earn a commission when you make a purchase through links on our site.
Use up your Thanksgiving leftovers to make this creamy Turkey and Stuffing Casserole with green beans. All the flavors of Thanksgiving in one simple recipe.

Turkey and Stuffing Casserole
One of the greatest things about my job is that I get to create new recipes from all of the best holiday foods. You know what that means, right? I get to indulge in Thanksgiving dinner weeks before turkey day even arrives. I've in fact had two nearly complete Thanksgiving meals already this fall.
My family eats pretty good, I tell ya.
Some of you are thinking, "Isn't that slightly anticlimactic?" I get it. I really do. But these recipes are some time-tested family recipes passed down to me and they are true comfort food. I don't think to make my grandma's stuffing any other time of year (which makes me wonder, why??), so you can bet that while Thanksgiving is on the mind, I'm going to make it as much as possible.
This turkey and stuffing casserole is the perfect way to use up Thanksgiving leftovers. It takes 4 cups of stuffing, 2 cups of turkey, 1 can of cream of mushroom soup and a can of green beans. Oh, and you don't want to forget the french fried onions for that savory crunch we all love.
Now I've got the best turkey stuffing around. It's my grandma's recipe that I've been savoring all of my life so I'm not biased at all, but it really is amazing. One thing that makes our stuffing unique is that it uses two eggs. Readers always want to know why my stuffing calls for eggs. I can say that I think the eggs act as a "binder", holding the stuffing together, but my real answer?
Because my grandma made it that way.
This recipe is tested with my grandma's stuffing recipe that you can find right here. But feel free to use your own recipe if you just can't part with it.
I think the eggs work particularly well for making this leftovers recipe because of the eggs. It formed an easy "crust" that I pressed on the bottom and around the sides of a greased 2.5-quart casserole dish. If your leftover stuffing is drier and crumbly, you could try adding a tablespoon or two of water, chicken broth, butter or even an egg to make it a bit more "stickier".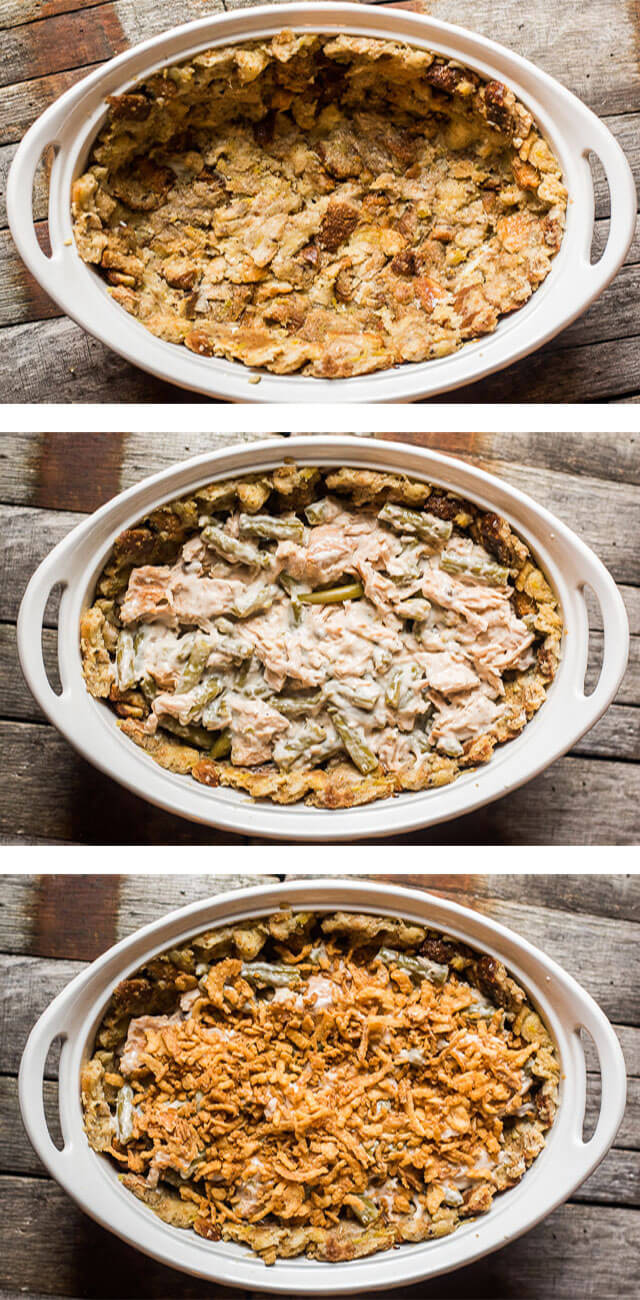 For the filling, mix together 2 cups cubed turkey, 1 can of cream of mushroom soup and 1 can of green beans. Spoon this into the center of the stuffing, then sprinkle french fried onions on top. Bake at 350 for 35 minutes and you're ready to dig into what may end up being your new favorite casserole.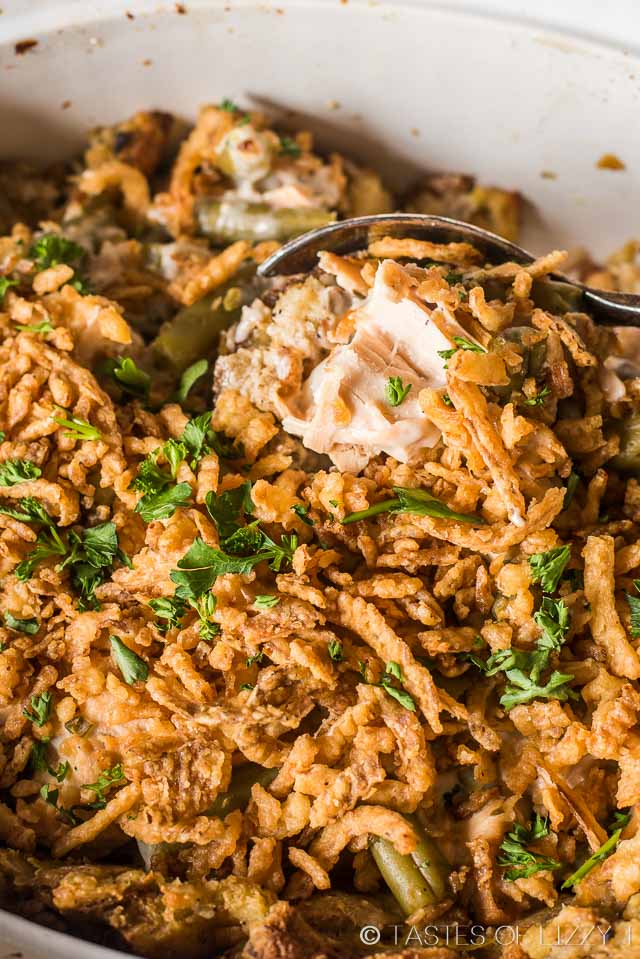 I'm happy to be partnering with the Ohio Poultry Association for this recipe. Did you know that Ohio produces over 219 million pounds of turkey each year? Which is good because America consumes about 675 million pounds of turkey on Thanksgiving day. That's A LOT of turkey!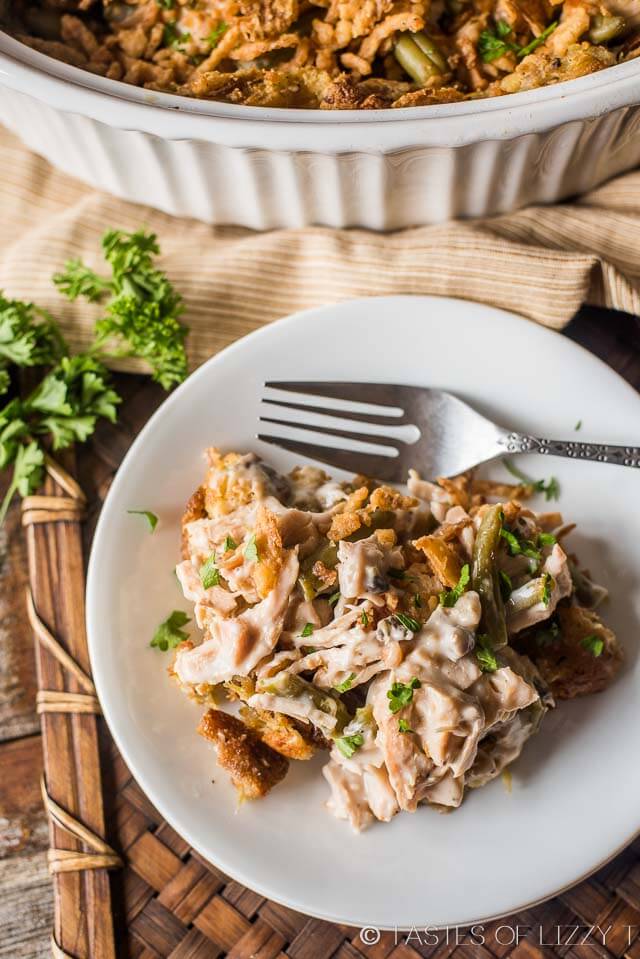 Here's 5 Tips to the Perfect Thanksgiving Turkey:
When selecting your turkey, allow 1 pound of turkey per person for a fresh or frozen bird.
Allow approximately 24 hours for every 4-5 pounds of bird weight for thawing in the refrigerator.
Plan for 20 minutes per pound in a 350 °F oven for a defrosted turkey and 10-15 minutes per pound for a fresh turkey.
Don't take the turkey out of the oven until a meat thermometer reads 165°F at the breast and 175 at the thigh.
Let a turkey stand for 20 minutes after removing from oven before carving to allow juices to set.
Love turkey leftovers? Try our favorite turkey casserole!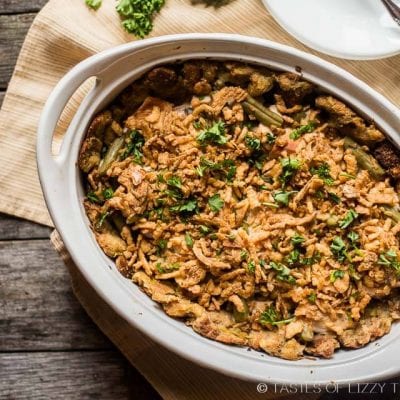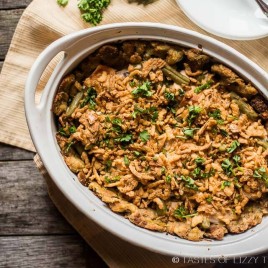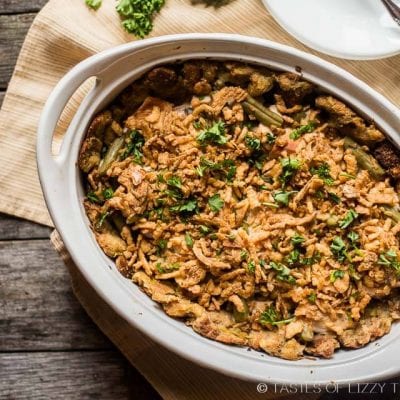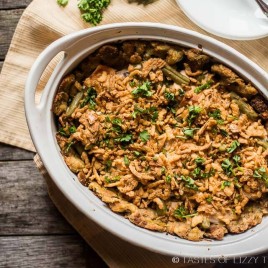 Turkey and Stuffing Casserole
Use up your Thanksgiving leftovers to make this creamy Turkey and Stuffing Casserole with green beans. All the flavors of Thanksgiving in one simple recipe.

---
Ingredients
4

cups

turkey stuffing

3

cups

chopped cooked turkey

14.5

ounces

green beans

drained

10.5

ounces

cream of mushroom soup

undiluted

3/4

cup

french fried onions
Instructions
Preheat the oven to 350 degrees.

Spray a 2.5-quart baking dish with cooking spray.

Press the stuffing on the bottom and up the sides of the dish.

In a medium-sized bowl, mix together the turkey, green beans and soup.

Spoon this mixture into the stuffing-lined dish.

Top with ¾ cup french fried onions.

Bake at 350 degrees for 35 minutes.*
Notes
*Exact cooking time will depend on the size and deepness of the casserole dish.
Nutrition
Calories:
300
kcal
|
Carbohydrates:
29
g
|
Protein:
13
g
|
Fat:
14
g
|
Saturated Fat:
3
g
|
Cholesterol:
28
mg
|
Sodium:
831
mg
|
Potassium:
312
mg
|
Fiber:
4
g
|
Sugar:
3
g
|
Vitamin A:
690
IU
|
Vitamin C:
6.3
mg
|
Calcium:
57
mg
|
Iron:
2.2
mg