This Pumpkin Crumb Pie has a traditional pumpkin pie base, with a cake mix and nut crunch streusel baked on top. Pure perfection!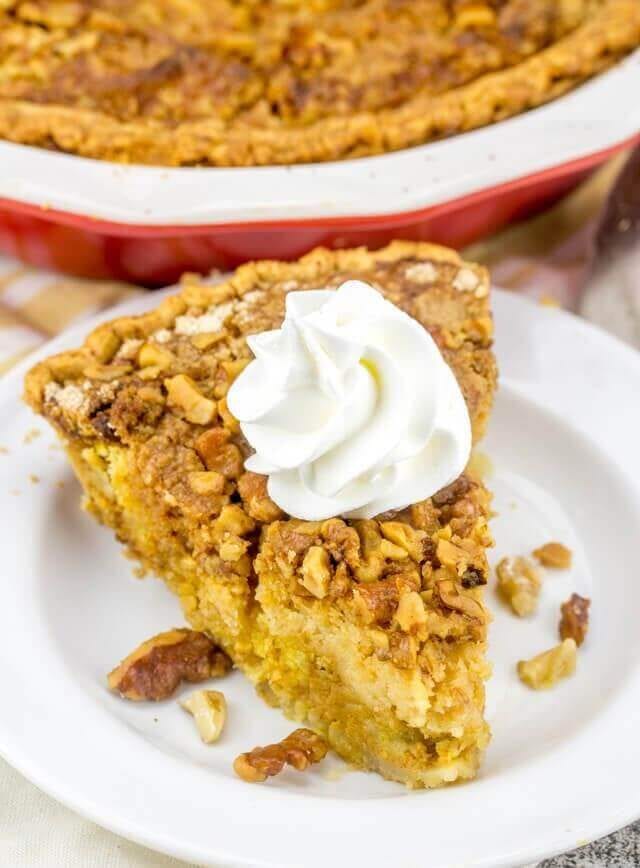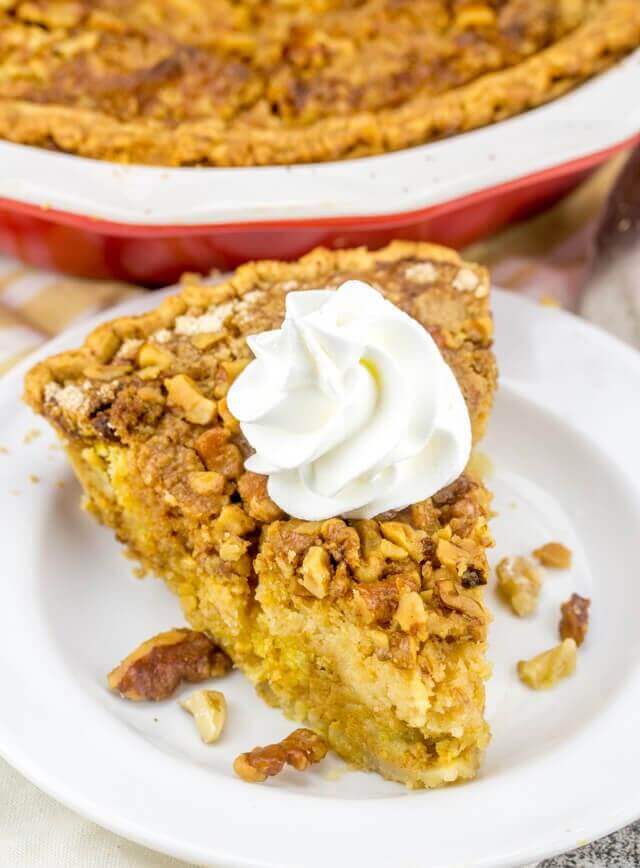 Pumpkin Crumb Pie
We've got a delicious recipe for you today…and a story to go along with it! My brother was learning about Pi in math, so he wanted us to make a pumpkin pie for him. When we brought him the pie, he was a bit annoyed that it wasn't traditional pumpkin pie.
We did make him pumpkin pie, but we added something extra on top to make it a little something special. What's the big deal here? My brother evidently didn't like the change. He did end up eating it though, and he fought over it with my sister the next day. I guess he decided it wasn't that bad. My only question now is: Why didn't I get a pie when I learned all that stuff in math?

OUR LATEST RECIPES
I know some of you don't like change, either. I like to think of change as a new experience. Well, when it comes to food, anyway. Otherwise I pretty much get completely devastated when change rolls around. But, whether you like change or not, this pie will definitely give you a good first impression.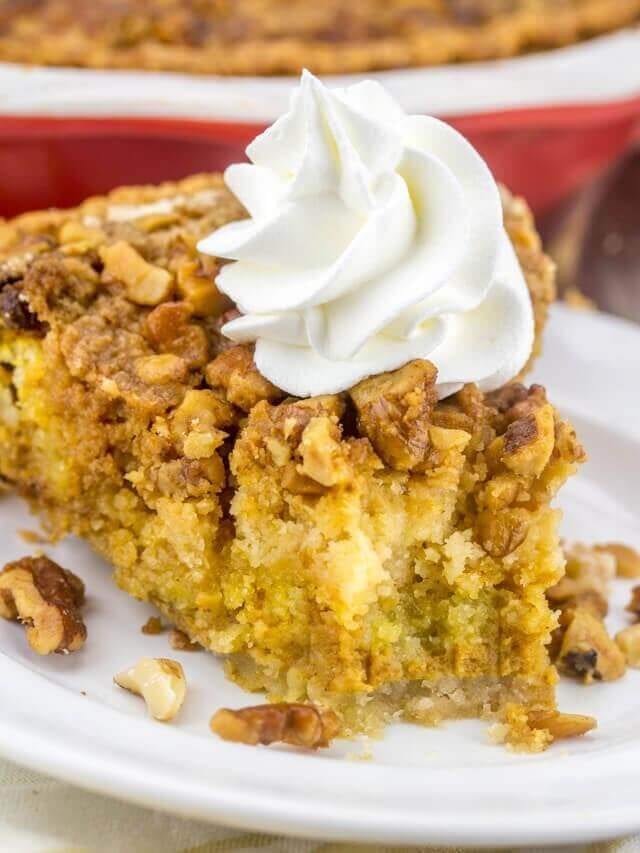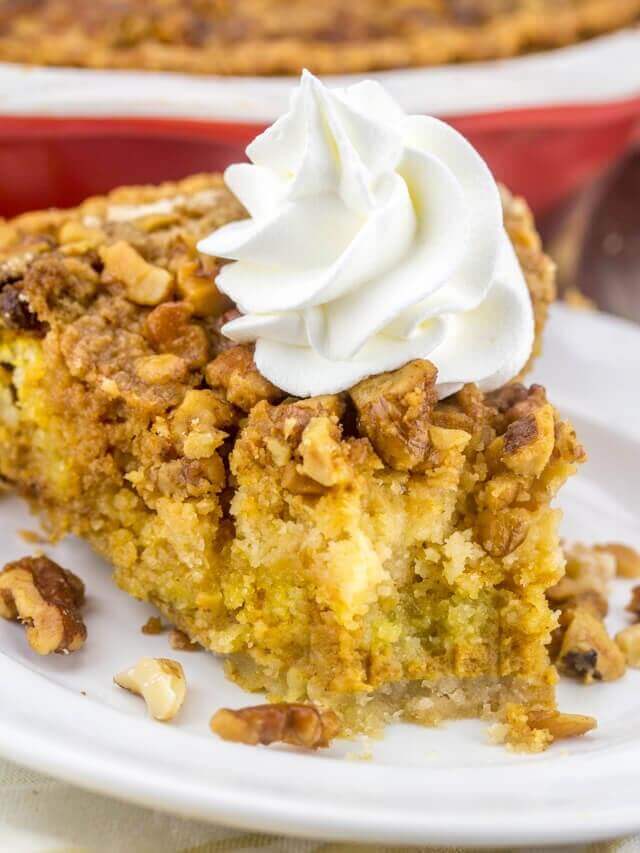 This recipe is a mixture of our family's 2 favorite pumpkin recipes- one is pumpkin pie, and the other is called simply Pumpkin Dessert. Pumpkin Dessert is my favorite. It's basically what's on top of this pie, minus the crust. But there is a little argument in our house as to which is better.  Traditional Pumpkin Pie or Pumpkin Dessert.  We decided to try to appease both by putting them together. The results? Amazing.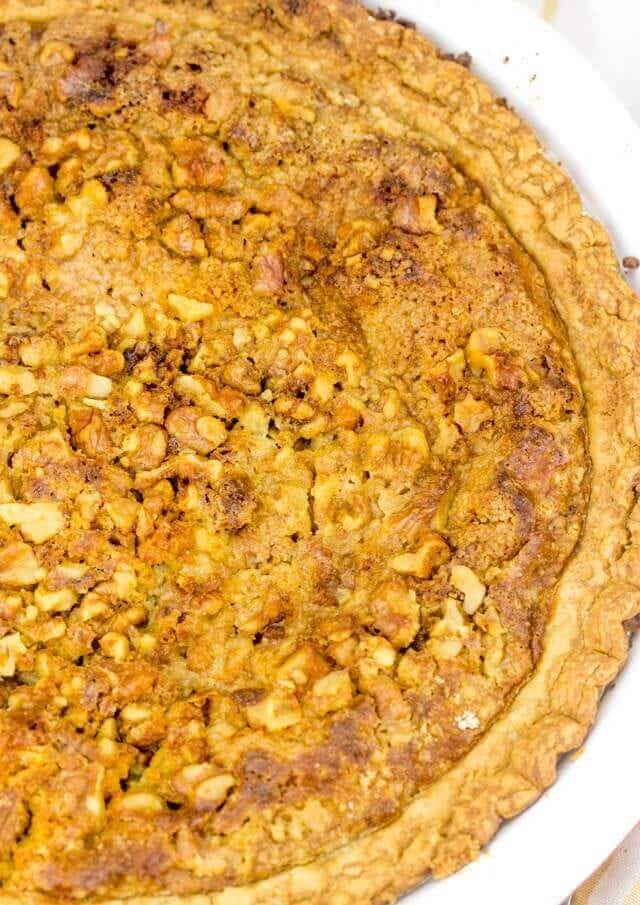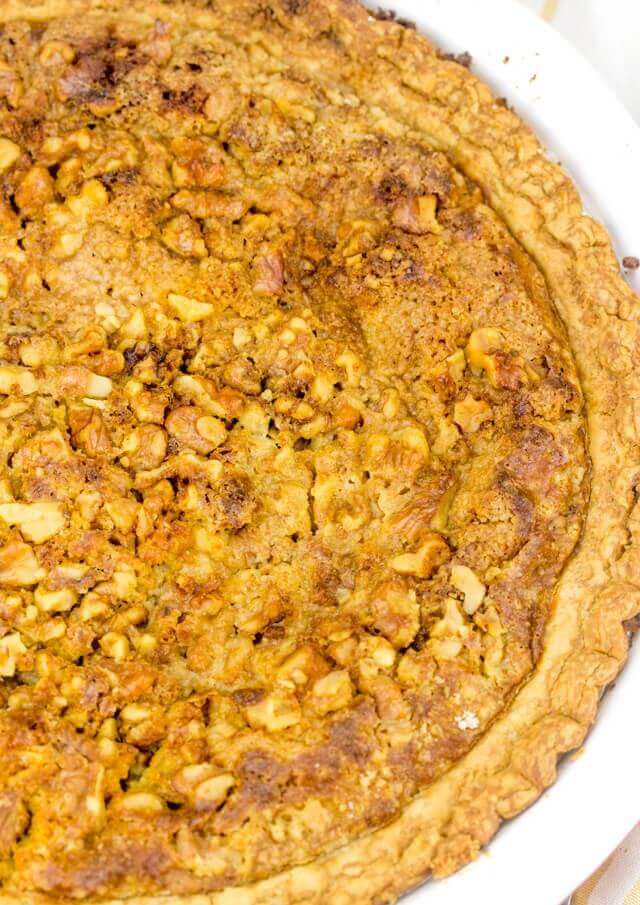 This pie is one of those desserts that would just be simply fantastic with a bowl of vanilla ice cream. Mmmm. Cold or hot, you'll love it. It has 4 basic layers: The pie crust, pumpkin mixture, the cake mix, and the butter and nuts. You can make easily by using a store bought pie crust, or you can use your own favorite homemade crust. Whatever your favorite way is, I urge you to try this great pumpkin crumb pie.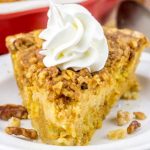 Pumpkin Crumb Pie
This is a combination of our two favorite recipes...pumpkin pie and pumpkin dessert!
Ingredients
2

unbaked pie shells

15

ounces

solid-pack pumpkin

12

ounces

evaporated milk

3

large

eggs

1

cup

sugar

4

teaspoons

pumpkin pie spice

15.25

ounces

yellow cake mix

3/4

cup

butter

melted

1-1/2

cups

chopped walnuts
Instructions
In a large bowl, beat the pumpkin, evaporated milk, eggs, sugar and pumpkin pie spice together until smooth.

Pour half of the batter into one unbaked pie shell, and the other half of the batter into the other pie shell.


Sprinkle the dry cake mix over the pies, splitting it equally.

Drizzle the melted butter over each of the pies, also dividing the butter equally. Top the pies with the chopped walnuts.

Bake the pies at 350 degrees for 45-55 minutes, or until a knife inserted in the center comes out clean.

Allow the pies to cool on a wire rack.
Recipe Notes
If you don't want the pie crust, pour the pumpkin mixture into a greased 9x13 pan. Then sprinkle the cake mix, butter and walnuts on top of that. Bake this dessert at 350 degrees for 1 hour.
Nutrition Facts
Pumpkin Crumb Pie
Amount Per Serving
Calories 397
Calories from Fat 171
% Daily Value*
Total Fat 19g 29%
Cholesterol 63mg 21%
Sodium 397mg 17%
Potassium 187mg 5%
Total Carbohydrates 50g 17%
Protein 5g 10%
* Percent Daily Values are based on a 2000 calorie diet.
Inspired by Taste of Home