These easy pumpkin recipes and fun pumpkin facts will get you into a fall state of mind! We've got easy pumpkin recipes for baking and cooking, plus our favorite recipes with pumpkin spice!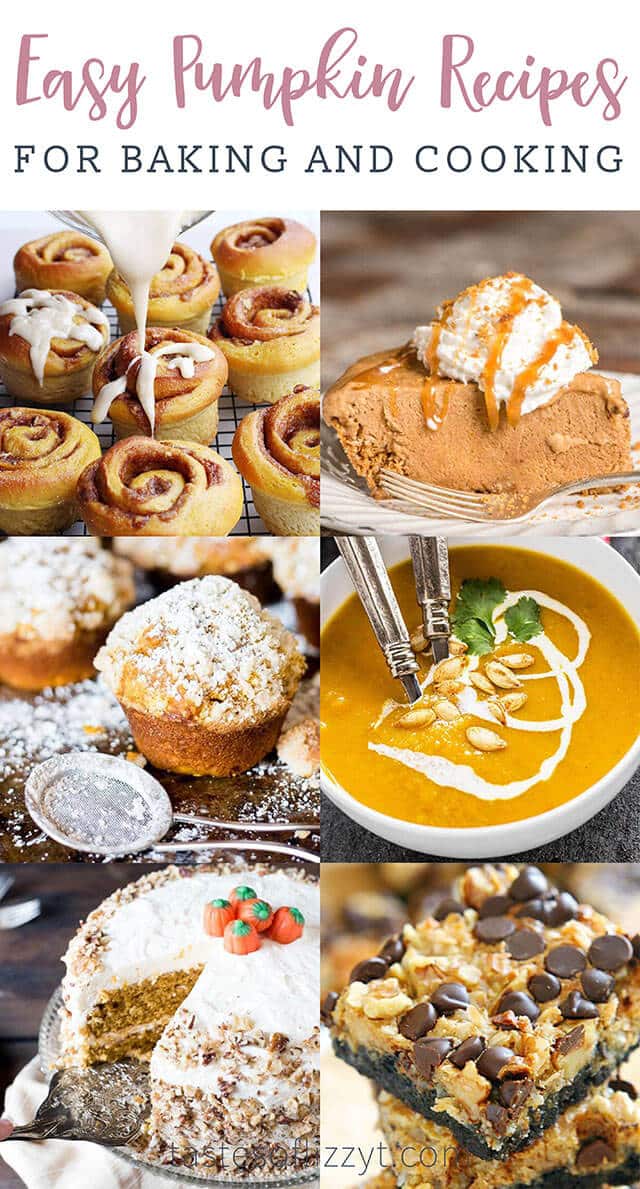 When the calendar rolls over to September, are you the first in line for a pumpkin spice latte? Do you get excited when you see that the pumpkin patches are open for business? If easy pumpkin recipes are your passion, you're in the right place!
Let's kick things off with a few fun pumpkin facts!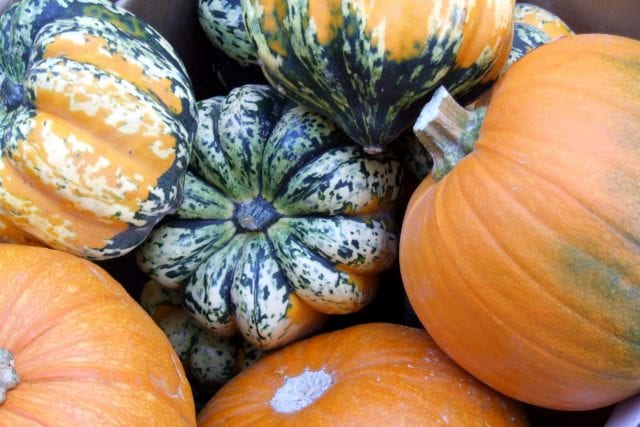 Pumpkin Facts: Types of Pumpkin
There are a lot of types of pumpkin growing in the pumpkin patches! In the United States, we can grow over 42 varieties of pumpkin.
Pumpkins have been grown in North America for at least five thousand years, and are indigenous to the region. About 95% of the pumpkin types in the U.S. are grown within a 90 mile radius of Peoria, Illinois. However, pumpkins are now grown on six continents!
Some pumpkin varieties are meant specifically for carving, while others, like the Cinderella pumpkin, are best for using to make pumpkin puree. There are even tiny, white pie pumpkins called "Baby Boos" that are almost too cute to cut open!
Do you know that pumpkins are actually a type of squash? Just like butternut, acorn, and spaghetti squash, pumpkin squashes are know as "winter squash". They harvest in the fall, and can be used to make all sorts of delicious recipes.
The soft flesh of the squash is not the only edible part! Of course, the seeds can be roasted and eaten. Each pumpkin has about 500 seeds and roasted pumpkin seeds are a great source of iron. But actually, every part of the pumpkin plant is edible, even the stem and leaves!
Easy Pumpkin Recipes
When you're craving pumpkin flavor and don't want to wait long, try these easy pumpkin recipes! From pumpkin breakfast casseroles to dessert, your pumpkin needs can be met in a flash.
Pumpkin Apple Carrot Soup– lightly spiced, really comforting and will warm your guests as an appetizer. Pumpkins are 90% water so this warm dish will allow you to still enjoy the main course.
Pumpkin Pie Rice Pudding– comforting, fall-flavored recipe that would make an impressive breakfast or dessert. Arborio rice perfectly absorbs the pumpkin flavor in this creamy dish.
Pumpkin Turtle Cookies– your favorite chocolate candy dressed up into a pumpkin cookie. These are soft and gooey with a nutty pecan crunch.
White Chocolate Chip Pumpkin Cookies– perfectly soft and chewy, not cakey at all- just like a cookie should be! This easy pumpkin recipe is also egg free.
Recipes with Pumpkin Spice
No pumpkin puree required! A jar of pumpkin spice can provide all the warmth and comfort of your favorite fall flavor in these easy pumpkin recipes. Find our homemade pumpkin pie spice recipe here.
Pumpkin Spice Turtles– this quick homemade candy makes a perfect gift! The classic turtle candy has gone glam with Pumpkin Spice Hershey Kisses.
Pumpkin Spice Cake with Cream Cheese Frosting– a homemade, Amish recipe topped with cream cheese frosting and chopped nuts. This layer cake looks impressive but is forgiving even for novice bakers.
Pumpkin Spice Oreo Magic Cookie Bars– with a buttery Oreo cookie crust and pumpkin spiced chewy filling, these will always go faster than pumpkin pie!
Pumpkin Spice Cinnamon Buns– 

pillowy soft and pair perfectly with the gooey spiced dark brown sugar filling. The Maple Brown Butter Cream Cheese Frosting is the actual icing on the… buns. 

Pumpkin Spice Muffins– lightly spiced, soft and moist, plus the streusel and powdered sugar on top adds a hint of sweetness to each bite. Try adding some chocolate chips to these easy muffins for a sweeter taste.
Pumpkin Spice Saltine Toffee– use Pumpkin Spice Hershey Kisses to give a perfect fall flavor to your favorite holiday candy recipe. In no time at all turn boring saltine crackers into a fancy fall treat.
Pumpkin Bread Recipes
Bread fresh from the oven combined with the warm aroma of pumpkin spice is the universal signal for sweaters and brightly colored leaves. Any of these easy pumpkin recipes will make a crisp fall day feel beautiful. Plus pumpkins are packed with beta-carotene which gives these dishes their bright color and an antioxidant boost to the lucky consumer.
Easy Pumpkin Bread– a quick no-fail bread that has a simple pumpkin flavor. This is the most moist, rich and purely perfect pumpkin bread every baker should master.
Pumpkin Dinner Rolls– quick and easy these rolls are egg free and filled with pumpkin spice flavor. It is based on one of our most popular recipes for yeast rolls, but with a special splash of pumpkin.
Pumpkin Cinnamon Roll Bake– refrigerated cinnamon roll dough baked with pumpkin pie filling is a breakfast ready for the oven in under 15 minutes! Talk about an easy pumpkin recipe to start your day.
Cinnamon Crunch Pumpkin Knots– with a soft, mild flavor and pretty golden color, you'll love the buttery, cinnamon sugar crunch that covers the outside! Based on our very popular egg twist bread, this is one of our most popular easy pumpkin recipes.
Pumpkin Pie Recipes
While it's a requirement for Thanksgiving dinner, you don't have to stick with a traditional recipe. These modern alternatives will wow your guests. These easy pumpkin recipes are, well, as easy as pie to make!
Homemade Pumpkin Pie– learn how to make the best homemade pumpkin pie. This is the pumpkin pie that is served on our table for every holiday.
Pumpkin Crumb Pie– a traditional pumpkin pie base with a cake mix and nut crunch streusel baked on top. This recipe combines two of our family's favorite pumpkin recipes into one. Perfect for when you can't chose just one dessert!
Chocolate Covered Pumpkin Pie Bites– dip pumpkin pie squares in chocolate chips to create these mouth-watering Thanksgiving treats.
Frozen Pumpkin Pie– made with cappuccino gelato sitting inside a gingersnap crust. Still indulge in your pumpkin fantasies when the temperatures feel more like Fourth of July.
Pumpkin Cheesecake Mini Pies– a flaky, buttery pie dough piled high with a pillow soft pumpkin cream cheese filling. This easy recipe makes 48 mini cheesecake pies.
Pumpkin Pecan Cookie Pie– with bursts of cinnamon inside and thick and soft cinnamon buttercream frosting on top, these will melt-in-your-mouth! The homemade cinnamon chips are a special extra touch in this pie.
Pumpkin Cake Recipes
If you need an alternative dessert to pumpkin pie, try incorporating your favorite flavor into the soft pleasure of a cake. Appropriate for any occasion, these easy pumpkin recipes will become year-round favorites.