Tastes of Lizzy T participates in affiliate advertising programs. We may earn a commission when you make a purchase through links on our site.
Pumpkin Swirl Cheesecake with gingersnap crust is a make ahead dessert, perfect for entertaining. This is one of our easy pumpkin recipes for the holidays.
Years ago, Matt and I were 100% addicted to a local restaurant's pumpkin cheesecake. The creamy cheesecake had a gingersnap crust and a little caramel drizzled over the top. I can still taste the sweetness of it.
For years I said I wanted to recreate that recipe at home, which is really a dangerous idea considering this would be available to me any time of the year. Pumpkin cheesecake for Memorial Day? Definitely.
I'm thrilled to say I finally created a pumpkin cheesecake that we love. When your husband takes a bite, closes his eyes and says… "Oh man….", you know it's good. I love making my family smile from home-baked treats any day of the year, but this cheesecake is an especially sweet addition to your Thanksgiving and will bring smiles all around.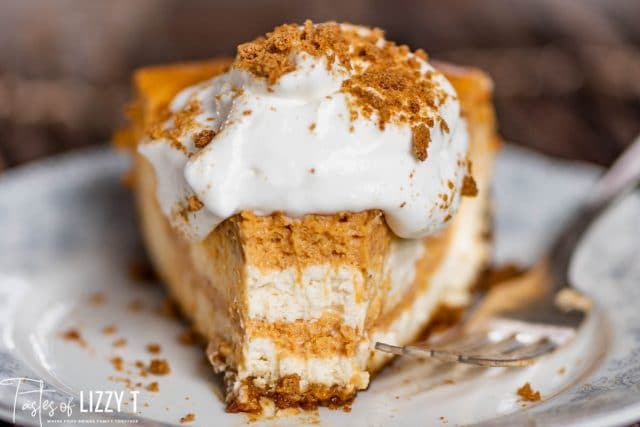 What to Bake the Cheesecake In
Cheesecakes are best when baked in a springform pan. This two-part pan makes it easy to get the delicate cheesecake out in clean slices for serving. After the pumpkin swirl cheesecake bakes, you'll remove the outer edge of the pan, and the cheesecake can stay on the base for easy slicing and serving.
Springform pans come in all sizes. I used a 9″ round springform pan. If you use a larger pan, the cheesecake will be thinner. If you use a smaller springform pan, the cheesecake will of course be thicker.
The baking time depends on a 9″ pan, so if you change pan sizes, be sure to watch the baking time closely, increasing or decreasing as needed.
Easy Gingersnap Crust
There is full flavor in every part of this pumpkin swirl cheesecake, including gingersnap cookies as the crust. The spicy base of this cheesecake couldn't be easier by using store-bought gingersnap cookies.
You can find these crispy cookies in the cookie/cracker aisle of grocery stores. Simply crush gingersnap cookies, add some melted butter and brown sugar Mix it together and press it in the bottom of the springform pan.
There's no need to pre-bake the crust. It will bake as the cheesecake bakes.
Don't like gingersnaps? Try vanilla wafers, graham crackers or golden Oreos.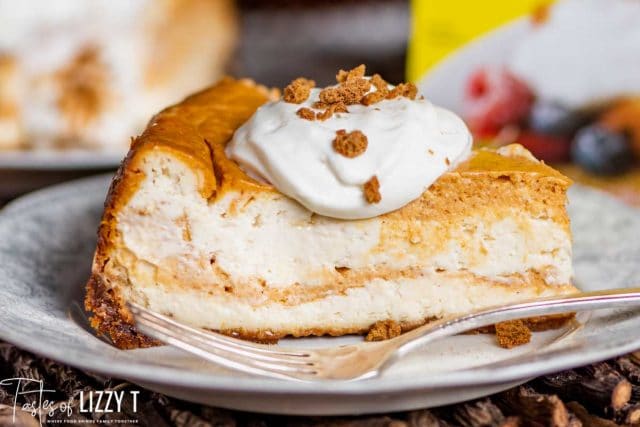 How to Make Cheesecake Filling
The filling to a cheesecake varies from recipe to recipe, but it does have a few basic parts.
Cream Cheese. This is the star of the show! Use full-fat cream cheese. This will give you the best texture. I've had success with any brand.
Sour Cream. Why add sour cream to cheesecake? The sour cream adds moisture and softens the cream cheese. It also adds a little tang to the cheesecake. Our favorite cheesecake recipe is loaded with sour cream for extra creaminess.
Brown Sugar. Brown sugar gives a nutty, subtle molasses flavor that pairs perfectly with the gingersnap crust and pumpkin.
Eggs. Eggs are what hold the cheesecake together. 4 eggs works perfectly for the texture we like. Be sure to lightly whisk them before adding them to the cheesecake batter so they mix in more easily.
Flavoring. Add pure vanilla extract for a warm taste.
Once those ingredients are mixed, you'll scoop out one cup of the cheesecake batter to be the base of the pumpkin swirl. To that one cup of batter, simply add pumpkin puree (solid pack pumpkin), brown sugar, nutmeg (we're crazy for freshly grated nutmeg!) and cinnamon.
Tips for Making Pumpkin Swirl Cheesecake
It is important that you avoid beating the cheesecake batter too much or too hard because it will beat air into the filling. To ensure quick, easy mixing, make sure your cream cheese is softened to room temperature and the other ingredients are at room temperature so they all cream together easily. Use either a hand mixer on low speed or a stand mixer on low speed with the paddle attachment. Mix only until the ingredients are combined.
We personally like rich, creamy cheesecakes with no air bubbles in it. Let the cheesecake filling sit for 5-10 minutes (or even up to a few hours) after it is in the pan to allow any air that may have been whipped into the batter to settle. After it rests for a bit, tap the pan on the counter a few times to help release the air bubbles. You should see a few little air bubbles popping as you tap.
Cheesecake can seem a little tricky to bake. For the pumpkin swirl cheesecake recipe, place the cheesecake in a cold oven and then set it to 350 degrees. It will take about 60 minutes for the cheesecake to bake. You want the outside edge of the cheesecake to be slightly raised and "puffy" and the inside 3″ of the cheesecake to be slightly "jiggly", like soft-set gelatin.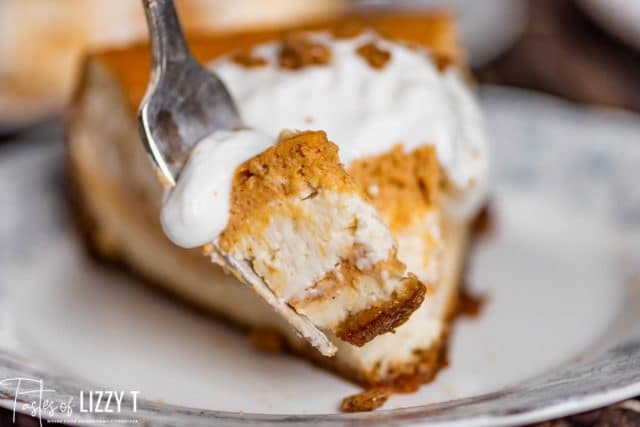 What causes cracks in cheesecake?
Many people worry about how to prevent cracks in cheesecake. The biggest culprits for cracks in cheesecakes are temperature changes and overbaking. That's why we cool the cheesecake in the oven and with the oven door open before removing it to room temperature. And it's why you should take cheesecake out of the oven when it still has a jiggly center.
Some use a water bath to bake cheesecakes. I don't worry about it for this cheesecake, but if you'd like to try one, read about our water bath cheesecake method.
I honestly don't worry about cracks too much. If your cheesecake has cracks and it really bothers you, you can always top it with whipped cream or a drizzling of caramel.
How to Store Cheesecake
Store cheesecake in the refrigerator in an airtight container. You can also freeze cheesecake for up to 3 months.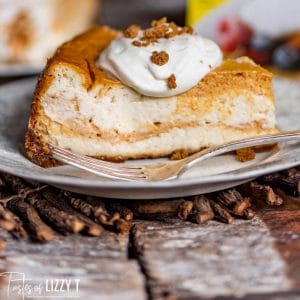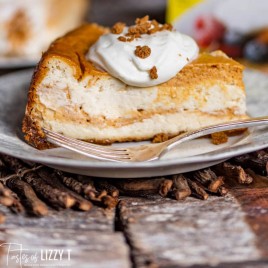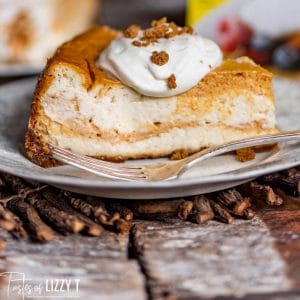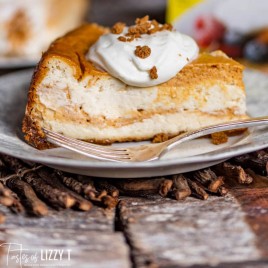 Pumpkin Swirl Cheesecake
Treat your holiday guests to this Pumpkin Swirl Cheesecake recipe with gingersnap crust! A make ahead dessert perfect for entertaining.
Cooling Time
1

hour
30

minutes
Total Time
2

hours
50

minutes
---
Ingredients
Crust:
1 1/4

cups

crushed gingersnaps

3

tablespoons

light brown sugar

3

tablespoons

salted butter

packed
For the Cheesecake:
32

ounces

cream cheese

softened

1

cup

light brown sugar

packed

2

teaspoons

vanilla extract

1/2

cup

sour cream

at room temperature

4

large

eggs

whisked, at room temperature

3/4

cup

pumpkin puree

1/4

teaspoon

nutmeg

1/2

teaspoon

cinnamon

1/4

cup

light brown sugar

packed
Instructions
Spray a 9″ round springform pan with cooking spray or lightly grease with butter. Set aside.
Make the crust:
Combine the gingersnap crumbs, brown sugar and melted butter in a small bowl.

Pour the crumbs into the prepared pan and pat the crumbs down, covering the bottom of the pan.
Make the cheesecake batter:
In a large bowl, use a stand mixer with the paddle attachment (or a hand mixer) on low speed to cream the cream cheese. Mix gently until it is smooth.

Add in the brown sugar, vanilla and sour cream. Mix on low speed again until combined.

Add half of the eggs and lightly beat them into the cream cheese just until combined.

Add the remaining eggs and mix on low speed just until combined.

Scoop out one cup of cheesecake batter and place it in a medium size bowl.

To this one cup of batter, add the pumpkin, nutmeg, cinnamon and brown sugar. Mix well with a rubber spatula.
Assemble the cheesecake:
Pour half of the plain cheesecake batter into the prepared springform pan. Then pour in half of the pumpkin batter.

Use a knife to gently swirl the two batters together.

Add the remaining plain cheesecake batter and then the remaining pumpkin batter.

Use a knife to swirl the batters together again.

Allow the cheesecake to rest for 5-10 minutes so that the batter settles and any air bubbles come to the top.

Gently tap the pan on the countertop 5-6 times to help remove air bubbles.

Place the pan in a cold oven and close the door.

Set the oven to 350 degrees Fahrenheit and bake for about 60 minutes.

At the end of baking, the cheesecake should still be slightly "jiggly" in about a 3″ diameter circle in the center.

Turn off the oven and allow the cheesecake to sit for 30 minutes in the hot oven with the door closed. Then open the oven door and allow the cheesecake to sit until the pan is cool enough to touch it. (at least another hour)

Remove the cheesecake from the oven and allow it to rest until it is at room temperature.

Remove the outer ring of the pan, cover the cheesecake and store it in the refrigerator overnight.

To serve, slice the cheesecake and top it with whipped cream and gingersnap crumbs.

Store leftovers in an airtight container in the refrigerator.
Notes
The calories shown are based on the cheesecake being cut into 12 pieces, with 1 serving being 1 slice of cheesecake. Since different brands of ingredients have different nutritional information, the calories shown are just an estimate. **We are not dietitians and recommend you seek a nutritionist for exact nutritional information. The information in the nutrition box are calculated through a program and there is room for error. If you need an accurate count, I recommend running the ingredients through your favorite nutrition calculator.**
Nutrition
Calories:
480
kcal
|
Carbohydrates:
39
g
|
Protein:
7
g
|
Fat:
33
g
|
Saturated Fat:
18
g
|
Cholesterol:
157
mg
|
Sodium:
366
mg
|
Potassium:
247
mg
|
Sugar:
30
g
|
Vitamin A:
3635
IU
|
Vitamin C:
0.7
mg
|
Calcium:
129
mg
|
Iron:
1.7
mg