Pumpkin Spice Cake with Cream Cheese Frosting is a homemade, Amish dessert recipe. A layered pumpkin spice cake topped with cream cheese frosting and chopped nuts. One of best pumpkin recipes for an irresistible fall dessert.

Pumpkin Spice Cake with Cream Cheese Frosting
It's been awhile since I've shared a homemade layer cake with you. It's not because we haven't been making them or that they haven't been filling my daydreams. It's mostly because my three kids are keeping me on-my-toes busy.
I've definitely graduated to "taxi-mom" and I'm sure many of you out there can sympathize. I love having my kids active, but whew, they wear me out! If there's a day that I don't have to get in the car, it is a great day. 🙂
So since cakes have been on my mind and everyone is all about the pumpkin spice, I couldn't wait any longer to share with you this from scratch, pumpkin spice layer cake with creamy, sweet, cream cheese frosting.
You've seen this frosting before. It covers this cheesecake and is the base for the creamy layer of our trifles. Although I could sit down with a good book and a bowl full of this frosting itself (yes…don't judge me.), it pairs perfectly with this moist, pumpkin spice cake that comes straight from my Amish cookbook.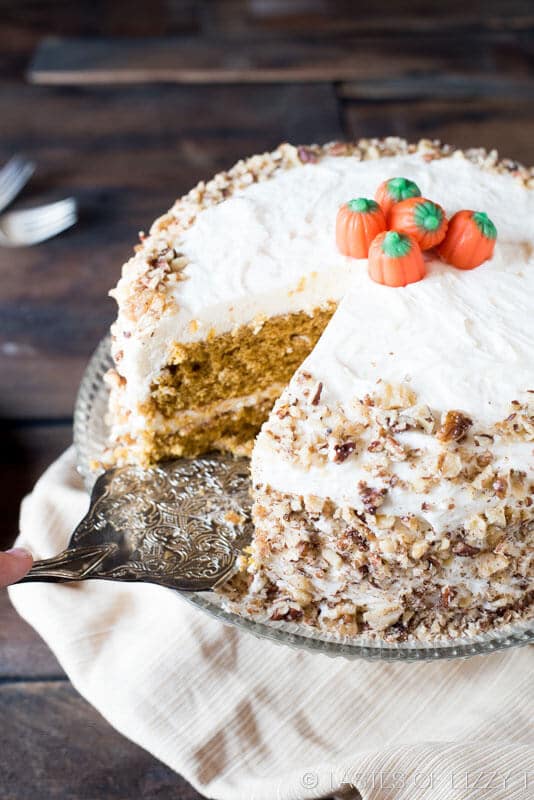 Don't be intimidated by making your own cake. This recipe is simple and I find that baking with pumpkin is very forgiving. Because you can't really go wrong with pumpkin baked goods.
How do you make a pumpkin spice cake?
It is important that you use cake flour when you make cakes from scratch. It gives the cake a tender crumb that you won't get with all-purpose flour. Thankfully, most grocery stores carry cake flour. If you don't want to get in the car to run another errand (I totally understand), you can order cake flour off Amazon.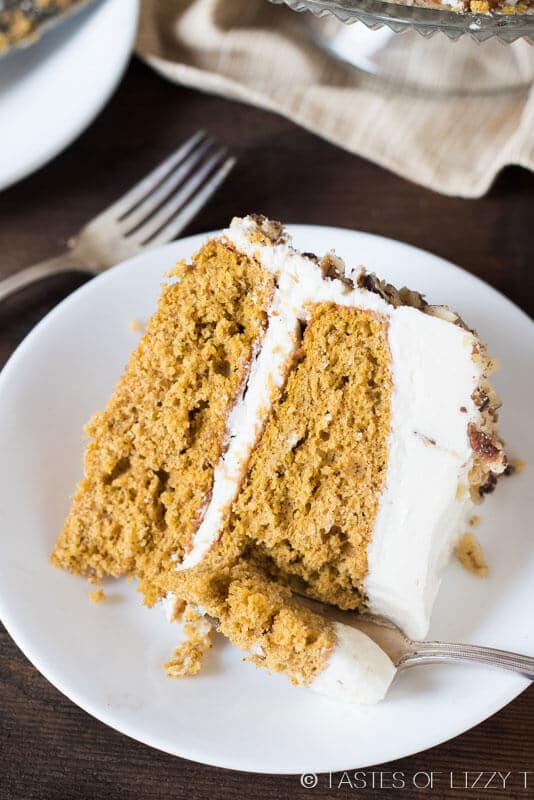 This recipe also calls for shortening. Most Amish recipes call for shortening instead of butter and many times I switch out the shortening for real butter. This time I decided to stick with shortening.
What's the difference between shortening and butter in cake baking?
From what I understand, there's not much difference. Some say that shortening makes the cake have a little better structure and a bit more moisture. Others love the flavor that the butter gives. I say use whichever you'd like. Or you could even use half and half. How's that for options?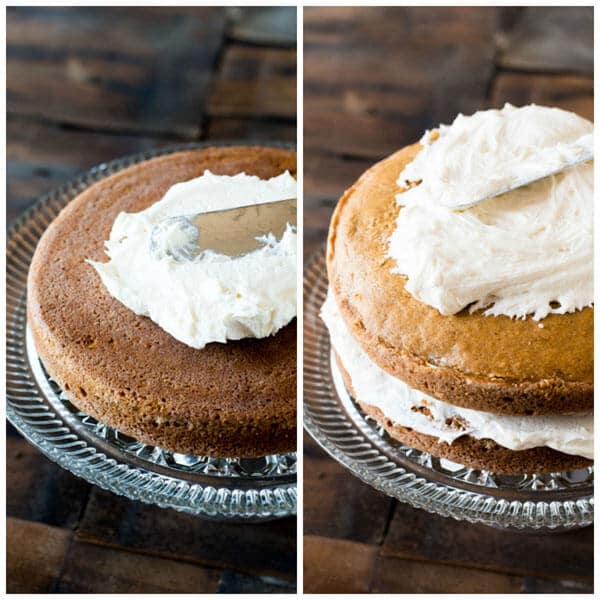 One thing I love about our cream cheese frosting is that it is super easy to spread. It's meant to be fluffy so don't worry about getting it completely smooth. Keep that texture for a pretty look. As you can see in the picture above, I put the first cake layer top side down. You'll then spread icing on the smooth bottom part of the cake.
For the top layer, I put it top side up. Sometimes you may want your layer cake completely flat on top, but for this cake, I didn't care. Plus, I planned on heaping enough frosting on to cover any possible slopes.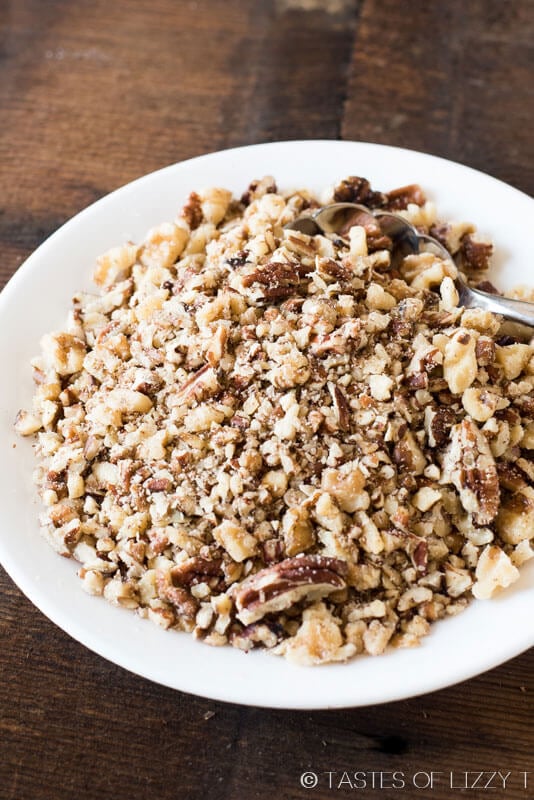 After frosting the cake, you can leave it as is, or you can press some chopped pecans on the outside. It's a little bit of a messy process, but isn't it pretty?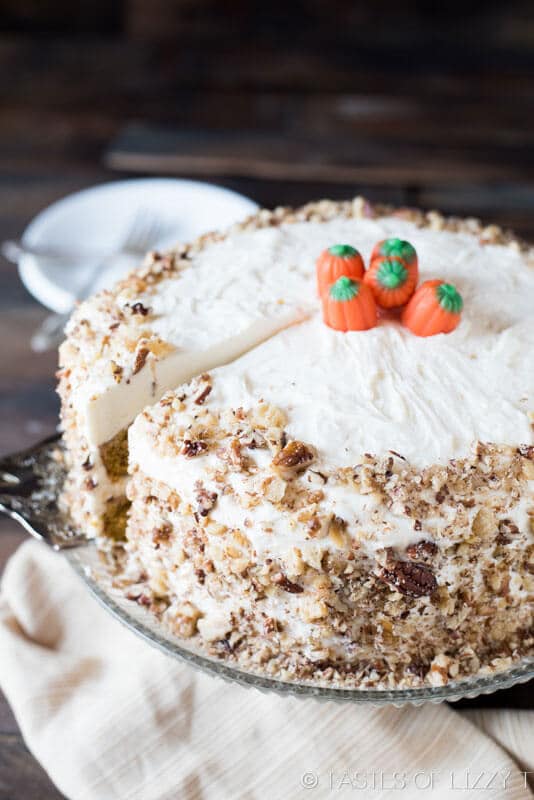 I wish I could have you all over for some coffee with cream and slice you a serving of this delicious cake. Wouldn't that be fun? 🙂
Happy baking and stay tuned for more layer cakes!
Important Cake Making Supplies:
Round Cake Pans: I have these exact pans and they have served me well for years.
Wilton Cake Release: You don't want your cakes sticking to your pans! 🙂
KitchenAid Stand Mixer or Hand Mixer: I have both. And I don't know what I'd do without both of them. They make life so much easier!
Ninja Express Chop: For chopping pecans and whatever else needs it. I just got a new one for my birthday and am loving it!
Cake Stand: I don't have this. Yet. But I want it. Isn't it gorgeous?
Straight Spatulas: Makes frosting cakes So. Much. Easier.
Pumpkin Spice Cake
A homemade, Amish recipe for layered Pumpkin Spice Cake. This completely from-scratch cake is topped with cream cheese frosting and chopped nuts.
Ingredients
1/2

cup

shortening

or butter

1 1/4

cups

granulated sugar

2

large

eggs

beaten

2 1/4

cups

sifted cake flour

2 1/2

teaspoons

baking powder

1/2

teaspoon

baking soda

1

teaspoon

salt

2

teaspoons

cinnamon

1

teaspoon

pumpkin pie spice*

1

cup

solid-pack pumpkin

3/4

cup

milk
For the frosting:
12

ounces

cream cheese

softened

1

cup

plus 2 tablespoons butter

, softened

5 1/4

cups

powdered sugar

confectioner's sugar

1 1/2

tablespoons

vanilla extract

1

cup

chopped pecans

optional, for topping
Instructions
Preheat the oven to 350 degrees.

In a stand mixer, cream the shortening, then gradually add the sugar and continue creaming until it is light and fluffy. Blend in the eggs.

In a separate bowl, sift together the flour, baking powder, soda, salt and spices. Set aside.

In a small bowl, whisk together the pumpkin and milk.

Add the dry ingredients alternately with the pumpkin mixture to the egg mixture, beginning and ending with dry ingredients.

Grease and flour two 9" round cake pans. Pour the batter into the prepared pans, dividing equally.

Bake the cakes in a 350 degree oven for 20-22 minutes or until the top center of the cake bounces back when you touch it.

While the cake is baking, prepare the cream cheese frosting.

Using an electric mixer, mix the butter and cream cheese, scraping down the sides as needed, until the mixture is light and fluffy. This will take about 2 minutes. With the mixer on low speed, add the powdered sugar, 1/2 a cup at a time, until it is thoroughly mixed. Add the vanilla and beat the frosting on medium speed for about 3 minutes.

Place one cake down on a cake plate. Frost the top of this cake with a thick layer of frosting.

Then place the second cake on top of the frosted layer.

Frost the top and sides of the cake, getting the frosting as even as possible.

If desired, press the chopped pecans around the outside of the cake immediately after frosting.

Store the cake in the refrigerator.
Notes
*In place of the pumpkin pie spice, you could use 1/2 teaspoon each of ginger and nutmeg.
Nutrition
Calories:
620
kcal
|
Carbohydrates:
76
g
|
Protein:
5
g
|
Fat:
33
g
|
Saturated Fat:
14
g
|
Cholesterol:
83
mg
|
Sodium:
390
mg
|
Potassium:
209
mg
|
Fiber:
1
g
|
Sugar:
60
g
|
Vitamin A:
3285
IU
|
Vitamin C:
0.7
mg
|
Calcium:
88
mg
|
Iron:
0.9
mg