Tastes of Lizzy T participates in affiliate advertising programs. We may earn a commission when you make a purchase through links on our site.
Today we're talking all about how to make easy crab rangoon! This party appetizer is lightly fried on the stovetop and served with a sweet & sour sauce. 
Do you love appetizers? I'm one that could make a meal off finger foods any day of the week. Give me a buffet of flatbread pizza, deviled eggs, stuffed dates or creamy dips and I'm in heaven.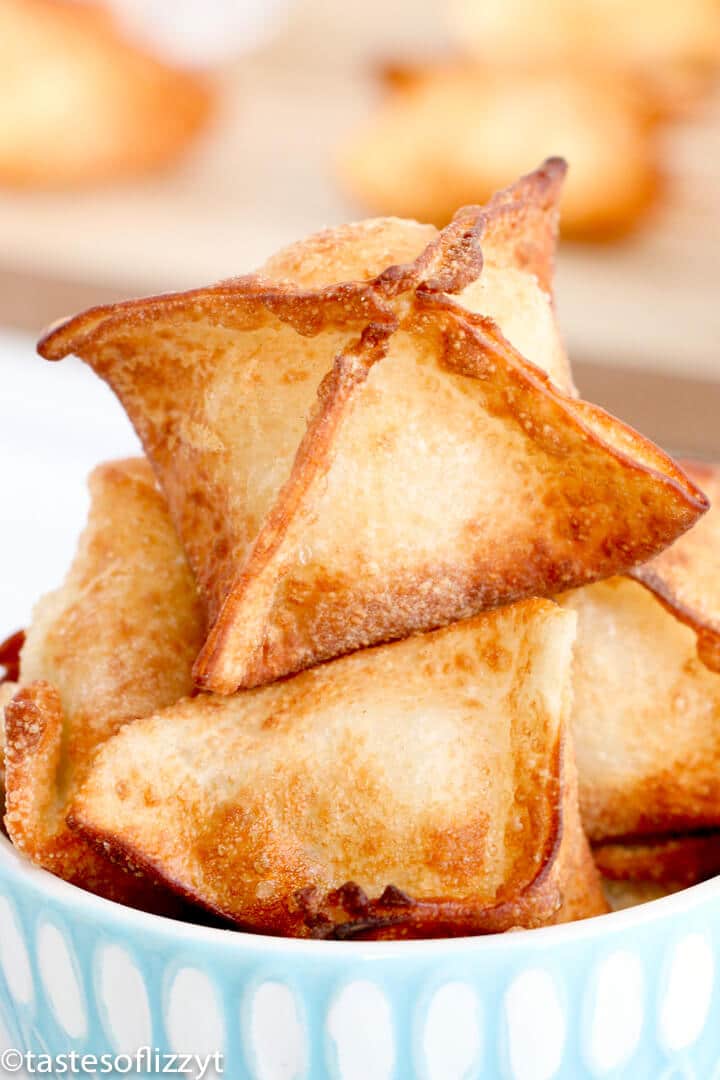 Today we're talking all about an easy crab rangoon recipe. Crab rangoon is a great party or holiday appetizer. Serve the crispy filled wontons with a dipping sauce for an easy, savory treat!
What is the difference between wontons and rangoons?
For this recipe we use wonton wrappers to close up the crab filling. So does that make this a wonton? Wontons are a Chinese favorite, often fried but mostly boiled. They are filled with meats such as pork or shrimp. Rangoon is a fried (or a baked for a healthier version) appetizer that we Americans love.
Is there crab in crab rangoon?
Yes! Although sometimes you may find an imitation crab meat in crab rangoon, most often there is real crab meat inside. To keep things simple, we use canned white crab meat.
Where do crab rangoons come from?
Crab Rangoon is assumed to be an dish that originated in the United States, although you'll often find them in American Chinese and Thai restaurants. The history of this easy appetizer is not clear, but it may have a history in the Burmese culture.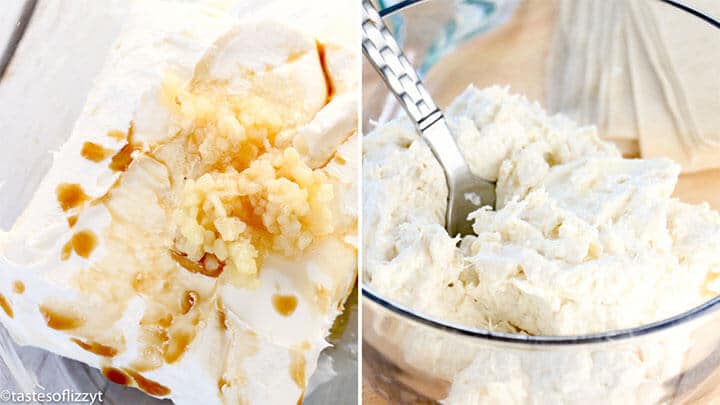 How to Make Crab Rangoon
There are three steps to making crab rangoon.
Make the cream cheese filling. To make sure it all mixes together easily, the cream cheese should be at room temperature. Also make sure that the canned crab meat is well drained so the rangoon does not get soggy.
Fold the wontons. We'll explain this step by step below!
Fry the wontons. We like to use traditional vegetable oil so it doesn't add a strong flavor. Make sure the oil is at 350º Fahrenheit before you add the rangoon so that the wontons don't absorb too much oil.
How to Fold Crab Rangoon
To wrap the cream cheese filling, you'll use wonton wrappers. These small squares are often found in the produce section of the grocery store. Look by the egg roll wrappers and tofu section.
Place about a tablespoon of the cream cheese filling in the center of the square.
Use a pastry brush to lightly brush at touch of water around the edges of the square. This will help the wrap seal.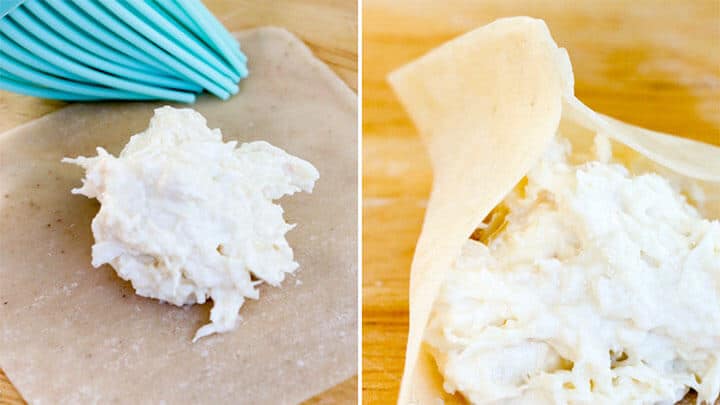 Pinch one side of the square together, as shown above, then pinch the other sides together until you have pyramid shape with a point on top.
Make sure each of the edges are pinched and sealed well so the crab rangoon doesn't pop open when frying.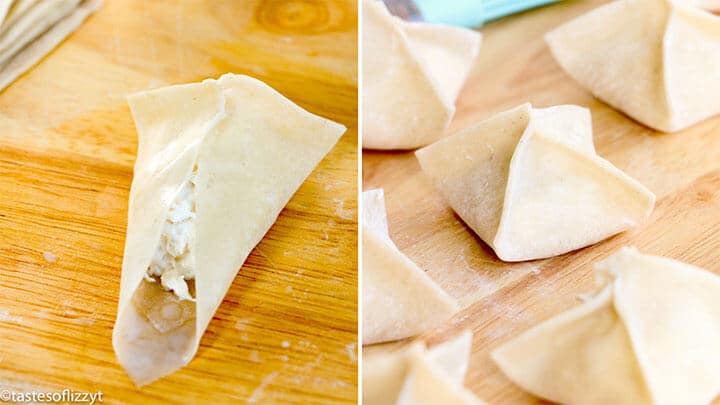 Fried Crab Rangoon
This recipe calls for frying the rangoon in a skillet on the stovetop for a few minutes. This is honestly our favorite way to make it. It has the best flavor and gets nice and crispy.
If you have an air fryer and would like to make a healthier version, you can place the closed wontons in a single layer in the air fryer. Spray with an olive oil or coconut oil cooking spray, then set the air fryer to 375 degrees and cook for about 10 minutes.
The crab rangoon won't have as even of a golden brown color when you make it in the air fryer, but you will save calories!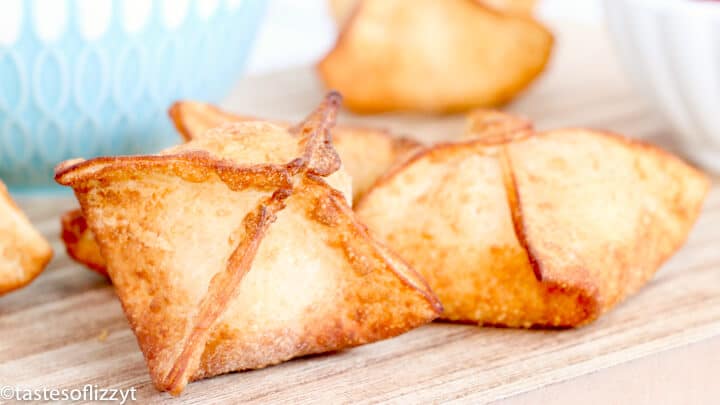 Crab Rangoon Dipping Sauce
You can easily buy a sweet & sour dipping sauce in the store to keep this recipe quick. If you want to try making a homemade sauce, try this jalapeno pineapple sauce or lemon dipping sauce. Give your guests several options for them to experiment with!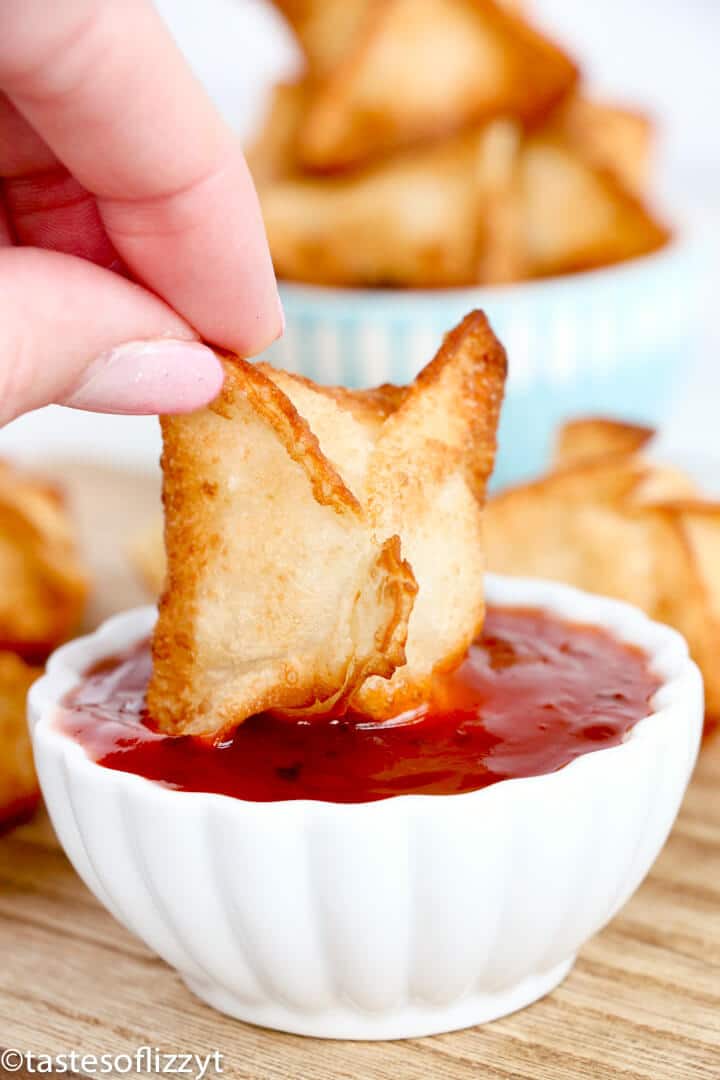 How long does crab rangoon last in the fridge?
After cooking, this easy crab rangoon will last about 3-4 days in the refrigerator if sealed properly. For best flavor and texture, reheat in the oven or an airfryer (see below).
How do you reheat crab rangoons?
To reheat crab rangoon, place them on a baking sheet. Preheat the oven to 300º Fahrenheit and bake for 5 minutes or until they are heated through. If you have an airfryer, you could also reheat the crab rangoon in there for a few minutes to help them crisp up.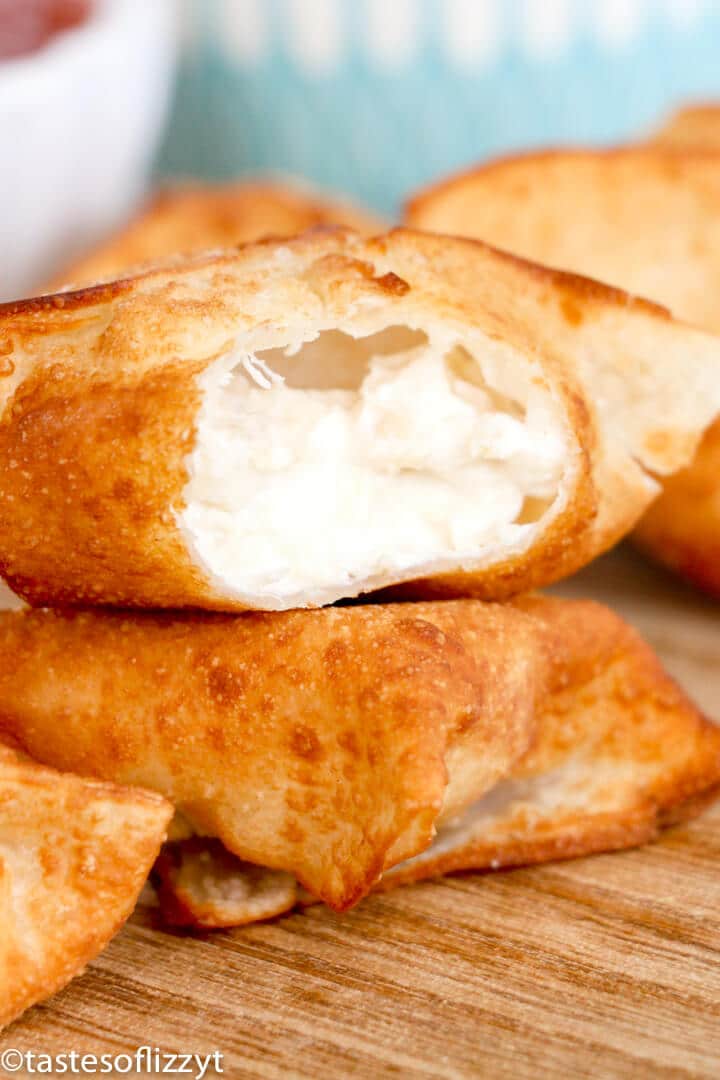 Other Easy Appetizer Recipes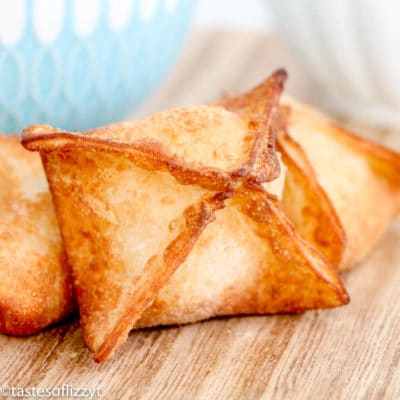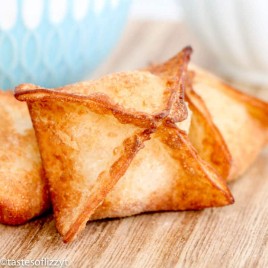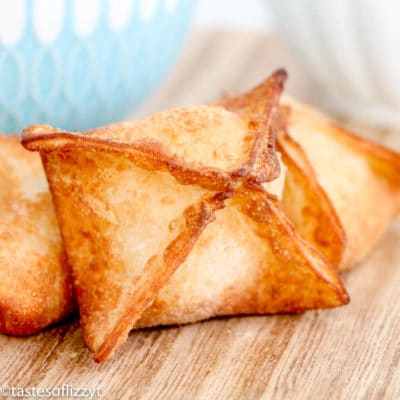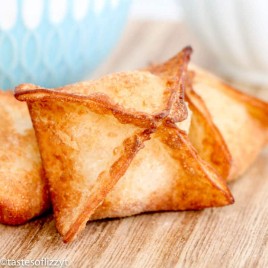 Easy Crab Rangoon
Today we're talking all about how to make easy crab rangoon! This party appetizer is lightly fried on the stovetop and served with a sweet & sour sauce.
---
Ingredients
6

ounces

cream cheese

(softened)

1/4

teaspoon

Worcestershire sauce

1

teaspoon

minced garlic

1

tablespoon

powdered sugar

6

ounces

white crab meat

(1 can, drained)

20

wonton wrappers

water

about 2 cups vegetable oil

(for frying)
Instructions
In a medium mixing bowl, combine cream cheese, Worcestershire sauce, garlic, and powdered sugar.

Mix in crab meat.

Place a tablespoon of crab mixture in the middle of each wonton wrapper.

Brush a small amount of water on all four edges of the wonton wrapper. Pinch corners together, sealing them completely.

Pour oil in a deep skillet or pan. Heat oil to 350 degrees.

Fry each piece for about 1-2 minutes or until lightly golden.

Place a wire rack over a layer of paper towels. After they are done frying, place them on the wire rack and allow them to cool.

Serve with a sweet and sour sauce.
Notes
The calories shown are based on the recipe making 20, with 1 serving being 1 crab rangoon piece. Since different brands of ingredients have different nutritional information, the calories shown are just an estimate. **We are not dietitians and recommend you seek a nutritionist for exact nutritional information.**
Nutrition
Calories:
59
kcal
|
Carbohydrates:
5
g
|
Protein:
2
g
|
Fat:
3
g
|
Saturated Fat:
1
g
|
Cholesterol:
18
mg
|
Sodium:
104
mg
|
Potassium:
39
mg
|
Vitamin A:
115
IU
|
Vitamin C:
0.3
mg
|
Calcium:
20
mg
|
Iron:
0.3
mg