Shrimp Mushroom Flatbread Pizza
This easy Shrimp Mushroom Flatbread Pizza is a great alternative recipe for pizza night. Dinner is on the table in under 30 minutes!
Flatbread pizza is all the rave these days. Being able to customize your pizza is what draws you to pizza, isn't it? Pizza or flatbread? That is the question! So here's the deal, with an easy flatbread pizza recipe, you have the option of making multiple kinds of flatbread pizzas, such as this shrimp mushroom pizza that my family loves in no time!
When my daughters would have sleepovers, they always wanted to make pizza. Depending on the time of year, we would make Chicken Caprese Pizza during the warmer months or if the holidays just passed, we would make our favorite Thanksgiving Pizza. I think it is safe to say, we turn to pizza recipes for a quick and easy meal that is also fun to make. Also, if we decide to go the traditional route, this homemade pizza sauce recipe is our go to!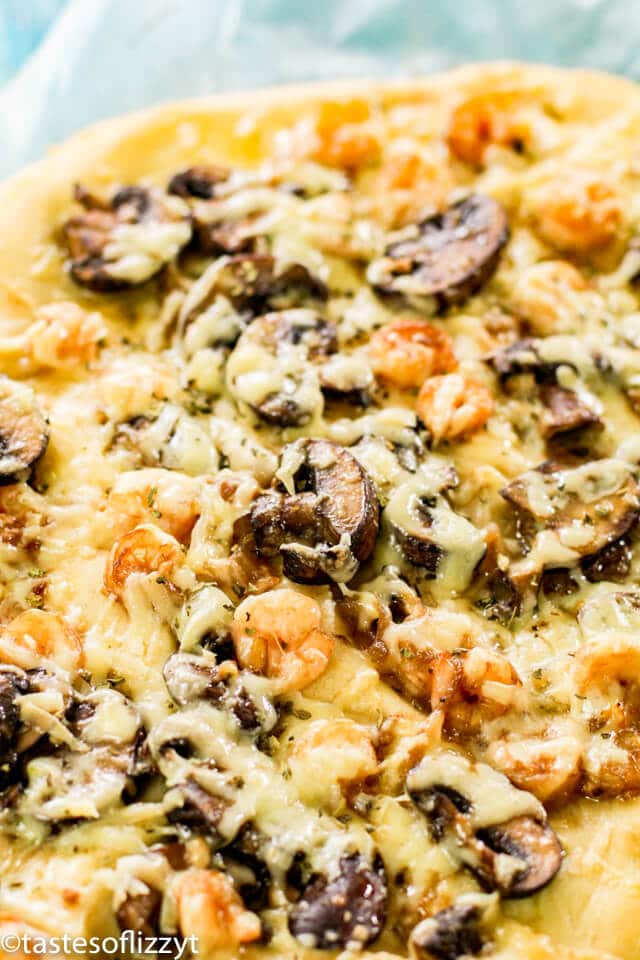 At times, we want our flatbread pizza recipes to feel lighter and a bit more sophisticated. Enter this easy shrimp and mushroom flatbread pizza recipe. The flavor of the shrimp mushroom topped over a lightly crisped flatbread, with a thin layer of melted gruyere cheese gives you the experience of a high class appetizer at home!
How To Make Flatbread Pizza At Home
The word flatbread can be confusing. Usually, you either think of the flatbread that is already made and ready to use from the store, often referred to as "Naan", or you think of flatbread in the sense of flatbread pizza, that is loaded with cheese, meat, and/or veggies.
Here are a few common questions and answers about homemade flatbread pizza!
What is flatbread?
We kind of answered this question above. Flatbread is a bread, it typically resembles Naan or a pita used for Gyros. For this mushroom shrimp flatbread pizza recipe, we are using store bought pizza dough. You are welcomed to make your dough from scratch, but store bought dough saves time and the cost is minimal.
Is flatbread healthy?
Flatbread is as healthy as pizza is. With that being said, you can make flatbread healthy by swapping out the traditional pizza dough with a whole wheat, gluten free, or even keto pizza dough. Choosing healthy toppings such as lean meats, green veggies, and a low carb sauce helps aid in making your flatbread healthier.
How To Make Crispy Flatbread Pizza
For this mushroom shrimp flatbread recipe, you will first cook the dough once it is rolled out to your liking. Be sure to score the flatbread before baking to keep it from bubbling. (If there's an air bubble once baked, just score it with a fork so the air releases.) Bake it until the edges are slightly golden. It will once again be baked, so you don't want it extra crispy -yet!
If you do want a crispy flatbread pizza, roll out the flatbread on the thinner side (not too thin where you can see through it), and make sure the edges are on the thinner side. The thinner the flatbread pizza, the crispier it will be.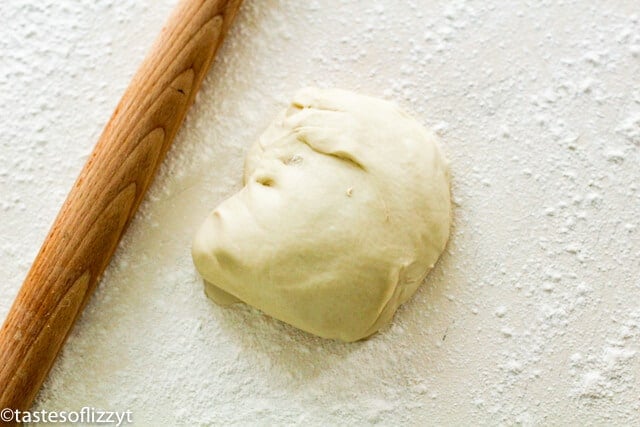 How To Make Mushroom Shrimp
The toppings for pizza is what makes the pizza, in my opinion. For this mushroom shrimp pizza flatbread recipe, we're going with extra small shrimp and sliced portobello mushrooms. You can choose to use larger shrimp, or a variation of mushrooms to fit your liking.
In a large pan, you will heat oil, and cook the mushrooms and shallots for a few minutes before adding in the shrimp and seasonings. Cook until shrimp turns pink -that is how you know shrimp is cooked through.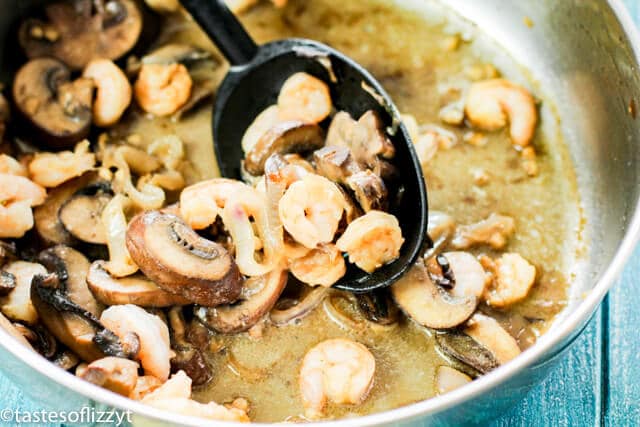 How To Make The Perfect Flatbread Pizza At Home
Now that your flatbread pizza has been rolled, baked, and the toppings are made it is time to assemble it.
**Quick Tip: Place your flatbread pizza on a parchment sheet lined pan BEFORE adding your toppings. This helps with the transportation of the flatbread pizza from pan to table.**
Layer your shrimp and mushroom mixture over the flatbread, use the liquid from the pan to act like a "sauce". Next, you'll add your freshly shaved gruyere cheese over it. You can also use mozzarella instead if that is what you have on hand.
Now, you'll bake your shrimp mushroom flatbread pizza until your cheese has melted and the edges are a bit brown.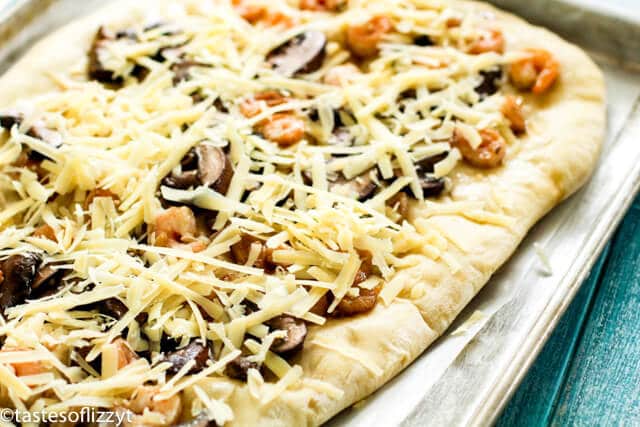 Can you make flatbread pizza on the grill?
Yes, you can make flatbread pizza on the grill. Follow the same steps as outlined here, be sure that your grill is preheated over medium high and that the grill has been oiled. I would suggest using an aluminum foil if desired for the second "grilling" for an easy clean up and transport.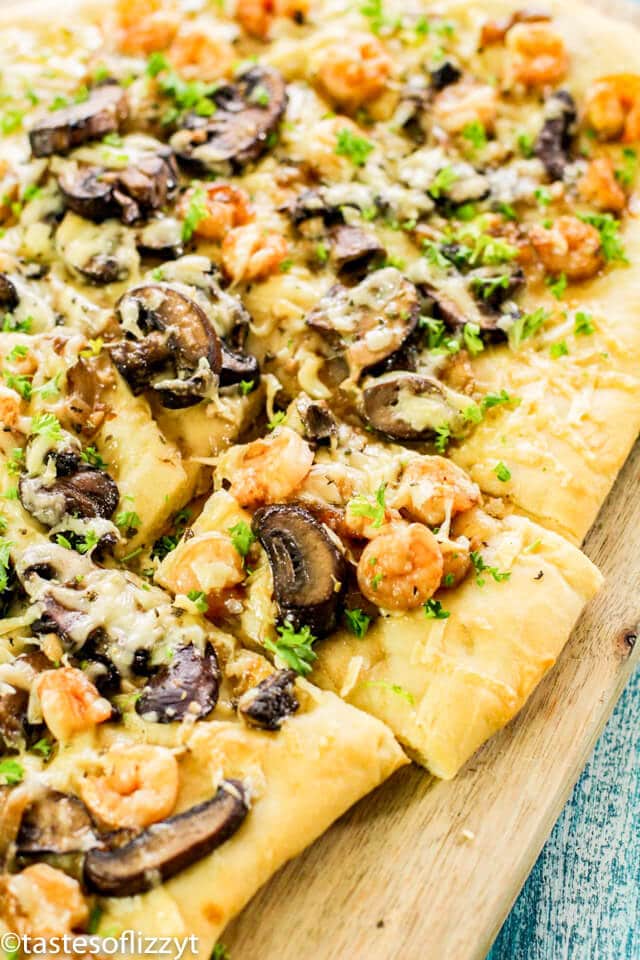 What To Serve With Shrimp and Mushroom Flatbread Pizza:
The star of the meal will be this easy shrimp and mushroom flatbread pizza. Some amazing side ideas for this flatbread pizza recipe are:
We're Star Trek nerds and LOVE this Enterprise Pizza Cutter!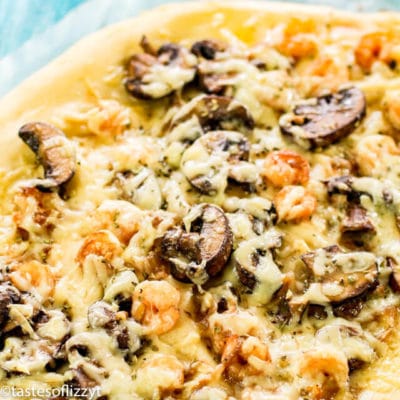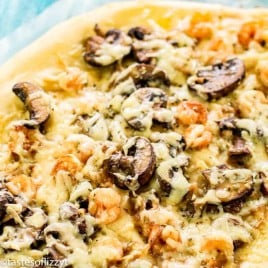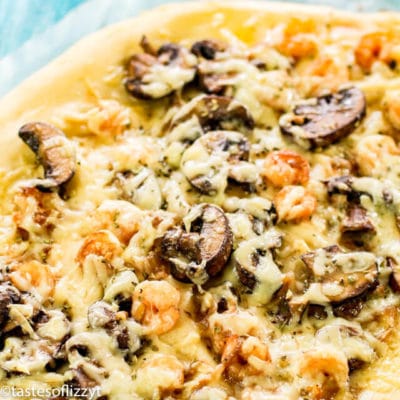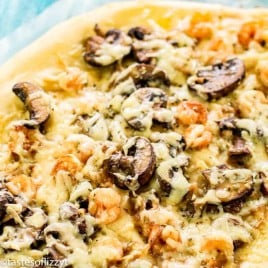 Shrimp and Mushroom Flatbread Pizza
This easy Shrimp Mushroom Flatbread Pizza is a great alternative recipe for pizza night. Dinner is on the table in under 30 minutes!
---
Ingredients
1

pound

frozen pizza dough

(defrosted)

1

tablespoon

olive oil

4

ounces

sliced mushrooms

½

shallot

(thinly sliced)

1

teaspoon

minced garlic

1

teaspoon

salt

½

teaspoon

black pepper

1

cup

extra small shrimp

1/2

teaspoon

ground thyme

1

cup

grated gruyere cheese
Instructions
Preheat oven to 400 degrees Fahrenheit.

Roll out pizza dough into a flatbread. Score the dough with a fork.

Bake the dough for ten minutes . Remove from the oven and set to the side.

In a medium pan heat oil, add in mushrooms and shallots. Cook for three minutes before adding in shrimp, salt, pepper, and thyme. Continue cooking until shrimp is pink.

Spread shrimp mixture over the flatbread and top with shredded cheese.

Return flatbread to the oven to bake for 8 minutes or until cheese has melted.

Cut into 8 slices and serve.
Notes
The calories shown are based on the pizza being cut into 8 slices, with 1 serving being 1 slice of pizza. Since different brands of ingredients have different nutritional information, the calories shown are just an estimate. **We are not dietitians and recommend you seek a nutritionist for exact nutritional information.**
Nutrition
Calories:
244
kcal
|
Carbohydrates:
28
g
|
Protein:
13
g
|
Fat:
9
g
|
Saturated Fat:
3
g
|
Cholesterol:
58
mg
|
Sodium:
881
mg
|
Potassium:
76
mg
|
Fiber:
1
g
|
Sugar:
3
g
|
Vitamin A:
155
IU
|
Vitamin C:
1.2
mg
|
Calcium:
190
mg
|
Iron:
2.1
mg