Fresh and creamy this shrimp alfredo pizza recipe is a must-make for pizza night! Under 30 minute dinner idea.
Alfredo is kind of a big thing over here. We love making our fresh and easy homemade alfredo sauce for pasta night when we serve our fettuccini with mushroom alfredo or our favorite garlic shrimp alfredo pasta recipe.
We try to always make a larger batch of homemade alfredo sauce so we can use leftover alfredo sauce to make easy mini veggie pizzas or this amazing shrimp alfredo pizza recipe.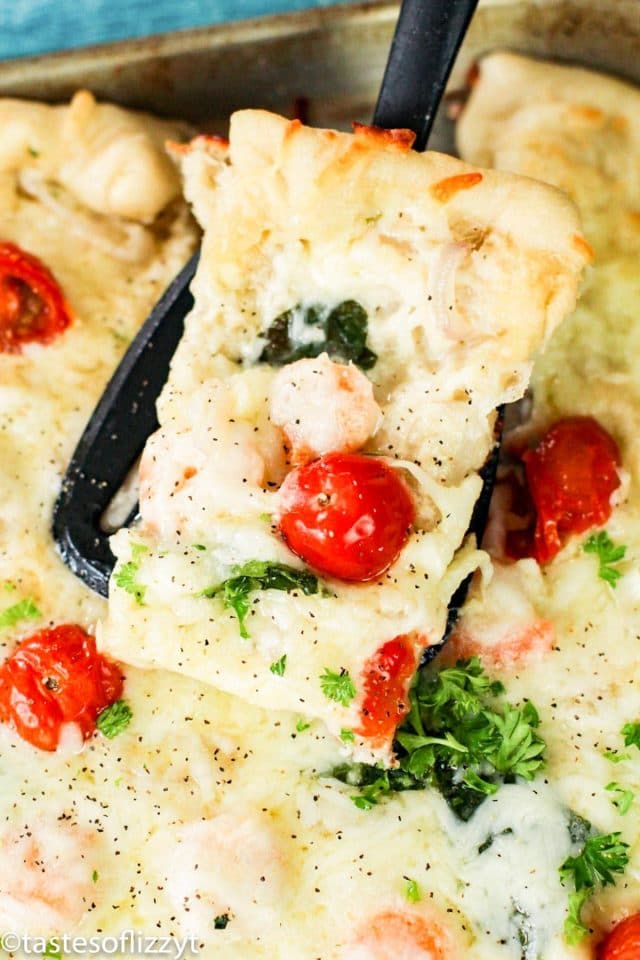 What is shrimp alfredo pizza?
Shrimp pizza can be made various ways, the two most commonly found at a pizzeria with gourmet pizza slices would be a zesty shrimp scampi pizza or a creamy and veggie filled shrimp alfredo pizza; also known as shrimp pizza with white sauce.
A shrimp alfredo pizza is a pizza that has pizza dough, covered in a creamy white alfredo sauce, then topped with spinach, tomatoes, cooked shrimp, and topped with a lovely amount of mozzarella cheese.
You can go wild with your pizza and add in toppings such as sliced red onions or green peppers. Maybe a land and sea alfredo pizza will tickle your fancy and you can add some grilled chicken chunks for a topping as well!
Is shrimp pizza healthy?
Shrimp pizza is a healthier pizza compared to a meat lovers pizza considering that shrimp is a lean protein that is heart healthy.
For a healthy shrimp pizza recipe, swap out the traditional pizza dough for a wheat pizza dough or make this a keto shrimp pizza recipe by using a fat head dough recipe for your base.
How to make shrimp alfredo pizza
For this easy gourmet shrimp pizza recipe, we're taking a store-bought pizza dough or you can make your pizza dough from scratch.
Place thawed pizza dough on a well-floured surface and gently roll it out.
The beauty of homemade pizza is that you're able to create your own artisan style pizza. Have fun and go against the mold of a perfectly even circle.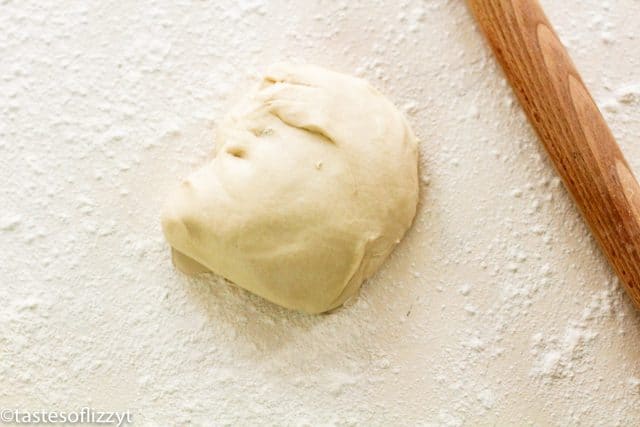 2. Pinch the edges of the pizza to slightly raise the edges for a lovely crust.
You can butter the crust and add a seasoning such as an Everything Bagel Seasoning or simply add a light amount of garlic powder for a nice garlic knot taste!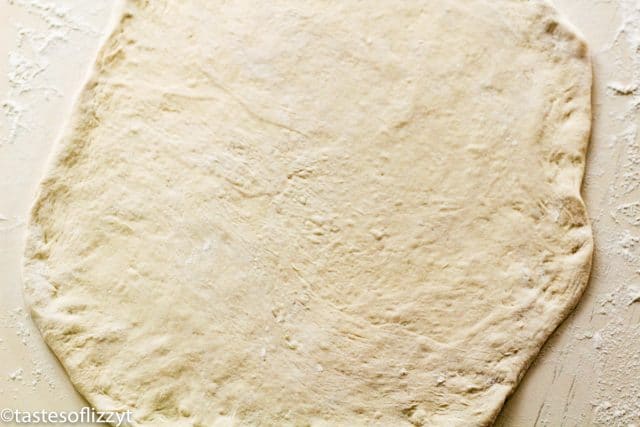 3. Spread a thin layer of alfredo sauce over the center of the pizza dough, just to where the crust begins.
We are using our homemade alfredo sauce, but feel free to use your favorite store bought alfredo sauce!
4. Add your toppings. Be sure to use cooked shrimp and halve your grape tomatoes. Keep in mind, you want your shrimp pizza toppings to be bite sized and to not weigh down your dough.
**PRO TIP: When assembling your shrimp pizza, add your sauce and your topping to your pizza dough on top of the pizza baking pan! Do not assemble it and then try to transfer it to your pizza baking pan. **
For a step by step guide to making the perfect homemade pizza check out this post here.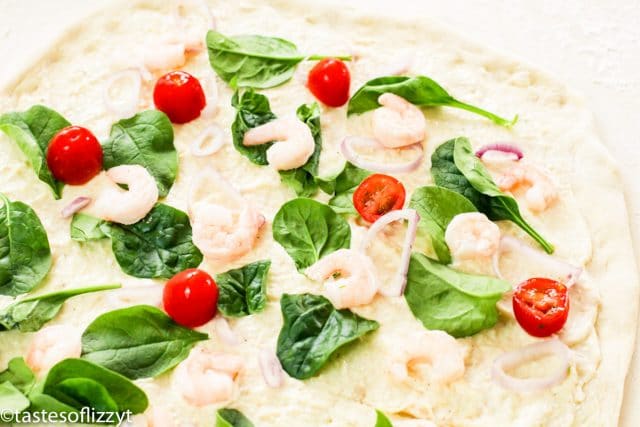 5. Finally add on your cheese. Be mindful that this shrimp alfredo pizza is already quite heavy with toppings, so be careful with how much shredded cheese you add.
Change things up! Use a blend of mozzarella, Parmesan, and a few spoons of shredded pepper jack cheese for a nice kick!
If you want, sprinkle some dried oregano or chili pepper flakes over the cheese before baking for a prettier presentation!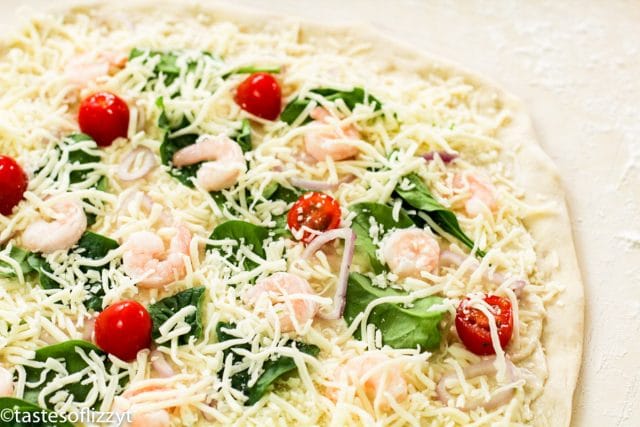 6. Load your pizza into a preheated oven and bake for 14-16 minutes, or until the crust is risen and slightly browned in some areas. Also, you have to make sure the cheese is bubbly!
7. Remove your pizza from the oven and allow your pizza to cool slightly before cutting.
Allowing your pizza to cool allows your cheese to stay adhered to the toppings and your dough. If you try to grab a slice of pizza too soon, your cheese and toppings will just slide off your slice of pizza.
8. Serve to happy and hungry friends and family members!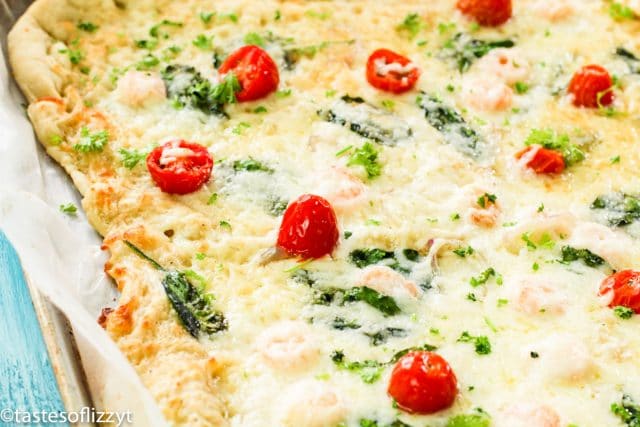 What to Serve with Shrimp Pizza
If you're wondering what to serve on the side of your shrimp alfredo pizza on pizza night here are some side dish recipe ideas: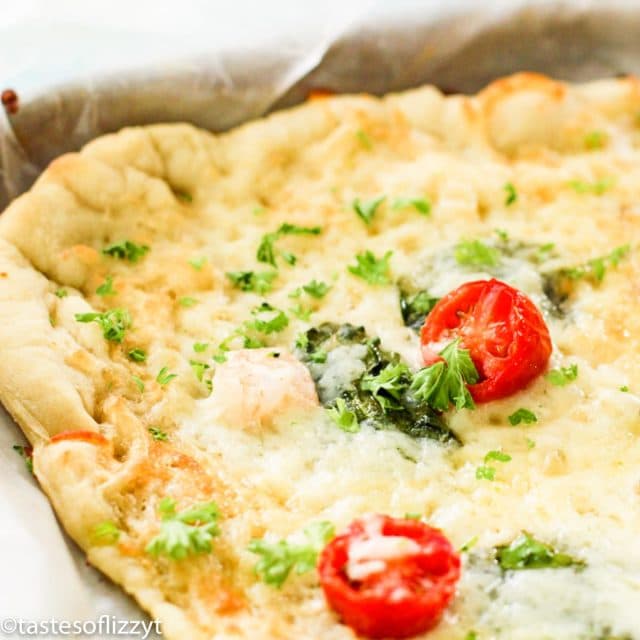 We hope your family will love our shrimp alfredo pizza recipe as much as we do! Creamy and savory, what's not to love?!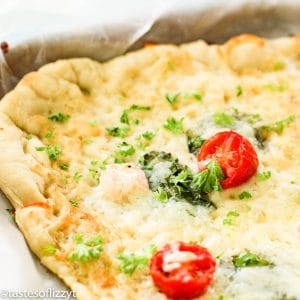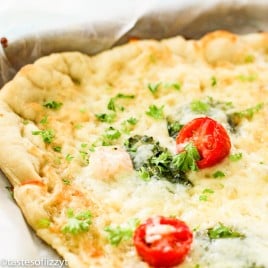 ---
Ingredients
1

pound

frozen pizza dough

(thawed)

1

cup

alfredo sauce

1 ½

cups

extra small shrimp

cooked skins and tails off

1

cup

spinach

½

shallot

(thinly sliced)

12

cherry tomatoes

(halved)

1 ½

cups

shredded mozzarella cheese
Instructions
Preheat oven to 400 degrees Fahrenheit.

Roll out pizza dough on a floured surface. Place pizza dough on parchment paper.

Spread a layer of alfredo sauce over the center of the pizza, leaving an inch of space for the crust.

Evenly spread out shrimp, spinach, and tomatoes over the dough.

Then layer on mozzarella cheese to cover everything.

Bake for 14-16 minutes or until cheese has melted and dough is cooked through and lightly golden.

Serve and slice into 8.
Nutrition
Calories:
289
kcal
|
Carbohydrates:
30
g
|
Protein:
15
g
|
Fat:
12
g
|
Saturated Fat:
6
g
|
Cholesterol:
97
mg
|
Sodium:
942
mg
|
Potassium:
117
mg
|
Fiber:
1
g
|
Sugar:
5
g
|
Vitamin A:
618
IU
|
Vitamin C:
8
mg
|
Calcium:
147
mg
|
Iron:
2
mg