Thanks to Driscoll's Berries for sponsoring this Mixed Berry Cobbler Pie recipe!
Is it a cobbler or is it a pie? It's the best of both worlds! Mixed Berry Cobbler Pie made with fresh blueberries and raspberries. Top with ice cream for a beautiful presentation.
Mixed Berry Cobbler Pie
Summer = oodles and oodles of fresh berries! Red raspberries, vibrant blueberries, even sweet blackberries and strawberries are all at their peak in the summertime. This means all things berry…muffins, crisps, freshly made pancake syrups, cobblers, and pies. When I'm shopping with my girls, Maddie and Kinslee can't help but be drawn to all of the rich colors of the fresh summer berries. Those juicy berries get this family's creative juices flowing!
When I asked Kinslee what she'd like to make with blueberries and raspberries, she immediately says, "Pie!", with a huge grin on her face.  Both Maddie and Kinslee are creative, but Kinslee is generally over-the-top, free-spirited and willing to try anything. We pulled out the cookbooks to get some pie inspiration and saw an idea for a cobbler pie. Why not a mixed berry cobbler pie?! Two of my favorite desserts, combined into one lovely dessert that is mouth-watering on its own or with a scoop of vanilla ice cream.

OUR LATEST RECIPES
And when you're in the kitchen baking with kids, scoops of ice cream always earn extra points.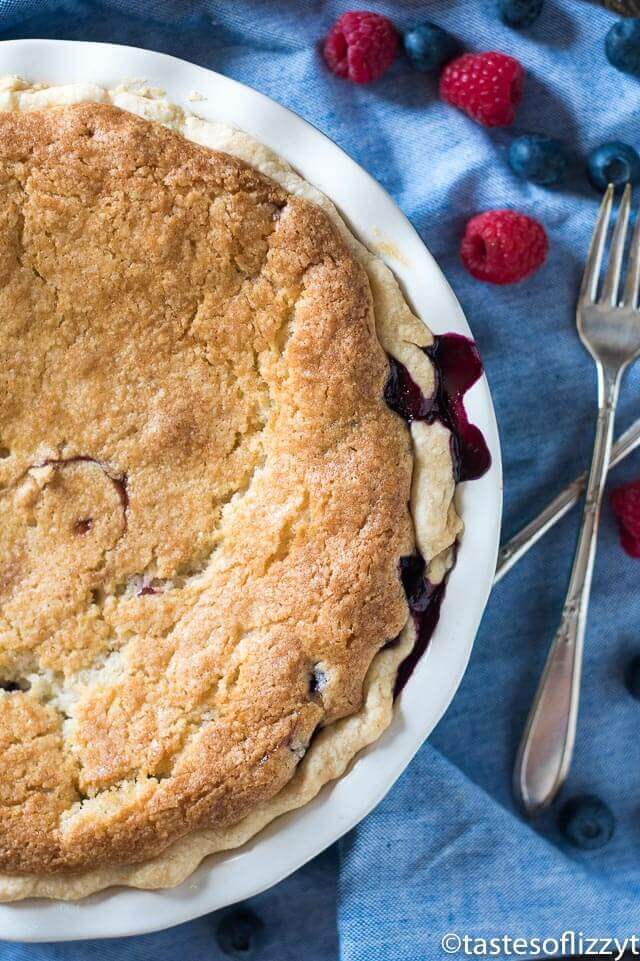 For this recipe we used Driscoll's blueberries and raspberries. They're some of the prettiest, juiciest berries that I can find. I have a hard time keeping the kids out of them if I don't get to baking with them right away.
"Mom…do you need these berries for anything?" That's a normal question in our house.
But really….fresh berries? I'm happy my kiddos like to snack on them!
Making the Mixed Berry Cobbler Pie
The raspberry and blueberry cobbler pie starts out with a pie crust. You can find our favorite homemade pie crust here, but if you're looking for a shortcut, feel free to buy your favorite store-bought brand of unbaked pie dough. Place that pie dough in the bottom and up the sides of a 9″ pie plate, then flute the edges. The girls like to see who can make the prettiest fluted edges when they make a pie. 🙂 There's nothing friendly kitchen competition amongst siblings!
Next, you get to work with the berries. Don't be scared off about a homemade pie filling with fresh berries. It's really easy….trust me. Just place the raspberries and blueberries in a skillet over medium-low heat. Add 1/2 cup sugar. Then you'll add 1/4 cup water and 2 tablespoons of tapioca starch. To be sure there are no clumps of starch, whisk together the water and tapioca starch before you add it to the berry mixture. Oh…and if you'd rather, you can use corn starch in place of tapioca starch. The main job of this ingredient is to thicken the fruit filling and either will do the trick. Lastly, you'll put in a touch of lemon extract. This gives a zing of extra flavor to the pie.
Heat the berries mixture and stir it very gently until the mixture has thickened. This will only take about 5 minutes over medium-low heat. Once it is thickened, set the filling aside while you make the cobbler topping.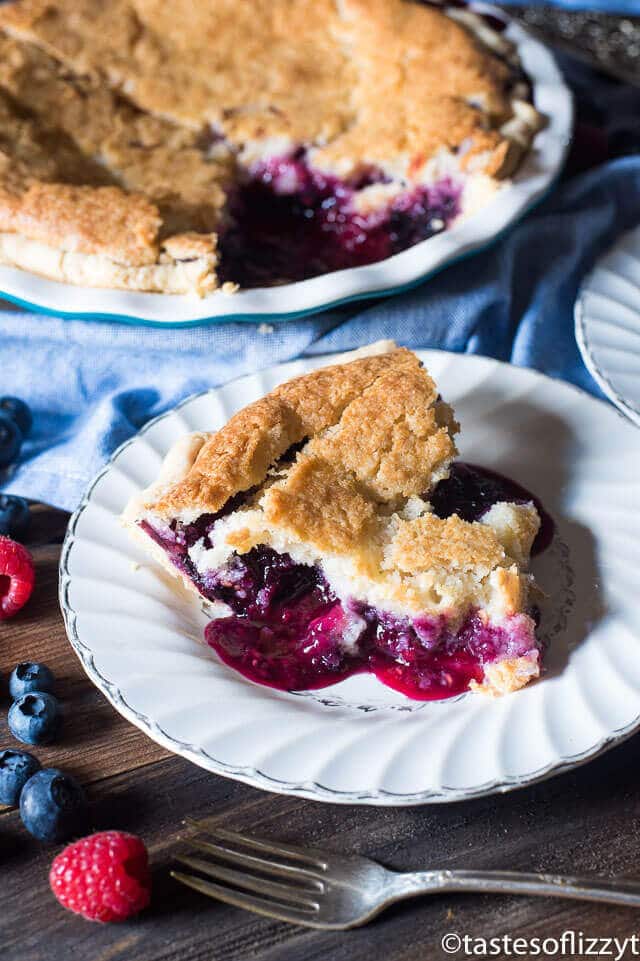 The cobbler topping is no-fail and easy for kids to help mix up. Kinslee loves to blend together the sugar and butter. Probably because she always sneaks tastes of that sugary butter. Can't say I blame her. She takes after her mama.
Next, beat in the egg and vanilla.
Whisk together the remaining dry ingredients in another bowl. You'll add the dry ingredients and the milk alternately to the butter mixture. This is a perfect way for little hands to help in the kitchen!  Why do you alternate adding flour and milk to the butter mixture? Just so that you don't overbeat the cobbler topping. You want to mix just until the batter is combined and smooth.
Pour the berries into the pie shell, then dollop cobbler batter over the berries.
Lastly comes the part where everyone has to be very patient and wait for the pie to bake. This can be hard for not only little ones, but for big kids, too! 🙂 It will take nearly an hour to bake. The cobbler pie needed about 55 minutes in my oven. The top will be golden brown and the fruit will be a little bubbly around the edges.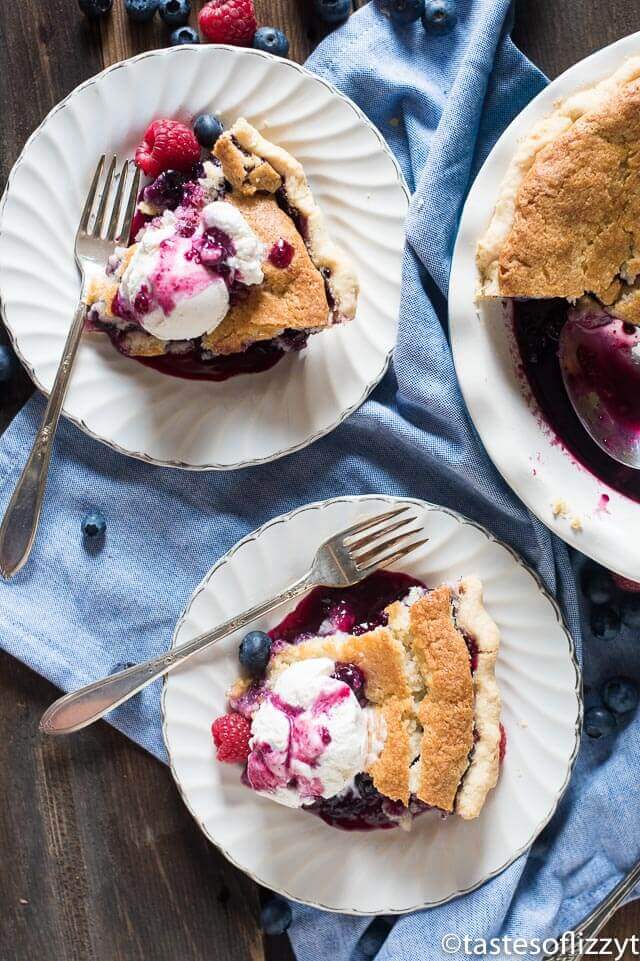 We like to serve the pie warm. The pie filling will set as the pie cools, but if it is still warm, there will be just a little bit of syrup after you slice up the pie. This is perfect for drizzling over a scoop of ice cream that sits atop the warm mixed berry cobbler pie.
This pie whispers summer, family and friends.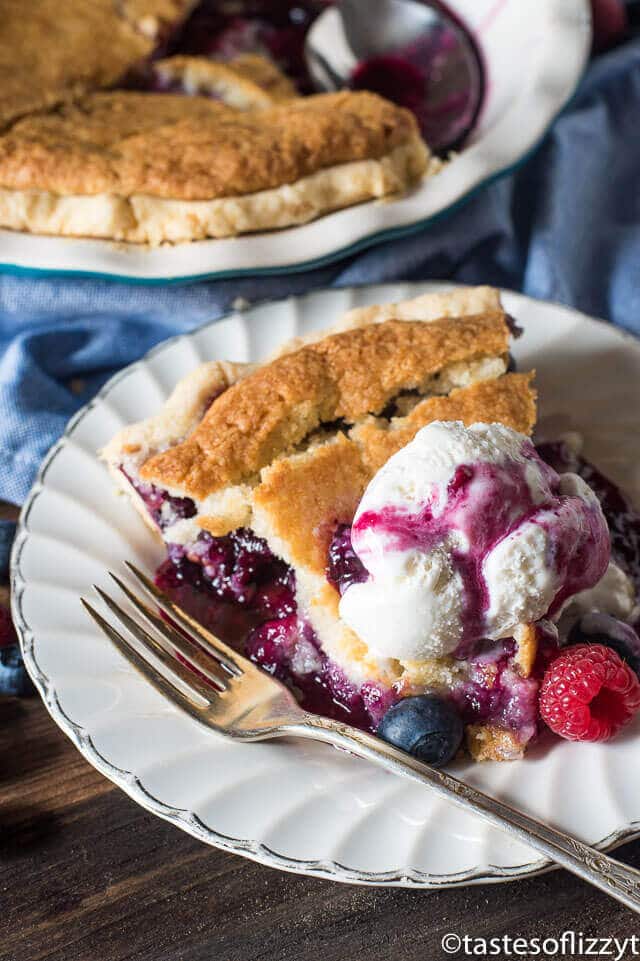 It's a classic and brings the family around the table. Which is just the kind of dessert my family loves!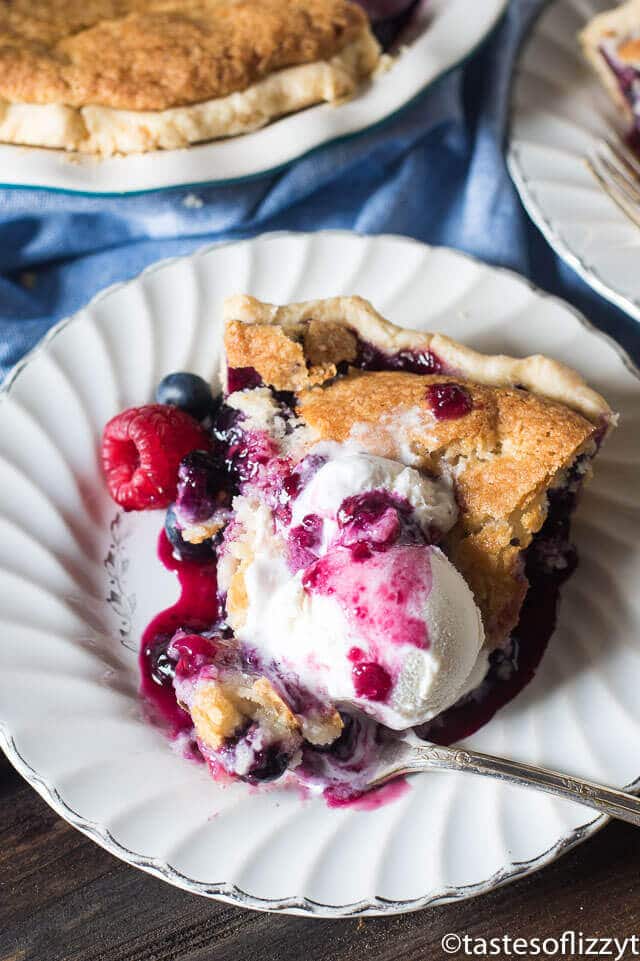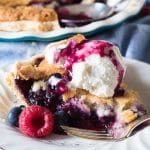 Mixed Berry Cobbler Pie
Is it a cobbler or is it a pie? It's the best of both worlds! Mixed Berry Cobbler Pie made with fresh blueberries and raspberries. Top with ice cream for a beautiful presentation.
Ingredients
1

9" unbaked pie crust

(in a 9" pie plate ready to be filled)

1

package

(1 pint or 2 cups) Driscoll's Blueberries

1

package

(6 ounces) Driscoll's Raspberries

1/2

cup

granulated sugar

1/4

cup

water

2

tablespoons

tapioca flour

1/2

teaspoon

lemon extract
For Topping
1/4

cup

butter

2/3

cup

granulated sugar

160 grams

1

large

egg

1

teaspoon

vanilla extract

1

cup

all-purpose flour

140 grams

1

teaspoon

baking powder

1/2

teaspoon

salt

1/2

cup

milk
Instructions
Place the blueberries, raspberries, and sugar in a saucepan.

In a small cup, whisk together the water and tapioca flour until the flour is dissolved in the water.

Pour the water/flour mixture into the berries.

Add the lemon extract.

Stirring often, heat the berry mixture over medium-low heat until it is thickened, about 5 minutes.

Once the berry mixture is thickened, remove it from the heat and set aside to cool.

Preheat the oven to 350 degrees.

In a bowl, beat together the butter and sugar until combined.

Add the egg and vanilla. Beat until combined.

In another bowl, whisk together the flour, baking powder and salt.

Add half of the flour mixture to the butter mixture and mix.

Add half the milk and mix.

Add the remaining flour mixture, then the rest of the milk. Mix just until combined. The batter will be thick.

Pour the berry filling into the prepared pie crust.

Spoon the cobbler batter overtop the berries carefully, one spoonful at a time until the top is mostly covered.

Bake at 350 degrees for 50-55 minutes or until the top is golden brown and the berry filling is slightly bubbly.

Cool the pie on a wire rack.

Serve warm with a scoop of ice cream on top!
Recipe Notes
The filling will firm up as the pie cools. It will have a little bit of syrup on the bottom so that tastes delicious spooned on top of a scoop of ice cream.
Nutrition Facts
Mixed Berry Cobbler Pie
Amount Per Serving
Calories 364
Calories from Fat 108
% Daily Value*
Total Fat 12g 18%
Cholesterol 40mg 13%
Sodium 300mg 13%
Potassium 175mg 5%
Total Carbohydrates 58g 19%
Protein 4g 8%
* Percent Daily Values are based on a 2000 calorie diet.