Tastes of Lizzy T participates in affiliate advertising programs. We may earn a commission when you make a purchase through links on our site.
Wondering how to make sugar cookies? Everyone has a different idea of the perfect sugar cookies. Here you'll find descriptions and sugar cookie recipes for everyone!
Table of Contents
Cut Out Sugar Cookies
Soft Sugar Cookies
Easy Sugar Cookies
Flavored Sugar Cookies
Tools to Make Sugar Cookies
How To Freeze Cookie Dough

You really just can't go wrong with sugar cookies. Many people run to chocolate, caramel or fruit when they want to make a dessert, but sugar cookies are classic…timeless. You can make cut out sugar cookies, drop sugar cookies, crispy sugar cookies, or soft, chewy sugar cookies. Cookies with sprinkles or colored sugar…cookies with buttercream frosting. Cookies for lunchboxes or dressed up for Mother's Day. There is no end to the possibilities!
Sugar cookie recipes are plentiful, but we've gathered together our best recipes so that you'll have everything you need when the sweet tooth comes calling.
Cut Out Sugar Cookies
Cut out sugar cookies are ideal for holidays and special occasions because you can make them just about any shape you'd like. It's important to have a good pastry mat and rolling pin so that the dough rolls out easily.
Cream Cheese Sugar Cookies: These are one of our favorite sugar cookie recipes for cutting special shapes. Even after baking they hold their shape well. They stay soft and freeze well also.
Buttermilk Sugar Cookies: Have you ever had a Lofthouse sugar cookie from the store? These soft buttermilk cookies are our copycat Lofthouse cookies. They grow and "poof" when baking making a cake-like cookie texture. This recipe works best with simple cookie shapes such as circles and large cookie cutters. This recipe will NOT hold its shape perfectly during baking, but are deliciously soft and go great with buttercream frosting.
Soft Sugar Cookies
I'm a sucker for soft cookies so it won't surprise you that most of our sugar cookie recipes are soft and chewy.
Bakery Style Sugar Cookies: When I think bakery cookie, I think extra large and thick, with a sprinkling of sugar. With this recipe, we show you how to get your sugar cookies to look and taste like they are from a bakery.
Easy Sugar Cookies
Pillsbury Copycat Sugar Cookies: These are probably the easiest recipe we have for from-scratch, traditional sugar cookies. They mix up easily, stay soft and chewy, and get great reviews. You'll find they taste similar to, but better than Pillsbury refrigerated cookies.
Refrigerator Sugar Cookies: If you like to buy sugar cookie dough in a tube at the store, why not make it at home? Whip up the dough, roll it into a log, then wrap the dough in plastic wrap. Refrigerate it for several weeks if you'd like, but once you know that dough is in your fridge you'll have a hard time resisting pulling it out!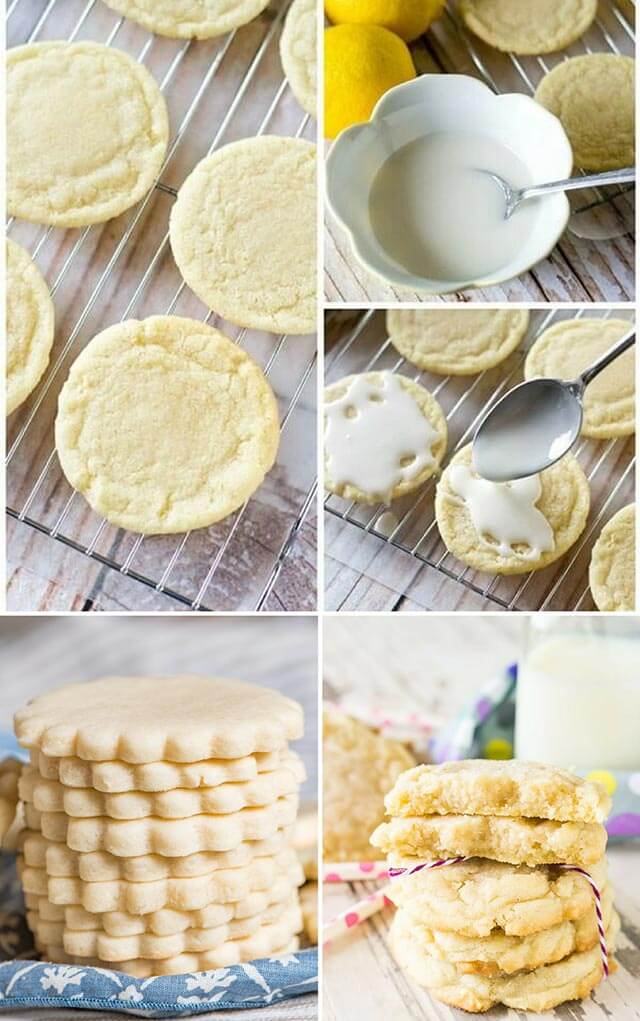 Flavored Sugar Cookie Recipes

Tools To Make Sugar Cookies
If you're making sugar cookies, you want it to go quickly and easily! Here are some of our favorite tools.
How to Freeze Cookie Dough
Many of these cookie recipes make great freezer cookies, either before or after baking. You can read all about freezing cookie dough here.