Tastes of Lizzy T participates in affiliate advertising programs. We may earn a commission when you make a purchase through links on our site.
Looking for a classic lasagna recipe? You've found it! This easy homemade lasagna transform your family's Italian night. We'll give you hints and exact ingredients to use for the best lasagna your family has ever had.
Table of Contents
Homemade lasagna is one of those recipes that I had often made, but had really never perfected and hadn't documented what I liked and didn't like about each recipe trial.
Matt is crazy for homemade lasagna (even lasagna soup!) and really never met one he didn't like. Because I knew he loved it, in our early years of marriage and while we had small kids, I made it all the time. In fact, I made it so much that Braden ended up not liking lasagna. Really? Not liking lasagna is so foreign to Matt and me. But in order to keep smiles on kids faces, I got away from fixing lasagna as one of our regular entree recipes over the past 10 years.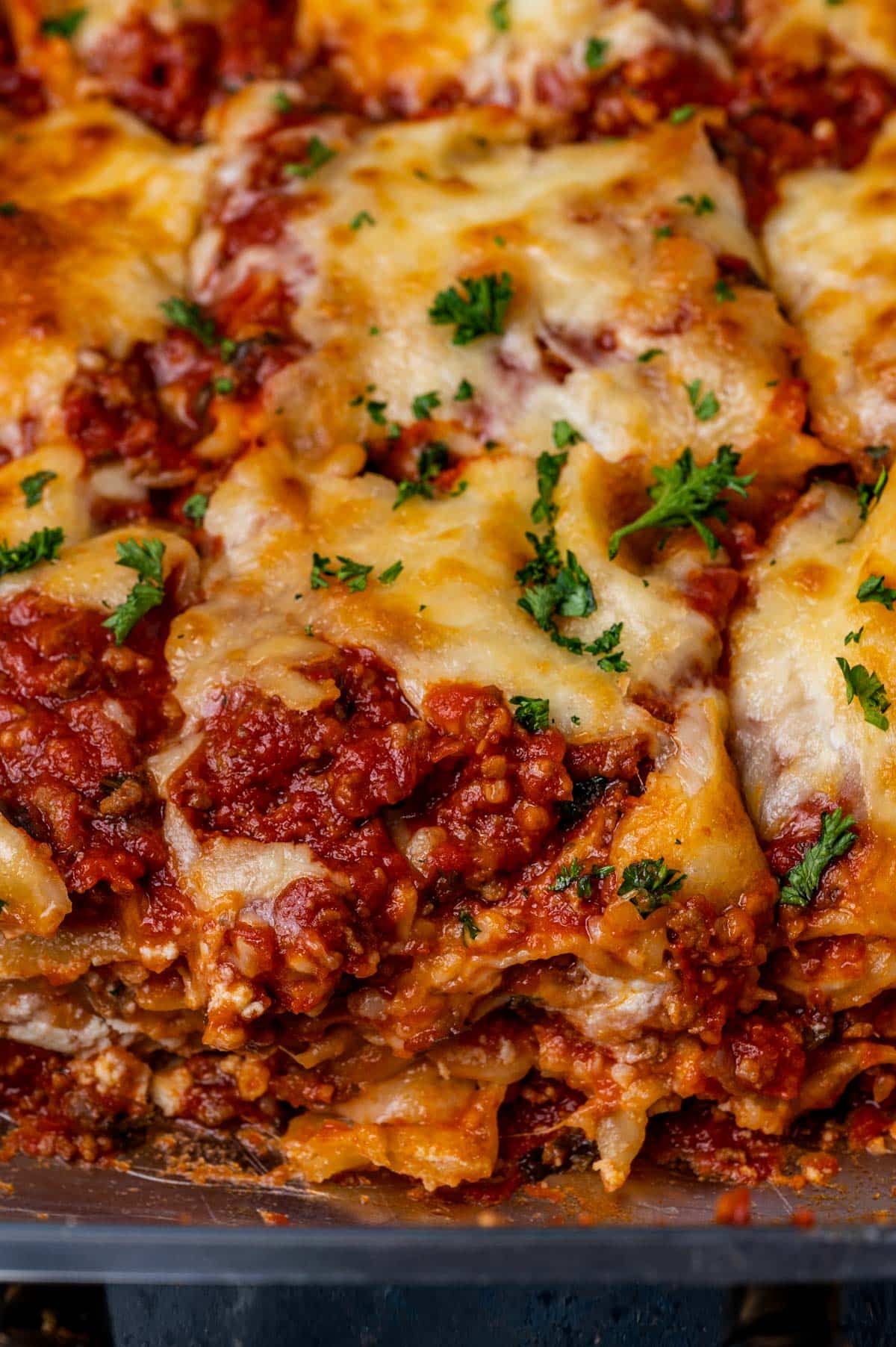 Fast forward to last spring when I was requested to serve a lasagna dinner to Maddie and her friends before prom. I had about 3 days notice for this special occasion (nothing like teenagers and their last minute planning!) and suddenly panicked that I didn't have a tried and true lasagna recipe. One that I knew hungry teenagers would love.
I quickly started researching and found the World's Best Lasagna on Allrecipes.com. Sounds like the place to start, right? I scoured the reviews, taking copious amounts of notes on what people liked and didn't like about the recipe. I gathered together what I thought would be my special version from my previous cooking knowledge and that is what I share with you today.
This lasagna was a hit that night of prom. Everyone loved it. And now I can officially say I have a lasagna recipe written down that to make over and over again. Even Braden agrees that it's not that bad. It's not necessarily an easy lasagna recipe, but it is the best lasagna recipe.
About this Homemade Lasagna Recipe:
Flavor: The flavor of this lasagna is like no other. The 5 cheeses, homemade sauce and combination of beef and sausage ensure that it tastes homemade and is delicious.
Texture: Lasagna is loaded with texture thanks to the meat and lasagna sheets. The cheese is creamy.
Method: This makes a large pan of lasagna. I use a deep dish lasagna pan or a deep 9×13″ baking dish.
What Are the Lasagna Ingredients?
There are a few key ingredients that I like to use in my lasagna:
Sweet Italian Sausage. Search the stores until you find this exact thing. The "sweet" in the Italian sausage really brings out the flavor in this lasagna. I've tried this recipe with traditional Italian sausage and we didn't like it as much. I find sweet Italian sausage in a local grocery store in the fresh meat case.
Homemade Sauce. I always used to use jarred spaghetti sauce for my lasagna. There's definitely a place for lazy day lasagna recipes, but when you want something really special, make from-scratch meat sauce. The key to this sauce is to make it a day in advance and allow it to cook together for about an hour and a half, or even allow it to simmer in the slow cooker for 4-6 hours. The fresh herbs, spices and tomatoes blend together beautifully if you just plan ahead and take a little time.
Fresh Basil and Fresh Parsley. I never used to buy fresh herbs, but when you really want to make an impression, grabbing a bunch of green herbs from your produce case is the way to go. Use some kitchen scissors or herb scissors to snip the herbs and enjoy their aroma as you do so.
Whole Milk Ricotta Cheese. I'll be honest. I'm not crazy about ricotta, but it is a must in traditional lasagna. This recipe calls for just 15 ounces of ricotta which allows for two thin layers which cooks right in with the other cheeses.
Nutmeg. That's right. This is a hint I got from reviewers on Allrecipes. Don't skip it. It's a little secret ingredient to a great lasagna.
Whole Milk Mozzarella. Pick up a chunk of whole milk mozzarella and shred it yourself. This will give you the creamiest, cheesiest lasagna around.
Provolone, Romano and Parmesan Cheeses. I personally love the flavors each of these Italian cheeses bring to this lasagna recipe. Using these three cheeses along with the ricotta and mozzarella make this a five cheese lasagna recipe. We're crazy for cheese!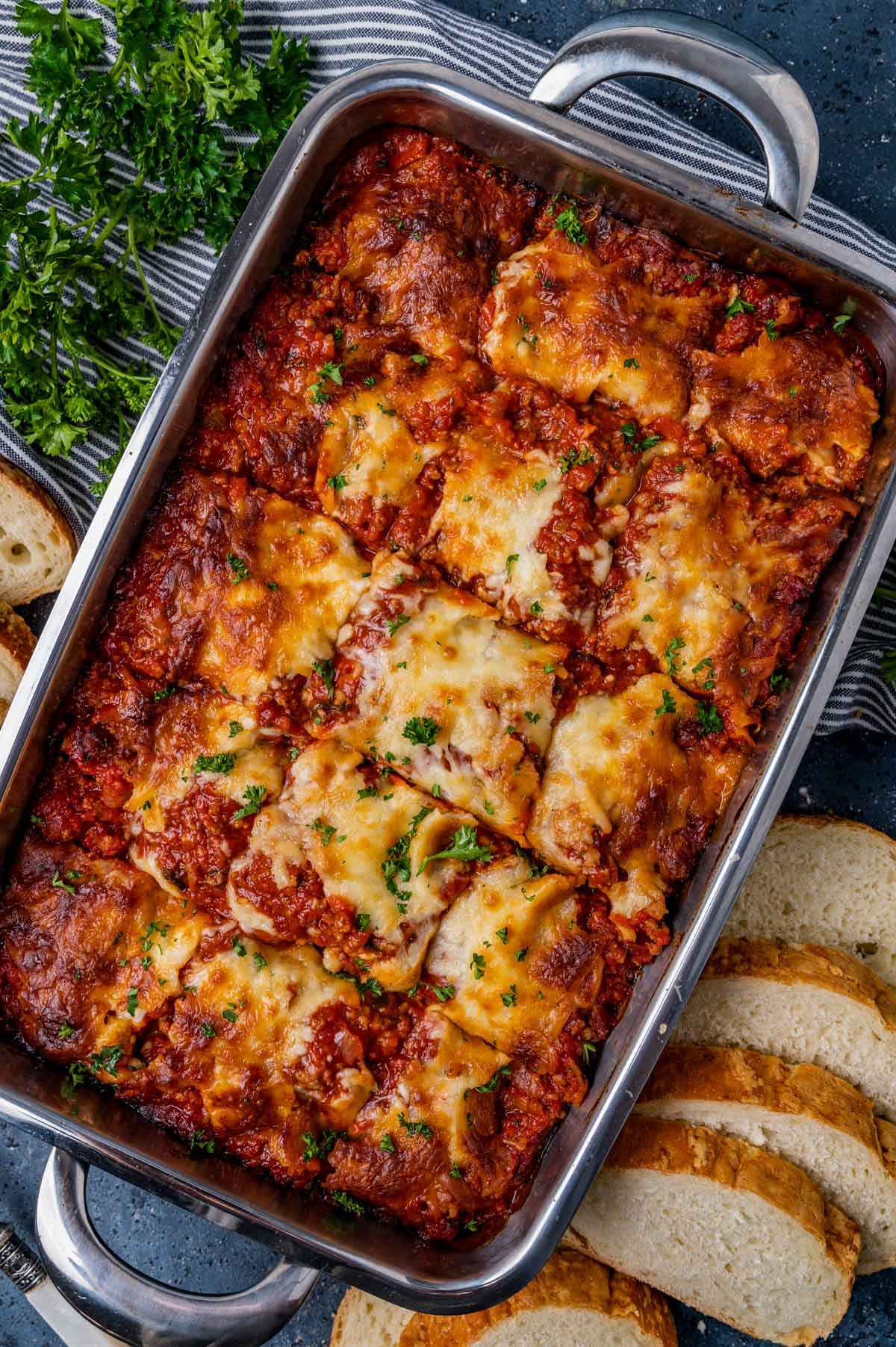 What to Cook Lasagna In
Because there are so many layers in lasagna, I recommend a deep dish pan that is bigger than the traditional 9x 13-inch baking dish. I highly recommend the Cuisinart Classic Lasagna Pan.
Do I Have to Cook Lasagna Noodles?
I've tried this recipe three ways: boiling the noodles, not boiling the noodles, and soaking the noodles in hot water. My findings? If you like the noodles super soft, boil the noodles in advance. It tasted very traditional to me. However…I'm ok with my noodles being a little bit al dente so would rather take the shortcut of not boiling the noodles.
A trick to no boil lasagna is to soak the noodles in hot water for 30 minutes. You can do this easily while you are preparing the sauce, shredding the cheese or getting the ingredients out to put the lasagna together. The hot water softens the noodles ever so slightly and they finish cooking while the lasagna is cooking.
Here's my own personal trick
If you put the lasagna together while the sauce is piping hot from simmering for several hours, the noodles will do that little bit of cooking just while the casserole sits, waiting to be baked. Sneaky, right?
And with that, I'll give you my exact timeline for make ahead lasagna.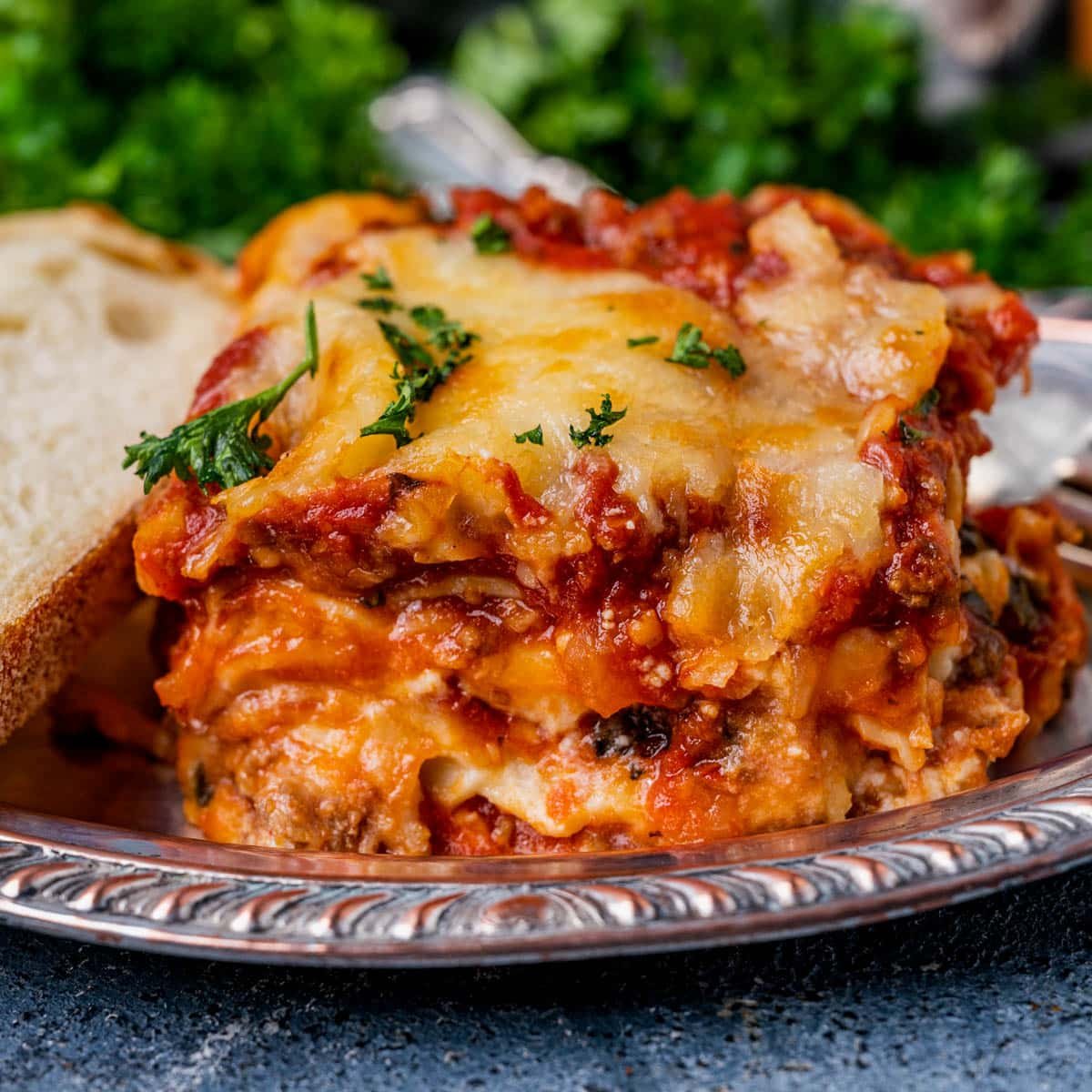 Make Ahead Lasagna
Here's the timeline for how I make this lasagna.
Make the sauce. The day before I want to cook and serve the lasagna, I make the sauce.
While the sauce is cooking, mix together the cheeses and cook the noodles if you'd like.
Put the lasagna together. Allow the lasagna to sit for 30 minutes or so until the sauce cools, then cover the pan with plastic wrap and slip it into the fridge to sit overnight. If you cover with aluminum foil, the acid in the sauce may eat away at it as it sits. For that reason, I prefer plastic wrap.
Remove the lasagna from the refrigerator 45 minutes before baking, then bake as the recipe states.
I love preparing lasagna this way because it keeps the mess out of the kitchen the day I want to serve the lasagna and the flavors have time to meld together.
This also gives the noodles time to soften (as long as you put the lasagna together while the sauce is hot) and they'll finish cooking during the baking.
It's the perfect company casserole, really. No messy kitchen the day you need it clean for company!
How to Freeze Lasagna
After you assemble the homemade lasagna (after step #3 above), cover the lasagna with plastic wrap 2-3 times to seal well. Freeze for up to 6 weeks.
Allow the lasagna to thaw in the fridge at least 24 hours before baking. Also, pull it out of the fridge 1 hour before baking to take some of the chill off.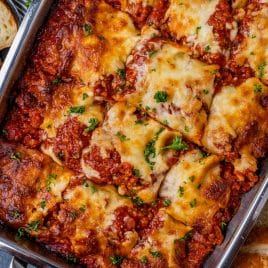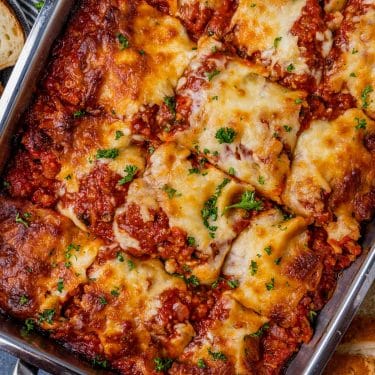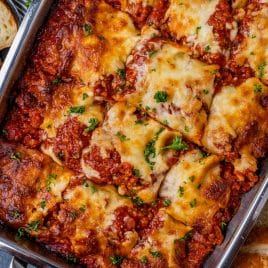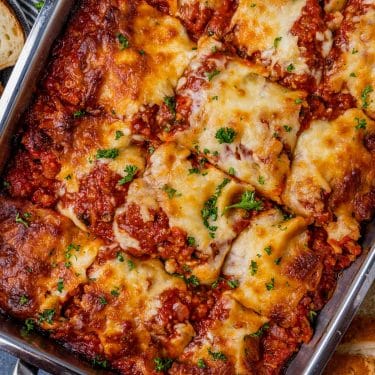 Homemade Lasagna Recipe
If you're looking for the best homemade lasagna recipe, give this a try. Hints and exact ingredients to use for a delicious lasagna.
Cook Time
2

hours
30

minutes
---
Ingredients
1

pound

sweet Italian sausage

1

pound

ground chuck

80/20

½

cup

diced onion

1

teaspoon

minced garlic

28

ounces

crushed tomatoes

12

ounces

tomato paste

15

ounces

tomato sauce

¼

cup

water

2

tablespoons

granulated sugar

½

cup

freshly chopped basil

½

teaspoon

fennel seeds

1

teaspoon

Italian seasoning

1

teaspoon

salt

¼

teaspoon

black pepper

4

tablespoons

chopped fresh parsley

12

lasagna noodles

15

ounces

whole milk ricotta cheese

1

large

egg

dash

nutmeg

1

pound

whole milk mozzarella

shredded

9-10

slices

provolone cheese

½

cup

freshly grated romano cheese

½

cup

freshly grated parmesan cheese
Instructions
This makes a large pan of lasagna. I use a deep dish lasagna pan or a deep 9×13" baking dish.

In a large saucepan, cook the sausage, ground beef, onion and garlic until cooked through. Drain the fat.

Add the tomatoes, paste, sauce, water, sugar basil, fennel, Italian seasoning, salt, pepper and parsley. Stir well.

Simmer, covered, over low heat for 1 ½ hours, stirring occasionally.*

Place the lasagna noodles in a pan of hot water and make certain they are completely covered. Allow them to sit for 30 minutes to soften, then drain the water.

In a small bowl, mix together the ricotta cheese, egg and nutmeg.

In a small bowl, mix together the Parmesan and Romano cheeses.
Let's put together the lasagna!
Spread 1 ½ cups of meat sauce on the bottom of the lasagna pan.

Place 4 lasagna noodles over the sauce.

Spoon half of the ricotta mixture over the noodles.

Top with 2 cups of shredded mozzarella cheese.

Spread another 1 ½ cups of sauce over the mozzarella, then sprinkle with ⅓ cup of the Parmesan mixture.

Lay another 4 noodles over the cheese.

Top with the remaining ricotta mixture.

Lay 9-10 slices of provolone cheese over the ricotta, then top with 1 ½ cups meat sauce.

Sprinkle ⅓ cup Parmesan mixture over the sauce.

Top with 4 more noodles, the remaining sauce, 2 cups of mozzarella and the remaining Parmesan mixture.

Preheat the oven to 375ºF. Bake immediately for 25 minutes (covered with foil**) and then an additional 30 minutes with the foil removed.

OR…cover the unbaked casserole and refrigerate to save baking until the next day. If you choose to do this, remove the lasagna from the refrigerator 45 minutes before baking, then bake the same as above.

Allow the lasagna to cool for 15 minutes before slicing.

Store any leftovers in an airtight container in the fridge for up to 4 days.
Notes
*You can also allow this to simmer on low in the slow cooker for 4-6 hours if you don't have time to watch it on the stove.
**Spray the foil with cooking spray prior to covering the pan to prevent the cheese from sticking to the foil.
Refer to the article above for more tips and tricks.
The calories shown are based on the lasagna being cut into 15 pieces, with 1 serving being 1 piece of lasagna. Since different brands of ingredients have different nutritional information, the calories shown are just an estimate. **We are not dietitians and recommend you seek a nutritionist for exact nutritional information. The information in the nutrition box are calculated through a program and there is room for error. If you need an accurate count, I recommend running the ingredients through your favorite nutrition calculator.**
Nutrition
Calories:
545
kcal
|
Carbohydrates:
31
g
|
Protein:
31
g
|
Fat:
33
g
|
Saturated Fat:
16
g
|
Cholesterol:
112
mg
|
Sodium:
1254
mg
|
Potassium:
781
mg
|
Fiber:
3
g
|
Sugar:
9
g
|
Vitamin A:
1120
IU
|
Vitamin C:
12.9
mg
|
Calcium:
465
mg
|
Iron:
3.4
mg
Other Italian Casseroles