Tastes of Lizzy T participates in affiliate advertising programs. We may earn a commission when you make a purchase through links on our site.
A comforting, layered casserole of noodles, beef, cheese and spaghetti sauce. This Lasagna Noodle Casserole is well-loved and can easily be doubled to feed a crowd.
You all are crazy for our lasagna! I don't blame you really. We think it is the best lasagna recipe, too! It's time consuming, but worth it. If you're craving lasagna for your next family dinner but don't have time for the real thing, you'll like this easy lasagna noodle casserole we're sharing today.

Lasagna Noodle Casserole
Our family has a love-hate relationship with lasagna.
3 of us love it. 1 of us hates it. 1 of us could take it or leave it.
Matt could eat lasagna every day and not get tired of it. Braden is so much like his daddy that it's scary, but he doesn't want to touch lasagna with a 10-foot pole. He runs and hides when the word "lasagna" is mentioned.
This casserole isn't officially lasagna. It's more like an Italian bake, but it an easy Italian bake that your Italian loving family can enjoy for a weeknight dinner or a special occasion.
Are egg noodles better for you than regular pasta?
As you can see, this recipe calls for egg noodles. Honestly, I chose them for this recipe because that's what I had on hand. But then I had to wonder if egg noodles were better for you. The answer is…not really. They are higher in protein than traditional pasta, but they still have a lot of carbohydrates in them and they are low in fiber.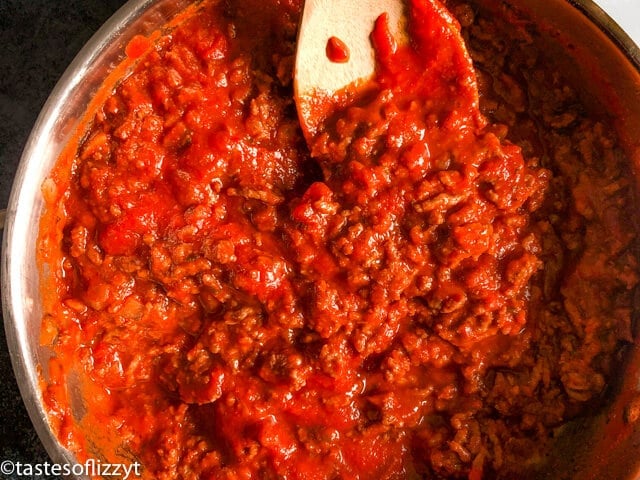 Easy Italian Casserole
This casserole
It is creamy and cheesy.  To make this you mix together the egg noodles with some sour cream and cottage cheese. I could seriously have stopped the recipe right there and been a very happy girl eating cheesy noodles.
There's no chunks of tomatoes.

My kids don't like tomato chunks. I really can't blame them since I wanted nothing to do with them when I was their age, either. I figure they may grow into liking them some day. This casserole recipe uses smooth spaghetti sauce. You can just choose your favorite kind. Of course if you prefer chunky sauce…go for it.

This casserole is not "saucy".

Because of the sour cream and cottage cheese, this was more of a "creamy" sauce. This made it a perfect dinner for half of the family who doesn't like a lot of sauce. So what did I do since I love a good red sauce?  I simply added more spaghetti sauce on top after it was baked.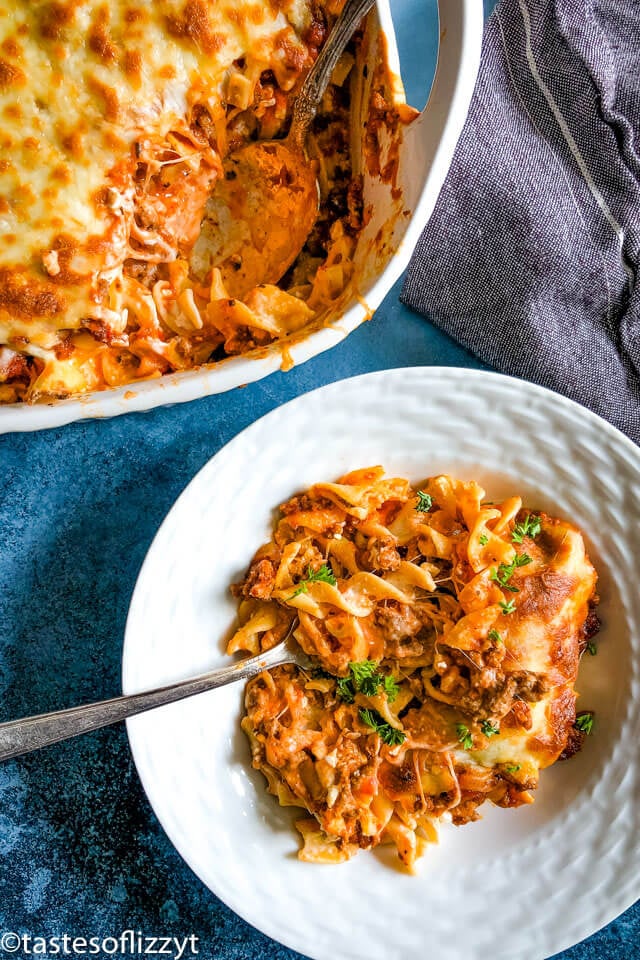 Italian Casserole Variations
This recipe serves about 8. We bake it in an 8×8 baking pan and it is very full. You can bake it in a 9×13 baking pan if you'd like.
If you need a main dish for a potluck or as a dinner for company, you can easily double the recipe and bake it in a 9×13 pan.
Feel free to use low-fat cream sour cream and cottage cheese.
Can you freeze Lasagna Noodle Casserole?
Yes! You can freeze this casserole before baking it. Wrap it in plastic wrap first, then wrap it in foil. Remove it from the freezer the day before you want to bake it and allow it to defrost in the fridge overnight.
Bake as directed, but you may need a little extra time if the casserole is really cold. Plan for up to an hour. It would also be a good idea to cover the casserole with foil for 30 minutes, then remove the foil and bake through.
You only need foil if the casserole has been frozen.
What to Serve with Lasagna Noodle Casserole
Pair this dinner with some Asiago cheese bread or garlic lover's cheesy biscuits and a side salad for a complete meal!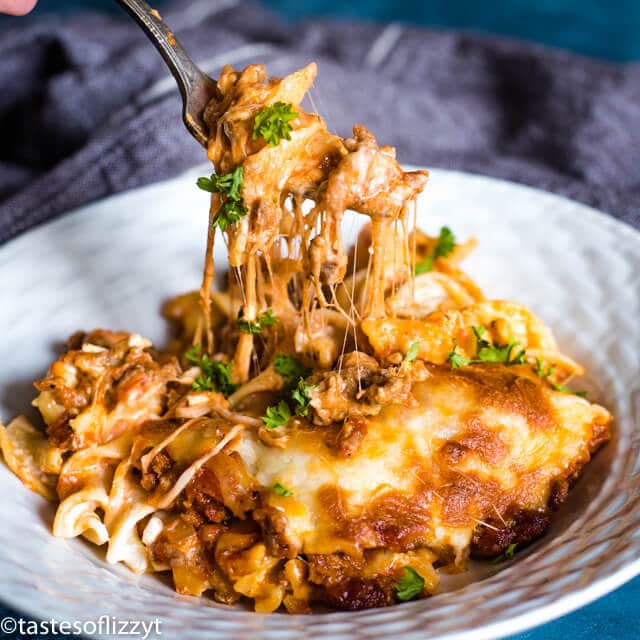 Other Italian Recipes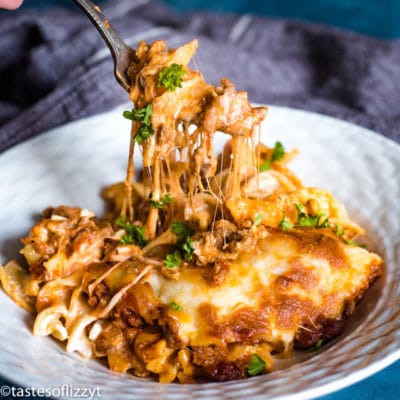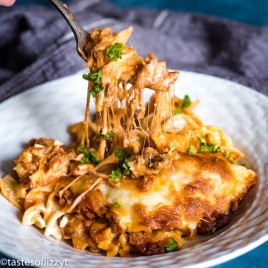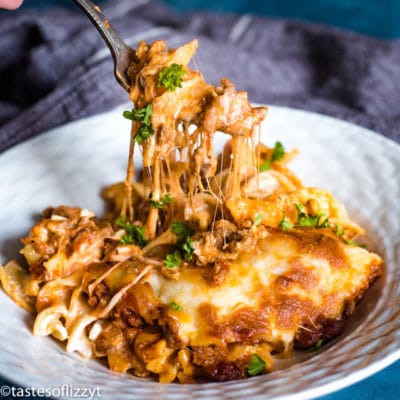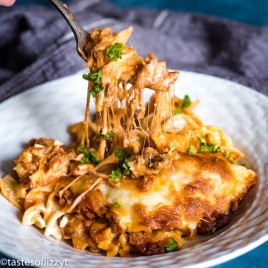 Lasagna Noodle Casserole
A comforting layered casserole of noodles, beef, cheese and spaghetti sauce. This well-loved Lasagna Noodle Casserole can easily be doubled to feed a crowd.
---
Ingredients
8

ounces

egg noodles

(cooked according to package directions)

1

pound

lean ground beef

1/4

cup

chopped onion

1/2

teaspoon

salt

1/2

teaspoon

pepper

1/4

teaspoon

garlic salt

24

ounces

spaghetti sauce

1

cup

cottage cheese

1

cup

sour cream

3

cups

shredded mozzarella cheese
Instructions
In a skillet over medium heat, brown the ground beef and onion together. Drain the fat.

Add the spices and spaghetti sauce. Mix well.

In a separate bowl, mix together the cooked noodles, sour cream and cottage cheese.

Spray a 2 quart casserole with cooking spray. Layer ½ the noodles, ½ the meat sauce and ½ the mozzarella in the prepared dish. Repeat the layers.

Bake at 350 degrees for 30 minutes, until the casserole is baked through and browned.

If you'd like the top to be a little extra golden brown, place the casserole under the broiler on low for 3-4 minutes or until lightly browned. Watch it closely!
Notes
The calories shown are based on the recipe serving 8, with 1 serving being ⅛ of the recipe. Since different brands of ingredients have different nutritional information, the calories shown are just an estimate. **We are not dietitians and recommend you seek a nutritionist for exact nutritional information.**
Nutrition
Serving:
287
g
|
Calories:
416
kcal
|
Carbohydrates:
27
g
|
Protein:
30
g
|
Fat:
20
g
|
Saturated Fat:
10
g
|
Cholesterol:
111
mg
|
Sodium:
1089
mg
|
Potassium:
653
mg
|
Fiber:
2
g
|
Sugar:
6
g
|
Vitamin A:
885
IU
|
Vitamin C:
6.6
mg
|
Calcium:
292
mg
|
Iron:
3
mg