Tastes of Lizzy T participates in affiliate advertising programs. We may earn a commission when you make a purchase through links on our site.
Italian Chicken Skillet is one of our favorite chicken skillet recipes. Bone-in chicken thighs with an Italian dressing marinade are baked to juicy perfection. This skillet meal is quick and easy to make!
Lately I've been loving using chicken thighs for dinners over chicken breasts. I find that they are so flavorful, whether you grill them or bake them. The kids love them because they bake up juicy and tender, every time.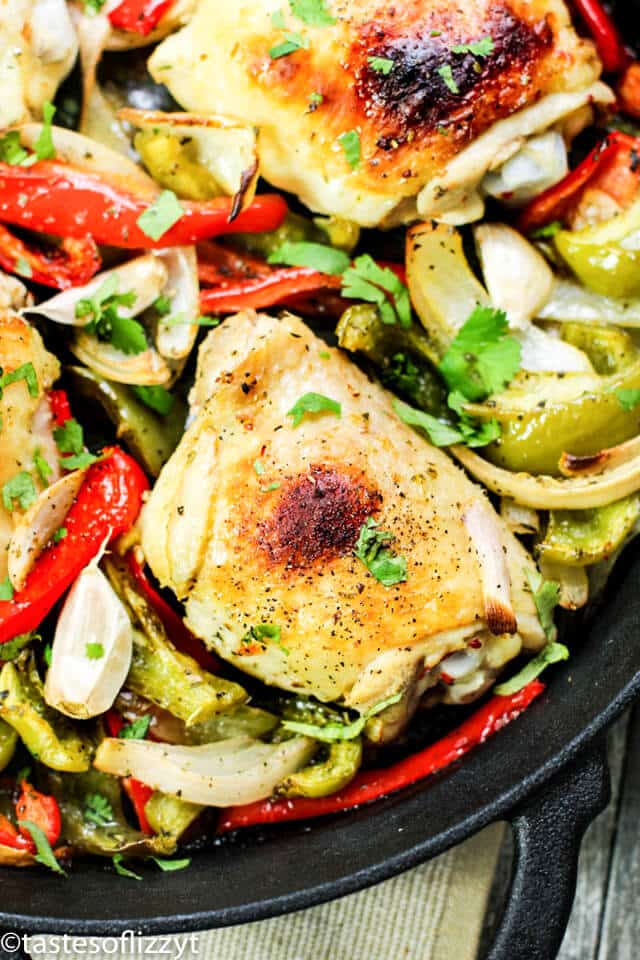 This recipe I'm sharing today is an easy way to spice up chicken thighs in a quick dinner.
Are chicken thighs good for you?
Chicken thighs are a darker meat. They are a great source of lean protein, but they do have more fat and calories than the white chicken breast. In our opinion, that just makes the chicken thighs meat so much more flavorful.
You can buy boneless, skinless chicken thighs or bone in with the skin. It's all a matter of your eating goals. We showcase this recipe today with bone-in, skin-on chicken thighs.
Easy Skillet Dinner
For a quick and easy dinner with very little clean-up, a one-pan meal is a perfect solution. Italian Chicken Skillet is a special one-pan dinner. It's kid-friendly and simple to make, yet special enough to serve to guests.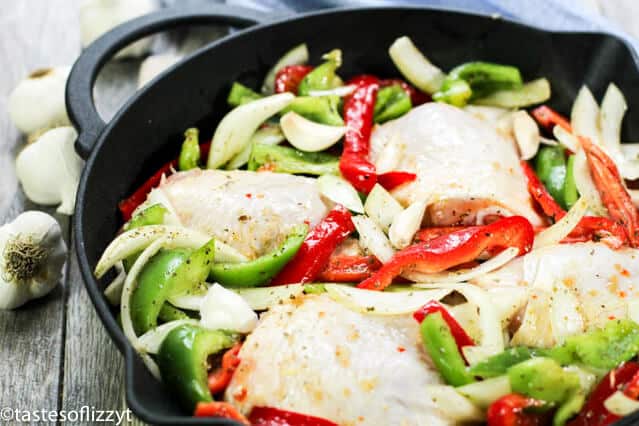 The key to the simpleness of this dish is the flavorful Italian dressing marinade. Because the marinade is ready to use right away, bottled salad dressing is one of the easiest methods for marinating meats.

Does Italian dressing tenderize meat?
Marinating chicken pieces in Italian dressing takes about 15 minutes – that's it! With so little marinating time, the dressing won't necessarily tenderize the chicken, but it will add lots of flavor!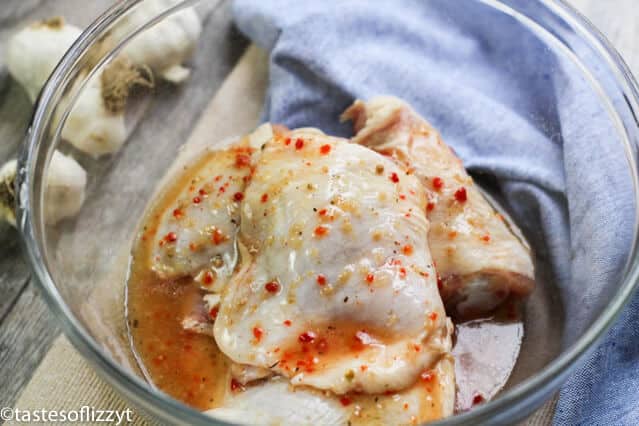 The oil in Italian dressing creates a barrier around the chicken, locking in moisture, which prevents the meat from drying out.
This Italian Chicken Skillet recipe calls for a bottle of Italian salad dressing. You can use homemade Italian dressing or chicken marinade if you want to. For me, when it's a busy weeknight, a bottle of ready-to-use Italian dressing is the way to go!
What type of pan is best for making skillet meals?
When you make skillet meals, the cooking method determines what pan is best to use.
For example, when you make a stove-top meal like Skillet Mexican Potatoes, any type of large skillet will work. But when the recipe calls for the skillet to be placed into an oven, it's important to use a pan that's safe for high heat cooking.
I make almost all of my skillet meals in a cast iron pan. It's my favorite pan for cooking everything!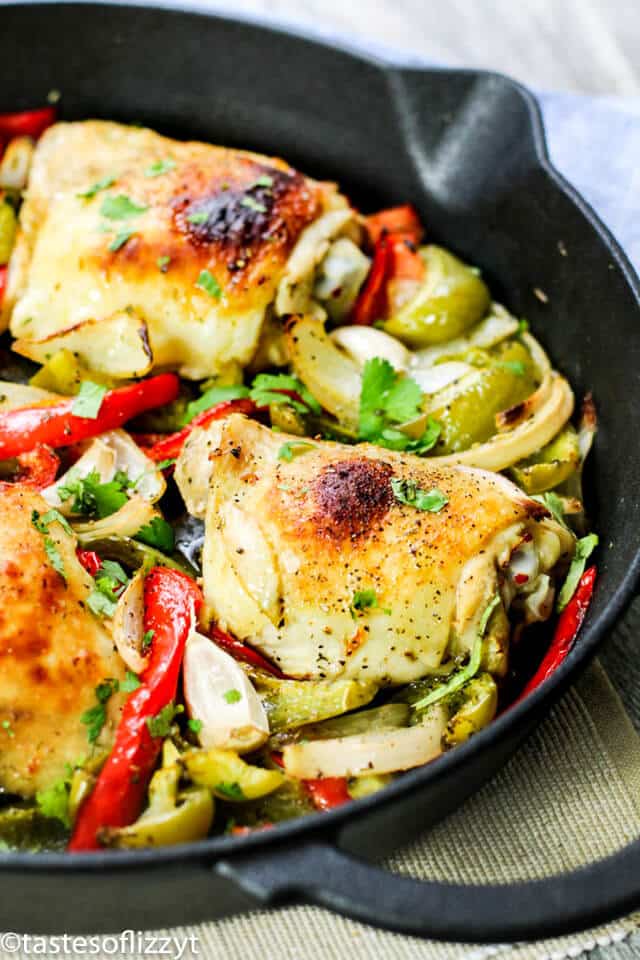 Why is cast iron better?
Cast iron is my favorite because it's excellent at holding and distributing heat. Also, after the initial seasoning of a new cast iron pan, there is very little clean-up. Another great reason to cook with cast iron – searing meats is SO easy to do.
How to Make Italian Chicken Skillet
There are 3 steps to this recipe:
Marinate the chicken.
Prepare the vegetables.
Bake the skillet dinner.
You can get the chicken marinating first. Then while that is sitting, slice up the veggies. Arrange everything in your skillet. Then bake! This should take a total of about 1 hour from start to finish, give or take a few minutes.
**Pro Tip: Use a skillet that is at least 12″ in diameter if not even a little bigger. This will help everything cook evenly.**
What temperature should chicken thighs be cooked to?
Chicken should have an internal temperature of 165 degrees Fahrenheit. Use an internal probe thermometer to make sure the chicken is at the right temperature, but that it doesn't overcook.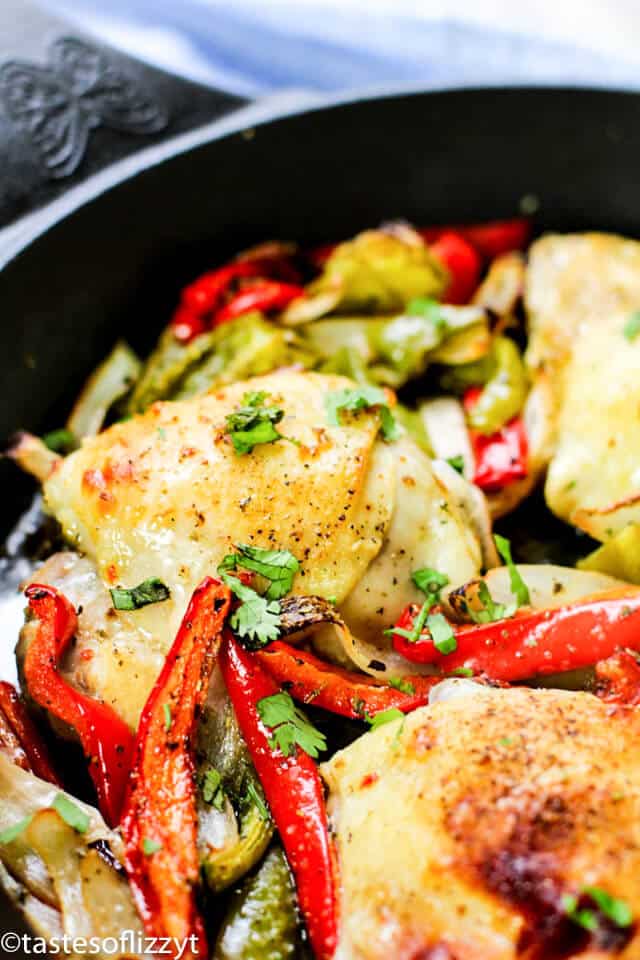 What to Serve with Italian Chicken
The meat and veggies are all in this one-pan dinner. With it, you can serve up a side salad, some oven roasted potatoes and a loaf of homemade Italian bread. Delish!
**We LOVE our Thermoworks ThermaPen to quickly test meat temperatures. This probe thermometer is AMAZING. Get it here.**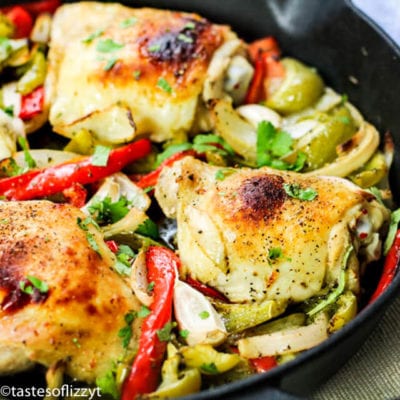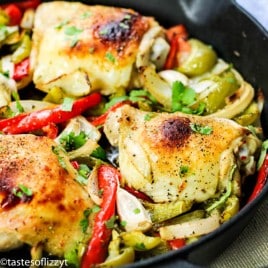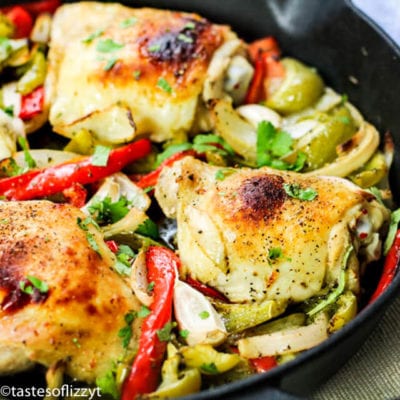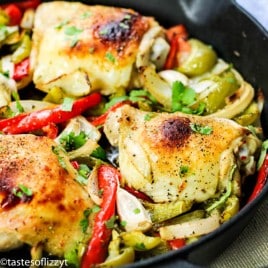 Italian Chicken Skillet
Italian Chicken Skillet is one of our favorite chicken skillet recipes. Chicken thighs with an Italian dressing marinade, oven-baked to juicy perfection.
---
Ingredients
4

bone-in chicken thighs

(with skin)

½

tablespoon

dried oregano

1

teaspoon

salt

½

teaspoon

ground black pepper

1

cup

Italian dressing

2

green peppers

(sliced)

2

red peppers

(sliced)

1

small onion

(sliced)

6

cloves

garlic

(skin on**)

¼

cup

olive oil

½

tablespoon

dried oregano

salt and pepper

(to taste)

¼

cup

white wine***

optional
Instructions
Preheat oven to 375 degrees Fahrenheit.

In a large bowl, marinate chicken with dried oregano, salt, pepper, and Italian dressing. Let sit for 15 minutes.

In another large bowl, add in remaining ingredients, minus the wine. Toss together to coat evenly.

Into a large greased cast iron pan, add in the chicken, then spread the pepper mixture around it. If desired, pour in wine.

Bake for 45 minutes, or until chicken juice runs clear.

Serve.
Notes
**Garlic can be peeled once served. Keep it in it's skin to keep it from burning.
***If you don't want to use white white, you can use chicken stock.
Nutrition
Calories:
545
kcal
|
Carbohydrates:
15
g
|
Protein:
20
g
|
Fat:
44
g
|
Saturated Fat:
8
g
|
Cholesterol:
110
mg
|
Sodium:
1257
mg
|
Potassium:
528
mg
|
Fiber:
2
g
|
Sugar:
10
g
|
Vitamin A:
2190
IU
|
Vitamin C:
125.5
mg
|
Calcium:
35
mg
|
Iron:
1.5
mg