Wood Fired Pizza Oven and Fireplace
Tastes of Lizzy T participates in affiliate advertising programs. We may earn a commission when you make a purchase through links on our site.
Learn all about Round Grove Products, manufacturers of beautiful fireplace and brick oven outdoor spaces. Wood-fired brick ovens are perfect for pizza, artisan bread, and yes even cinnamon rolls.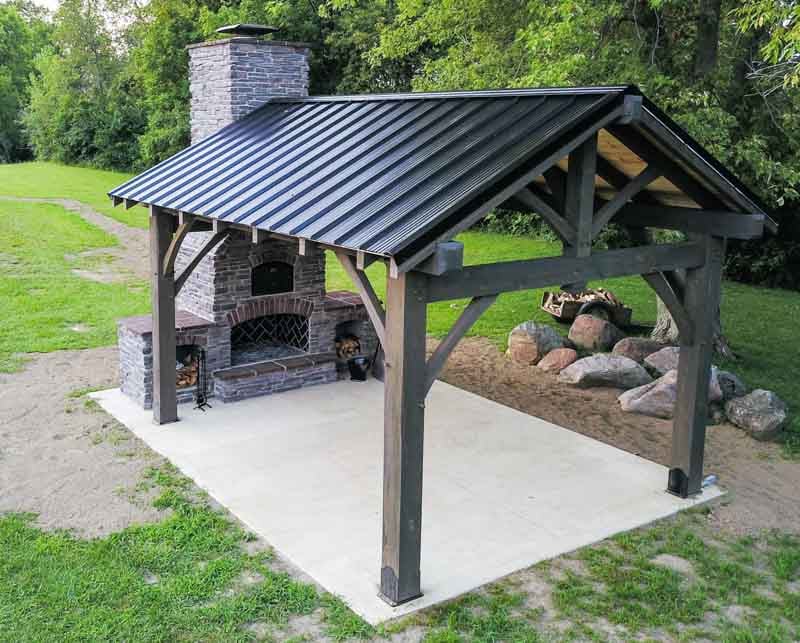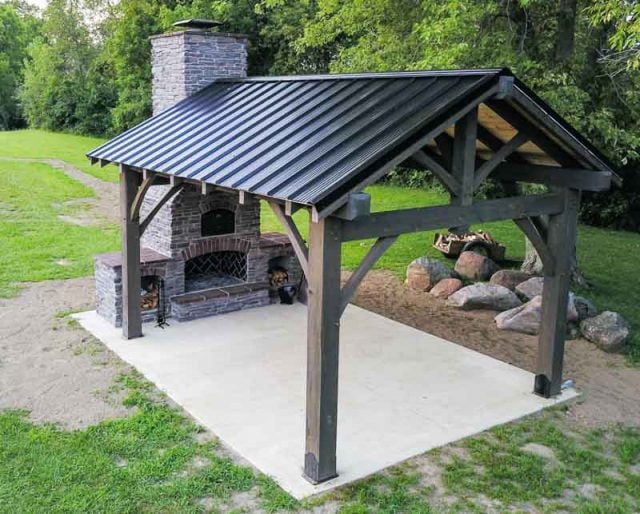 A special thank you to Round Grove Products for sponsoring this post. As always, all opinions are my own.
About a year ago we reached out to Scott & Bonnie from Round Grove Products, a local Ohio small business with a wonderful staff and community. We visited their factory in Dalton, Ohio, and as we saw their beautiful ovens and fireplaces, instantly made a connection. Having grown up in Northeast Ohio, the small-town feel coupled with a strong Amish community put us right at home. We immediately knew that an outdoor cooking space would be something our family and friends would love. A place where food brings the family together.
Brick Oven Installation
The first step was to install an outdoor pavilion with a fireplace. Round Grove's specialty is its patented pizza oven and fireplace combination. This is uniquely suited to our desire to create a custom outdoor experience for family gatherings and to create unique recipes for outdoor cooking.
Prior to installation, we had to prepare the ground with a 14×20 ft, 6 inches deep, reinforced concrete pad. Then the day of installation, two trailers brought the oven and pavilion.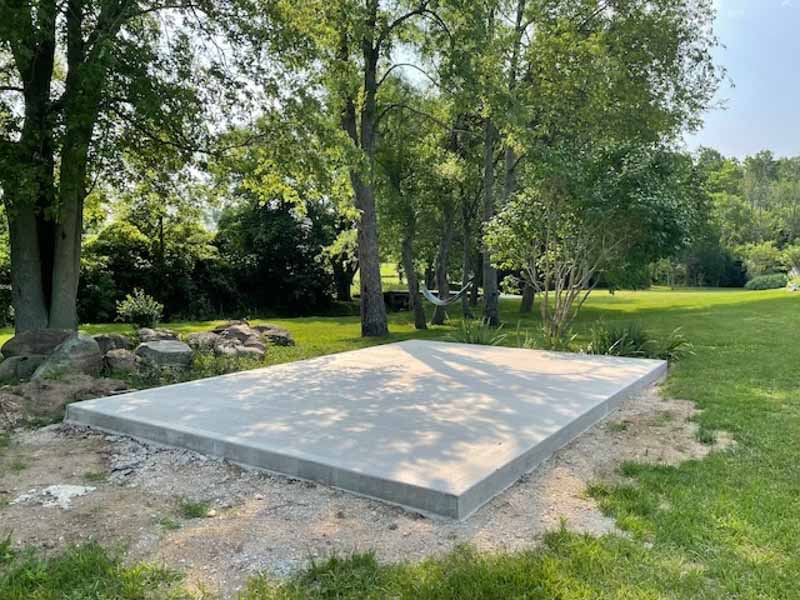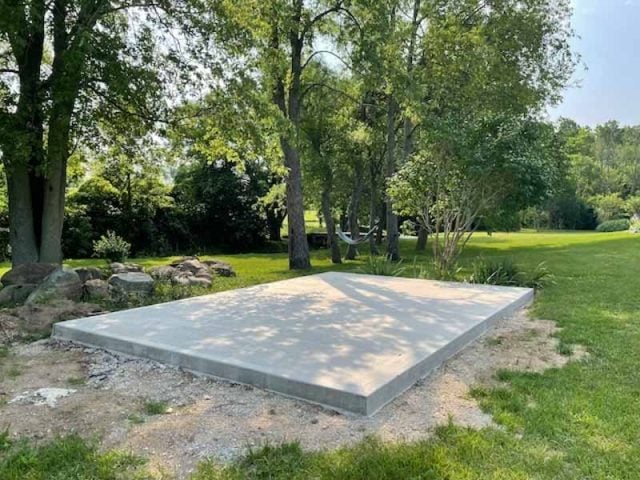 The pavilion design is Amish-made and is also unique to Dalton, Ohio. The pavilion comes already pre-drilled, cut to length, and put together in a kit to make installation super easy. The main beams and supports are all held together with wooden stakes…like lincoln logs for grown-ups! Braden had a blast helping out. Matt was injured from an earlier hatchet incident so he was only able to operate the forklift. But anytime heavy machinery is involved it is always a good time.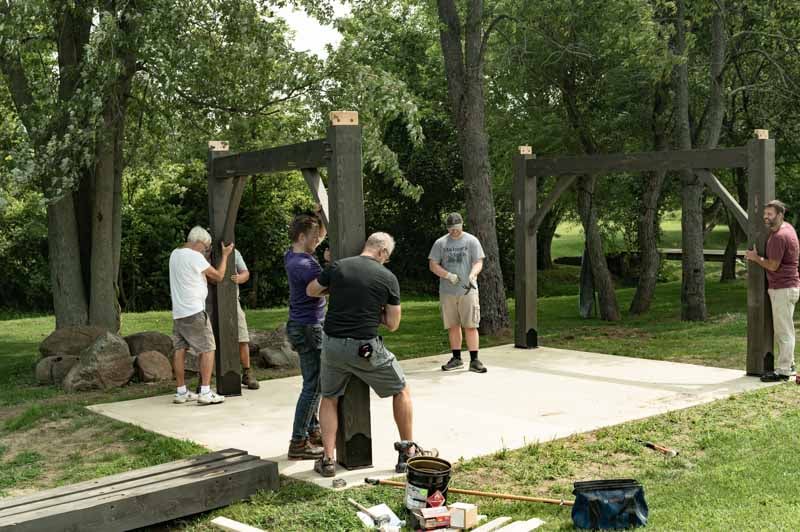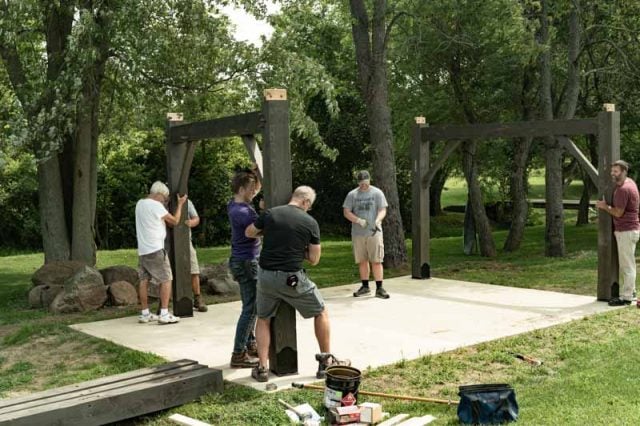 The brick oven & fireplace combo was delivered in 4 pieces. The largest piece was around 2,500 pounds. We trusted Round Grove Products more than ourselves to drive the forklift for that to make sure it was done right. They placed the fireplace perfectly, even moving it back and forth a matter of inches to get it exactly right.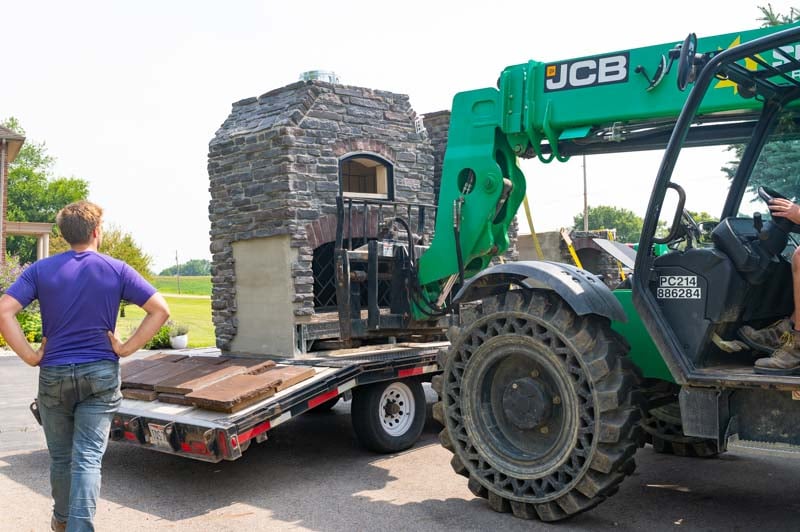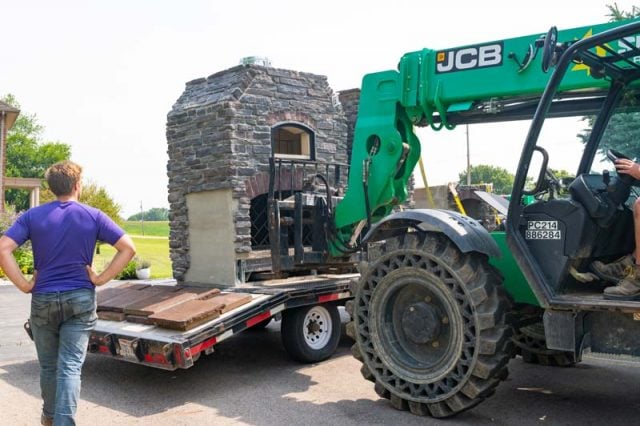 Round Grove offers thousands of outdoor living customizations. Most of the time, they ship the ovens without the finished brick on them. We asked if the decorative brick could be installed ahead of time. This wasn't a problem for them and worked out beautifully on install day. You can customize your order to save cost or to integrate it into your existing patio or outdoor living space. Round Grove gives excellent instructions on how to install the pizza oven and the pavilion yourself.
Learning to Cook in a Brick Oven
The next day, we were able to use the oven while the rest of the crew finished the pavilion roof. Wood-fired cooking is an art! Bonnie from Brick Oven Lifestyle gave us a personal tutorial on how to start a fire. Thankfully, Bonnie has a Youtube channel along with her website and provides video tutorials on recipes and cleaning techniques.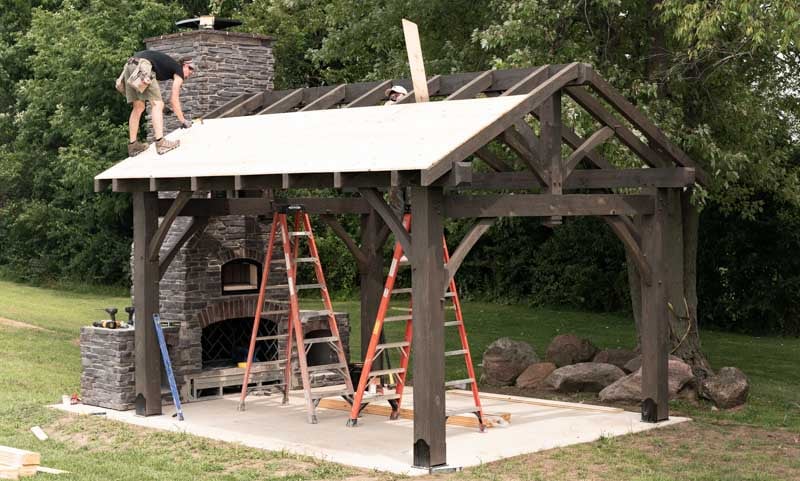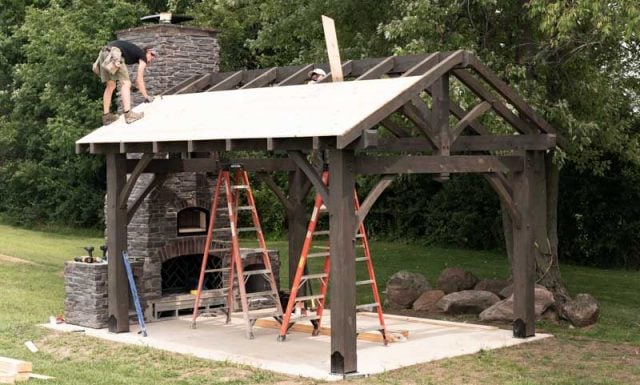 It was a long and hot couple of days but well worth it! Our pizza oven is installed and ready to bake. We hope to share some of our favorite recipes and how to cook them in a brick oven. Check out the inspiration gallery on Brick Oven Lifestyle to see some other beautiful brick oven fireplaces.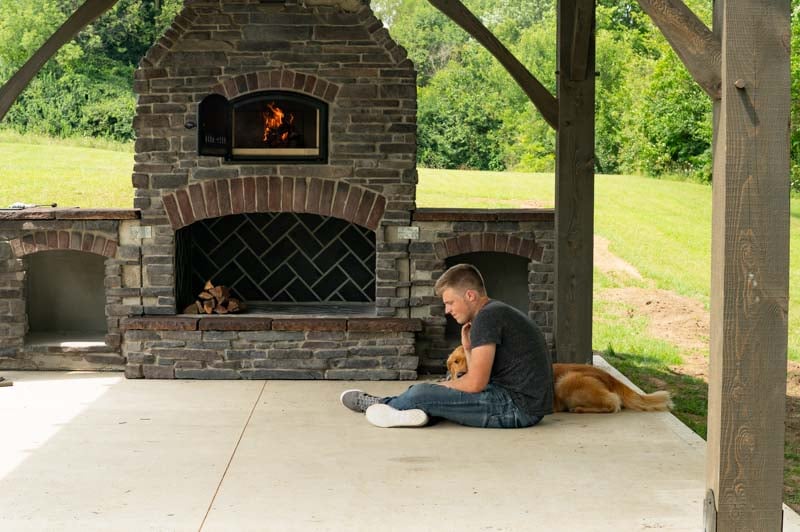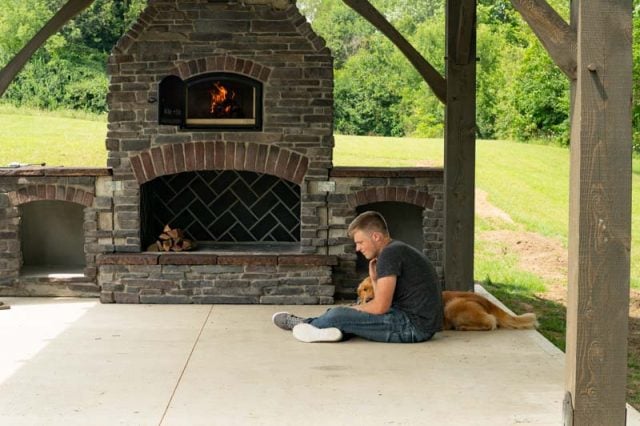 Watch It Go Up
Why choose Round Grove Products for your Outdoor Cooking Space?
A small business that takes pride in their custom to order fireplace and combination oven and fireplace products
Experts in designing custom brick ovens (Patent on pizza oven and fireplace combo)
Lighter than masonry block or precast fireplaces
Easily finish to match home or building exterior
Pre-assembled and ready to finish
Will ship to you and help with install
Units come optimized for safe shipping and installation
Open access for handling, strapping, or anchoring
No separate footer foundation needed

Custom sizes and designs available

Online video tutorials to show you how to cook like a pro in your brick oven
Above all, outdoor brick ovens and fireplaces are relaxing, entertaining, and enjoyable to cook in. It is a wonderful centerpiece for outdoor events. Let Round Grove help you make the most of your outdoor lifestyle!
Frequently Asked Questions
How do I know the fire is hot enough?
It takes about 45 minutes to an hour to get the fire up to 600 degrees F. It takes about 2 more hours for the oven bricks to get to a constant temperature. Use a Laser Infrared Temperature Thermometer to measure the brick temperature in several places. I highly recommend watching "Let's Begin With a Fire".
How do I cook pizza in a brick oven?
Usually, pizza takes about 3-5 minutes in a brick oven between 500-600 degrees F. Watch the video "Cooking Brick Oven Pizza" to learn more. But make sure you watch "Let's Begin With a Fire" first. We have found that if you don't get the bricks up to temperature the crust ends up not done in the middle.
What can you cook in an outdoor pizza oven?
Anything you can cook in a normal oven you can cook in a brick oven. It just takes practice. We are just at the beginning of the learning process. So far we have made pizza and Michigan Tech Wives Brownies (a family favorite). You can also cook bread, steak, peach cobbler, and so much more. With the Round Grove pizza oven and fireplace combo, you can cook chili in the fireplace and cornbread in the oven at the same time.
Where can I buy an outdoor pizza oven?
Round Grove Products of course! They offer plenty of customizations to make a unique outdoor experience at an affordable cost. Since every product is custom-built, they don't post prices. Click here to request a quote. They were recently featured in a "This Old House" episode called "Pizza Time".
How do I control the smoke coming out of my outdoor fireplace?
A well-designed chimney system will mitigate most of the disturbing smoke. However, in the article "Smoke Control", Scott highlights that good, seasoned hardwood always makes a less smokey fire. There are also some really good tips on where to install your fireplace to avoid shear winds and structures that inhibit proper chimney airflow.
How do I clean my pizza oven?
After cooking, spread the hot coals over the entire oven floor to cook away any grease or remaining food. Close the vent ports and shut the oven door to allow the coals to burn down slowly. In about 24 hours the coals should be reduced to ash and can be scooped out with a fireplace coal shovel. Put the ashes in a fire-safe metal container until fully cooled. Use a brass wire brush to sweep out the excess ash.
What type of wood do I use in my pizza oven?
The type of wood you can make all the difference. Hardwoods like maple, oak, ash, and beech burn hotter and cleaner and won't damage your oven. Your hardwood also needs to be seasoned and dry. Wet wood will produce a lot of smoke. Don't use resinous woods like pine or fir trees. The sap in pine trees will smoke, give your pizza a bad taste, and ruin your oven. Moldy, rotten, or wood with fungus on it will affect the taste of your food and could be dangerous to use. Also, avoid treated or painted wood as the chemicals could also be harmful to you and your oven. Treehugger.com has a really nice article on North American Hardwoods and how to identify them.