Easy Christmas Dinner Menu
Tastes of Lizzy T participates in affiliate advertising programs. We may earn a commission when you make a purchase through links on our site.
How to plan an easy Christmas dinner menu that the whole family will love! Plus tips on how to get it all done so you day can be relaxing.
Wondering how to put together an simple Christmas dinner menu? Here are classic Christmas recipes that you'll come back to year after year.
Christmas can be a crazy busy day whether you have family local and hop from house to house, or have small kids that tear into presents and then need help building and of their Christmas presents. Christmas dinner can seem like an intimidating task. Although there are different traditions people hold to when it comes to their Christmas dinner, we're creating a classic, traditional, yet easy Christmas dinner menu for you today.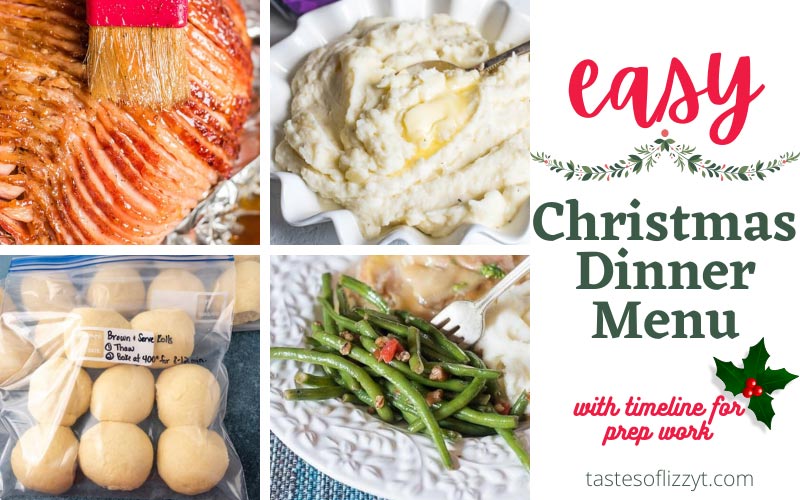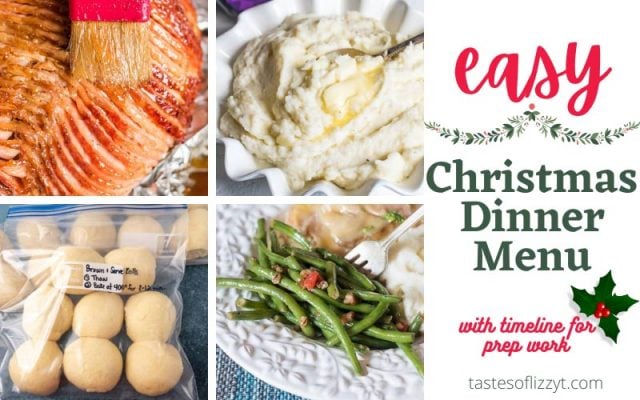 We're making it easy for you. We'll share our simple Christmas menu first. You can make it just as is if you'd like. Then below that, we'll offer a few other options for each part of the meal. Just choose one or two Christmas dinner ideas from each category and you'll end up with an easy menu that your family will enjoy.
Sample Easy Christmas Dinner Menu
When I want a quick and easy Christmas dinner menu, here is my must-haves:
These are some of our easiest, most delicious recipes that can be made in advance. Your family will love them! Looking for a few more options? Keep on reading.
Christmas Appetizers
Now we don't always have Christmas appetizers sitting out on Christmas Day. After all, isn't that what the cookie trays are for? 😂 But it is a good idea to have an appetizer or two ready to go, whether it is for your kids if they forgot to eat breakfast due to the massive amounts of excitement about the day…or if your dinner does come out of the oven quite at the time you thought it would.
Here are a few easy ideas you can have ready in the fridge:
Christmas Drinks
I don't know how many times I've planned a nice gathering and completely forgotten about drinks. When you are trying to make an impression, it's not fun to have to say, "Umm….how about water?".
Choose a cranberry-inspired drink so perfect for the holidays or choose a traditional punch.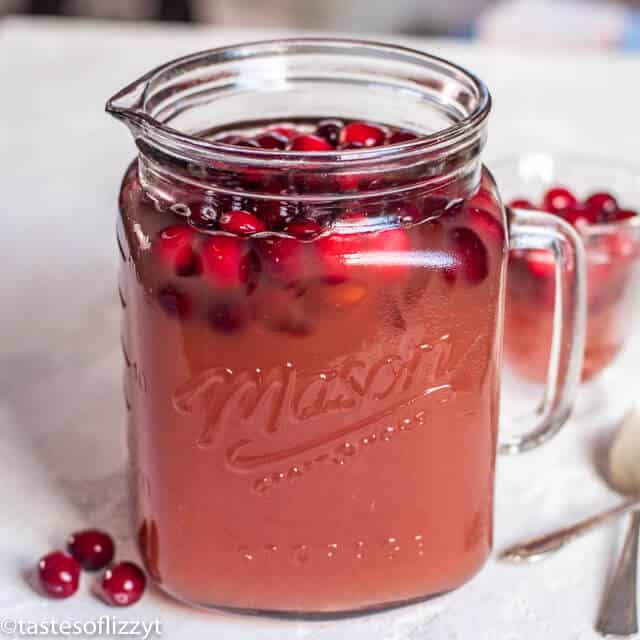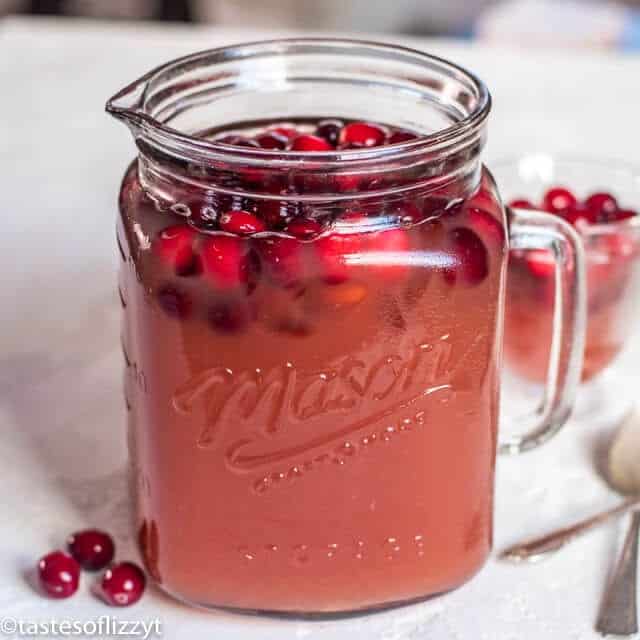 Christmas Jello Salads
Now this is an optional side dish, but really, Jello salads are common in a Christmas dinner. Especially in the Midwest! They have a gorgeous color and a beautiful presentation. Plus they are a sweet and an easy way to sneak in some fruit. You can also make Jello salads in advance. These are a few of our favorites.
Christmas Main Dish
There are generally two different traditional main dishes for Christmas: Ham and Turkey. Growing up, we almost always had a turkey dinner, very similar to Thanksgiving. However, ham is quite a bit easier.
Ham is easy because you can buy a spiral cut ham (Aldi has a fantastic spiral ham we stock up on every year) that is already cooked. All you'll have to do is heat it up. You can do this in the oven, or to make it even easier, in the slow cooker.
Two other main dish options that are worth mentioning: We often hear of friends having lasagna or roast beef for Christmas dinner. Our easy lasagna recipe gets rave reviews. And this slow cooker roast beef is mouthwatering.
Christmas Side Dishes
My favorite part of holiday dinners is the easy side dishes.
Pile your plate high with mashed potatoes and gravy, sweet potato casserole, green bean casserole and stuffing. This is a great way to add in recipes for an vegetarians in your life.
Since we're looking at easy, here are a few options:
Christmas Desserts
Christmas pies are traditional, but they are also best served after they sit at least a day after baking. This makes them a great option for Christmas dinner because you can just pull them out and serve.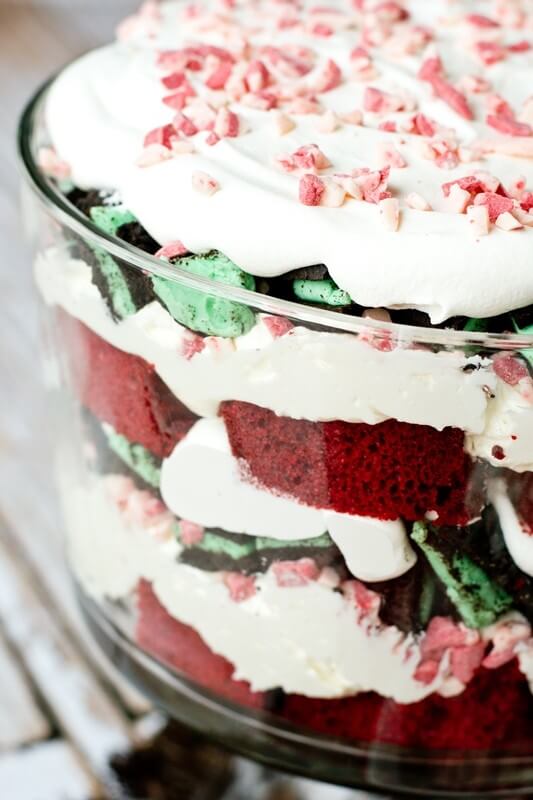 How to Plan Christmas Dinner
Time needed: 14 days
Here's a timeline for how to plan Christmas Dinner. Start 2 weeks before you'll be serving the dinner.
At least 2 weeks before Christmas, make your menu.

Research recipes and find the recipes you want for your dinner. Plan these out at least two weeks in advance.

Make your grocery list.

Gather your recipes and go through each ingredient. Put any that you'll need on a grocery list. Also think through condiments people may want for the holiday: butter, coffee creamer, milk, salt, pepper, etc. You don't want to run out of a basic pantry staple on Christmas day.

At least one week before the holiday, go shopping.

The goal of this shopping trip will be to get all of the pantry staples. You can get any fresh fruit, veggies or dairy that you might need a few days later, but you should purchase anything that will store well now so that you can start baking.

Make brown 'n serve rolls.

Our brown 'n serve rolls you can make in advance and then brown & warm the day of Christmas. Get this task out of the way at least 5 days before Christmas dinner.

Remove the turkey or ham from the freezer to thaw.

If the turkey or ham weighs 4 to 12 pounds, plan for it to defrost in the fridge for two to three days. If it's 12 to 16 pounds, move it to the fridge three to four days before the day you want to roast it.

Make cheese balls for appetizers.

Cheese balls can be made 4-5 days before serving.

Make pies.

Pies can be kept 2 days at room temperature or 4 days in the fridge.

Last Minute Grocery Shopping 2 Days in Advance.

Get any fresh produce or dairy items that you couldn't buy before. Try to make your list complete so you don't have to waste time with another grocery trip.

Make a Jello salad.

Jello salad can be made a day or two in advance.

Last Minute Christmas Eve prep.

On Christmas Eve, get your potatoes ready. You can make up mashed potatoes the day before, then set them in the slow cooker on Christmas morning to reheat. Also pull out the brown & serve rolls from the freezer on this day as well.

Christmas Day!

Prepare the main dish (whether that is ham or turkey), then while it is baking you can get any last minute side dishes together such as our Christmas green beans (25 minute prep) and corn casserole (quick prep but takes close to an hour to bake).

Prepare any Christmas beverage. Remember that if it has soda you'll want to add soda right before serving so that it doesn't lose its fizz.

Plan to brown the rolls right after the main dish comes out of the oven. The rolls can brown while you carve the turkey or slice the ham.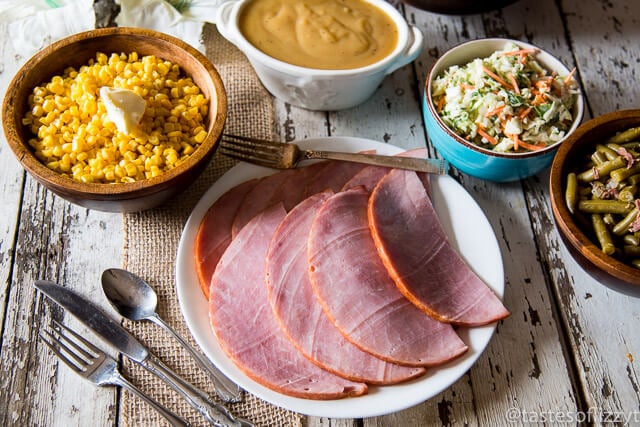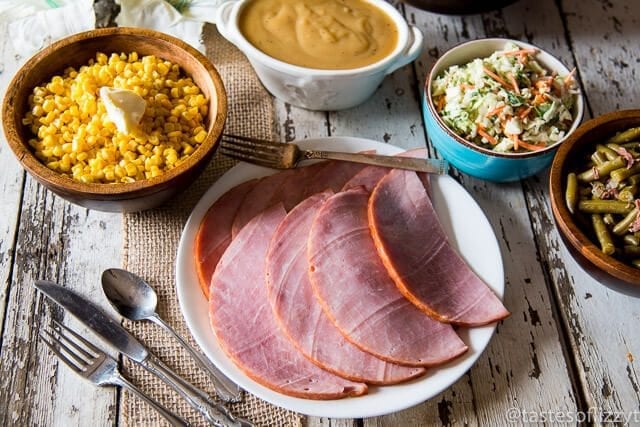 Christmas FAQ's