The easiest homemade cranberry sauce around! Only 5 ingredients makes a fresh cranberry sauce with hints of rich vanilla.
Cranberry sauce is a staple recipe during the holiday season. Yes you can buy canned cranberry sauce to give yourself one less thing to do, but homemade sauce tastes amazing and is easier than you may think!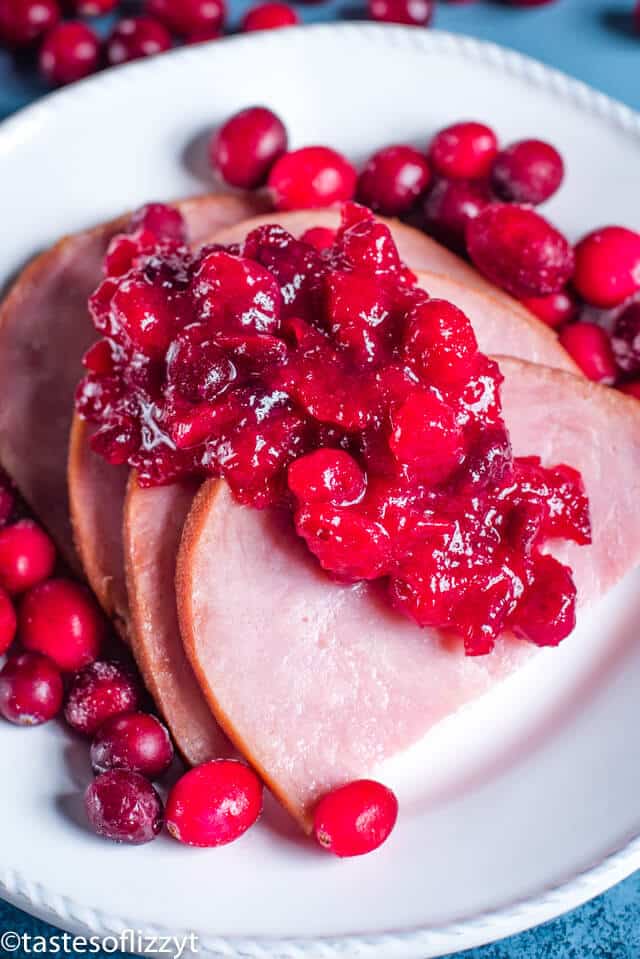 Homemade Cranberry Sauce Recipe
Homemade fruit sauces are one of my favorite things to make. We've made strawberry sauce, raspberry sauce and a sour cherry sauce (that we've put on a black forest cake!). Fruit sauces are so easy to make using fresh or frozen fruit…and they're delicious served as a topping…or in this case as a holiday centerpiece to serve with turkey or ham.
Fresh cranberries vs Frozen Cranberries
You can use fresh or frozen cranberries in this cranberry sauce recipe. Every now and then it is difficult to find fresh cranberries in the store. In this case, use frozen berries. Cranberries freeze beautifully so you won't have any issue with freshness. Your cranberry sauce will taste delicious either way.
What ingredients are in cranberry sauce?
For basic cranberry sauce you'll need the following:
12 ounces of cranberries
½ cup water
¾ cup sugar
vanilla
butter
Butter? Yes. Trust me. I love the little touch of flavor it adds!
Some recipes add spices, some add other fruits. For this recipe, we're keeping it simple and basic so the cranberries can be the center of attention.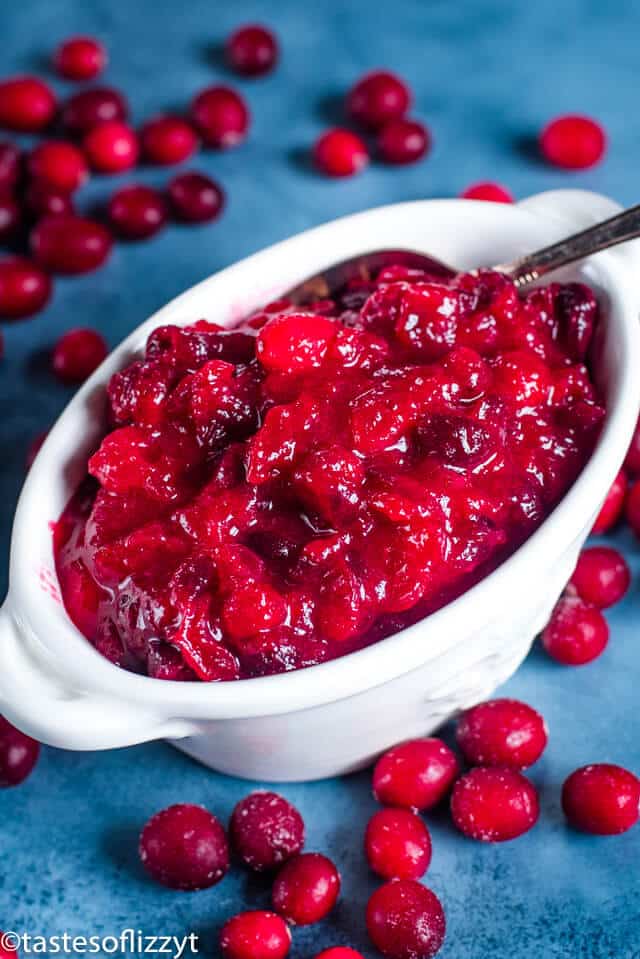 How do you make homemade cranberry sauce?
You'll make this cranberry sauce in a saucepan on the stovetop.
Place the cranberries, water and sugar in a saucepan over medium heat. Stir often as it heats.
As the mixture starts to come to a boil, lower the temperature a little and continue to cook and stir the cranberries.
The cranberries will start to "pop". The skins will break and they'll release juices, turning the cranberry sauce red.
Cook for just a minute or two until the sauce thickens slightly.
Take the saucepan off the heat and add the vanilla and butter.
Stir until the butter is melted, then allow the sauce to cool.
How to Thicken Cranberry Sauce
We find that this cranberry sauce is pretty thick and perfect for topping your favorite meat or dessert.
If for some reason the sauce is too runny for your liking, mix a teaspoon of cornstarch with a tablespoon of water in a small bowl (this is called a cornstarch slurry). Then add the cornstarch slurry to the sauce. Mix over low heat until the sauce starts to thicken.
Is cranberry sauce served hot or cold?
You can serve cranberry sauce whatever way you'd like but we like to serve cranberry sauce more towards room temperature. Remove it from the refrigerator about an hour before serving to take the chill off. I've eaten served all three ways…warm, hot and cold!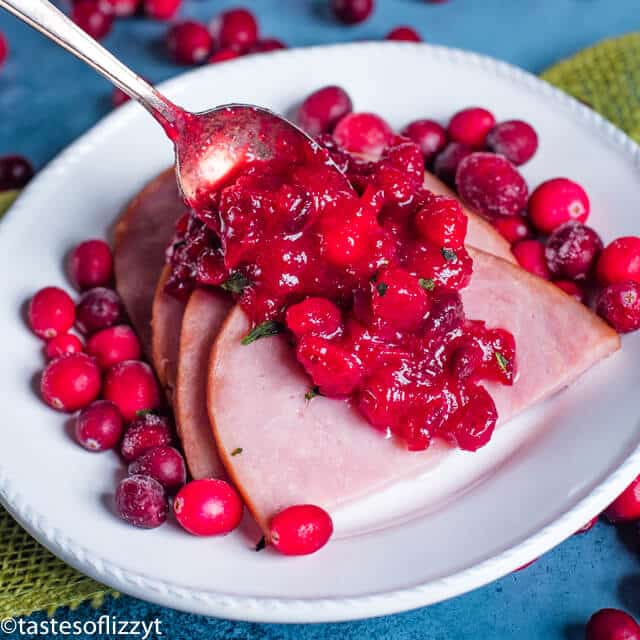 Can you make cranberry sauce ahead of time?
Yes! Cranberry sauce will keep about a week in the refrigerator. Refrigerate after it cools down from cooking and store in an airtight container.
Can you freeze cranberry sauce?
You can freeze cranberry sauce, but it may become a little watery after it defrosts.
What to Do With Leftover Cranberry Sauce
If you have leftover cranberry sauce, here are a few ideas of ways to use it up!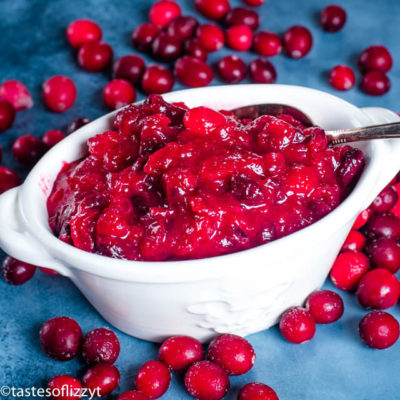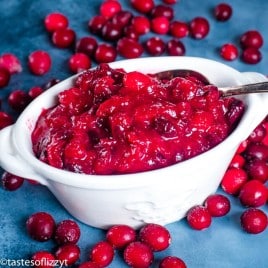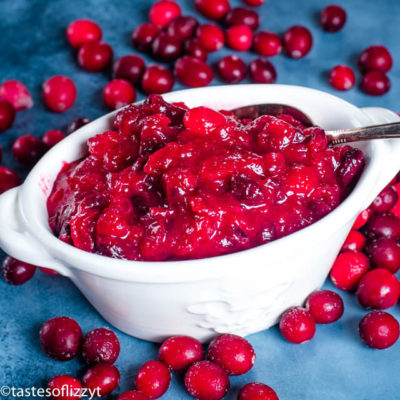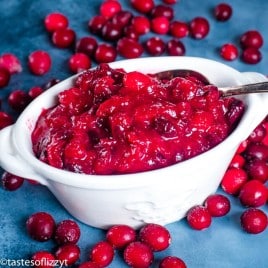 Homemade Cranberry Sauce
The easiest homemade cranberry sauce around! Only 5 ingredients makes a fresh cranberry sauce with hints of rich vanilla.
---
Ingredients
12

ounce

bag fresh cranberries

(about 2-2 ½ cups)

3/4

cup

granulated sugar

1/2

cup

water

1/2

teaspoon

vanilla extract

1

tablespoon

butter
Instructions
In a saucepan over medium heat, stir together the cranberries, sugar and water until the sugar is dissolved. Heat the mixture to boiling, stirring often. The cranberries should start to "pop" and turn the sauce red.

Remove from the heat and add the vanilla and butter.

Mix until the butter has completely melted.

Serve over turkey, ham or even cheesecake or ice cream.

Makes about 2 cups sauce. Refrigerate the leftovers.
Notes
The calories shown are based on the recipe serving 8 with 1 serving being about ¼ cup of sauce. Since different brands of ingredients have different nutritional information, the calories shown are just an estimate. **We are not dietitians and recommend you seek a nutritionist for exact nutritional information.**
Nutrition
Calories:
105
kcal
|
Carbohydrates:
23
g
|
Fat:
1
g
|
Cholesterol:
3
mg
|
Sodium:
14
mg
|
Potassium:
36
mg
|
Fiber:
1
g
|
Sugar:
20
g
|
Vitamin A:
70
IU
|
Vitamin C:
5.7
mg
|
Calcium:
3
mg
|
Iron:
0.1
mg