Tastes of Lizzy T participates in affiliate advertising programs. We may earn a commission when you make a purchase through links on our site.
Cranberry brie bites are the best phyllo cups appetizer recipe to serve at holiday parties! You'll love the creamy tarts as a first course or dessert!
Great appetizers can sometimes be more favored than main meals. Italian tomato bites, spinach cheese puff stuffed biscuits, and Parmesan wings are just a few of our favorite appetizers to serve on game days, Thanksgiving, and Christmas dinners!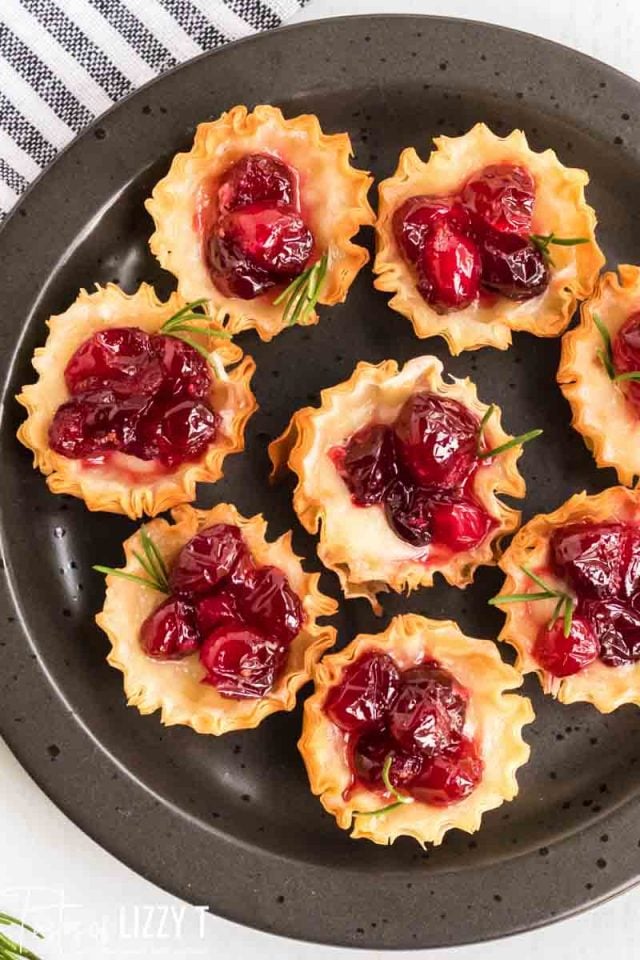 Everyone is familiar with cream cheese and goat cheese, especially for appetizers, but brie cheese is a great cheese to pair with the tart cranberries!
What is brie cheese?
Brie cheese is a yellowish white semi-ripened cheese that is characteristically known for it's round shape and rind (which is edible).
Known as a melting cheese, brie cheese can be stuffed into bread as an appetizer or used in a gourmet grilled cheese. Topped over baguettes, pizza dough, and phyllo cups, brie cheese is a great choice for appetizers.
For the ultimate brie cheese experience, place the whole brie cheese, rind included, into an oven safe pan and add toppings of your choice (cranberry pecan is a popular choice), or stuff the whole brie into a loaf of sourdough bread that has been hollowed out.
Bake until the center of the brie cheese is soft! Dip with crackers or bread for the ultimate brie cheese dip appetizer.
**Quick Tip: the rind of brie cheese does not melt. It provides a beautiful wall like barrier so the center of the cheese stays, but the rind itself does not melt.**
Can I use frozen cranberries?
You can use fresh or frozen cranberries in this easy cranberry sauce recipe.
This cranberry sauce recipe is simple with just water, sugar, and rosemary added to it. If you want an orange based cranberry sauce recipe, check out my homemade cranberry sauce recipe!
Right now is the season for cranberries! If you find you have a lot left over, freeze the remaining cranberries in a freezer friendly Ziploc bag or container.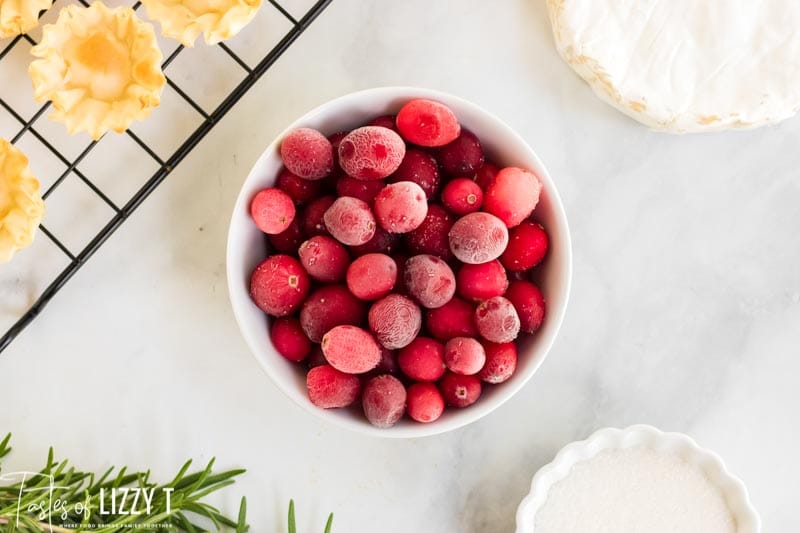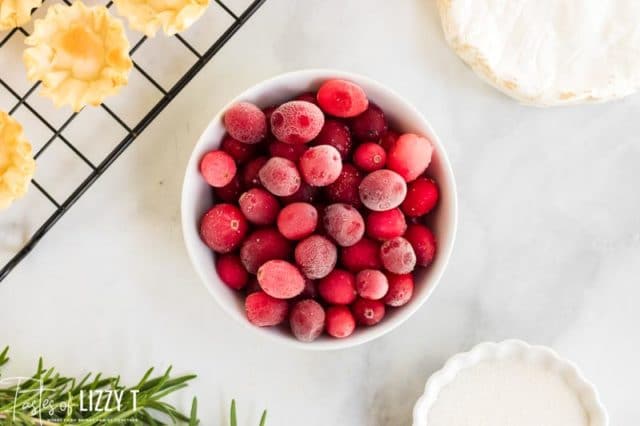 How do you make easy cranberry sauce?
Easy cranberry sauce only takes a few ingredients and is made in a matter of minutes.
You can also offer your guests variety by having one cranberry brie, another blueberry brie, and so on.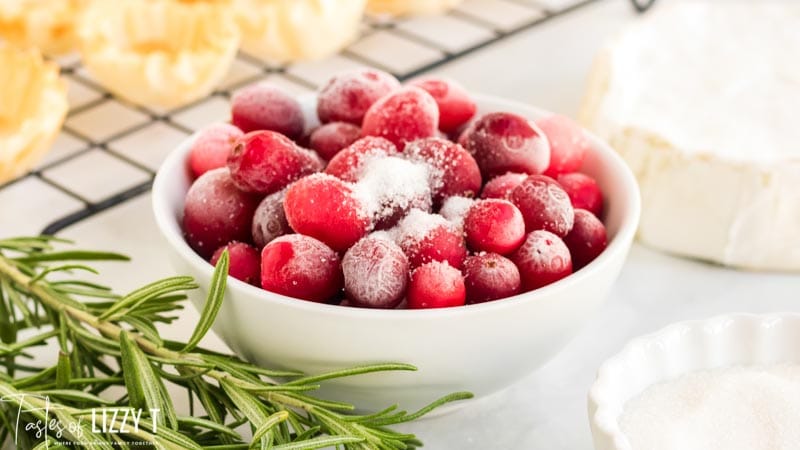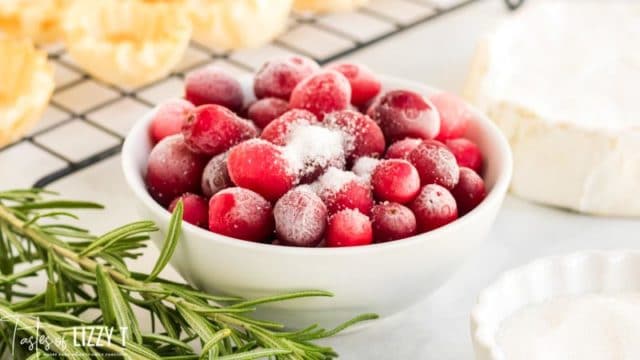 In a small pot, add in cranberries, sugar, water, and a sprig of rosemary.
If on hand, add some zest of an orange.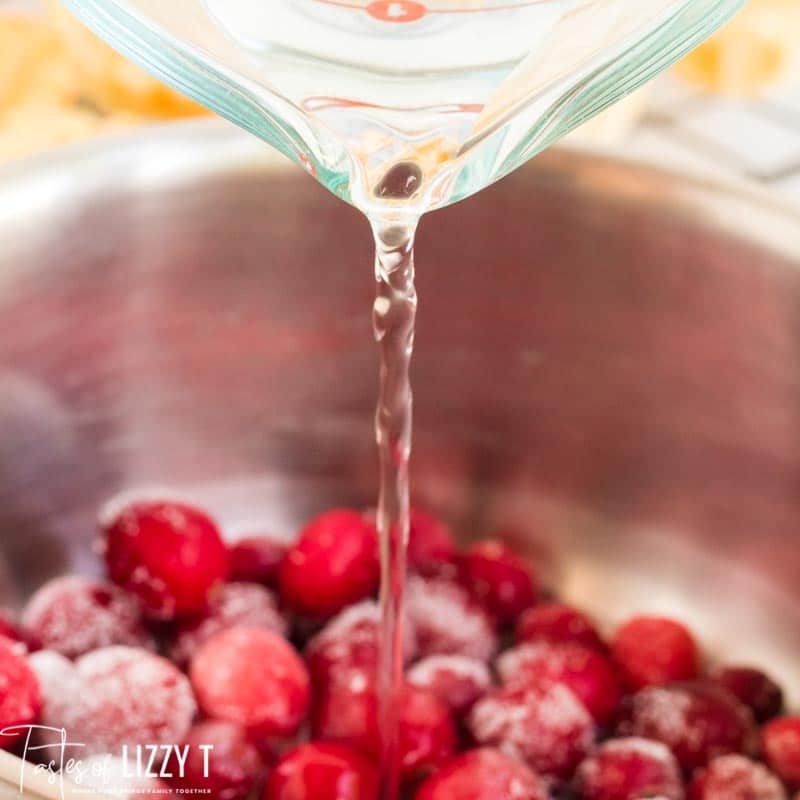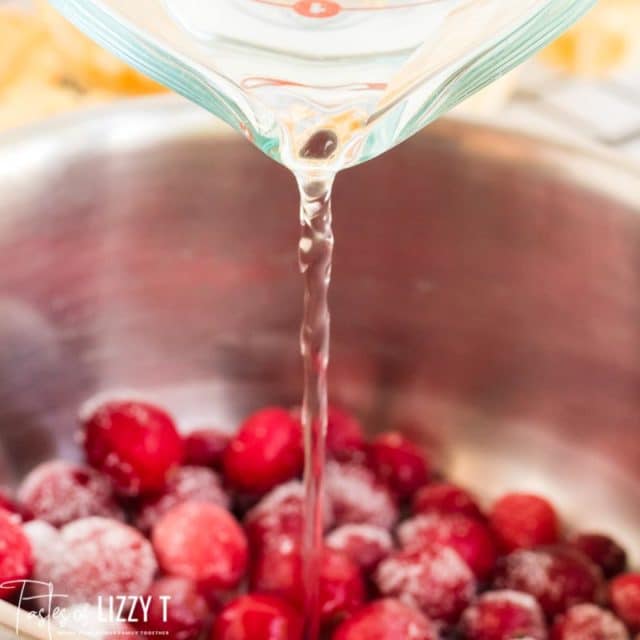 Bring mixture to a boil over medium heat. Lower heat to low and let cranberries cook until the cranberries pop.
Remove the pot from the heat and discard rosemary. Easy cranberry sauce is now made!
How To Make Cranberry Brie Bites
Now that the easy cranberry sauce is made, it's time to assemble the cranberry brie bites.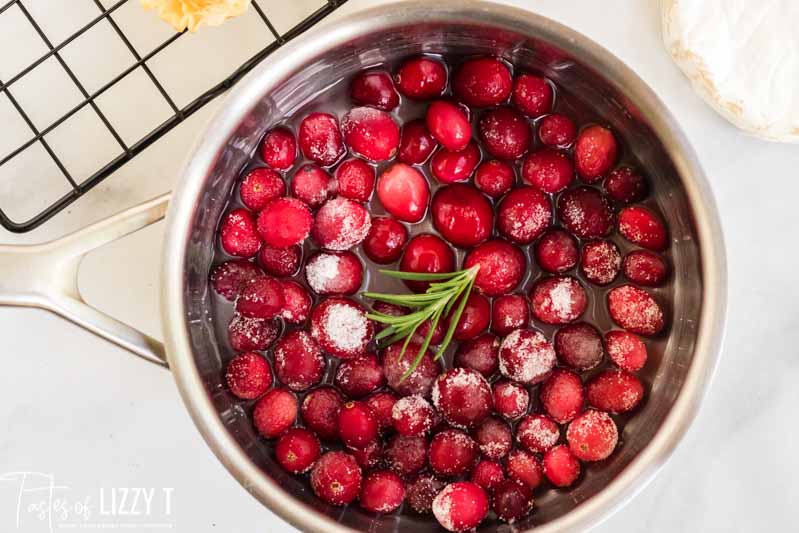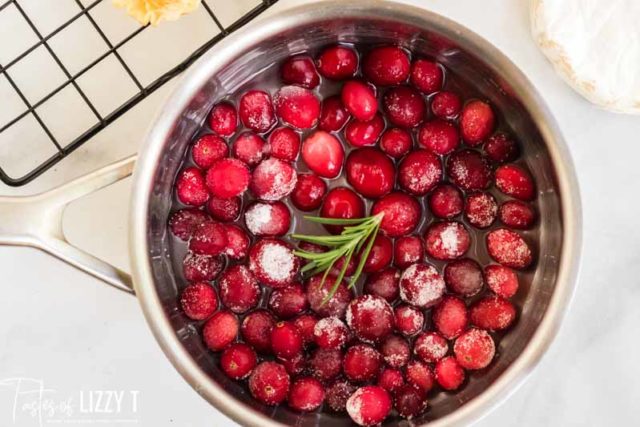 Start by chopping the brie cheese into 15 chunks. Remember, the rind of brie cheese does not melt; it's best to discard it or enjoy it!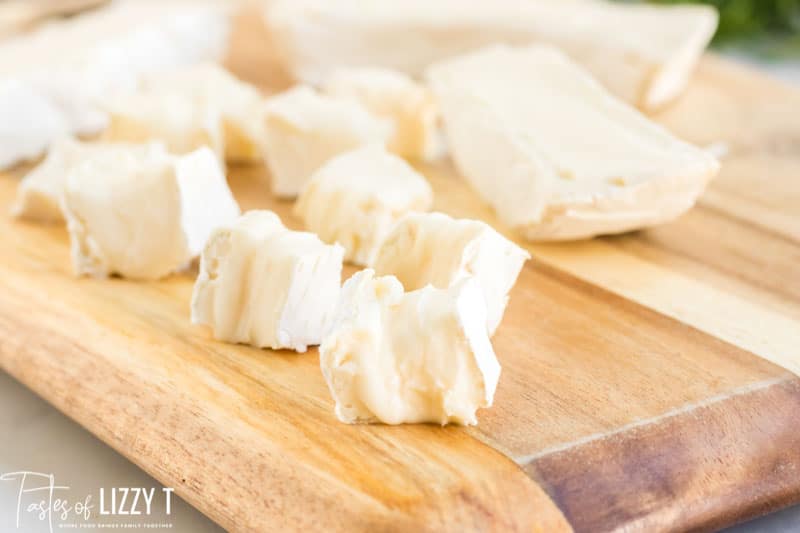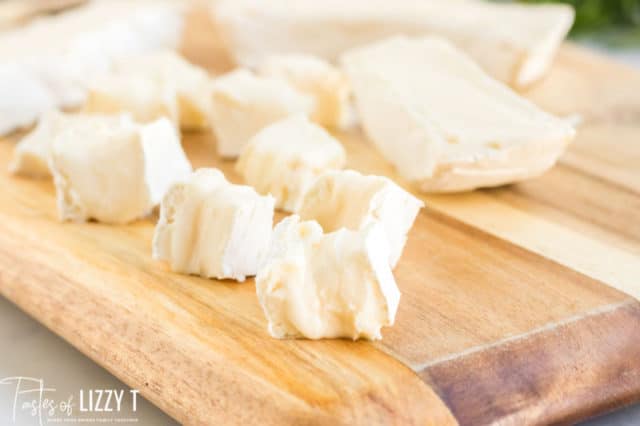 Place a chunk of brie into each phyllo cup. Be generous, as the brie cheese bakes, it will melt and condense.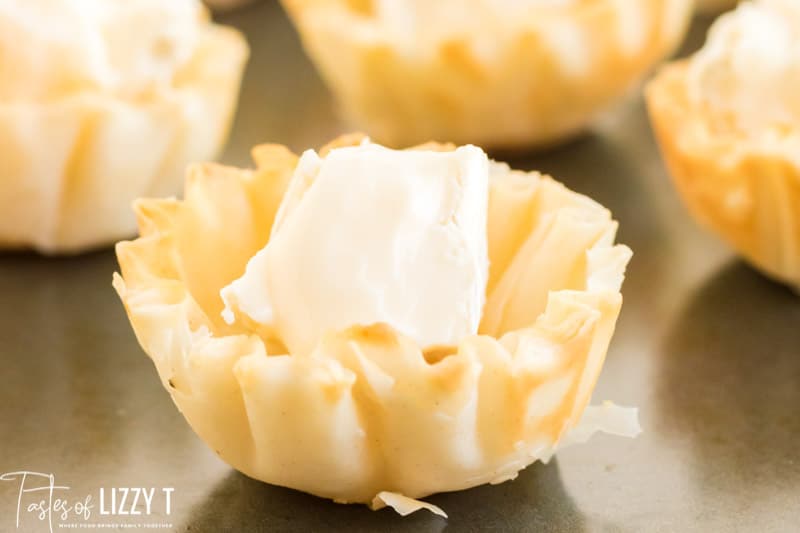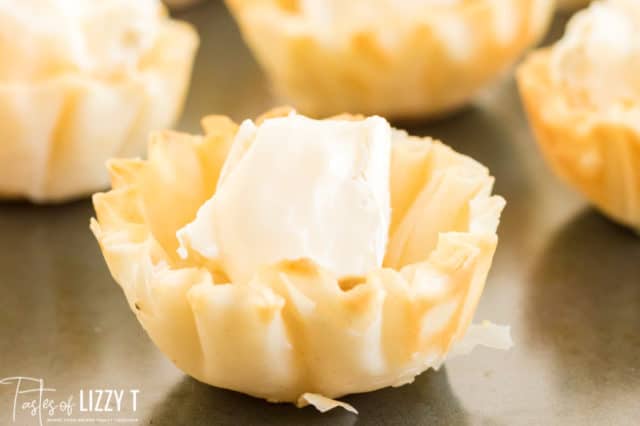 Place phyllo cups with brie into the oven for five minutes or until the brie cheese melts.
As soon as the cheese melts, remove phyllo shells and top with a spoonful of cranberry sauce.
For an extra festive look, add a sprinkle of orange zest and a small piece of rosemary to the side. (Have guests discard the rosemary before eating.)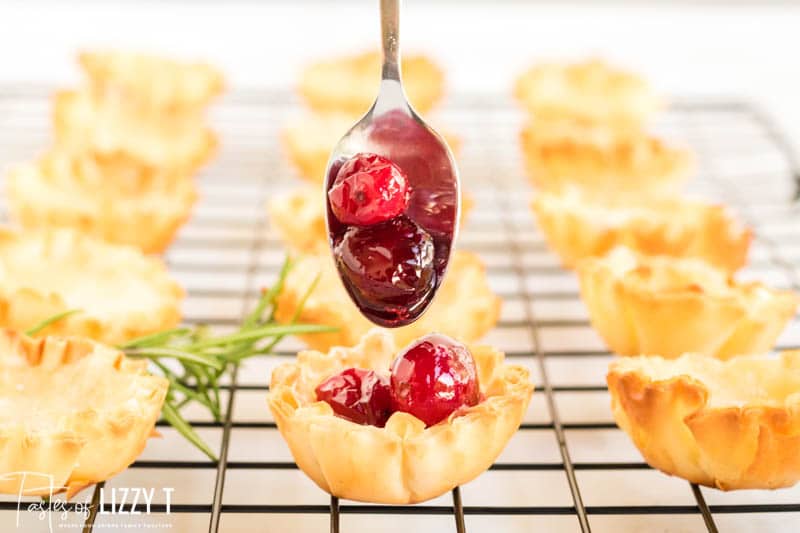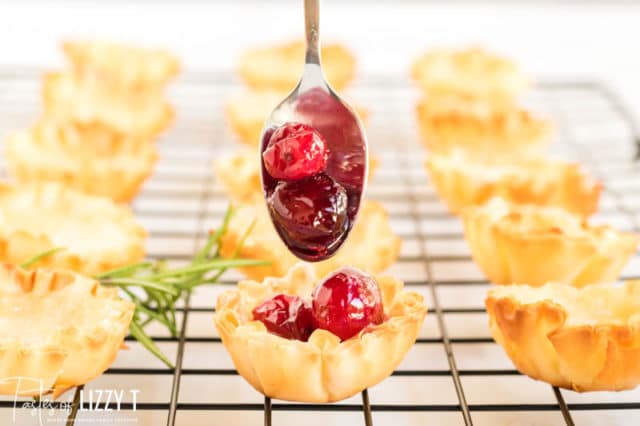 You now have a festive cranberry brie bites appetizer that is sure to please!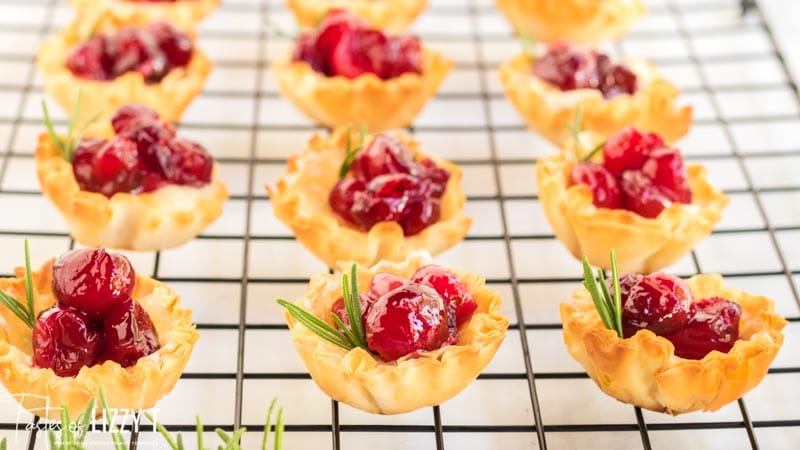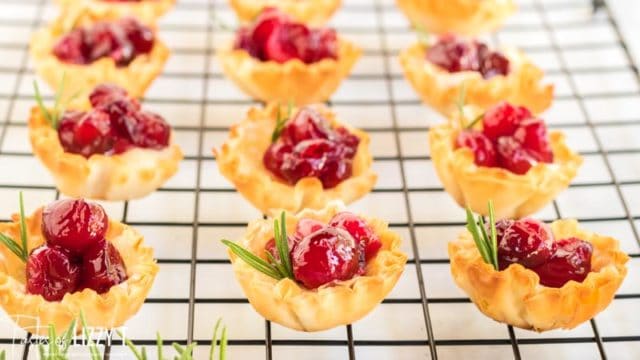 What are phyllo shells?
Have you ever had a baklava pastry? Baklava is a pastry treat originated in Turkey. A layered paper thin delicate phyllo dough, also known as "filo" is layered with a center of a pistachio and almond paste like filling.
As soon as you bite into a phyllo pastry, the pastry instantly crumbles in your mouth.
If you've ever visited Miami and tried a Cuban guava and cheese pastry, or any small traditional Cuban pastry with a heavy dusting of powdered sugar, you can almost be certain that it's made with phyllo dough.
How do you make phyllo cups?
Phyllo shells are delicate to make. We prefer to purchase already made phyllo cups that are cooked and ready to use! (Saves time for making the other sides for Thanksgiving.)
Made with layers of thin flaky dough, and baked until golden, phyllo cups are like an extra mini pie crust!
The actual process of making phyllo cups from scratch is simple, but time consuming. Having a pasta making machine will drastically help!
The phyllo dough has to be refrigerated overnight, too. Take this into consideration before making phyllo dough from scratch!
The Spruce Eats has a great step-by-step tutorial on how to make homemade phyllo dough.
What can I put into phyllo cups?
Phyllo cups can be filled with sweet or savory ingredients. At Christmas time, phyllo cups are great with this cranberry brie recipe.
You can also make phyllo taco cups, buffalo chicken cups, and more.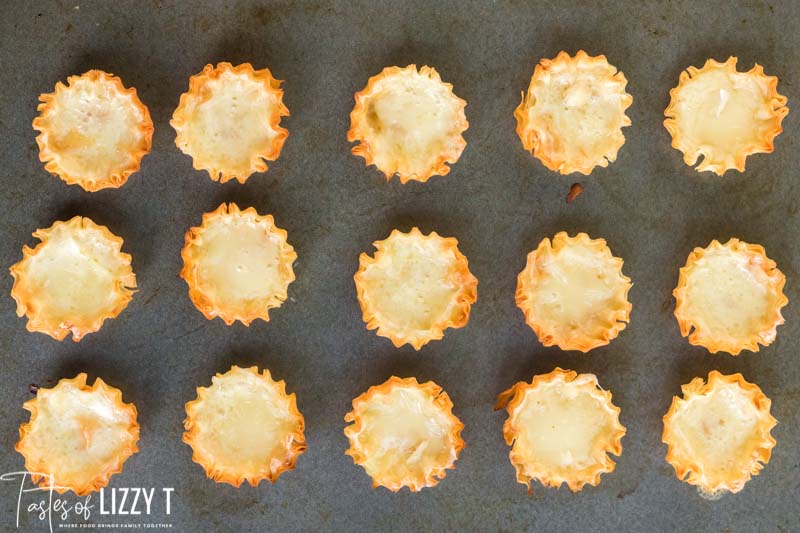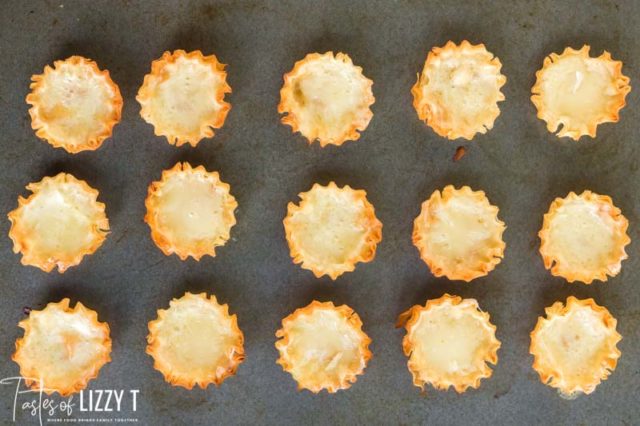 Holiday Party Cheese Appetizers and Cheese Dessert Recipes
Here are some great cheese recipes we know your guests will love at holiday parties: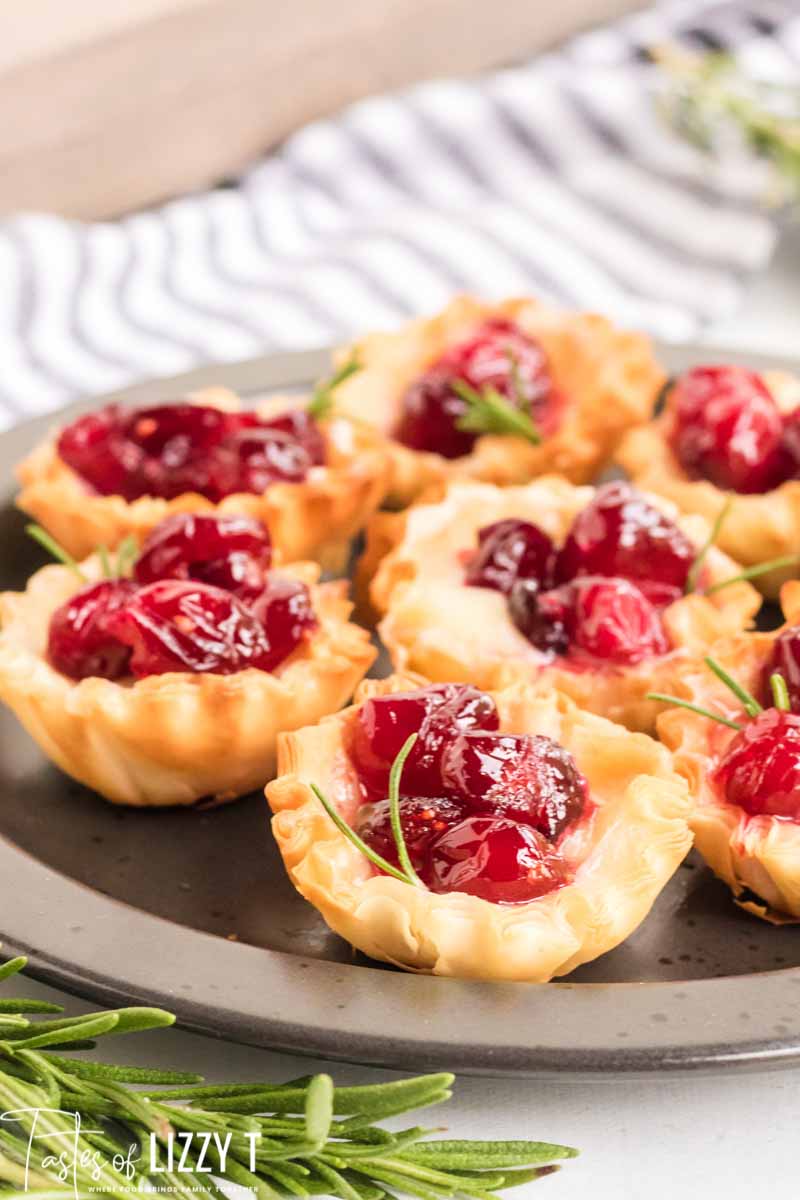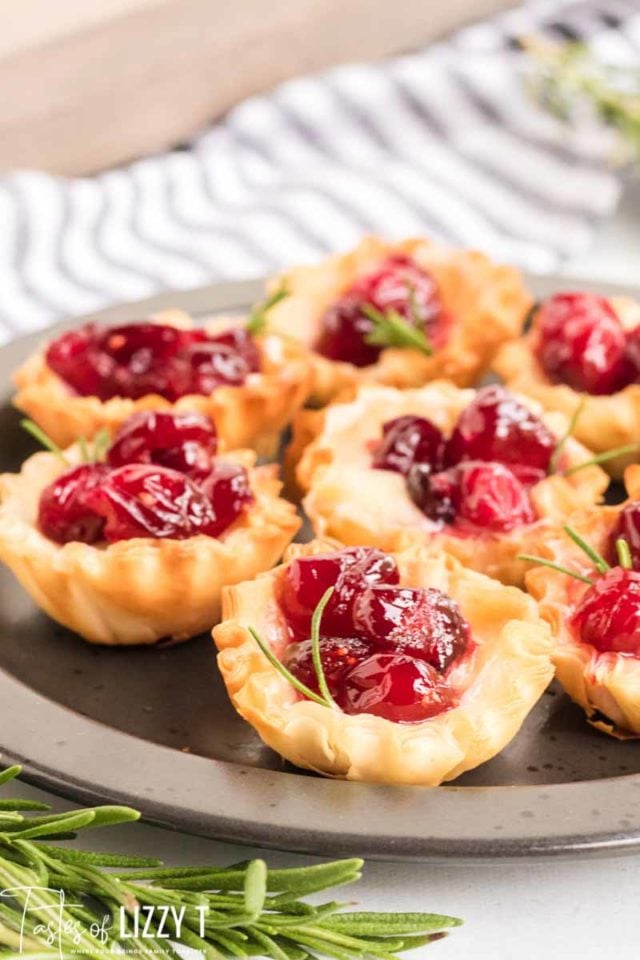 Do you have a favorite cranberry or brie appetizer or recipe? If so, let us know in the comments below! Be sure to subscribe to stay up to date!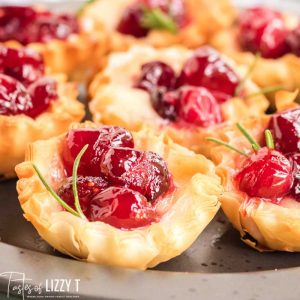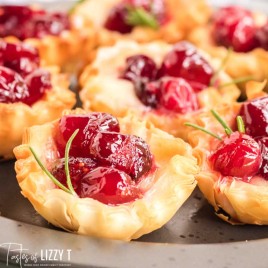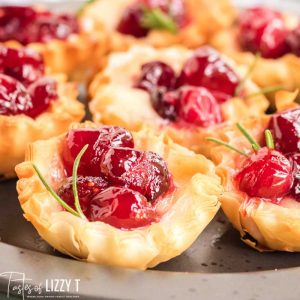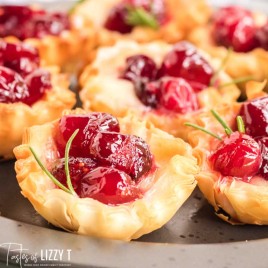 Cranberry Brie Bites
Cranberry brie bites are the best phyllo cups appetizer recipe to serve at holiday parties! You'll love the creamy tarts as a first course or dessert!
---
Ingredients
1

package

frozen mini phyllo shells

(15 ounce package)

3

ounces

brie cheese

1

cup

cranberries

(fresh or frozen)

¼

cup

water

2

tablespoons

granulated sugar

A few sprigs of fresh rosemary

(optional)
Instructions
Preheat the oven to 400 degrees.

On an ungreased cookie sheet evenly place the fillo shells right side up, about one inch apart. Set aside.

In a small saucepan, combine the cranberries, water and sugar, then stir. Top with a one inch piece of rosemary.

Bring the sauce to a boil over medium heat, then reduce to low. Stirring until the cranberries pop, then immediately remove from the heat and discard the rosemary. Set aside.

Slice the brie into 15 pieces and distribute into the fillo shells.

Bake in preheated oven for about 5 minutes or until the brie is smooth and melted.

Remove from oven and place 3-5 cranberries in each fillo shell.

Garnish with small sprig of rosemary, if desired and serve immediately.
Notes
You can make this appetizer with, or without the rind of the cheese included.
Fill the cups completely with cheese, remember brie melts down about 50% so fill those shells up!
Remove the cranberries quickly after they start to pop, to avoid mushy berries. You want them to hold their shape a bit with this dish.
The calories shown are based on the recipe making 15 tarts, with 1 serving being 1 tart. Since different brands of ingredients have different nutritional information, the calories shown are just an estimate. **We are not dietitians and recommend you seek a nutritionist for exact nutritional information.**
Nutrition
Calories:
41
kcal
|
Carbohydrates:
4
g
|
Protein:
2
g
|
Fat:
2
g
|
Saturated Fat:
1
g
|
Cholesterol:
6
mg
|
Sodium:
43
mg
|
Potassium:
14
mg
|
Fiber:
1
g
|
Sugar:
2
g
|
Vitamin A:
38
IU
|
Vitamin C:
1
mg
|
Calcium:
10
mg
|
Iron:
1
mg