Red velvet cake layered with peppermint cream cheese filling, mint Oreos, Cool Whip and peppermint crunch candies fills this peppermint cheesecake trifle. This festive, layered, holiday dessert will serve (and wow!) a crowd.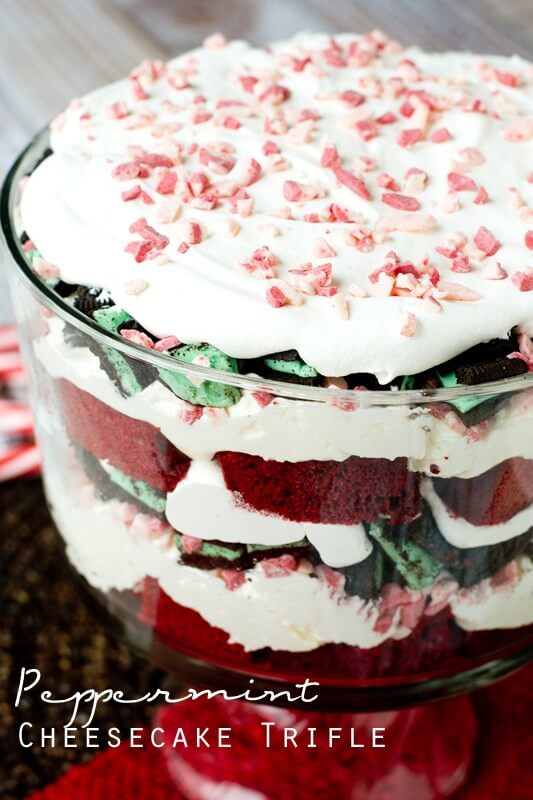 Peppermint Cheesecake Trifle
I hope you knew this was coming. We haven't posted a trifle recipe in a while, and trifles are not noticed as much as they should be! To me, a Christmas trifle should be on every Christmas dessert table. And yes, every Christmas has to have a dessert table. Or, like at my grandma's house, a dessert porch. Every winter my grandma's porch gets so cold that she uses it as a "fridge" for all the pies, cookies, and candies that our crazy baking family makes. And even though it's ice cold to step out into to grab a peanut butter cookie, it's so worth it.
So I got off topic a little bit and started talking about Christmas. Can't you tell I'm excited about it though!?! Anyway, as I was saying, this trifle is a must make for your Christmas celebration. I've noticed a trend, here, too. Almost everything peanut butter and chocolate that we've posted has been followed by a mint variation. Think about the Reese's tornado truffles. What did we post after that? Mint tornado truffles. That's because the best flavor besides peanut butter and chocolate is peppermint and chocolate. Or, shall I say, Peppermint Patty. A few months ago we shared with you our peanut butter and chocolate trifle, so today is a mint trifle!
This time, though, we wanted something a little more spectacular. We did two things. One, made no-bake cheesecake filling to layer with a red velvet cake. Even though the red velvet cake was just a box mix, I couldn't stop eating it! And the redness gave the whole trifle a very Christmas-y look. The cheesecake filling, let me just say, was the most amazing thing we've ever done to a trifle. All the flavors blended in perfectly into a cream-cheesy, red velvet trifle with a strong zappy mint flavor.
Is "zappy" a word??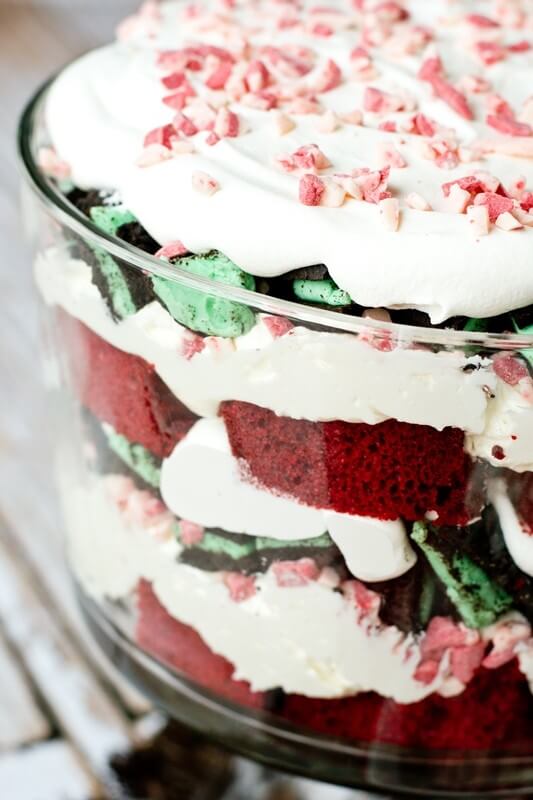 How to Make a Trifle
So as you know, trifles are really super easy to make. You can see in the pictures how to layer it somewhat, but I'm going to walk you through it real quick just so you don't miss anything. First, the red velvet. You'll want to bake the red velvet cake in just a normal 9×13 cake pan and cut it into chunks (bite size or a little bigger, you choose) and lay it on the bottom of the trifle bowl. Then the creamy white layer comes. That fluffy white stuff isn't just your normal whipped cream from a carton. It's spruced up a bit. Using cream cheese, powdered sugar and a little bit of peppermint extract, this topping goes perfectly with your trifle. Put on a thick layer of this cheesecake filling, just make sure you have enough for at least 1 more layer. Next is the Andes peppermint crunch baking bits and the mint Oreos. These help really bring out the peppermint flavor. And they add to the festive look. You won't want to forget them! After this is a layer of Cool Whip. Then, you're ready to do it all over again, one more time! Don't worry about the trifle bowl being big enough. Fit as much in there as you can, and if you have a bit of leftover cake or a few Oreos, I'm sure you can find something to do with it. 😉
If I were you, I would just make any extra into a little trifle, then eat it before anyone knows you had extra!! I have done that before too, because as long as you don't say anything about it…….
You'll just seem really super kind for sharing the big trifle with everybody!
Start baking your Christmas goodies by making this delicious and festive Peppermint Cheesecake Trifle! Enjoy!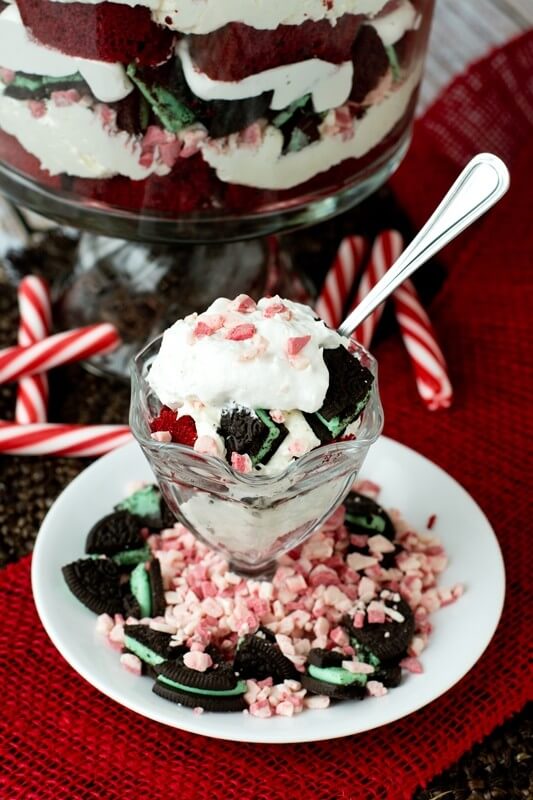 Peppermint Cheesecake Trifle
Red velvet cake layered with peppermint cream cheese filling, mint Oreos, Cool Whip and peppermint crunch candies fills this Peppermint Cheesecake Trifle.
Ingredients
1

box Duncan Hines red velvet cake

baked in 9x13 pan according to box directions

15.25

ounces

mint Oreos

quartered

10

ounces

Andes peppermint crunch baking chips
Cream Cheese Layer:
12

ounces

cream cheese, softened

1/2

cup

butter

softened

2 1/2

teaspoons

peppermint extract

3 1/2

cups

powdered sugar

8

ounces

Cool Whip

An additional 8 ounces Cool Whip for layering
Instructions
In the bowl of a stand mixer, add the softened cream cheese and butter. Whip these ingredients together until they are well combined, about 1 minute. Add the peppermint extract and powdered sugar. Beat for an additional 1-2 minutes. Carefully fold in 8 ounces of the Cool Whip.

Now you're ready to assemble the trifle. Cut the cake into small pieces or cubes. Put a layer of cake in the bottom of the trifle dish. Spoon 1/2 of the cream cheese filling on top of the cake. Sprinkle with 1/2 of the Oreo cookies and Andes peppermint crunch chips. Put 1/2 of the remaining Cool Whip on top of the candy. Repeat the layers: cake, cream cheese filling, cookies/candy (reserve a few peppermint pieces to decorate the top) and Cool Whip. Then top with the remaining peppermint chips if desired.

Depending on the size of your trifle dish, you may not be able to fit all of the ingredients in. We used all of our filling, but had about 1/4 of the cake leftover. As you prepare the trifle, be sure to leave enough room so that you can have two of each layer and it will look so pretty!

Refrigerate until serving. This can be made a day in advance.
Notes
The calories shown are based on the recipe being divided into 20 servings, with 1 serving being about 3/4 cup. Since different brands of ingredients have different nutritional information, the calories shown are just an estimate.
Nutrition
Calories:
467
kcal
|
Carbohydrates:
71
g
|
Protein:
4
g
|
Fat:
19
g
|
Saturated Fat:
8
g
|
Cholesterol:
34
mg
|
Sodium:
389
mg
|
Potassium:
165
mg
|
Fiber:
1
g
|
Sugar:
51
g
|
Vitamin A:
410
IU
|
Calcium:
80
mg
|
Iron:
2.9
mg