Amish Strawberry Shortcake is unique because of the streusel topping that gets baked on top of the shortcake. Amazingly good with fruit, or by itself! You may also love our strawberry shortcake pancakes!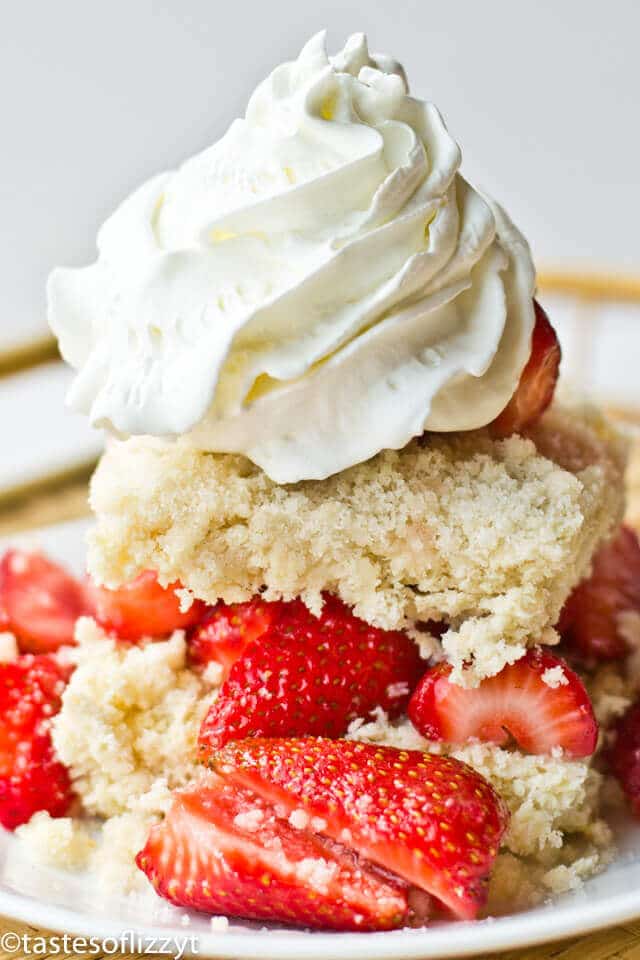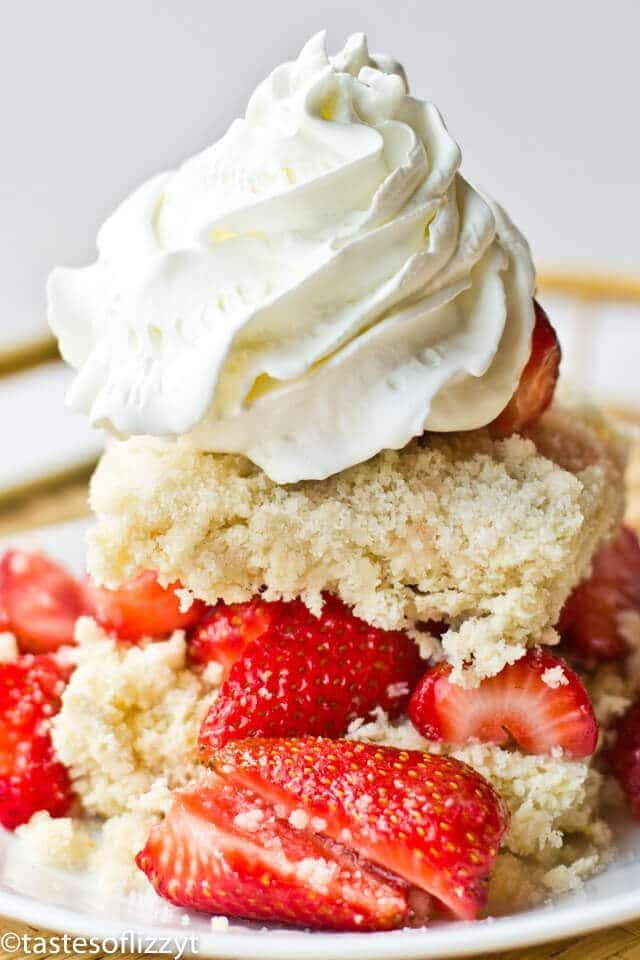 Amish Strawberry Shortcake Recipe
My mom grew up near an Amish settlement, and when my family goes up to visit her parents, we go to one of Mom's favorite Amish restaurants. When my mom first got married, she got an Amish cookbook, Amish Cooking
. We highly recommend this cookbook. It is full of some wonderful, comforting, Amish recipes! But today, let's talk about this streusel topped homemade shortcake
Easy Strawberry Shortcake Recipe
You're going to love this recipe because it is quick and easy. You know those little packaged shortcakes you see in the store sitting by the strawberries? Those don't come anywhere close to the taste of this easy strawberry shortcake. It's a thick batter that bakes up biscuit-like. The sweetness comes from the streusel topping. Yes, it's an extra step to add the streusel topping, but you do not want to skip it.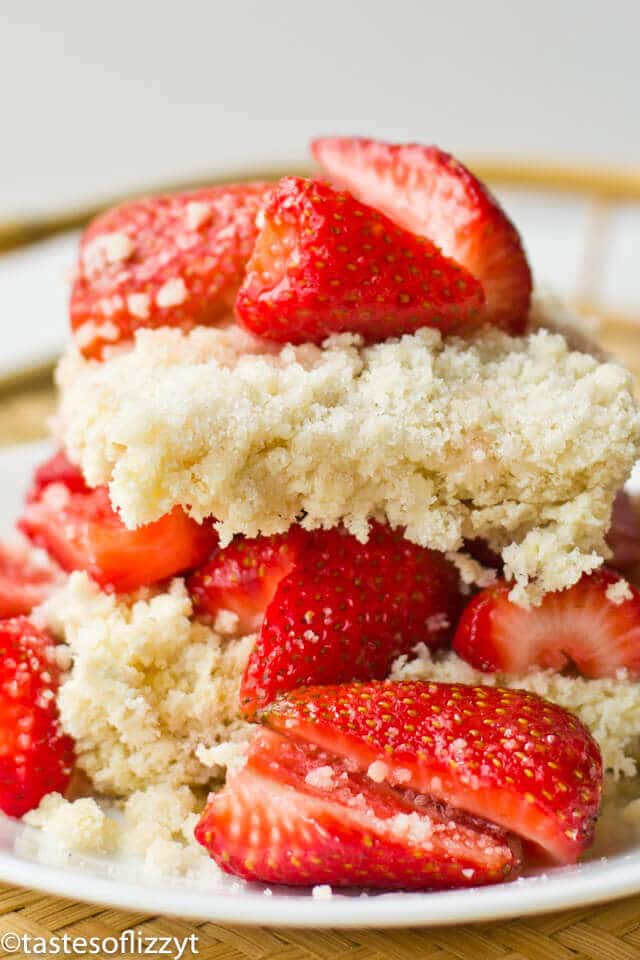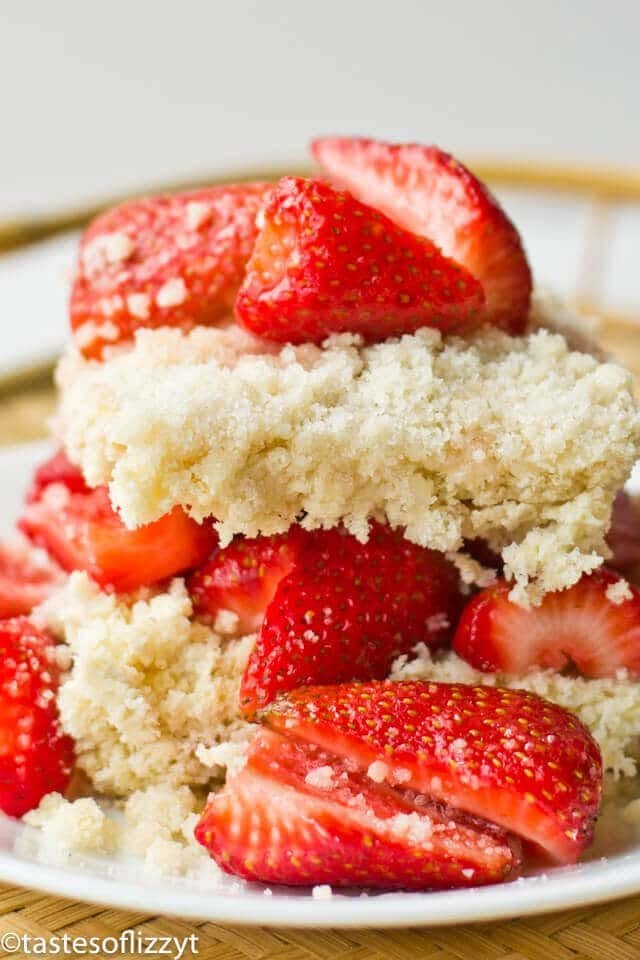 How to Make Strawberry Shortcake
You can make this recipe in an 8×8 pan. Many times that amount of shortcake is just not enough, so I double it and put it in a 9×13 pan. I didn't have to bake it any longer when I did this, and was surprised by that. If you decide to double the recipe, leave extra time for a few more minutes baking, just in case. And sometimes when I double it, I double the topping…because like I said…the topping is the best part!
The recipe calls for shortening. For those of you who don't like to use shortening, I have made it with butter and it turned out just as good!
Use a pastry cutter to cut together the shortening, sugar and flour.
Be careful not to overmix. Overmixing this type of batter may result in the cake being too tough.
Streusel Topping
The shortcake itself has a nice biscuit-taste, but what makes it spectacular is the flour, sugar, and butter streusel that you toss together and sprinkle on top. The streusel bakes into the shortcake just the perfect amount.
How do you make strawberries for shortcake?
For the strawberries, cut and quarter about 4 pounds of strawberries and sprinkle about 1/2 cup of sugar on them. Add more or less sugar, depending on the sweetness of the berries and the taste you would like. This process is called macerating strawberries. How long does it take to macerate strawberries? Prepare the strawberries at least 3-4 hours ahead of time so they will make juicy syrup that is sooooooo good poured over the shortcake!
Spoon some strawberries over the shortcake, then top with whatever you like best. You can squirt on whipped cream or put a big scoop of ice cream on top. You can even do as my dad does and pour milk over it. You can experiment a lot with this cake!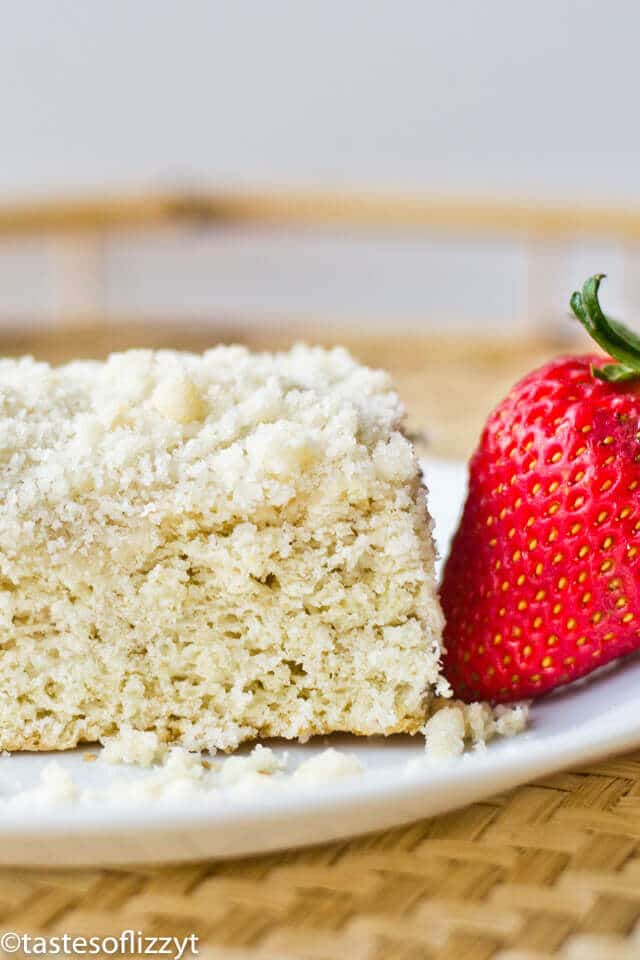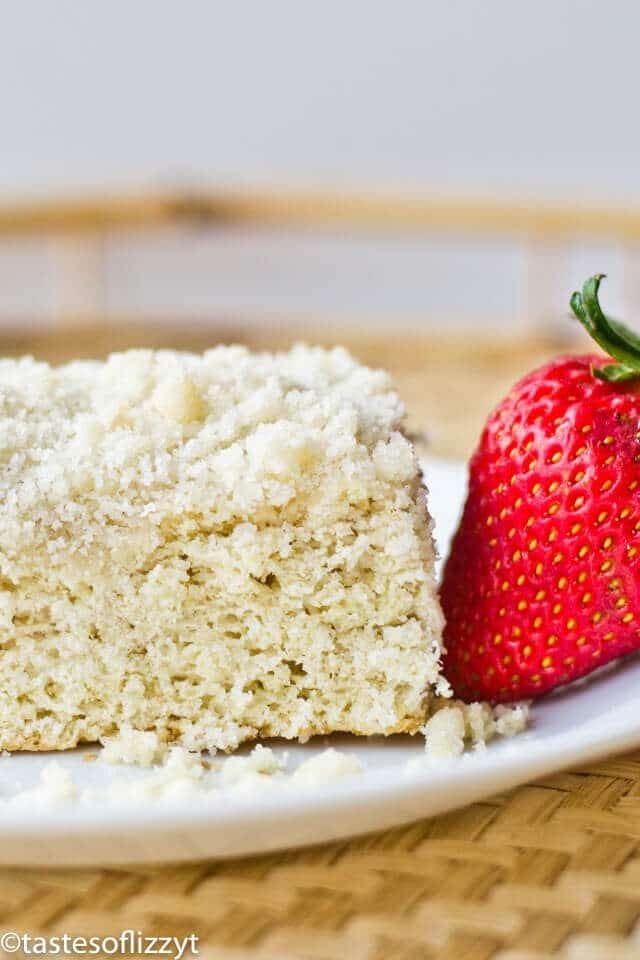 More Strawberry Shortcake Recipes
Amish Strawberry Shortcake
The streusel topping on this Amish Strawberry Shortcake makes a delicious shortcake that can be served many different ways!
Ingredients
For the Shortcake:
2

cups

flour

4

teaspoons

baking powder

3/4

teaspoon

salt

1

tablespoon

sugar

1/3

cup

shortening

2/3

cup

milk

1

large

egg

(beaten)
For the topping:
1/2

cup

sugar

1/2

cup

flour

3

tablespoons

butter
For the strawberries:
4

pounds

strawberries

(cleaned, hulled and quartered)

1/2

cup

sugar

(to taste)
Instructions
Make crumbs with the flour, baking powder, salt, sugar and shortening. Add the milk and egg to the crumbs, mixing just until combined. Spread the mixture into a greased 8×8 cake pan. Set aside.

Make the topping by mixing together the flour, sugar and butter. This mixture will be crumbly. Spread it on top of the batter in the cake pan. Bake the cake at 350 for 25-27 minutes, or until a toothpick inserted into the center comes out clean.

While the cake is baking, mix the prepared strawberries with 1/2 cup of sugar. Put the strawberries in the fridge and allow them to refrigerate for at least 3-4 hours. Add more or less sugar, depending on your tastes.

Top pieces of cake with strawberries (or your favorite kind of fruit!), whipped cream, or ice cream.
Nutrition
Calories:
400
kcal
|
Carbohydrates:
63
g
|
Protein:
3
g
|
Fat:
18
g
|
Saturated Fat:
7
g
|
Cholesterol:
10
mg
|
Sodium:
198
mg
|
Potassium:
578
mg
|
Fiber:
5
g
|
Sugar:
46
g
|
Vitamin A:
150
IU
|
Vitamin C:
118.6
mg
|
Calcium:
139
mg
|
Iron:
3.4
mg