Strawberry Shortcake Cheesecake Bars have a golden Oreo crust, strawberry swirled cheesecake and an amazing streusel on top. Serve with strawberries and whipped cream!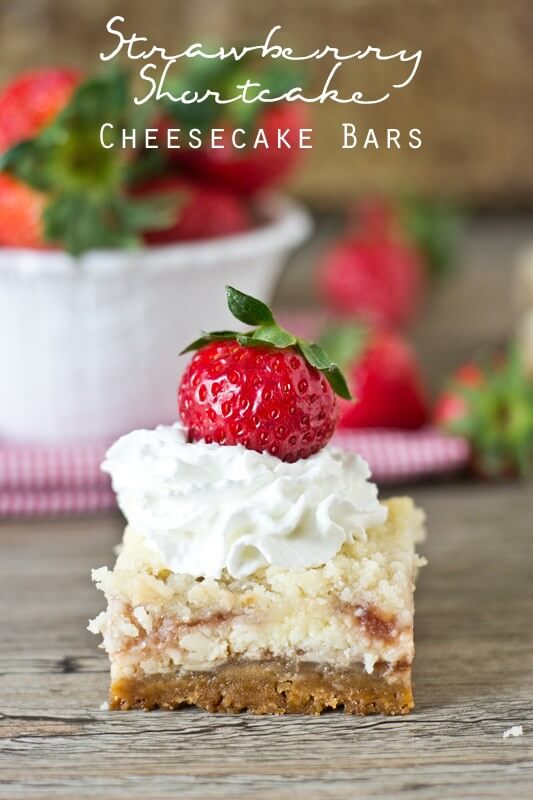 One of the reasons why I love this time of year is because of the fresh strawberries that abound everywhere I look.  Last year we planted 9 strawberry plants in our little garden. We got a handful of berries last year that were no comparison to store-bought berries.  I'm so excited to have more strawberries this year from our little plants. Someday maybe we'll have enough to make some strawberry jam, but this year we'll be lucky enough to have some that actually make it inside the house without getting eaten first.
These berries weren't from our garden, but they're the best ones we've gotten from the store so far this year. Aren't they pretty?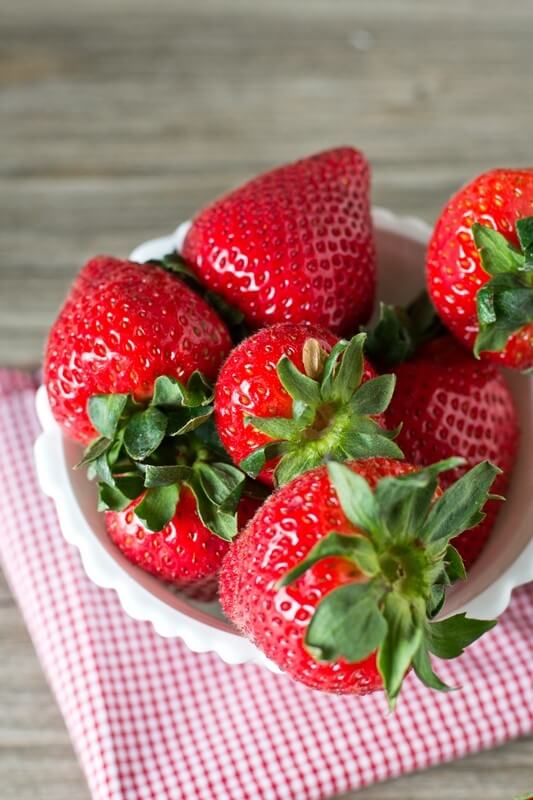 Strawberry shortcake is one of our favorite things to make with fresh strawberries. Have you tried our shortcake yet? If not, do it soon. It's the best. I promise.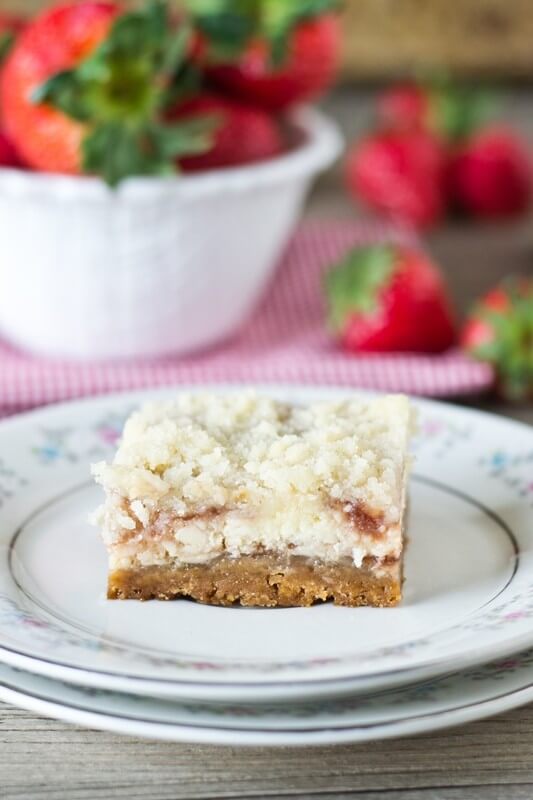 Cheesecake bars are another one of my favorite things, so I knew I needed to make you all some Strawberry Shortcake Cheesecake Bars.  My favorite part of our strawberry shortcake is the streusel topping, so I knew I had to put that streusel topping on our cheesecake bars.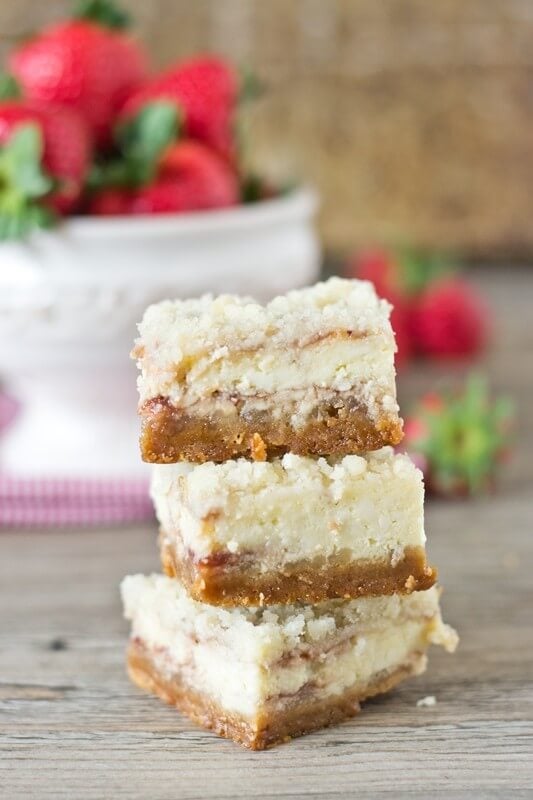 Strawberry jam and an Oreo cookie crust makes these cheesecake bars so simple. I know what you're thinking.  Strawberry shortcake has fresh strawberries and these bars have strawberry jam! In my mind, the strawberry jam kept the recipe very easy to make. You can incorporate fresh strawberries into this recipe by serving them on top.  Serve whole, fresh strawberries on top of whipped cream, or slice strawberries and toss them with a bit of sugar to make juicy strawberries to pour over the top of each bar. Either way, you'll end up with an amazing little treat.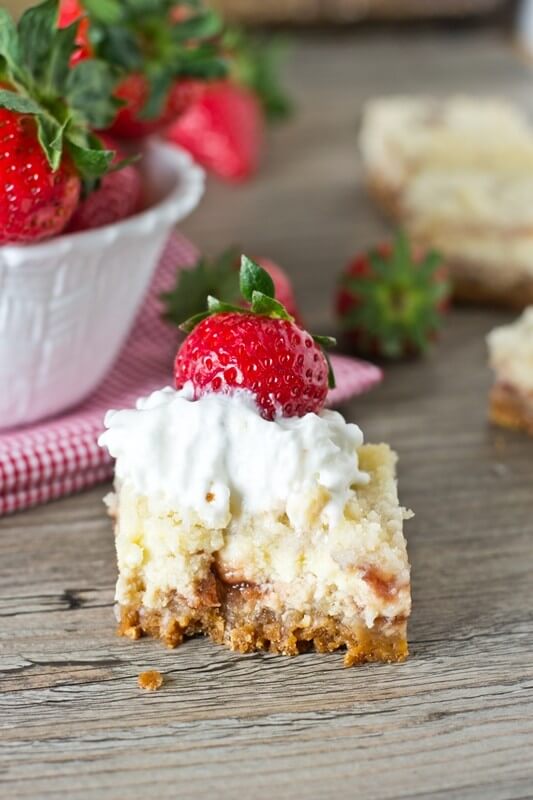 I used an 8″ springform pan for this recipe.  If you don't have a springform pan, line a 8″ square with foil (spray with cooking spray) or parchment paper. Once it has baked and cooled, you can lift the cheesecake easily out of the pan with the foil and cut nice, clean squares.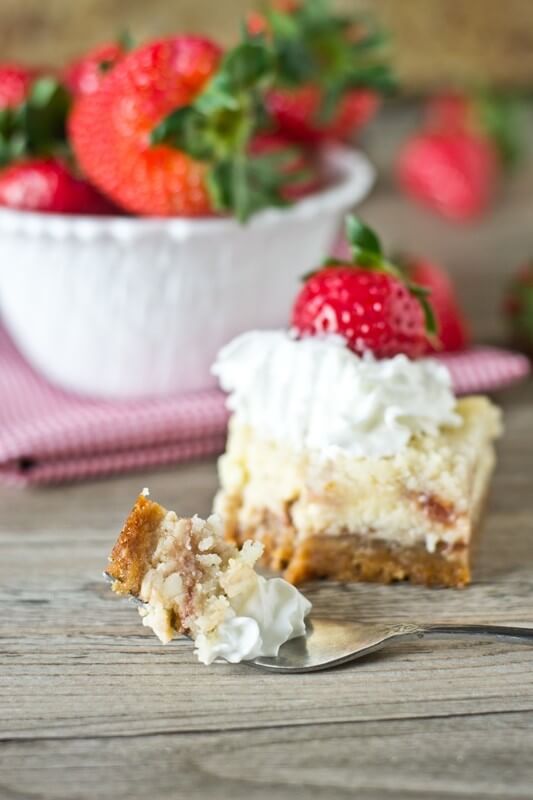 The crust on these bars is versatile. I used golden Oreos, because I just love Oreo crusts on cheesecakes.  You can also use crushed graham cracker crumbs or vanilla wafers. Use about 2 1/2 cups crushed cookies, whichever kind you choose. You'll mix those crumbs with 7 tablespoons of butter and bake it at 350 degrees for 8 minutes. This will help the  crust to stick together when you cut the bars.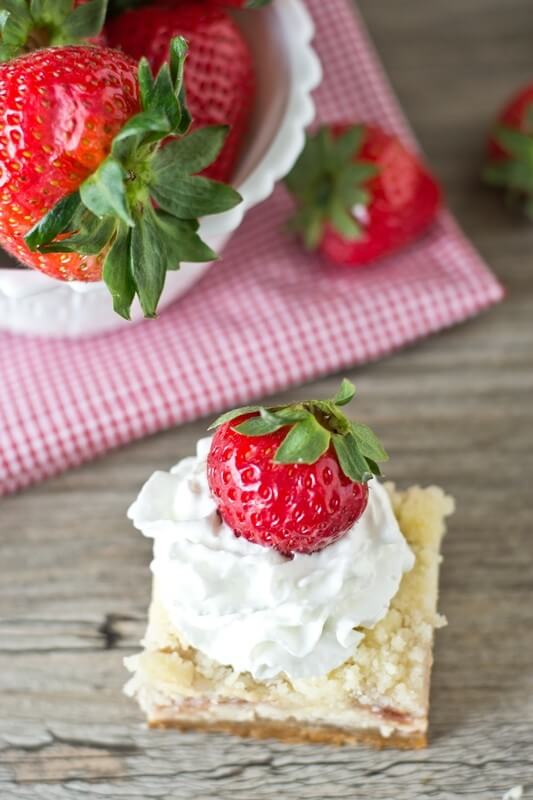 As with other cheesecake, make these bars a day in advance for the best flavor. Cheesecake tastes better as it cools and sets in the fridge. Which is complete torture when you are craving cheesecake. But it's worth the wait!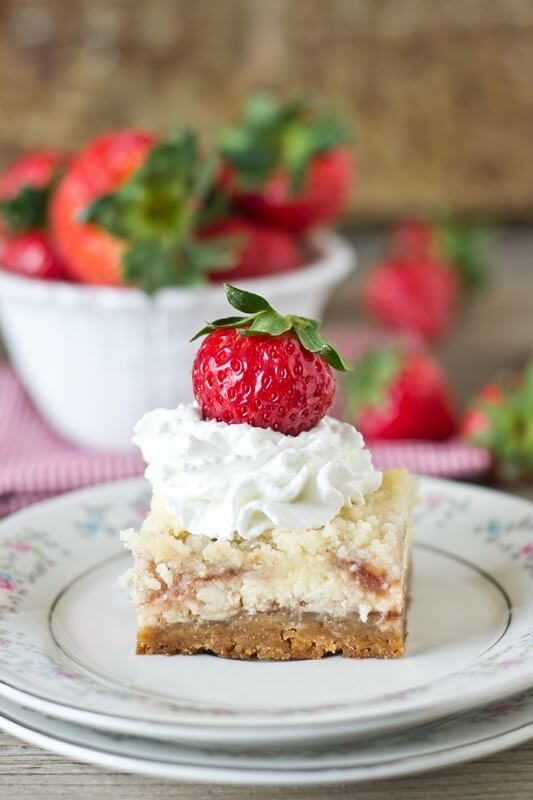 Enjoy!
-Julie
Yields 16
Strawberry Shortcake Cheesecake Bars
Strawberry Shortcake Cheesecake Bars have a golden Oreo crust, strawberry swirled cheesecake and an amazing streusel on top. Serve with strawberries and whipped cream!
20 minPrep Time
40 minCook Time
1 hrTotal Time
Ingredients
22 Golden Oreo cookies, crushed (about 2 1/2 cups)
6 tablespoons butter, softened

Cheesecake:

16 ounces cream cheese, softened
2 eggs
1/2 cup sour cream
1/2 cup white sugar
1 1/2 teaspooons vanilla
1 cup strawberry preserves

Topping:

4 tablespoons butter, softened
1/2 cup white sugar
1/2 cup all-purpose flour
Instructions
In a medium size bowl, combine the crushed cookies and softened butter. Mix well. Press this into the bottom of an 8" square springform pan, or a baking pan that has been lined with parchment paper or foil. If you use foil, spray the foil with cooking spray. Bake the crust at 350 degrees for 8 minutes.
While the crust is baking, place the cream cheese in a bowl. Beat the cream cheese with an electric mixer until it is smooth. Add in the eggs, sour cream, sugar and vanilla. Beat the mixture until it is smooth and creamy, about 3 minutes.
Once the Oreo crust has cooled, pour half of the cheesecake batter into the crust.
Microwave the strawberry preserves for about 30 seconds and mix it. Drizzle 1/2 cup of the warm strawberry preserves over the cheesecake batter. Pour the rest of the cheesecake batter in the pan. Drizzle the remaining 1/2 cup of strawberry preserves on top of the cheesecake batter. Using a knife, gently swirl the strawberry preserves back and forth to create a swirl pattern.
In a small bowl, combined the softened butter, sugar and flour until you have small crumbs. Sprinkle this topping on the top of the cheesecake batter.
Bake the cheesecake at 350 degrees for 40 minutes. The center of the cheesecake should be set and the edges very lightly browned.
Allow the cheesecake to cool for 30 minutes, then move the cheesecake to the refrigerator to set for at least 4 hours, but preferrably overnight. Once the cheesecake is cool, remove it from the pan and cut it into 16 squares.
Store the cheesecake bars in the refrigerator.
Serve with strawberries and whipped cream, if desired.
6.6.15
https://www.tastesoflizzyt.com/strawberry-shortcake-cheesecake-bars/